Lindsey Vonn Recovering From LCL Surgery
Lindsey Vonn on Life After Retirement: "I Want to Work and I Want to Work Hard"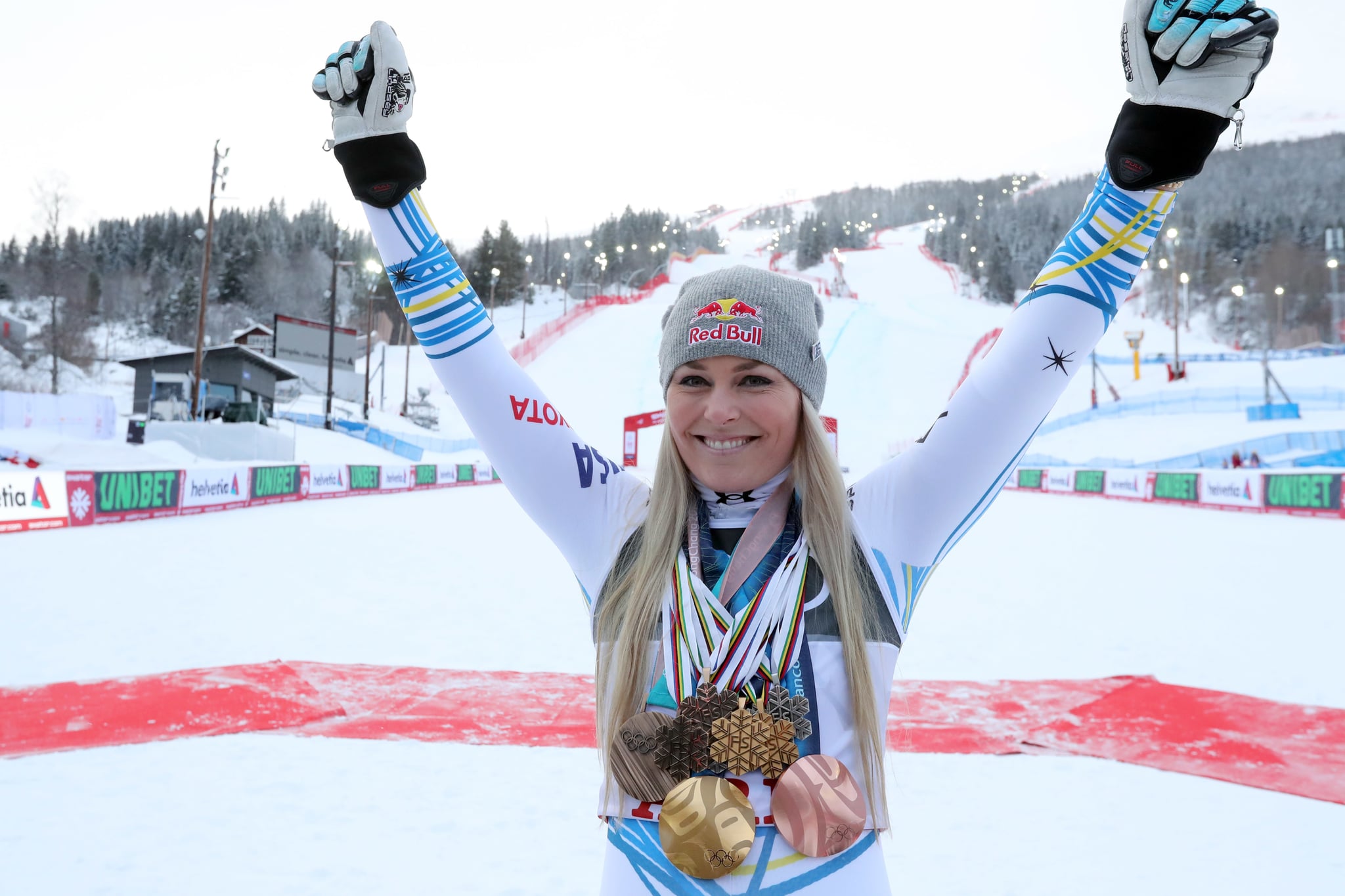 If you looked up "success" in the dictionary, Lindsey Vonn's face might as well be there. The 34-year-old has the most World Cup victories — 82 — of any female skier and became the first American woman to win gold in the downhill ski event at the 2010 Winter Games. She skied her last race at the FIS Alpine World Ski Championships on Feb. 10 and finished third, making her the oldest woman to win a medal at worlds. It also made her the first female skier to win medals at six different world championships. So, yes, Lindsey's career was defined by success, but she's also no stranger to injury. At the Red Bull's Celebration of Lindsey Vonn event this month, the now-retired athlete spoke to POPSUGAR about recovering from her most recent knee surgery, getting back to her new normal, and plans for the future.
Lindsey underwent surgery in early April for a torn lateral collateral ligament (LCL) in her left knee. This injury was sustained when she crashed while training in November 2018. Postponing surgery due to "obligations," as she wrote on her Instagram, further exacerbated the issue — the doctors found a meniscus tear and damage that required chondroplasty of her knee cap. Recovering this time around was hard, Lindsey said, because she wasn't going back to the sport she loves.
Lindsey told POPSUGAR, "I've had so many surgeries, it can be really mentally difficult, especially now that I didn't have anything to come back for. In the past, I always was just trying to get back quickly so I could ski, but now I don't have that, so it was basically just a quality of living that I was looking to get back to, to where I didn't hurt as much and was strong enough to be able to be athletic." The biggest thing that helped her through the initial rehab was staying positive and not getting herself down. Her support system — she specifically mentioned her dogs and her boyfriend, hockey player P.K. Subban — also helped. Taking care of what she eats and getting those workouts in, even if modified, currently keeps her energy up.
Lindsey has made a lot of progress since April's surgery (you can find footage of her back in the gym with a brace that same month). She still can't run, which she said she's OK with. She can't do any quick agility moves and has to "keep things in a very linear plane right now," she explained, adding that her focus is strengthening her quad, hamstring, and glutes on that left side, especially so they support and stabilize her knee.
"I want to work and I want to work hard."
For anyone recovering from an injury, Lindsey advised them to start slow and set goals but "don't get your expectations out of whack because you'll just get disappointed, and it'll deter you from going back to the gym." Even if walking 10 minutes is your starting point, that's completely fine, Lindsey said. Easing into recovery toward where you used to be is key.
In terms of her ventures ahead, whether they're through her female-focused Lindsey Vonn Foundation or otherwise — she's working on a beauty line and a memoir and has plans to go into movie production — Lindsey said that she's taking with her one major lesson from her ski career: "hard work pays off." Her plan is to surround herself with people who know what they're doing business-wise so that she can learn from them and find her footing post-retirement. "I want to work and I want to work hard," she stated, "and hopefully that translates into success."
— Additional reporting by Kahnita Wilkerson