Nike Pro Hijab
Nike Pro Hijab: Coming Spring 2018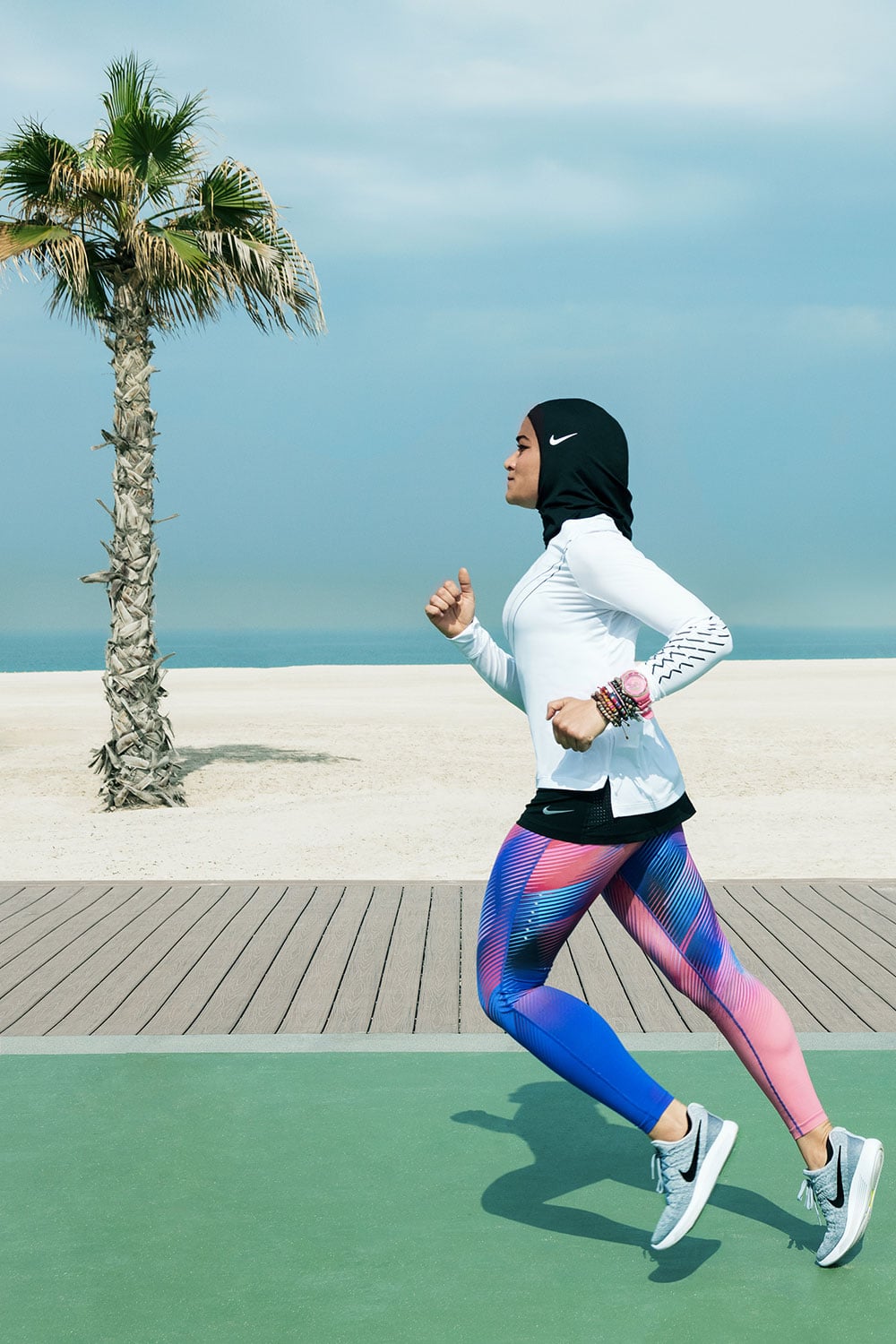 Update: The Nike Hijab ($35) was added to Time's 25 Best Inventions of 2017.
Original post: To our hijabi fitness fanatics — we have some ultraexciting news for you. While it may have been difficult in the past to find stylish and functional hijabi activewear (or really, any hijabi activewear!), Nike is making things a little easier for you. Coming in Spring 2018: the first ever Nike Pro Hijab, ideal for badass Muslim athletes just like you.
In a press release, Nike said this design process has been a year in the making, and the product is already being worn by figure skater Zahra Lari and Nike+ Run Club Coach Manal Rostom.
Some more specs of the product itself: it has a "pull-on design, constructed from durable single-layer Nike Pro power mesh . . . Nike's most breathable fabric." Another bonus? It's super breathable but still opaque (a hijab requirement). See ya later, sweat. It's also totally customizable based on your fit and activity. "The mesh is also stretchy, so when combined with an elastic binding it allows for a personalized fit that adapts to both the wearer's head and her sport. Ice skating, for example requires a tighter fit for twirling."
"Top-flight athletes have illuminated performance problems associated with wearing a traditional hijab during competition," Nike said. It tested the hijab prototype on "everyday athletes from around the Middle East, including runners and cyclists."
Shirin Gerami, the first Iranian woman to compete in an Ironman competition, previously told NPR, "I am quite certain that with the right set of skills and knowledge, we can make clothes that won't hinder performance whatsoever." Gerami, who does not usually wear a hijab, did so to comply with Iran's regulations for female athletes, as well as to inspire more women to participate in sports. She worked tirelessly with athletic brands to create clothing specifically for her Ironman Championship race in Kona last year.
Nike said its mission is to "inspire even more women and girls in the [Middle East] region who still face barriers and limited access to sport: Fewer than one in seven girls participate in locally recommended sport activities for 60 minutes or more."
Now, with this product made specifically for women who wear a hijab, coming from arguably the largest brand in sports apparel, we anticipate even more doors will be opened and more women will feel more inspired and empowered than ever.
Nike introduces 'Pro Hijab' line for Muslim athletes