Orangetheory Prices 2023
How Much Does Orangetheory Cost? Here Are Membership Prices For 2023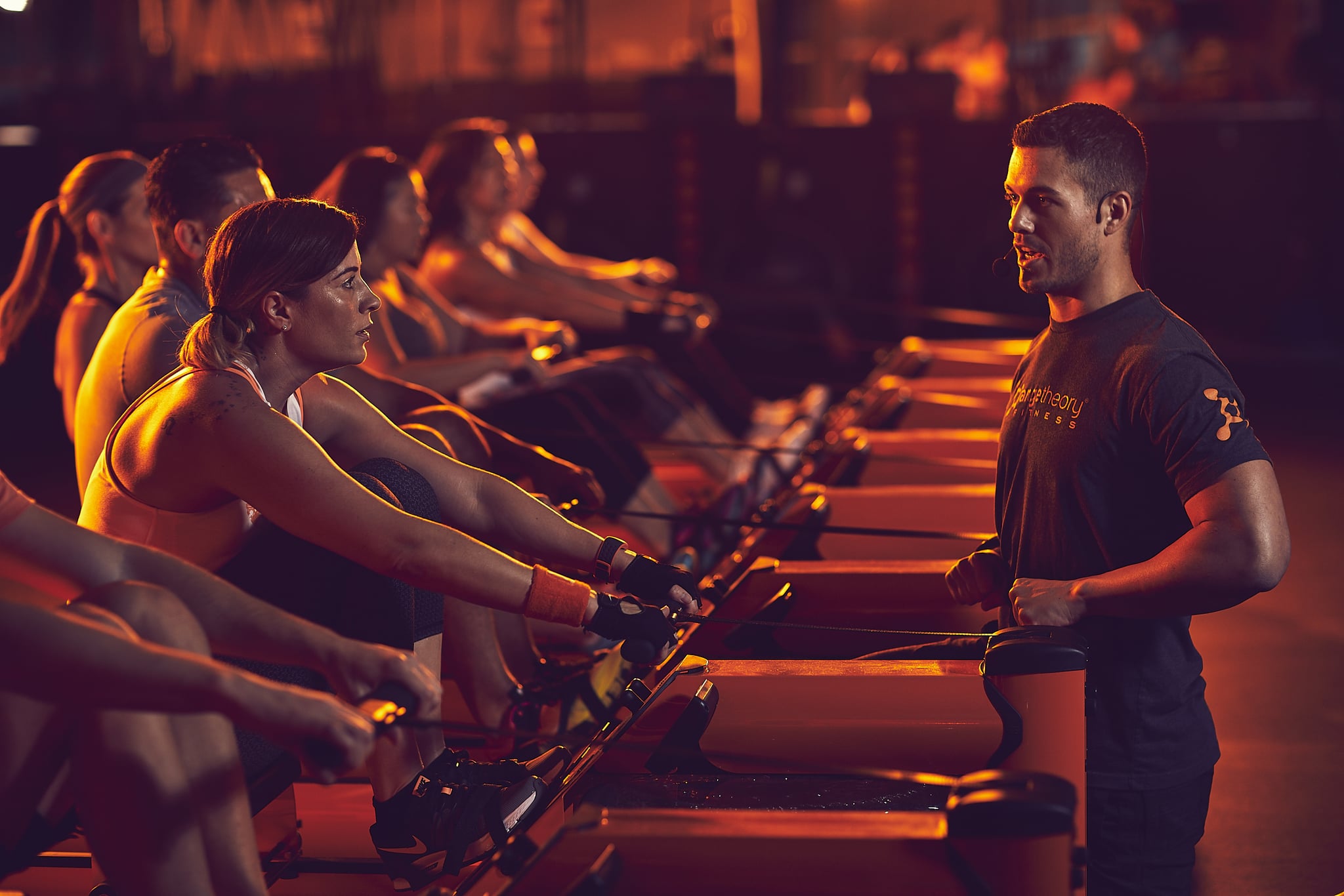 By now, you've probably heard of Orangetheory Fitness or even know someone who's so dedicated to the studio's interval-based workouts that they never miss a class. The franchise, which is the brainchild of physiologist Ellen Latham, has exploded in recent years and now boasts more than 1,500 locations worldwide, as well as a streaming platform called Orangetheory Live.

Orangetheory's classes are hour-long, interval-based workouts split into three sections. You'll spend a portion of the workout on the rowing machine and then get the choice between the treadmill, bike, or strider. The third section involves strength floor work, where you train using TRX suspension straps and free weights. Don't worry, the workout is friendly to all levels, including beginners. (Not to mention, we have beginner tips for Orangetheory to make it even easier to start.)
While the name Orangetheory is cool in and of itself, there's actually an important meaning behind the name. The gym's so-called Orangetheory is based on the physiological theory of "excess post-exercise oxygen consumption," or EPOC, also known as the "afterburn effect." Basically, the goal of any sweat session at OTF is to train within the "Orange Zone," the highest heart rate targeted during a class, for 12 minutes or more. Doing so is said to improve your endurance and overall fitness.
Sounds fancy? It kind of is — and Orangetheory's prices reflect that. If you're interested in trying Orangetheory, here's what you need to know for your wallet's sake, including how much an Orangetheory membership costs, pricing details, and whether you'll need to purchase any gear.
Orangetheory Pricing and Memberships
So how much does Orangetheory cost? Unfortunately, there's not a straightforward answer. There's a range of Orangetheory membership packages to choose from, including Class Packs, Basic, Elite, and Premier. And overall, Orangetheory prices vary depending on where you live. To help you get an idea of the prices, Orangetheory shared some averages below — but keep in mind that these are just estimates, so it's best to connect with your local studio rep to discuss a plan that works for you.
Orangetheory membership costs by level:
Class Packs: Buy a package of 10, 20, or 30 classes (varies by location, but stars at $199, $359, $499 respectively
Basic: four classes for $59/month
Elite: eight classes for $99/month
Premier: unlimited classes for $159/month — with a 30-day risk-free guarantee. If you take eight or more classes during your first 30 days and don't love it, you can get your money back.
Orangetheory prices are higher at premium locations, such as Manhattan, Brooklyn, Washington DC, Chicago, Los Angeles, Austin, and Dallas. For example, in Manhattan, you'll have to shell out $199 for an Elite membership and a cool $279 for the Premier. A unique benefit, however, is that even if you sign up with a specific location, you can use your OTF membership at any location in the country — though there may be a surcharge depending on which location you're visiting.
No matter which level you go for, no annual contract is involved. You can take additional classes at a discounted rate once you purchase a membership; the average cost of an Orangetheory class is $28. You also have free access to their streaming platform Orangetheory Live as part of your membership.
And great news: Anyone can try one introductory class for free.
Orangetheory prices might seem steep, but remember that you're getting access to all those fitness machines you likely don't have in your home, feedback and encouragement from top-notch coaches, as well as the boutique gym atmosphere (which, you have to admit, can be a lot better than going it alone in a big-box gym). Plus, there are exciting community workout events like the Orangetheory DriTri that you get access to if you're a member.
Orangetheory also recently launched "digital joins," meaning you can become a member (or simply inquire about the costs) by signing up online instead of having to physically go to the gym. Participating studio pages will have the option to "Join Now," and they'll walk you through the different Orangetheory membership and package options, prices, as well as member benefits.

Additional Orangetheory Costs to Keep In Mind
In addition to the membership fees, there's another Orangetheory cost to keep in mind. To make the most of Orangetheory's workouts — and get into the Orange Zone — you'll need a heart-rate monitor. OTF uses its own heart-rate monitors to connect to the displays during class as well as to the Orangetheory app.
You can rent a heart-rate monitor for $5 to $10 per class, or purchase one for $129. It can be worn on your wrist, forearm, or bicep.
Orangetheory also offers the OTBeat Link which connects to your Apple Watch, though availability will depend on your local studio.
Without an Orangetheory heart-rate monitor, you can use your own smartwatch or heart-rate monitor to keep track of your heart rate; however, unfortunately, non-OTF devices won't connect to earn you Splat Points (which you get for being in the Orange Zone), display your data during class, or log your data in the Orangetheory app. Because the competitive, data-driven aspect of Orangetheory classes is such a big draw, you'll probably want to splurge for an OTF monitor.
— Additional reporting by Lauren Mazzo
Image Source: Orangetheory