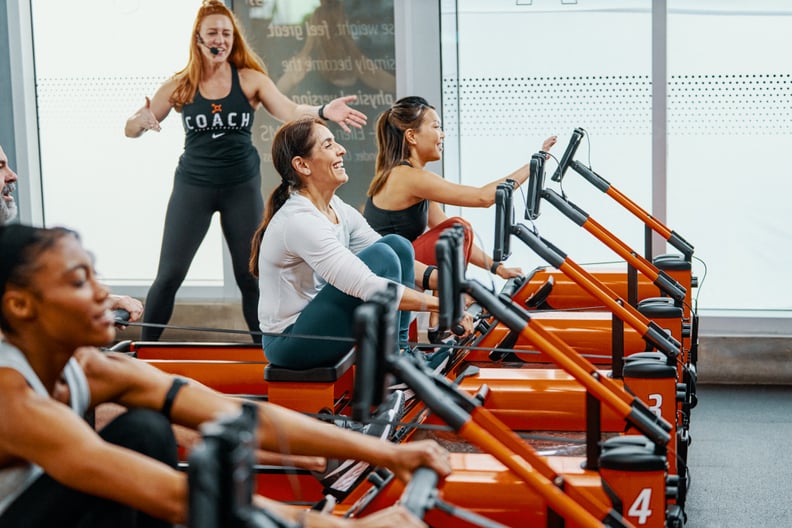 Courtesy of Orangetheory Fitness
Courtesy of Orangetheory Fitness
Twice a year, Orangetheory Fitness hosts a DriTri — a special class that OTF enthusiasts prepare for. It's a competition (with yourself) to see how quickly you can row 2,000 meters, complete 300 reps of six bodyweight exercises, and finish a 5K run or 1.55-mile power walk on the treadmill. Six months later, you see if you can beat your previous numbers.
In 2023, the Orangetheory DriTri took place at the end of March and is slated again in mid-September (the date varies by studio). In honor of Orangetheory's new Strength 50 class, they're also debuting an exciting new DriTri Strength during the September event.
The DriTri is a big deal in the OTF community, but if you don't know what it's about, are a beginner at Orangetheory, or are curious about taking on this year's fitness event, we spoke to Orangetheory experts to get all the expert info.
What Is the Orangetheory DriTri?
As the name indicates, the DriTri is a sort of triathlon completed on dry land (in this case, an Orangetheory Fitness studio or in your own home, if you have the equipment). It starts off with a 2,000-meter row, then you move to the weight floor where you complete 300 reps total of six bodyweight exercises (more on those later), and then run a 5K (3.1 miles) or power walk 1.55 miles for time.
DriTri classes are held at designated times (as opposed to the traditional workout of the day), and each DriTri class is dedicated to that event specifically.
Registration is open to all current Orangetheory members. You'll need to sign up ahead of time and pay a registration fee, says Rachel Vaziralli, Orangetheory's director of fitness design. (The exact fee will depend on your studio; Orangetheory prices, in general, vary by location.) After completing the challenge, participants will receive some special OTF swag and a medal. "Winners and prizes are a part of this fun event, too!" Vaziralli says.
It's worth noting that the DriTri is completely voluntary, adds DeeDee Hillman, NSCA-certified trainer and education program manager for digital fitness at Orangetheory Fitness headquarters. So if you're not feeling up to it, you don't have to take it on, even if you're an OTF member. The DriTri may seem intimidating, but Hillman emphasized that the only person you are competing against is yourself, and you go at your own pace.
"The workout is designed to showcase just how far [members] have come, from beginners to athletes," Vaziralli says. "DriTri is challenging but rewarding . . . It's a competitive and measurable training event for all fitness levels. And when we say competitive, we mean with yourself! The purpose of the event is for members to assess and improve their personal fitness ability and gauge their progress."
What Are the Orangetheory DriTri Floor Exercises?
The DriTri includes these six bodyweight exercises, which you'll complete twice for a total of 300 reps. Once you complete the first exercise, you move on to the next one. After completing all six moves, you start the circuit again. Don't be fooled: although they're bodyweight moves, it's still a serious challenge.
Bench hop over: 40 reps total
Bench tap squat: 20 reps total
Bench step-up: 20 reps on each leg (40 reps total)
Push-up: 20 reps total
Plank jack: 20 reps total
Burpee: 10 reps total
What Is the Orangetheory DriTri Strength?
The DriTri Strength is new for September 2023. Along with the Strength 50 class, it's part of the brand's new "Long May We Gain" pledge, which puts an emphasis on the benefits of strength training.
"We took all the elements our members are used to with the classic DriTri, and infused additional layers of strength across the floor, the rower, and the treadmill," explains Scott Brown, vice president of fitness of Orangetheory Fitness. "Members will use dumbbell-based exercises versus bodyweight-only exercises, row shorter distances, and then complete one mile on the treadmill with inclines." There's also a walking option if you aren't a runner.
Similar to the classic DriTri, the goal is to complete the challenge as quickly as possible (and with proper form), though there's a twist: you're only supposed to use one set of weights for all the exercises. "Everyone can select their ideal weight class, ranging from 10 to 30 pounds, so that they can safely challenge themselves and improve over time," Brown explains.
What Is the Orangetheory DriTri Sprint or Relay?
If you want to take on the challenge of the DriTri but as a modified version, many Orangetheory Fitness studios also offers the Orangetheory DriTri Sprint and Relay, Vaziralli says.
The Sprint is essentially the DriTri cut in half: you row 1,000 meters, do 150 reps of bodyweight exercises, and run or walk 1.55 miles on the treadmill. The Relay allows you to split up the different segments between different people.
The Orangetheory DriTri Sprint and Relay are held on the same days as DriTri, they just may be held at different times.
How to Prepare for the Orangetheory DriTri
You can physically prepare for the Orangetheory DriTri in the weeks and months ahead by taking Orangetheory classes, running and rowing on your own, and completing the Orangetheory Infinity Workout, which is usually offered in studios a few weeks earlier. But Hillman wants people to remember that DriTri is for everyone.
"We cater to all fitness levels," Hillman says. "We even like to say that everybody is an athlete." She added that if you are feeling nervous, you can channel that emotion into energy for the big day. Coaches and fellow members will be cheering every participant on, and Hillman said the atmosphere on DriTri days is electric. "It's straight magic. It's hype. It's so energetic," she said. "From the coach's perspective, one of the most exciting things is to see members complete a task, a challenge that they didn't even think was possible for them."
To make sure you are ready for the DriTri, drink plenty of water before and after the workout, get a good night's sleep the night before, eat a meal or snack with carbs and protein before for energy, and blast your favorite pump-up song or playlist to get you in the mood to crush your workout.
Ready to take on the DriTri challenge? Check out Orangetheory's website for more information on how to sign up at your local studio.
— Additional reporting by Lauren Mazzo