What Is the Orangetheory Fitness DriTri?
Ready to Try Orangetheory's DriTri Workout? Here's Everything You Need to Know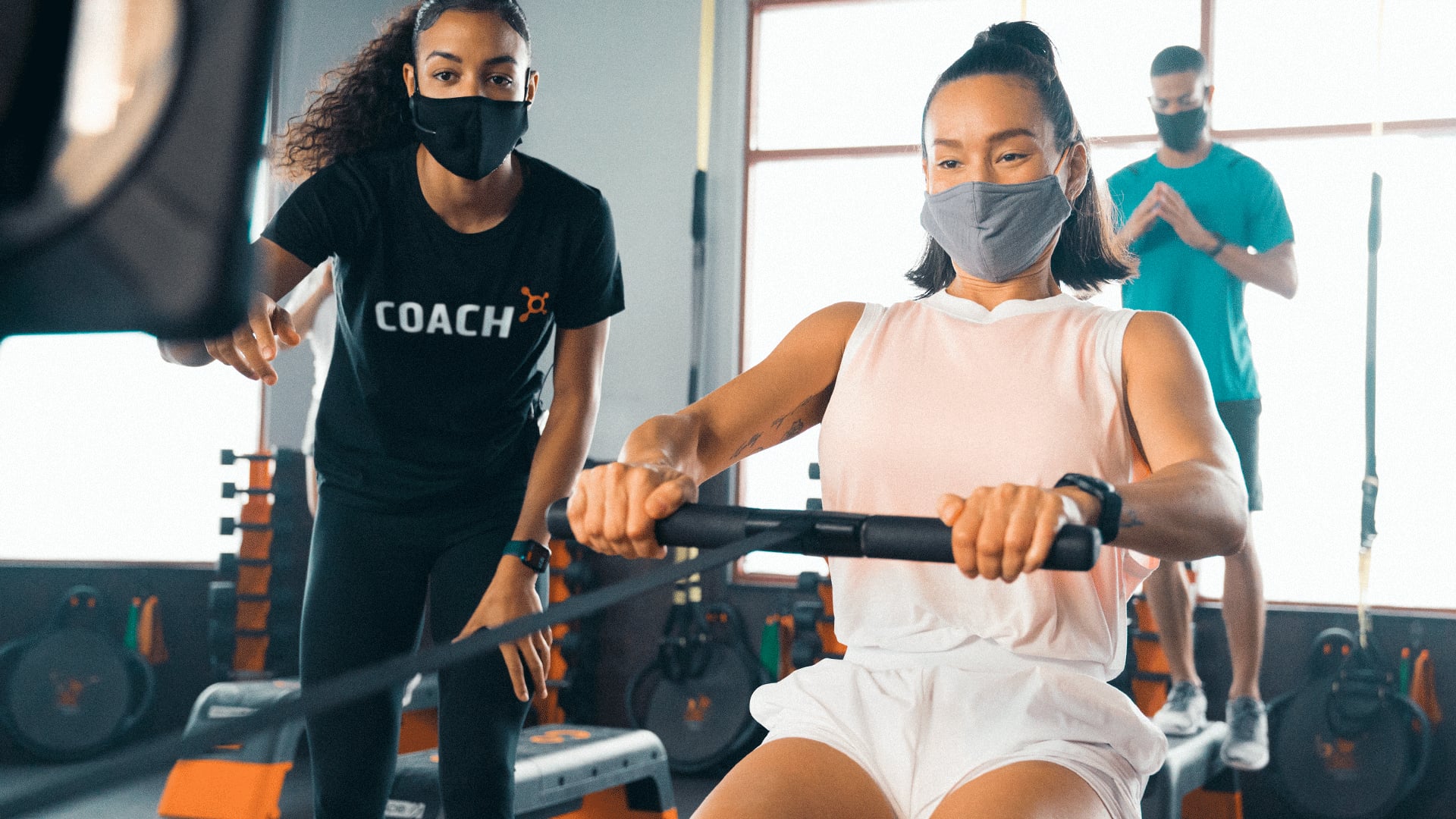 Twice a year, Orangetheory Fitness hosts a DriTri — a special class that OTF enthusiasts prepare for. It's a competition (with yourself) to see how long it takes to row 2,000 meters, how quickly you can complete 300 reps of six floor exercises, and finishing off with a 5K on the treadmill for time. Six months later, you see if you can beat your previous numbers.
The DriTri is a big deal in the Orangetheory community, but if you don't know what it's about or are curious about taking on this year's fitness event, we spoke to DeeDee Hillman, NSCA-certified trainer and education program manager for digital fitness at Orangetheory Fitness headquarters, to get all the expert info.
What Is the Orangetheory DriTri?
As the name indicates, the DriTri is a sort of triathlon completed on dry land (in this case, an Orangetheory Fitness studio or in your own home if you have the equipment). It starts off with a 2,000 meter row where you time yourself to see how quickly you can complete it. Then you move to the weight floor where you complete 300 reps total of six bodyweight exercises (more on those later), and then run a 5K (3.1 miles) for time.
DriTri classes are held at designated times (as opposed to the traditional workout of the day), and each DriTri class is dedicated to that event specifically. This year, DriTri kicks off on Sept. 18, but you can sign up ahead of time. Hillman noted that the DriTri is completely voluntary. So if you're not feeling up to it, you don't have to take it on, even if you're an OTF member.
The DriTri may seem intimidating, but Hillman emphasized that the only person you are competing against is yourself, and you go at your own pace.

What Are the Orangetheory DriTri Floor Exercises?
The DriTri includes these six bodyweight exercises, which you will complete twice through for a total of 300 reps. Once you complete the first exercise, you move on to the next one (bench hop overs followed by bench tap squats, etc.). After completing all six moves, you start the circuit again. Don't be fooled: although there is no strength training equipment, you will still challenge yourself using just your bodyweight.
Bench hop over: 40 reps total
Bench tap squat: 20 reps total
Bench step-up: 20 reps on each leg (40 reps total)
Push-up: 20 reps total
Plank jack: 20 reps total
Burpee: 10 reps total
What Is the Orangetheory DriTri Sprint?
If you want to take on the challenge of the DriTri but as a modified version, Orangetheory Fitness also offers the Orangetheory DriTri Sprint classes. They're essentially the DriTri, cut in half: rowing 1,000 meters, 150 reps of bodyweight exercises, and running or jogging 1.55 miles on the treadmill. The Orangetheory DriTri Sprint classes are held on the same days as DriTri classes, just at different times.
How to Prepare for the Orangetheory DriTri
You can physically prepare for the Orangetheory DriTri in the weeks and months ahead by taking Orangetheory classes, running and rowing on your own, and completing the Orangetheory Infinity Workout on Sept. 3. But Hillman wants people to remember that DriTri is for everyone.
"One of the many great things about Orangetheory is . . . we cater to all fitness levels," Hillman told POPSUGAR. "We even like to say that everybody is an athlete." She added that if you are feeling nervous, you can channel that emotion into energy for the big day. Coaches and fellow members will be cheering every participant on, and Hillman said the atmosphere on DriTri days is electric. "It's straight magic. It's hype. It's so energetic," she said. "From the coach's perspective, one of the most exciting things is to see members complete a task, a challenge that they didn't even think was possible for them."
To make sure you are ready for the DriTri, drink plenty of water before and after the workout, get a good night's sleep the night before, eat a meal or snack with carbs and protein before for energy (if you don't do fasted workouts), and blast your favorite pump-up song or playlist to get you in the mood to crush your workout.
Ready to take on the DriTri challenge? Check out Orangetheory's website for more information on how to sign up at your local studio.