Paleo Steak Dinner Recipe
This Deliciously Sweet Steak Dish Will Be the Star of Any Paleo Dinner Table
These one-pan Sesame Pineapple Steak Bites are bursting with tropical flavor! Perfect for a quick lunch or dinner, via PaleoHacks.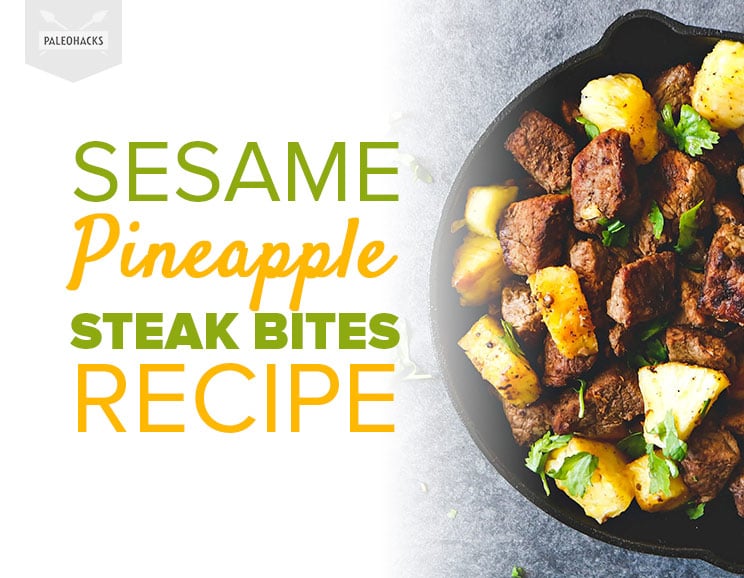 Nothing complements a steak bite like the tangy sweet flavor of pineapple. This recipe includes a versatile marinade made with coconut aminos and sesame garlic – perfect for bite-size munching!
The trick to locking in tons of flavor is to marinate the sirloin tips for at least four hours. This will tenderize the steak with rich garlic, coconut aminos, and toasted sesame oil. Coconut aminos, a natural stand-in for soy sauce, consist of coconut sap, water, and sea salt. Its deep flavor adds instant richness to stir-fries, curries, and marinades. You can also swap it for Worcestershire sauce in many other recipes such as meatloaf or steak sauce. To tie the dish together, you'll also be adding toasted sesame oil for a mouthwatering, nutty aroma!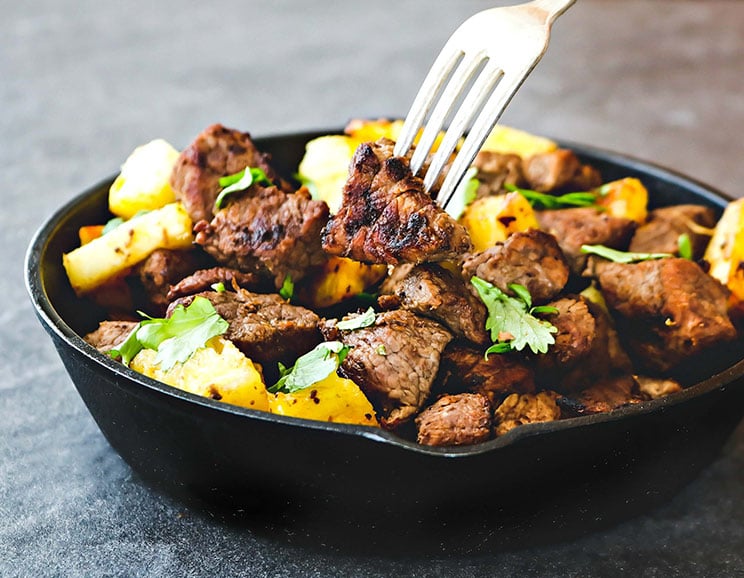 Get started by combining bite-size pieces of sirloin with coconut aminos, sesame oil, and minced garlic in a bowl. Coat the steak with marinade and cover before refrigerating for at least four hours. Next, drain out the marinade and heat a medium cast iron skillet over medium-high heat.
When the pan is hot (about two minutes), add the steak bites. You want to hear a sizzle as the bites hit the skillet to ensure proper browning. Cook for five minutes and carefully drain off any excess liquid from the pan. Return to the stove and stir the bites as you cook for an additional five minutes to evenly brown all sides. Stir in the pineapple and cook for another two minutes. When finished, garnish with fresh cilantro and serve immediately!
Enjoy these steak bites solo, served over cauliflower rice, or atop a Paleo pizza crust for a tropical twist!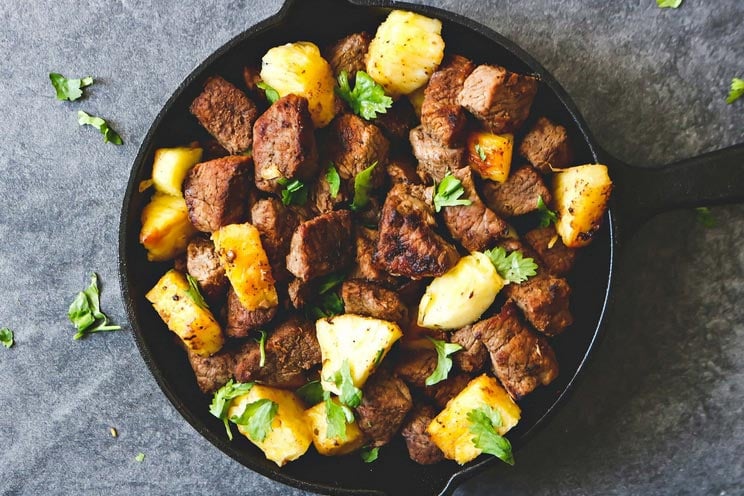 Sesame Pineapple Steak Bites
PaleoHacks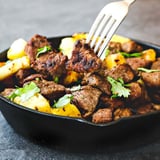 Ingredients
2 lbs. grass-fed sirloin steak tips, cut into bite-size pieces
1/4 cup coconut aminos
3 tbsp. toasted sesame oil
1/2 tsp. garlic, minced
1 cup fresh pineapple, diced
1/4 cup cilantro, chopped
Directions
Combine steak pieces, sesame oil, coconut aminos, and minced garlic in a medium mixing bowl and toss to coat. Cover and marinate in the refrigerator for least four hours.
Drain marinade from steak and heat a large cast-iron skillet over medium-high heat. When skillet is very hot, add steak pieces. Cook for five minutes.
Carefully drain and discard excess liquid from the skillet. Turn heat to high and cook for an additional five minutes, or until steak bites are browned. Stir in pineapple pieces and cook two minutes longer.
Serve hot and garnish with cilantro.
Information
Category

Main Dishes, Beef

Cuisine

North American

Yield

4 servings