Papaya Mint Ginger Smoothie Recipe
Remedy Digestion Woes With This Papaya Ginger Mint Smoothie
If you're feeling bloated, sluggish, or otherwise low energy, it's time to whip up this digestion-relieving smoothie. Almost every ingredient in this recipe is good for your gut: papaya helps you debloat and relieves constipation, Greek yogurt offers healthy probiotics for your system, and ginger and mint help calm any stomach upsets. It even has a splash of lemon juice to help flush out toxins. Keep this recipe on hand for any overindulgent days.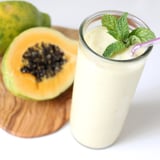 Ingredients
1 papaya (Solo or Mexican), peeled, seeded, and cut into chunks
1/2 cup ice cubes
1/2 cup nonfat Greek yogurt
1/2 tablespoon finely chopped peeled fresh ginger
1/2 tablespoon honey
Juice of 1/2 lemon
Water, to taste
4 fresh mint leaves, plus 1-2 sprigs for garnish
Directions
Refrigerate papaya until very cold, at least one hour or overnight.
Blend papaya, ice, yogurt, ginger, honey, and lemon juice in a blender. Add water, one tablespoon at a time, until mixture is smooth and thinned to desired consistency. Blend in mint leaves.
Garnish with mint sprigs and serve.
Makes one 16-ounce serving.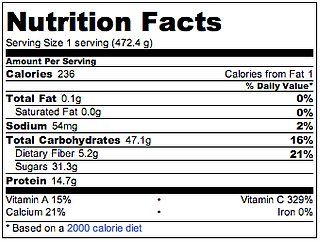 Source:Calorie Count
Information
Category

Drinks, Smoothies

Cuisine

North American