Reebok Les Mills Dance Workout With Nina Dobrev
I'm Not Crazy About Dance Workouts, but This One With Nina Dobrev Changed My Mind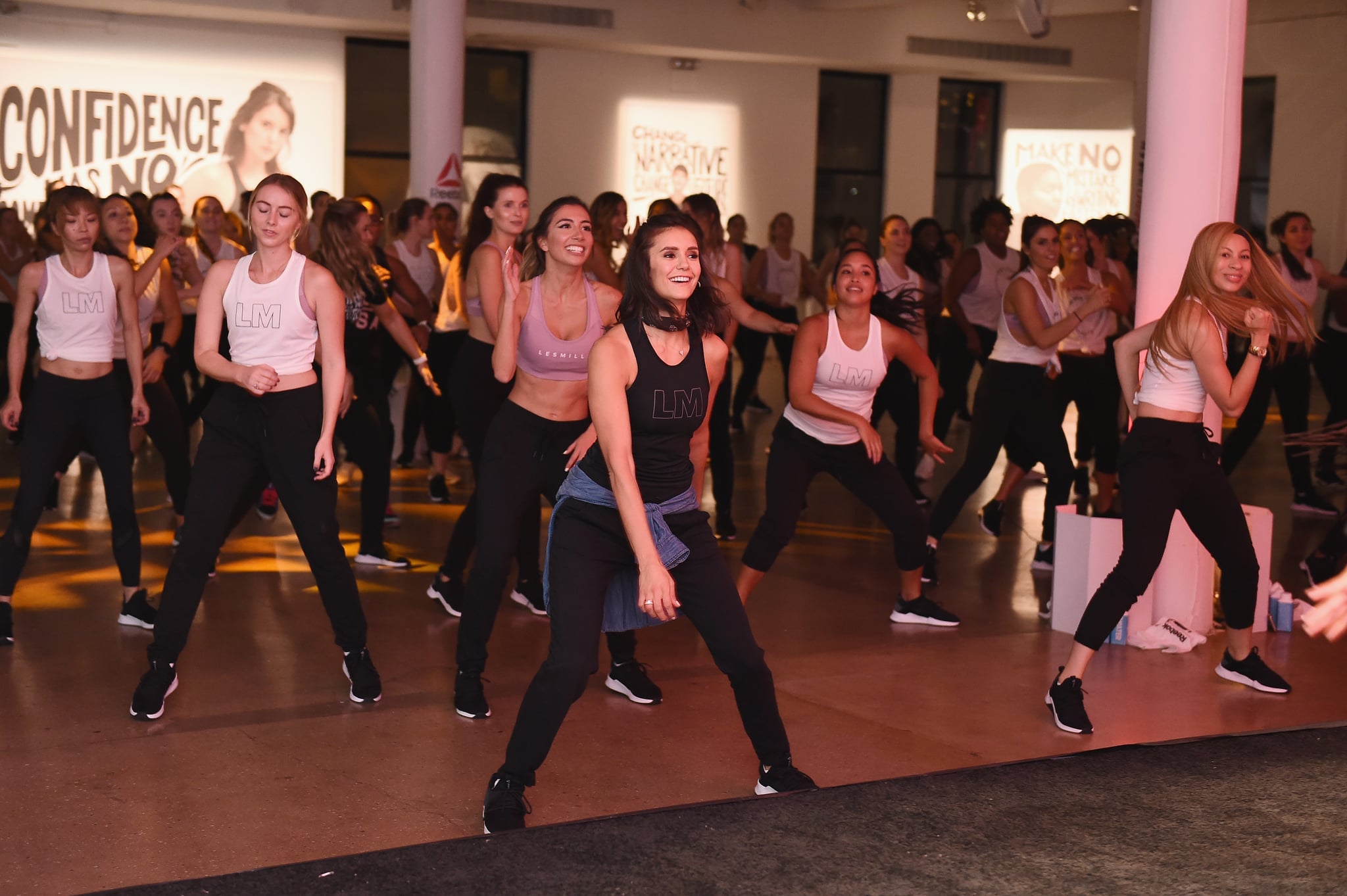 I'm not usually the type who enjoys fumbling through a new workout in front of other people, but when Reebok invited me to take a Les Mills BODYJAM class with Nina Dobrev, I was curious enough to say yes. Of course, that didn't mean I wasn't nervous. For starters, I'm a big fan of the actress, who also happens to be a fitness queen, but more than that, I wasn't sure about doing a dance workout. The thought of spin-and-clapping in a crowd brought back weird memories, like the times my mom dragged me to Zumba and all the 80-year-olds in attendance put my moves to shame.
On the day of the event, I spoke with Nina beforehand and expressed my concern, saying that some people (coughcough, me) might shy away when they hear the phrase "dancing workout."
"They think of ballet, or — what's the '80s dance guy with the curly, big hair? Richard Simmons?" she suggested. "This is more of a hip-hoppy, pop dance class. What's great about it is that any person, of any dance level — whether you're intermediate, beginner, or advanced — can jump into this and have a lot of fun. We take a lot of time at the beginning to break everything down very slowly and methodically."
I felt a little more confident, especially once Nina added that she cocreated this particular routine and wanted it to be something "that made you sweat a lot, but also made you feel like you're not working out at all and having a good time." But I couldn't shake the thought of making a fool of myself. Could she relate to feeling insecure at all, especially since one of her close friends, Julianne Hough, is actually a professional dancer?
"I definitely make sure to never stand next to Julianne in a dance class," Nina admitted. "I'll always look like an amateur next to her. But I still go. She inspires me all the time to dance, and be free, and have fun. It's an infectious activity. When you let go, and don't care what people think and just move your body, it feels great!"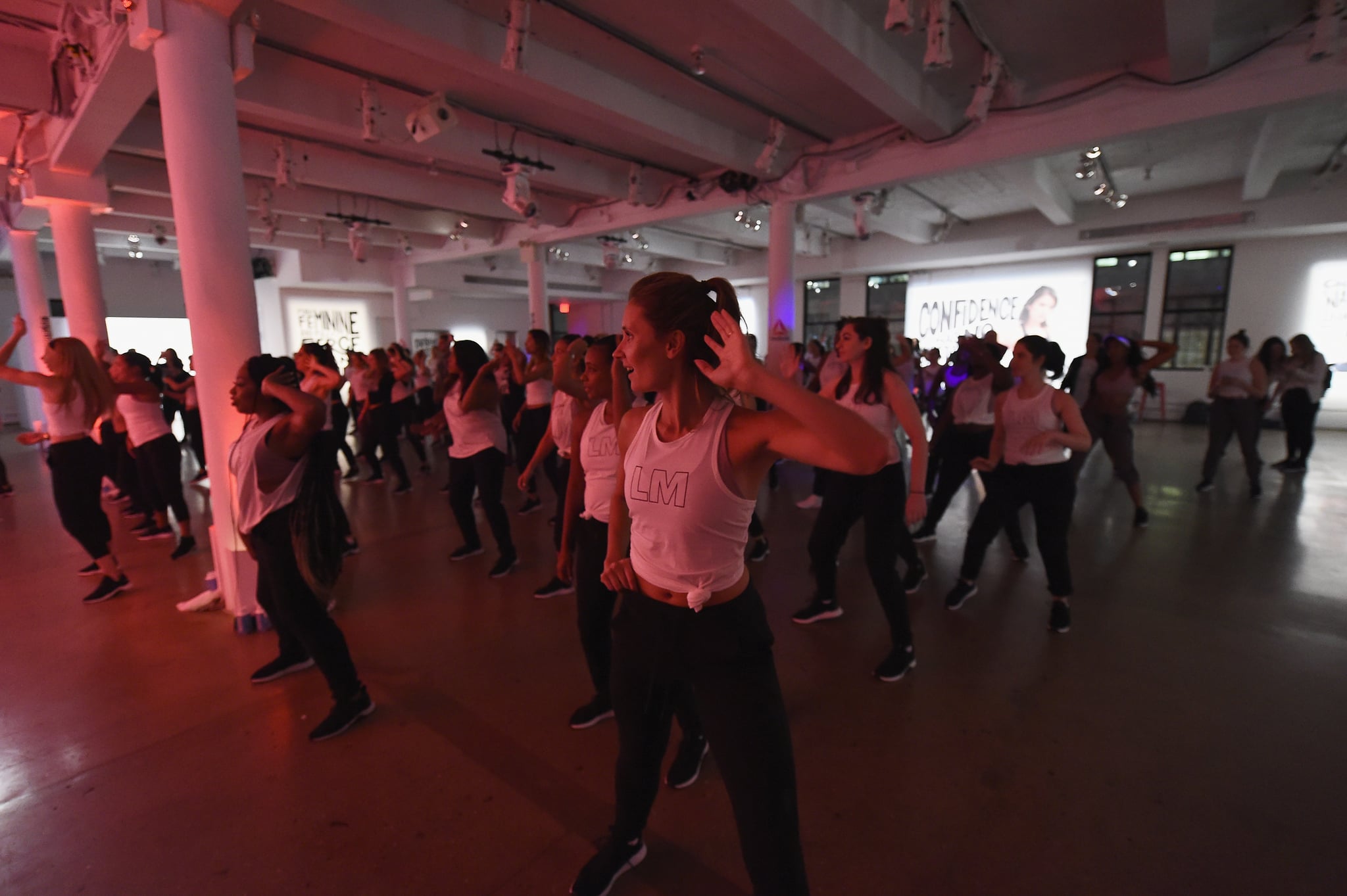 Decked out in black Reebok sneakers and baggy joggers that made me feel very old-school Gwen Stefani, I tried to remember those words — even after a girl who was clearly ready for the advanced level found a spot in front of me. (Not only could she move, but she'd also added a visor to her look. Trust me, it just made her appear even more impressive.)
Here's how the whole thing worked: the Les Mills instructors, who stood on a stage front and center, took us through the moves one step at a time. After that, we put it together to make a combination, and once we got that down (and essentially felt ready to audition for So You Think You Can Dance), we put the combinations together, and, hey look, we were really dancing!
I ended up breaking a decent sweat, and Nina was right: nothing felt too difficult for a rookie. Also, there wasn't any jumping and only one spin-and-clap. The rest of the moves were a combination of leans, body rolls, and some skip-jumps that wouldn't look out of place at a Jennifer Lopez concert. I even caught myself smiling a few times because, as it turns out, dancing is really fun. Who knew?!
While I'm probably not ready to show off these skills at a wedding reception, I do plan on putting these Gwen Stefani pants to good use (not just as loungewear). Les Mills has classes online, so I don't even have to risk embarrassment — although, I have to admit, I think I've been converted. Try the workout for yourself below. It might make you a believer, too.
Image Source: Hope Calnan / Reebok