Simple Truth Low Cow Low-Calorie Ice Cream
Low Cow's Low-Cal Ice Cream Is Here to Rival Halo Top — For Only $4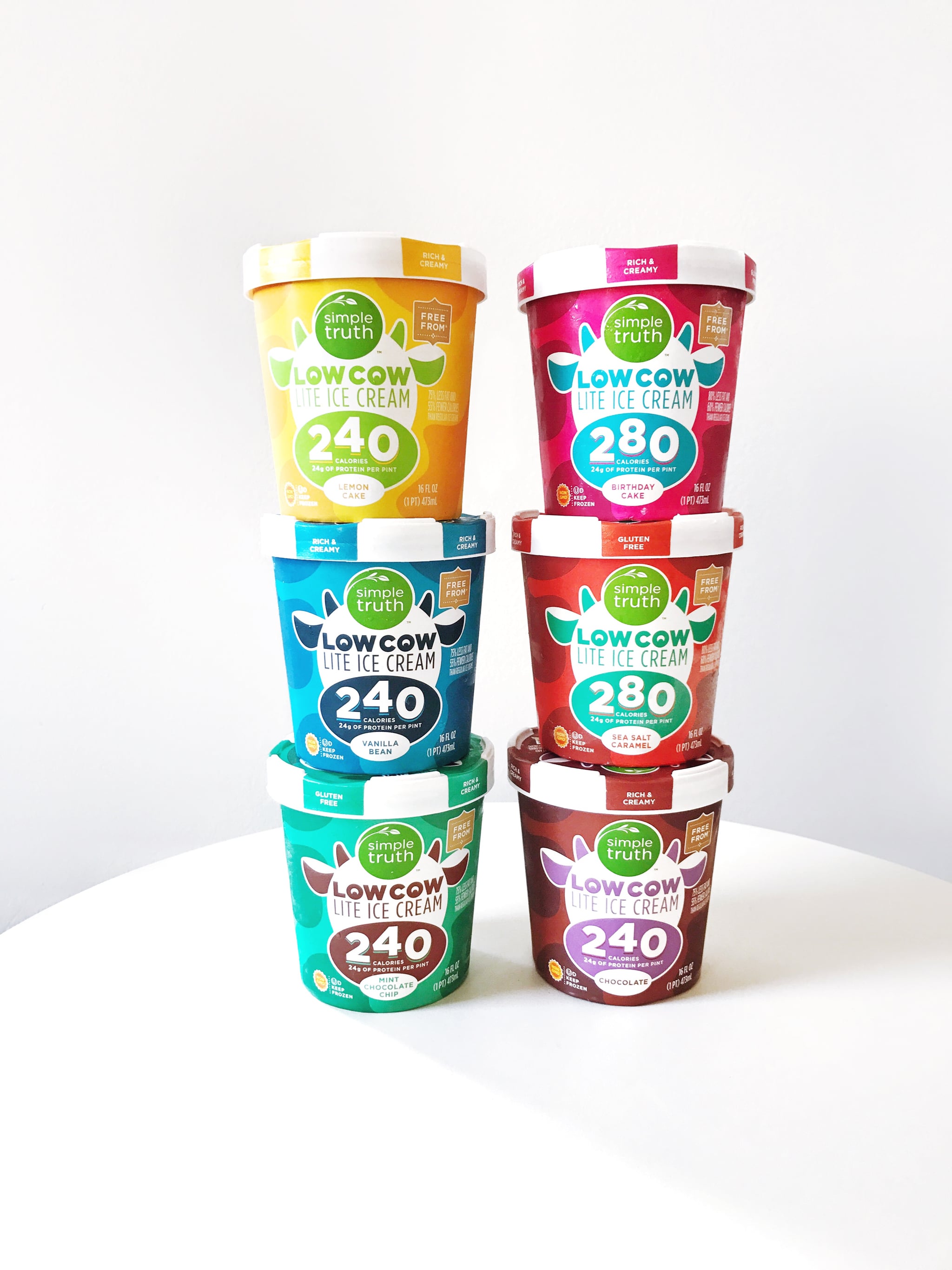 Kroger's comin' for Halo Top. The grocer's Simple Truth brand that retails in stores nationwide (2,800 grocery retail stores including Kroger, Ralph's, Foods Co, etc.) just launched its Low Cow low-cal ice cream brand that's strikingly similar to the Halo Top model consumers have come to know, love, and obsess over.
Here's the kicker — it's $4.49 per pint as opposed to Halo Top's $6. But does it taste as good? We let our colleagues decide in a taste test of all six flavors. Each pint ranges between 240 and 280 calories, with 24 grams of protein and only 6 grams of fat and 46 grams of carbohydrates (reminder: that's per pint — not per scoop). It's sweetened with erythritol and stevia, so there are 12 grams of sugar per pint and 20 grams of sugar alcohol.
The general consensus was pretty darn positive. The texture, though, was definitely not that of regular ice cream and left a little something to be desired. Clear winners in terms of flavor were Birthday Cake and Sea Salt Caramel. Here's a quick breakdown of what they've got in stores:
Birthday Cake
Summary: Real confetti sprinkle bits, good flavor, the crowd favorite, and "SUPER BOMB!!!" Some points docked for powdery texture.
Sea Salt Caramel
Summary: Another favorite flavor. "Wonderful, such a good caramel flavor," and "The salt is a good addition because low-cal ice creams can be cloying."
Chocolate
Summary: Solid "Fudgsicle" flavor. One of the favorites. Same issues with texture. "So chocolaty."

Vanilla
Summary: Good flavor, weird texture. Ranged from "LOVE, would purchase" to "tastes like soy milk with a punch in the face of fake sugar."
Mint Chip
Summary: Lightly minty, kind of grainy. Bit of an "aftertaste of fake sugar," but still got a couple "Wonderful!" responses.
Lemon Cake
Summary: Responses ranged from "creamy floor cleaner" to "flavor is refreshing/good," but "texture is weird" was the main feedback.