Steak and Parsnip Fries Recipe
Steak + Parsnip Fries
Notes
Save 1/2 of steak for tomorrow's lunch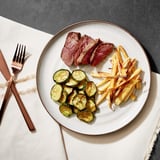 Ingredients
2 parsnips, sliced lengthwise, into 1/4-inch strips
1/2 zucchini, sliced into 1/4-inch disks
1 tablespoon olive oil, divided
1/8 teaspoon salt
8-ounce beef tenderloin
Directions
Preheat oven to 425°F. Slice 2 parsnips, lengthwise, into 1/4-inch strips. Slice half a zucchini into 1/4-inch disks. Toss parsnips and zucchini with 2 teaspoons olive oil and salt and arrange in a single layer on an aluminum-foil- or parchment-paper-lined baking sheet.
Turn oven temp down to 400°F and bake for 20 minutes, turning once.
Remove veggies and heat the broiler on high.
Heat an oven-safe skillet with 1 teaspoon olive oil over high heat. Lightly salt and pepper both sides of the beef tenderloin and add to the skillet to cook until bottom of steak is browned, about 3 minutes. Without flipping, place the entire skillet under the broiler to cook until medium, about 3 minutes under the broiler.
Serve half (4 ounces) of the steak with the parsnip fries and zucchini disks and save the other half of the steak for Day 7.
NUTRIENT TOTALS
Calories: 503
Protein: 35.8 grams
Carbohydrates: 38.9 grams
Dietary Fiber: 10.8 grams
Total Sugars: 12 grams
Total Fat: 23.2 grams
Saturated Fat: 5.417 grams
Sodium: 385.4 milligrams
Information
Category

Main Dishes

Cuisine

North American