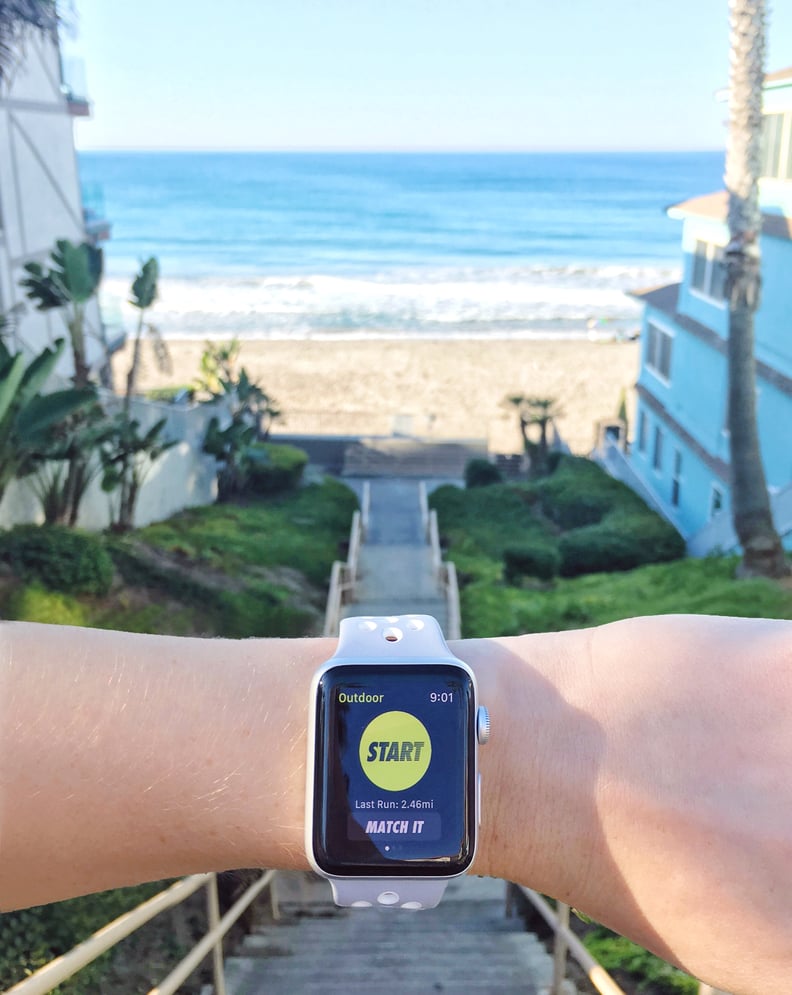 POPSUGAR Photography | Dominique Astorino
POPSUGAR Photography | Dominique Astorino
The Apple Watch Nike+
It's the holiday season and quite possibly you're either asking for a new running tracker or deciding on which one to give a loved one — right? I compared the Apple Watch Nike+ and the Fitbit Charge 2 (yes, I wore them simultaneously) to give you a brief rundown of my opinion and the features: which one is best for tracking all those runs?
A disclaimer: I realize that the Fitbit Blaze is a closer comparison to the Apple Watch, but I don't have one of those, so I tested the Charge 2. I love both my Apple Watch and my Fitbit for different reasons, so I'll give context about what the Blaze could potentially provide for a runner while also giving my experience with these two particular models.
Aesthetic
If the style of your tracker is of the utmost importance, then you're in luck — both the Apple Watch Nike+ ($399) and the Charge 2 ($150) are pretty sleek. While the Apple Watch obviously looks like a watch, the Nike+ version is decidedly sporty with a perforated band and preset Nike+ "faces." This means you can customize the display of your Apple Watch with Nike's own fonts and designs that show the time, date, and Nike+ button to start your run.
The Fitbit Charge 2 definitely has the look of an activity tracker, but with models like the rose gold and lavender one (or the black and gunmetal!) it's sleeker than ever and definitely a more transitional piece that you can wear easily in both the gym and the office. So in summary, both are great options; it's just a matter of preference.
Winner: Tie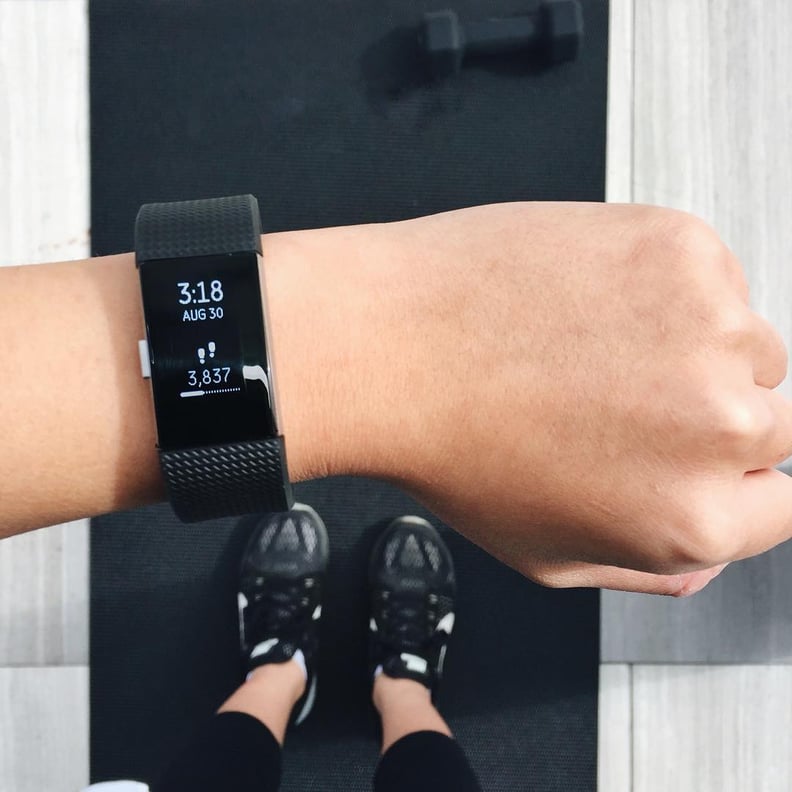 The Fitbit Charge 2
Important Features: Auto-Pause
One of my favorite features of the Nike+ Run Club app on the Apple Watch Nike+ is the auto-pause feature. I went on a jog from my house to Golden Gate Park, which has many stoplights on the way (as you'll see), and I didn't have to fiddle with my watch every time I came to a stop on my run — the app senses that you've stopped and in turn pauses your workout recording. The Fitbit Charge 2 does not have this functionality, so my 15-minute run at an 11'34" pace on the Nike app looked like an 18- or 19-minute run at an over 15-minute pace on the Fitbit. I know I'm slow, but I'm not that slow!
Winner: Apple Watch Nike+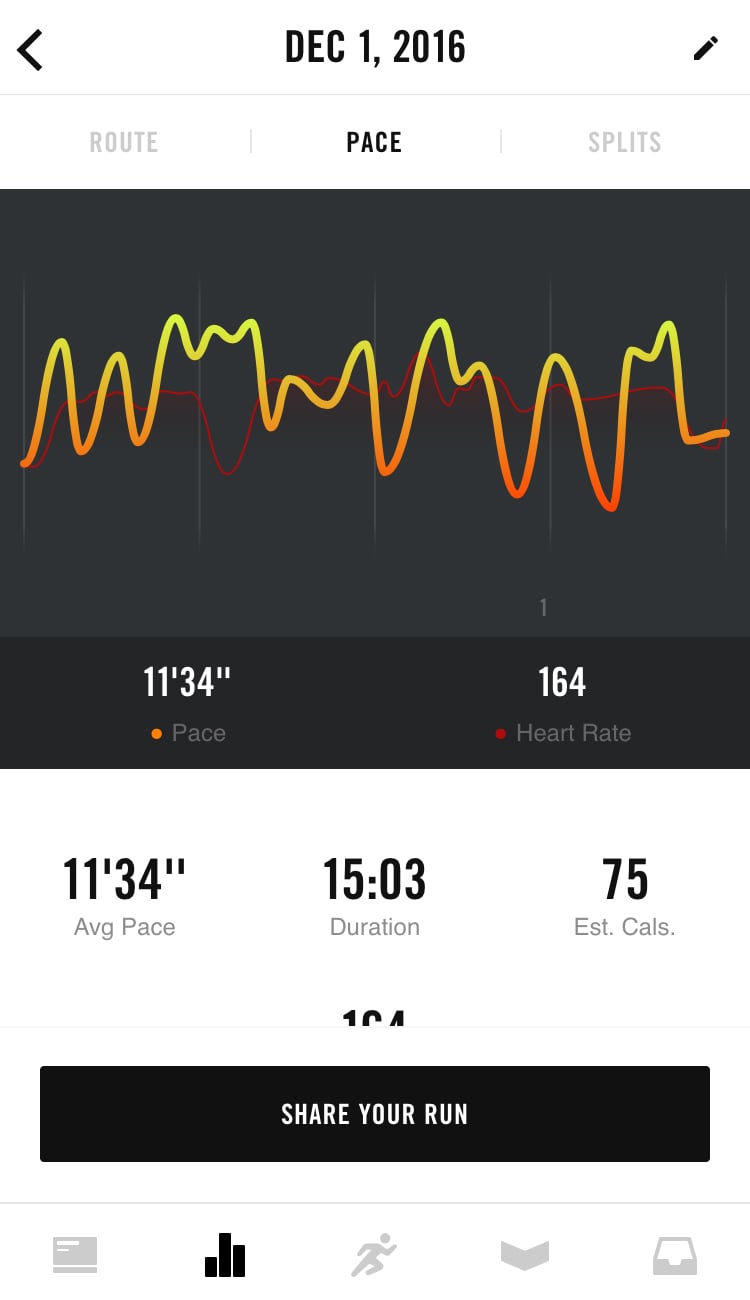 An exact look (on the Nike+ Run Club app) at all those times I had to stop at stoplights . . .
Important Features: Audio
If you're looking for a tracker that gives you an audio update when you hit your mile marks, then you're going to want to opt for the Apple Watch Nike+ vs. the Fitbit Charge, as the Fitbit Charge has no audio capabilities. However, the Fitbit Blaze does have music control features.
The audio capability on the Apple Watch also allows you to sync with Bluetooth headphones and store up to 1 GB of music on your watch. The Fitbit Blaze has no space for music storage, and you'll still need your phone.
Winner: Apple Watch Nike+
Data: Heart Rate
The Apple Watch Nike+ gives you an average heart rate, while the Fitbit Charge 2 gives you much more nuanced heart rate information. If this is a central point for you, the Fitbit Charge 2 definitely takes the cake. Take a look at the difference in heart rate data below.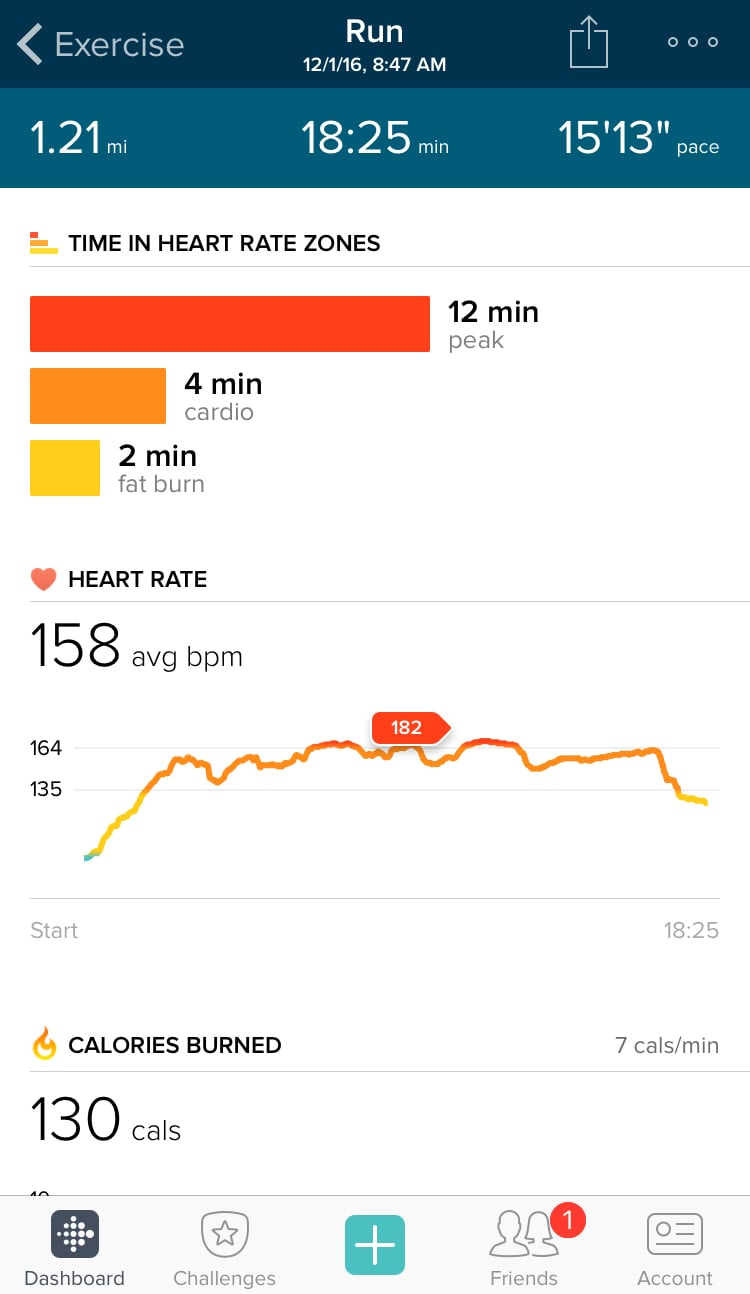 Fitbit's incredible heart rate data
The Fitbit's data breaks down exactly what your BPM was in every minute of your activity, allowing you to see what pushed you to the peak and when. There's nothing like this on the Apple Watch Series 2 or Apple Watch Nike+ — even in the Heart Rate app, you don't get graphs like this.
The Fitbit Charge 2 and Apple Watch Nike+ showed different average heart rates for the same run (perhaps because I wore them on different wrists); the Fitbit marked me at a 158 average heart rate, while the Apple Watch had me at 164. It's a subtle difference but hard to tell which one is more accurate, which is pretty frustrating to the user.
Winner: Fitbit Charge 2
Data: GPS
Interestingly enough, on my first comparison run, the Fitbit had me at 1.2 miles, whereas the Nike GPS showed 1.3. When I put in the points on Google Maps, I got a total distance of 1.7 miles. WHO CAN I TRUST?
The Fitbit Charge 2 does not have inherent GPS capabilities aside from syncing with your phone (meaning you'd have to bring your phone with you). And while the Fitbit site says you can see your GPS data on your computer, I was unable to find mine — and it definitely wasn't available in the app.
With the Nike+ Running app and the Apple Watch Nike+, the device itself has GPS that you can see right on your wrist (meaning phone-free running) before syncing with your app and getting a better look at the map.
Winner: Apple Watch Nike+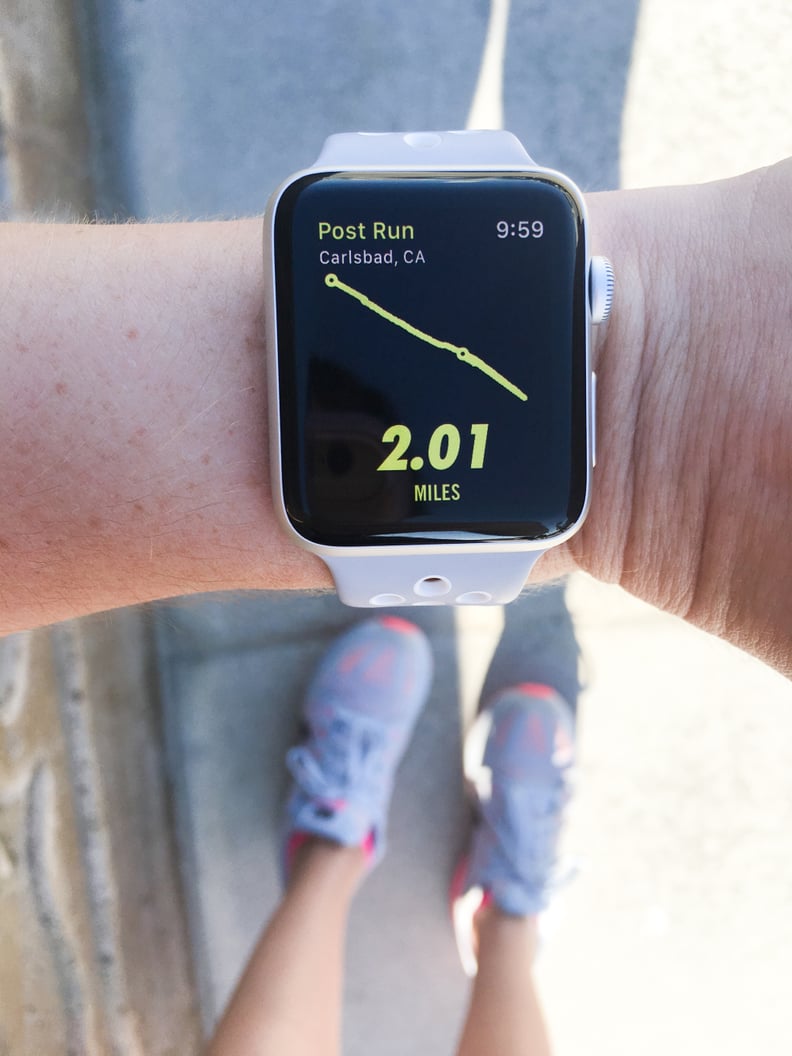 Data: Splits
Seeing your splits is quite easy on the Nike+ Running App and virtually nonexistent on the Fitbit app (I don't think it's a feature and I've tried looking for it many times). In terms of accessing your run-specific data, the Nike+ app and Apple Watch take the cake.
Looking back at my Fitbit run history with my Charge 2, the data barely makes sense outside of the heart rate info — I can't see distance, average pace, splits, or the GPS of the route (though I can see steps, total time, and very nuanced data about my heart rate and calories burned).
Winner: Apple Watch Nike+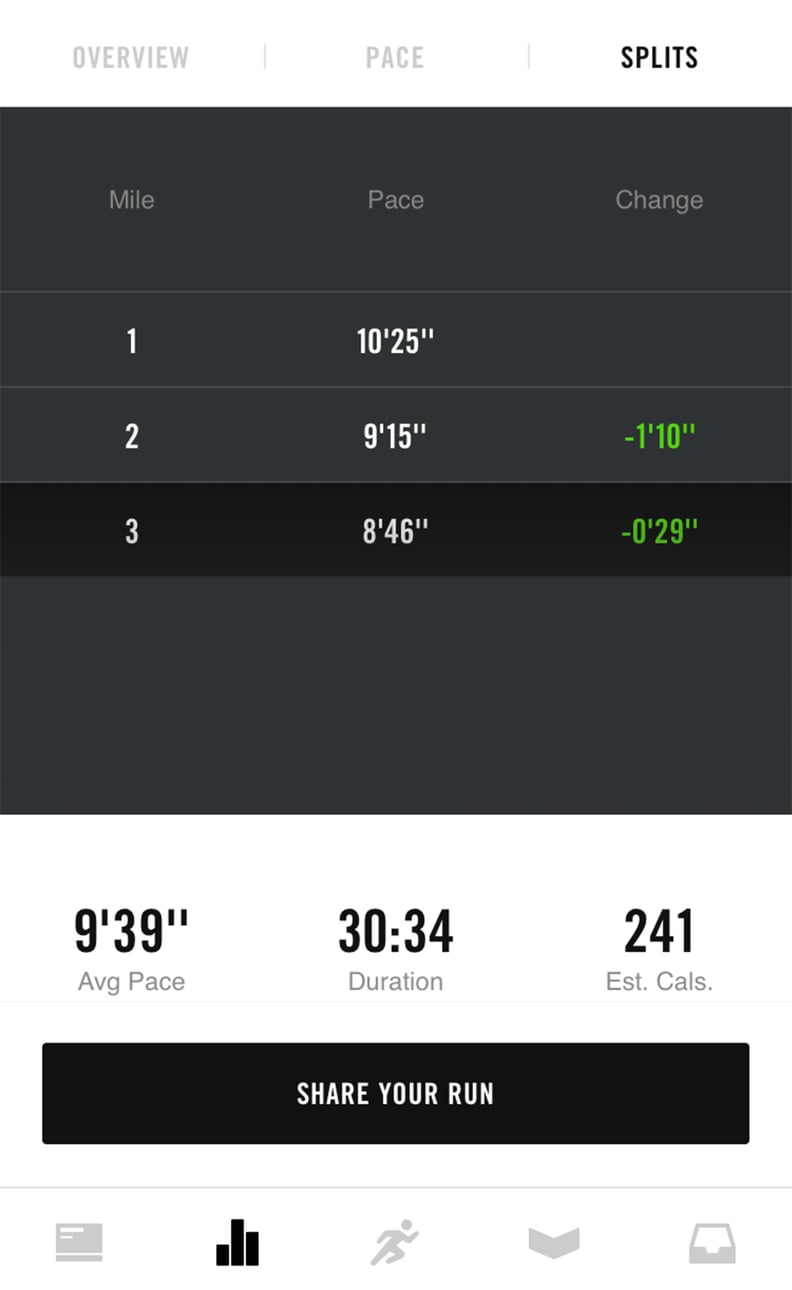 User Experience
While the Fitbit encourages you to move and get your steps in, the Apple Watch Nike+ encourages you to get miles in. If your goal is simply to move more and get a certain number of steps, then the Fitbit works perfectly. But if you've got running goals in mind, then you're going to want to opt for the Apple Watch Nike+.
While the Fitbit Charge 2 is a general activity tracker that can track sleep, hydration, food, movement, and calories burned, the Nike+ Watch is specifically tailored to running. There are features like run scheduling and reminders to go on a run with the "Are We Running Today?" notification.
The Nike+ Run Club app on the phone also makes it easier to share a run, whereas the Fitbit has more of a community centered around steps and step challenges. While I prefer using my Apple Watch Nike+ for running (primarily because of the data and its accessibility), I do miss the sense of community that comes with the Fitbit Charge 2 when I don't use it.
Battery Life
Apple Watch Nike+: 1 to 2 days of battery life
Fitbit Charge 2: 5 to 7 days of battery life
Winner: Fitbit Charge 2
Waterproof?
Apple Watch Nike+: Waterproof
Fitbit Charge 2: Not
Winner: Apple Watch Nike+
Price
Apple Watch Nike+: $369 to $399
Fitbit Charge 2: $150 to $180
Fitbit Blaze: $200 to $230
Winner: Fitbit Charge 2
Overall Impression
While the Fitbit Charge 2 has a lot to offer as an overall activity tracker, if you're looking for run-specific features, phone-free music listening, GPS, and way better running data, the Apple Watch Nike+ is hard to beat. It takes one of the best running apps out there and puts it on your wrist with the bonus of all the Apple Watch Series 2 functionality. Keep in mind that you pay for these features — it's more than double the price of the Fitbit Charge 2.
Everyone's running preferences are different — music and splits data might not be important to you, and in that case the Fitbit could be an ideal companion. But for me, in terms of tracking, logging, and reviewing how far I've come (and planning my future runs), the Apple Watch Nike+ is ideal.