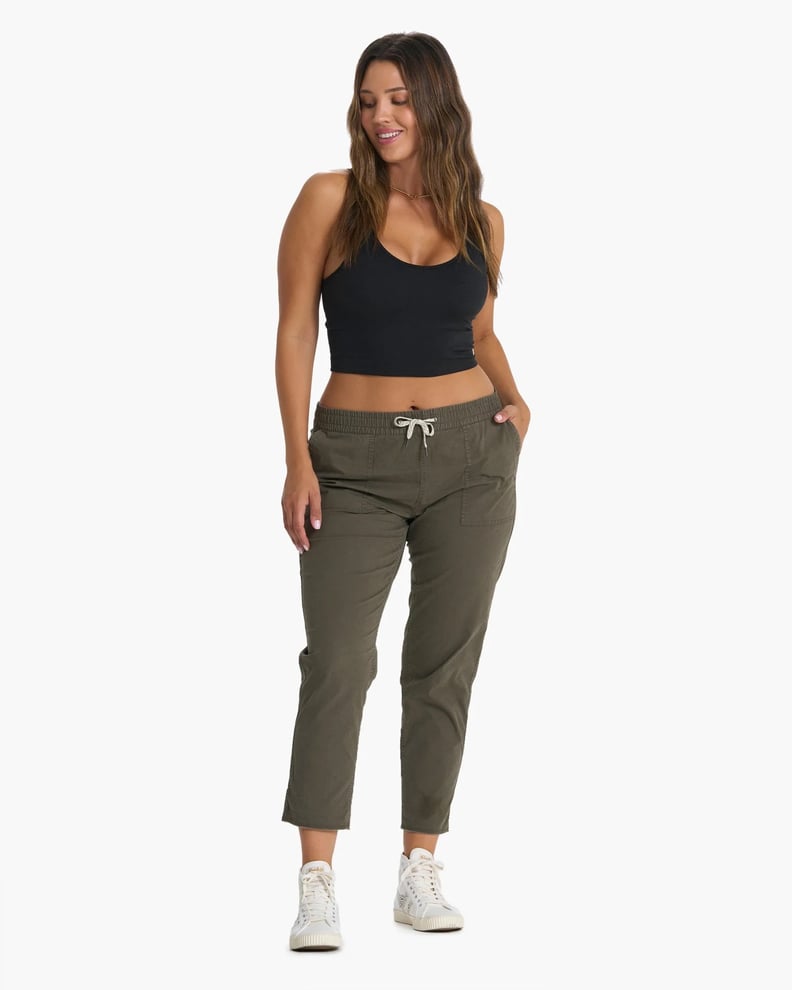 Vuori
Vuori
As POPSUGAR editors, we independently select and write about stuff we love and think you'll like too. If you buy a product we have recommended, we may receive affiliate commission, which in turn supports our work.
Vuori has been growing in popularity lately as the California brand expands eastward, and for good reason: it makes great basics for both sides of the athleisure spectrum. The brand — which is inspired by "the active Coastal California lifestyle; an integration of fitness, surf, sport, and art," according to its website — is known for its high-performance apparel that comes in comfy, stretchy, buttery-soft materials and has a laid-back look.
Vuori (pronounced vee-oh-ree; the word is Finnish for "mountain") has clothing for every setting, whether you're going for a long run, sweating through hot yoga, or lounging during a rest day. It also makes swimwear and versatile pieces that are perfect for travel. Even better is the fact that it makes all its products with ethical manufacturing, social responsibility, and sustainability in mind, including offsetting 100 percent of its carbon footprint.
Because Vuori is a "values-based business," it can be on the pricier side. (No fast fashion here!) To help you find the products worth investing in, we scoured the website, reviews, and, yes, even TikTok to determine the top picks. Read on for a selection of Vuori's best workout clothes, including those viral Vuori joggers and drawstring leggings you've definitely heard about.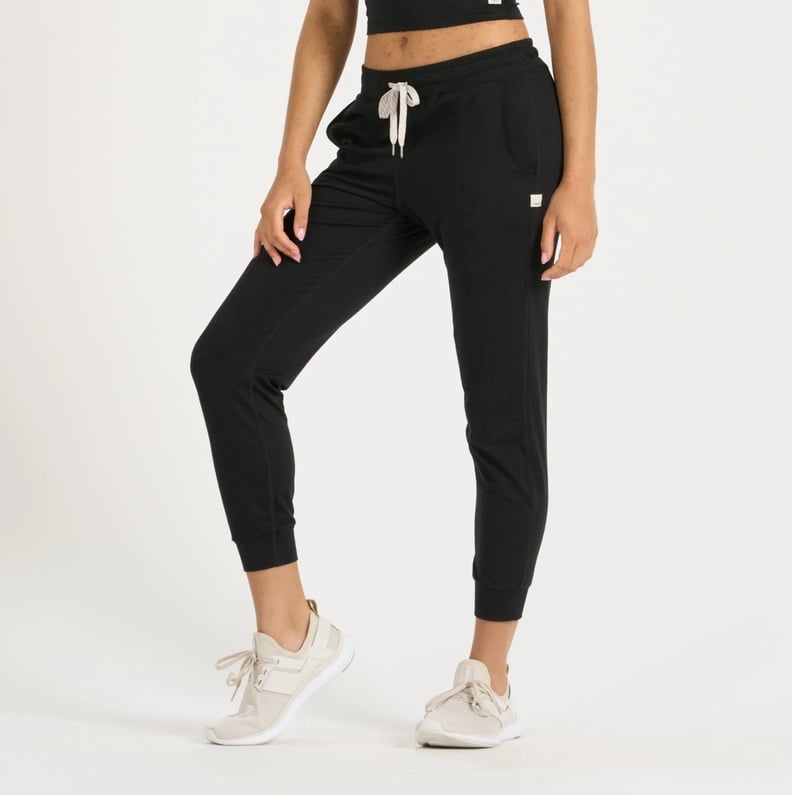 Best Vuori Joggers
Vuori Performance Jogger ($94)
Probably Vuori's most popular piece, these joggers are famous for being comfortable and versatile and fitting perfectly. They are made with Vuori's softest stretch fabric, DreamKnit, and have a slim but relaxed fit with a slightly cropped leg.
Why we love them: These joggers are so popular, you're going to want to buy more than one. Thankfully, Vuori provides them in 13 different colors. Reviewers also love that they can be dressed up or down.
What's worth noting: If you're on the taller side, you'll want to opt for the Performance Jogger Long ($94), which is just as popular and has a 27.5" inseam.
Additional details: Sizes: XXS-XXL | Colorways: 13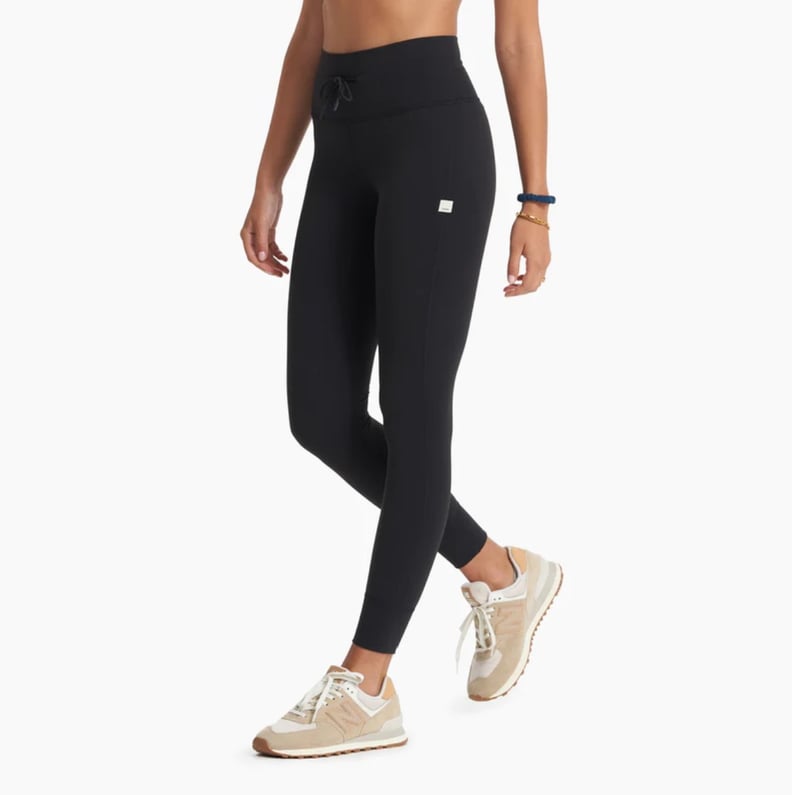 Best Vuori Leggings
Vuori Daily Legging ($89)
Second in popularity only to Vuori's Performance Jogger, these leggings are beloved on TikTok and across the internet — and for good reason. They're high-waisted with a no-slip fit and a unique drawstring design that ensures they'll stay up, no matter what you wear them for. Moisture-wicking with Vuori's famous four-way stretch, they're gym- and squat-approved, too.
Why we love them: These leggings have a 4.71 rating out of more than 4,000 reviews, which are full of compliments from customers. Reviewers call them "so soft" and "flattering" and say they "don't age much from wash and wear." Many customers report coming back to buy multiple pairs.
What's worth noting: If you prefer leggings with pockets, never fear: Vuori makes a Daily Pocket Legging ($98), too.
Additional details: Sizes: XXS-XXL | Colorways: 5
Best Vuori Bra Tank
Vuori Halo Performance Crop ($58)
This tank is so cute, we could wear it for a night out just as easily as a morning at the gym. With a double-strap back detail and a light-support built-in bra with removable cups, this is the perfect tank for yoga followed by bottomless brunch or a day working from home. The cropped length hits just at the top of high-waisted leggings.
Why we love it: This top is made with soft, stretchy fabric that falls somewhere between workout wear and loungewear. More than 1,500 reviewers have spoken, giving it an impressive 4.8 stars, and vouch that — despite its incredibly soft feel — it can be worn for "everything from barre to HIIT."
What's worth noting: Bustier reviewers recommend sizing up to get more coverage and prevent the straps from digging in.
Additional details: Sizes: XXS-XXL | Colorways: 6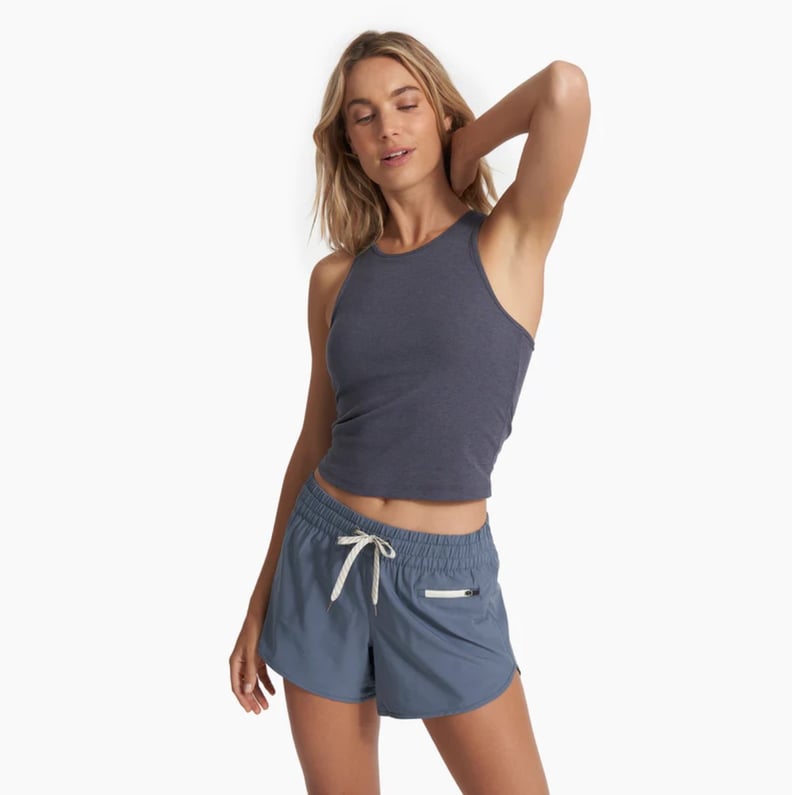 Best Vuori High-Neck Tank
Vuori Mudra Plyo Tank ($64)
The entire internet is obsessed with this tank top, and we can see why. This stylish, high-necked top includes a full-support built-in bra with removable cups and mesh lining, making it great for high-impact workouts as well as chiller days running errands. Despite being high support, it doesn't look like pure athletic wear; still, the stretch rib fabric is both moisture-wicking and has UPF 30+ sun coverage.
Why we love it: If we were to buy one top from Vuori, it would be this one. Its versatility and timeless cut make it a wardrobe classic that you can throw on for whatever plans you're tackling that day. If you're not convinced, consider what 850+ reviewers say, who've given it 4.8 stars.
What's worth noting: If you have a larger chest, this may not be enough support for high-impact workouts. One reviewer with a 30G bra size says they can go braless with this tank, but only for relaxing or light exercise.
Additional details: Sizes: XXS-XXL | Colorways: 3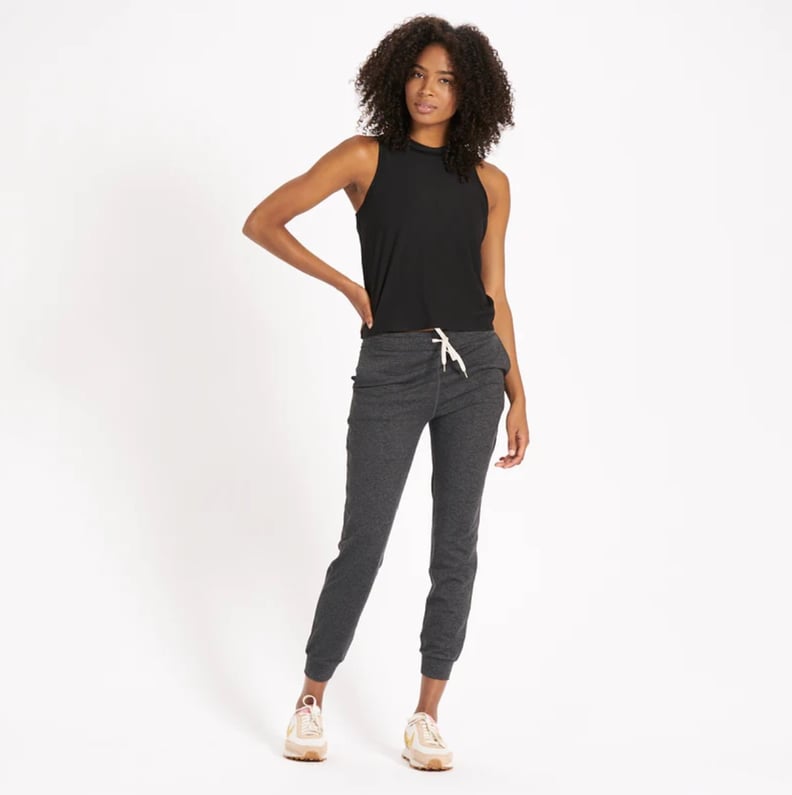 Best Basic Vuori Tank Top
Vuori Energy Top ($54)
If you're looking for a basic, everyday tank top, look no further than the Vuori Energy Top. It has a high neckline and slight crop, making it the perfect complement to high-waisted leggings. It's ultrasoft, moisture-wicking, and made with Vuori's signature four-way stretch.
Why we love it: With nearly 2,500 reviews and a 4.79 rating, customers rave about the soft feel and stylish cut, with some describing it as "flowy but not wide, very flattering." Plus, it has anti-odor properties, which never hurts, especially for long workouts.
What's worth noting: Due to the shirt's athletic cut, a few reviewers thought the arm holes were too big.
Additional details: Sizes: XXS-XXL | Colorways: 4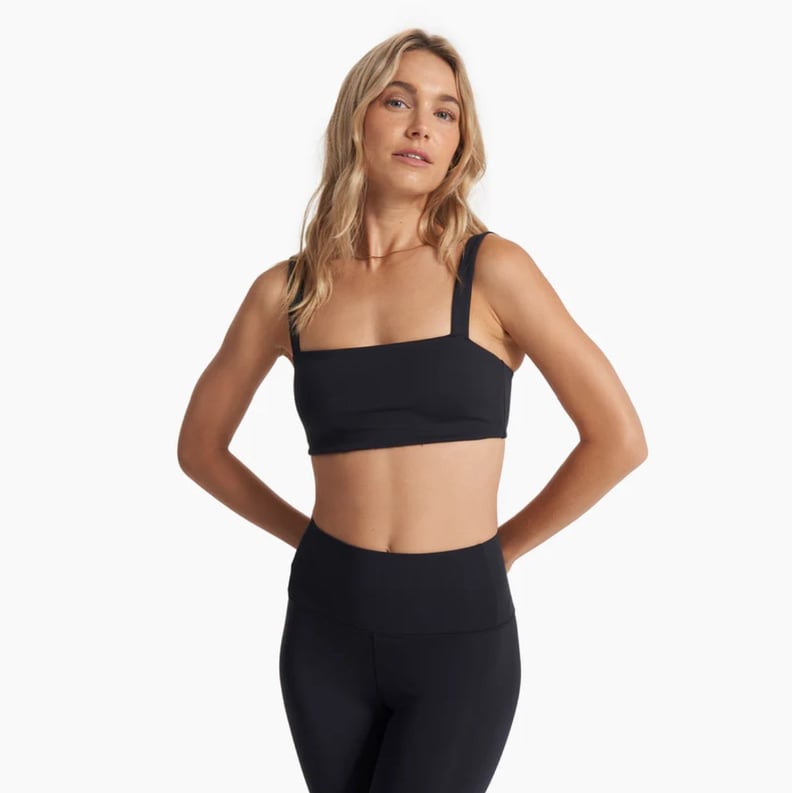 Best Vuori Sports Bra For Light Support
Vuori Evolve Square Neck Bra ($64)
If you prefer sports bras with coverage rather than cleavage, you'll love Vuori's square-neck bra. It offers light support with removable pads, and the trendy neckline makes it cute enough for a girls' day out without screaming "sport bra."

Why we love it: This bra has a stylish low-cut back and thick straps that make sure it will stay put. Reviewers report being "super impressed with the quality" and loving it so much, they bought it in a second color.

What's worth noting: If you want to make laundry day as easy as possible, this may not be the bra for you, as Vuori recommends laying it flat to dry. If you're worried about sweat marks, you may want to choose the black color over smoke gray, as some reviewers noted that smoke showed sweat fairly quickly.

Additional details: Sizes: XXS-XXL | Colorways: 2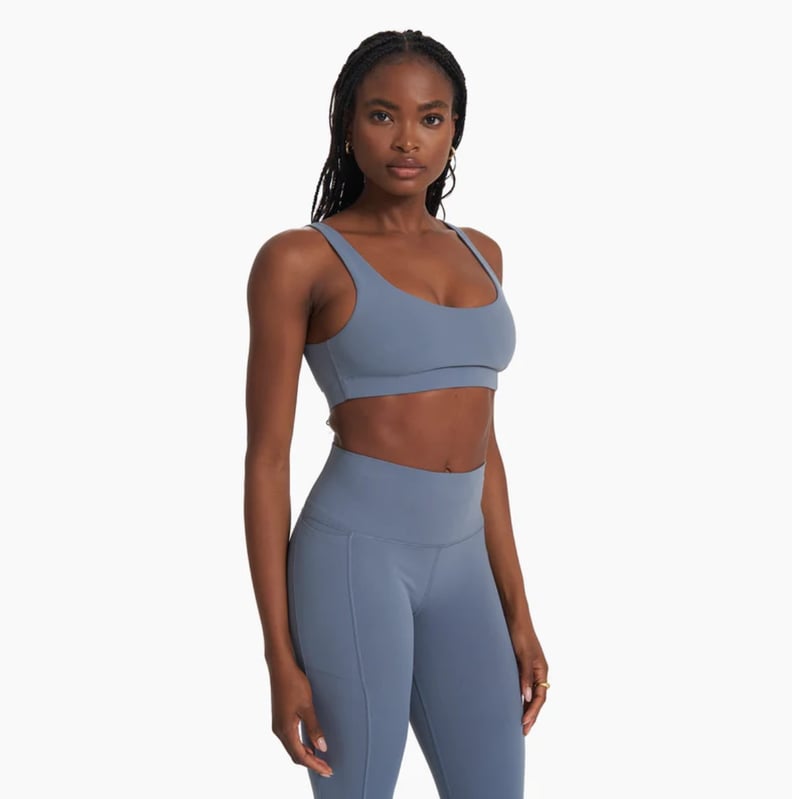 Best Vuori Sports Bra For Medium Support
Vuori Daily Bra ($48)
This bra has earned its name, as it will become your new daily go-to. Not only is it ultracomfortable, but it also offers medium support for everything from yoga to running. Since it's not a racerback, you can wear it for a hike or hot girl walk without worrying about tan lines down the middle of your back — just promise not to forget the sunscreen!

Why we love it: Vuori's peachy BreatheInterlock fabric will make this the softest sports bra you've ever owned. But it's not just comfortable: it's also moisture-wicking and quick-drying for outdoor workouts.

What's worth noting: Some love them, some hate them, so it's worth noting that this bra has removable cups that may need to be repositioned from time to time (or can be taken out completely).
Additional details: Sizes: XXS-XXL | Colorways: 3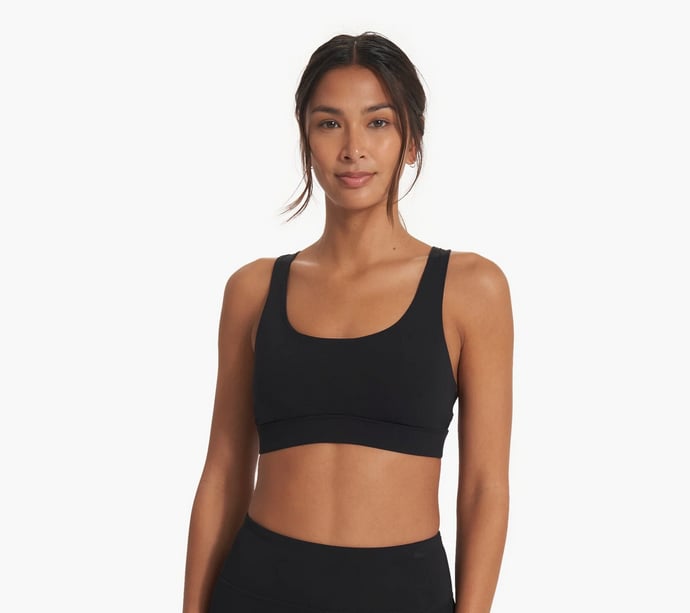 Best Vuori Bra For High-Impact Workouts
Vuori Stride Bra ($64)
This bra earns its name, as its performance stretch knit fabric is perfect for high-impact activities such as running. Made with 30 percent elastane, it has a firm hold with removable cups. Not only does it work as hard as you do, but the back also has a split-strap detail that adds style and support.

Why we love it: This bra is moisture-wicking and provides UPF 50+ coverage. Outdoor running season? Bring it on.

What's worth noting: This bra cuts slightly lower in the front than in the back, which is something to keep in mind when pairing it with leggings or shorts. Reviewers also recommend checking Vuori's sizing chart before you order, as this bra's high support may mean it's different from your usual size.

Additional details: Sizes: XXS-XL | Colorways: 1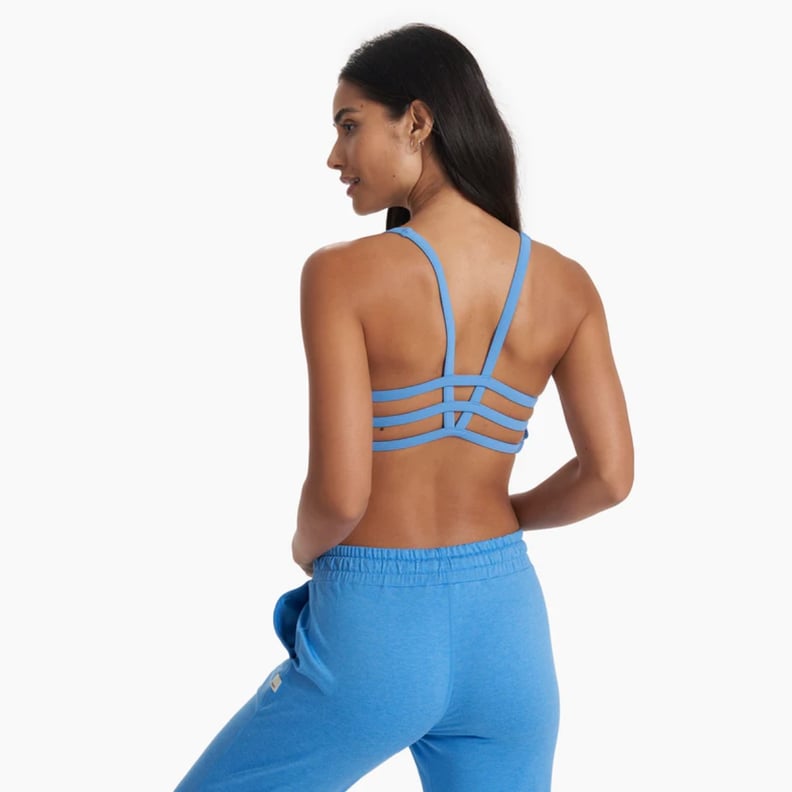 Best Strappy Vuori Sports Bra
Vuori Yosemite Bra ($58)
More than 1,000 reviewers have given this strappy-backed sports bra an average rating of 4.71. Not only is it adorable, but it's also peachy-soft thanks to Vuori's BreatheInterlock fabric. The design offers light support for hiking, training, and traveling and has removable cups.
Why we love it: The straps are as cute as they are functional: they'll keep you cool on hot days, and the material is moisture-wicking. Reviewers say it's "very comfortable and not super tight" despite the strappy design, which can sometimes lead to bras digging in.
What's worth noting: Wearing this outside? Remember to reapply sunscreen if you wear it on the trails to avoid funky tan lines. Some reviewers also note preferring previous Yosemite bra styles.
Additional details: Sizes: XXS-XXL | Colorways: 5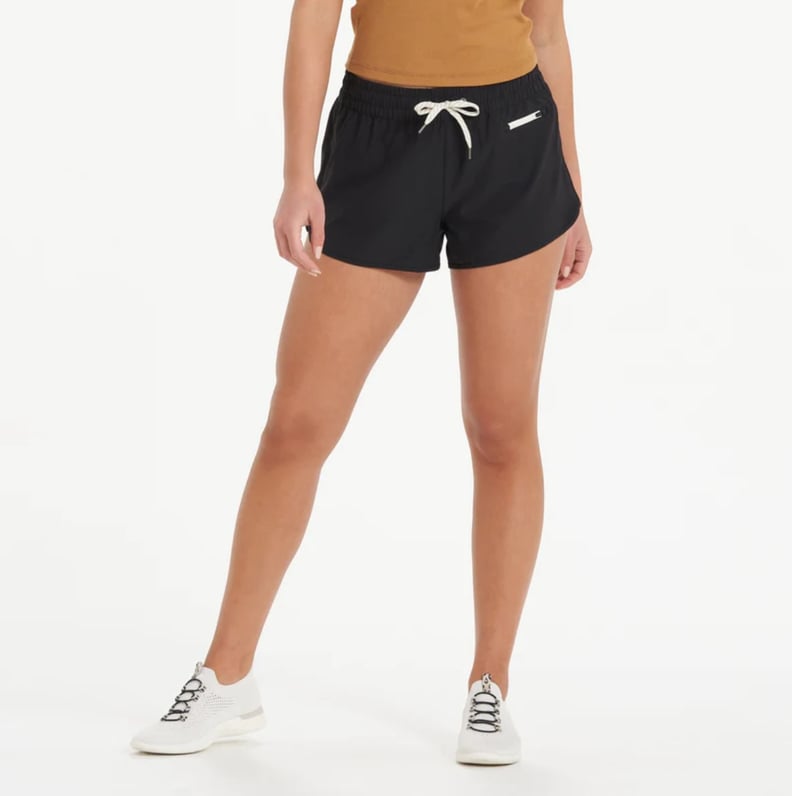 Best Vuori Running Shorts
Vuori Clementine Short 2.0 ($58)
Another viral favorite, these Vuori shorts are beloved for running, with ultra-lightweight four-way stretch fabric and a bikini-brief mesh liner. The 2.0 edition features a more modern and flattering fit than the original shorts (which you can still snag on sale for just $29!). They also come in a wide variety of colors, so you can match all of your running (or lounging) outfits.

Why we love it: The front zipper pocket is perfect for storing keys and a credit card for your post-run coffee stop. They're also made from recycled materials.

What's worth noting: These shorts only have a 2.5" inseam, so you might prefer a longer pair if you deal with chafing. They're also midrise, so you may want to pair with a top instead of a sports bra if you prefer to stay covered while running.

Additional details: Sizes: XXS-XXL | Colorways: 11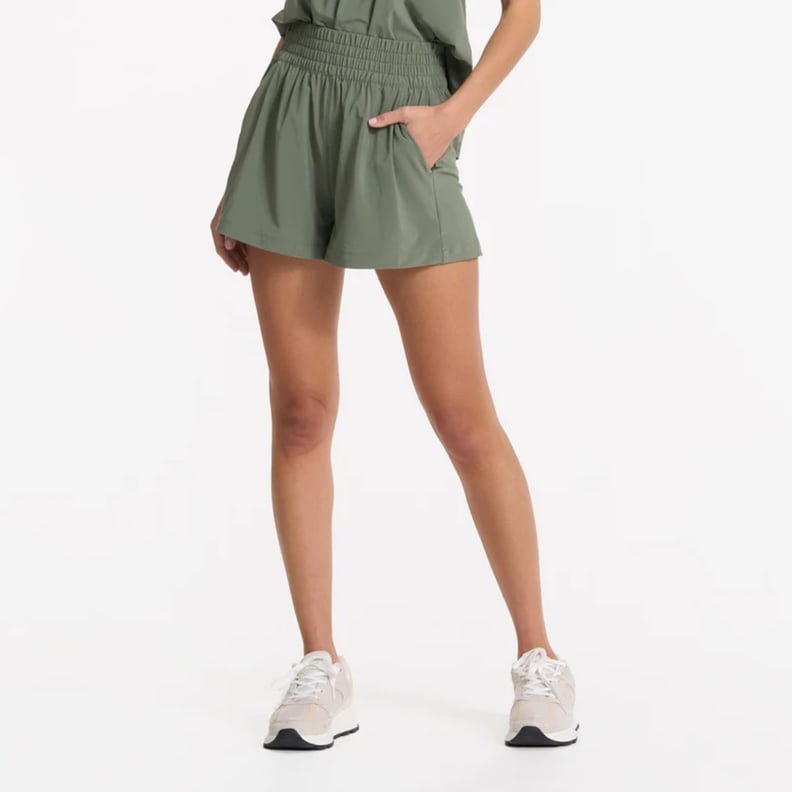 Best Vuori Travel Shorts
Vuori Villa Short ($64)
Perfect for exploring, these sophisticated travel shorts from Vuori are about to become your carry-on's new best friend. Made with a relaxed fit, a gentle elastic waistband, and Vuori's super-soft silk-like fabric, they're designed for all-day comfort. They are also moisture-wicking and offer four-way stretch to keep you cool and comfortable on hot summer days.

Why we love it: The ruched waistband adds cuteness without adding too much constriction. Plus, pockets — full stop. Reviewers say they're versatile, comfortable, and a great fit for women with curves.

What's worth noting: Customers say these run slightly on the larger side, so keep that in mind when purchasing.
Additional details: Sizes: XXS-XXL | Colorways: 2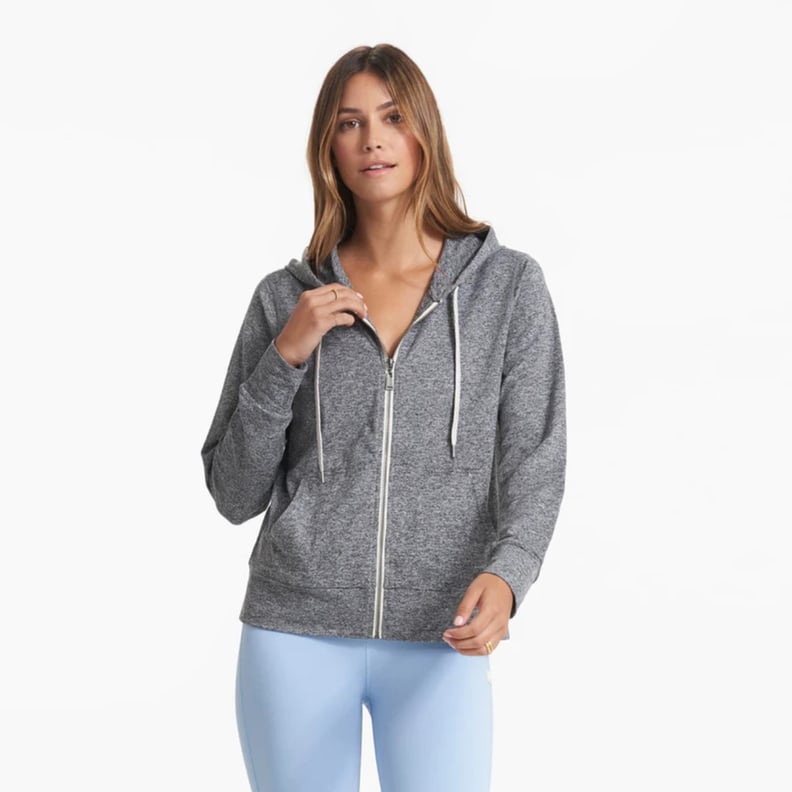 The Best Vuori Hoodie
Vuori Halo Performance Hoodie 2.0 ($98)
Vuori upgraded its Halo Essential Hoodie to include a looser fit throughout the body, a longer length, and a front zipper. (If you prefer pullovers and a cropped hemline, don't worry: you can still snag the original hoodie for a similar price.)
Why we love it: For one thing, this hoodie is made from recycled materials, which is a huge plus for anyone who likes to shop sustainably. While it looks lounge-friendly, this Vuori hoodie is also moisture-wicking, making it a great layer for workouts as well. To keep it soft, one of the 2,200 reviewers (who've given it a 4.83 rating) recommends machine washing but not drying it; with that method, their last hoodie "lasted 2 yrs and was worn almost everyday."
What's worth noting: According to reviewers, this zip-up can run a smidge large, so consider sizing down if you're between sizes. One customer also notes preferring the zippered pocket of the previous version.
Additional details: Sizes: XXS-XXL | Colorways: 3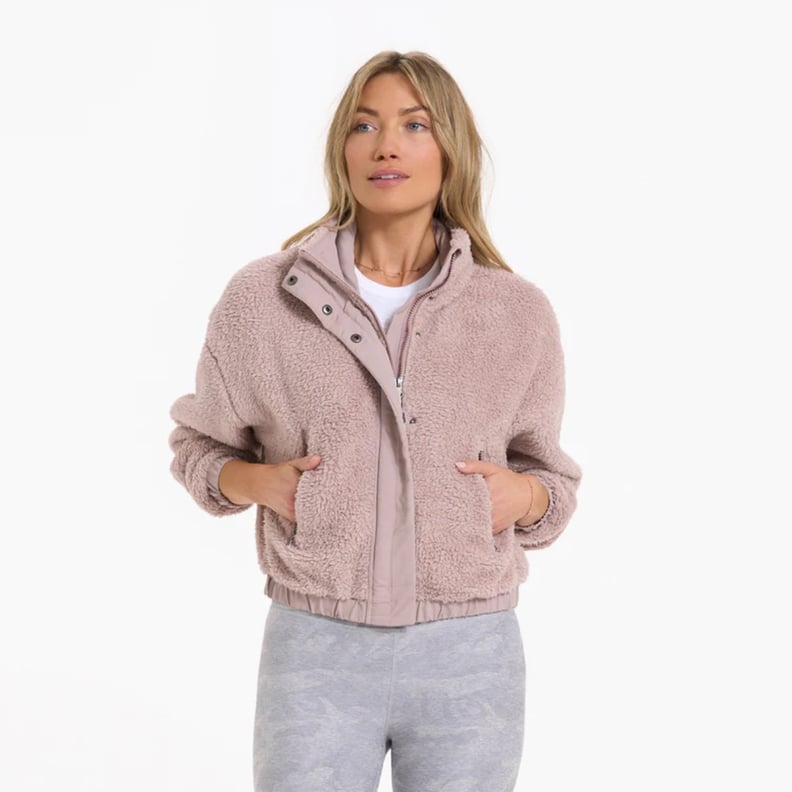 Best Vuori Jacket
Vuori Cozy Sherpa Jacket ($168)
This cozy jacket is all over TikTok, and with warm sherpa, pockets, and a cute cropped shape, how could it not be? The front zipper snaps shut to keep extra warmth in, and it has a relaxed fit with room for layering. Add to cart now before it sells out in the fall.
Why we love it: It's made from 74 percent recycled polyester, which does the Earth a major favor. The pockets have zippers to hold all your essentials if you wear it for a day out.

What's worth noting: You can machine wash and dry this jacket, which is a win-win, considering how often you'll probably be wearing it. It has a more relaxed fit so there's room to layer underneath, but keep this in mind if you prefer your jackets to have a tighter fit.

Additional details: Sizes: XXS-XXL | Colorways: 4