Born to Play: Boston Renegades on Women's Tackle Football
Women's Tackle Football Players Have to Pay to Play — but They Live and Breathe For the Sport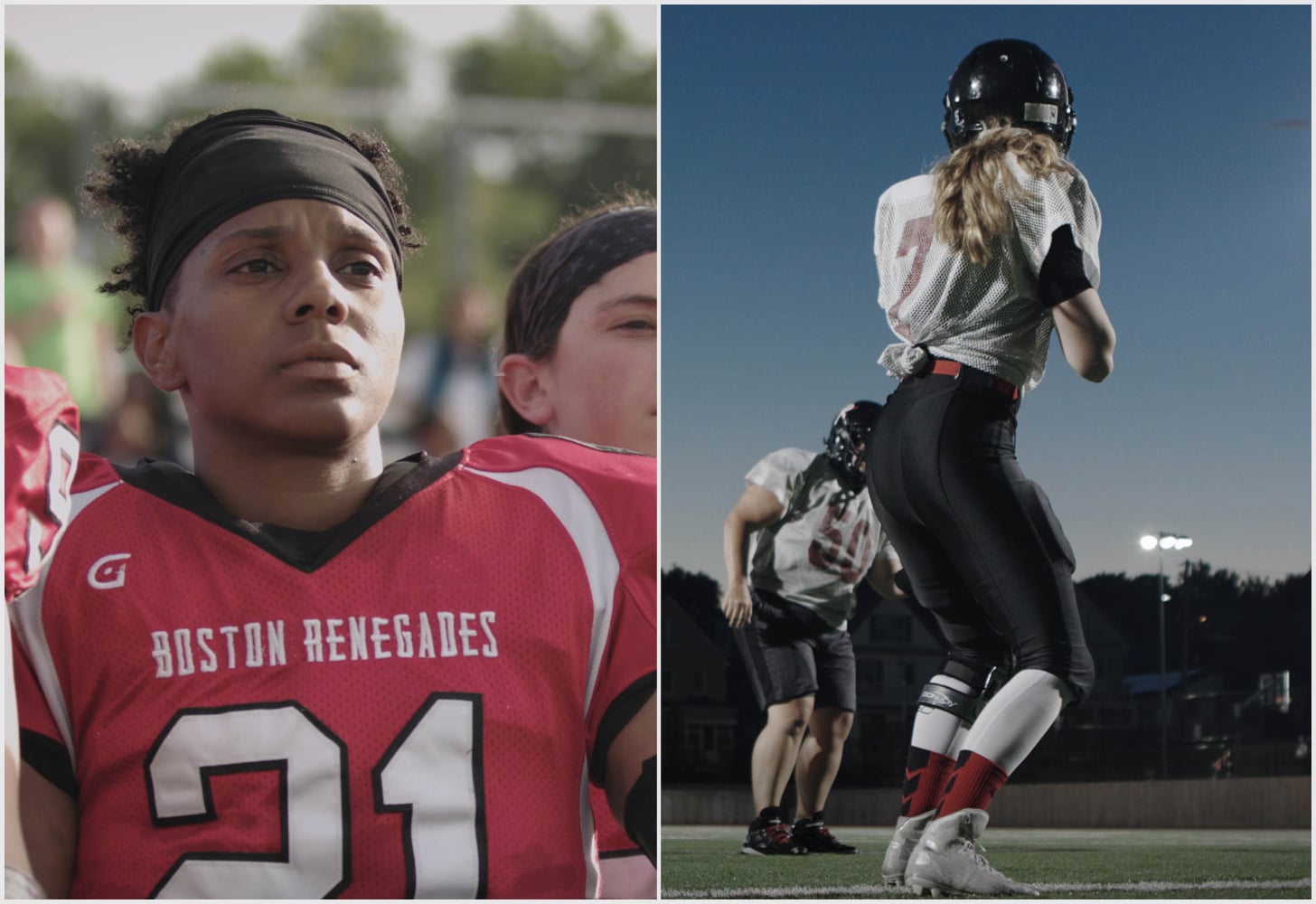 Even though I watched Born to Play from director Viridiana Lieberman two times before, a third turn still managed to give me goosebumps. The 90-minute-long documentary that debuted this summer on ESPN follows the Boston Renegades of the Women's Football Alliance (WFA) through their 2018 season. The film ends with the players winning their first WFA national championship after cutthroat road games in the playoffs and a final 42-18 victory over the Los Angeles Warriors. Following that win, the team went on to defend its title in 2019.
The Renegades, formed in 2015, are a semiprofessional tackle football organization playing in the top division of the WFA and following NCAA rules. It's entirely volunteer-based, and the players pay dues to participate every season (about $750 for an eight-game regular season, according to Molly Goodwin, who owns the Renegades and serves as an assistant coach, though playoff fees are additional), meaning many keep full-time jobs. Star quarterback and captain Allison Cahill, for example, works as a personal trainer. But make no mistake — this isn't a recreational league, and it isn't a hobby either.
Cahill, who has played 16 total seasons in women's tackle football and entered the sport in the sixth grade surrounded by boys, told POPSUGAR that most people automatically think of flag football or a lingerie league when she talks about women's football. But, she explained, "the level that we've achieved at this point, given how consistent of a program we've had for how long and the amount of veterans we've had playing for a decade or more and the level of coaching and ownership that we have, has really brought the level of play to something that I think any football fan could appreciate."
Cahill continued on to say that she doesn't compare WFA players to NFL players, but they do still compete with a high quality of athleticism, and in that way the sport, in her opinion, isn't "gendered." There is, however, a main difference: money. So far there are no women's football leagues that explicitly pay their players. The Women's Football League Association, which claims to be the first tackle football league for women promising compensation, is set to start up in spring 2021.
"The level that we've achieved at this point . . . has really brought the level of play to something that I think any football fan could appreciate."
When asked if this paid league would interfere with participation in the WFA, Goodwin told POPSUGAR that remains to be seen. "At the end of the day, and I think that this is shown through the film, these women want to play the best football that they can find and they want the best competition and they want to play at the highest level," she said. "While the pay would be nice and it will draw some people, I think, ultimately, if the best football is being played where they still have to pay, they are more than willing to do that."
The WFA is advertised as being the most competitive women's tackle football league worldwide, and Cahill and Goodwin both stressed the quality of play showcased in their league. Plus, WFA veterans — like Callie Brownson and Katie Sowers — have gone on to coaching positions in the NFL.
Male professionals can commit themselves to their craft around the clock because they don't have to take on other jobs, and that's something Cahill wishes she and her teammates had. "It's not what it does to their bank accounts that I envy. It's what it does to their time," she said. "They get paid to dedicate as much of their time and energy to football as they want and can dedicate to it."
Though the Renegades only practice a few times per week on the field — the team has to pay anywhere from $200 to $400 an hour for lights, Goodwin said — they spend sessions each week doing film study. Goodwin, who also played for nine seasons as a middle linebacker, shared that aside from not being aware of the WFA's existence at all, people most commonly tend to be surprised by how much her players know when it comes to the sport itself, or their "football IQ."
This also goes for the quality of the team's coaching staff. "They could be coaching at a college or higher level and they choose to be with us," Goodwin noted of her colleagues. John Johnson, who has over a decade of experience working with women's semiprofessional teams, currently leads the Renegades as head coach.
In early May, the WFA canceled its 2020 season due to the COVID-19 pandemic. Goodwin said she thinks recruitment for the 2021 season — which as of now is still scheduled to begin next spring — was boosted thanks to Born to Play. The team had close to 20 new people try out this fall, when typically the number is around half that. The 2021 roster will be announced by mid-March.
"Don't let being one of the few out there or the only one out there dissuade you."
The Renegades organization generally raises a good amount of money through home game ticket sales and concessions, but Goodwin isn't sure what these games will look like moving forward as the pandemic continues. She and management are trying to create a nonprofit arm to apply for grants, which you can learn more about if you sign up for the team's monthly newsletter. Additionally, find the Renegades on Twitter and Instagram, as well as on Facebook and YouTube, where the team live streams games. Coverage-wise, Eleven Sports signed a deal with the WFA to broadcast "Games of the Week" starting in 2020, and Goodwin said that this deal is extending into 2021.
If the players of the Boston Renegades have taught me one thing, it's that they aren't paid and yet they show just as much dedication and passion for the sport. It's not their whole life — it can't be if they need jobs to support themselves — but that does not mean football isn't who they are. Because it is.
For any girl looking to enter the world of tackle football, Cahill said to pursue it in full stride. "You're going to encounter some naysayers and people who don't want you there, but just like anything in life, you have to follow your passion. Don't let being one of the few out there or the only one out there dissuade you," she stated. "There's nothing to be gained from staying within your comfort zone and doing what everybody else does. The good stuff happens outside of your comfort zone."
Image Source: Born to Play / Patrick Racheff