Katie Sowers to Be the First Female Coach at the Super Bowl
History Made: Katie Sowers Is the First Female and Openly LGBTQ Coach in the Super Bowl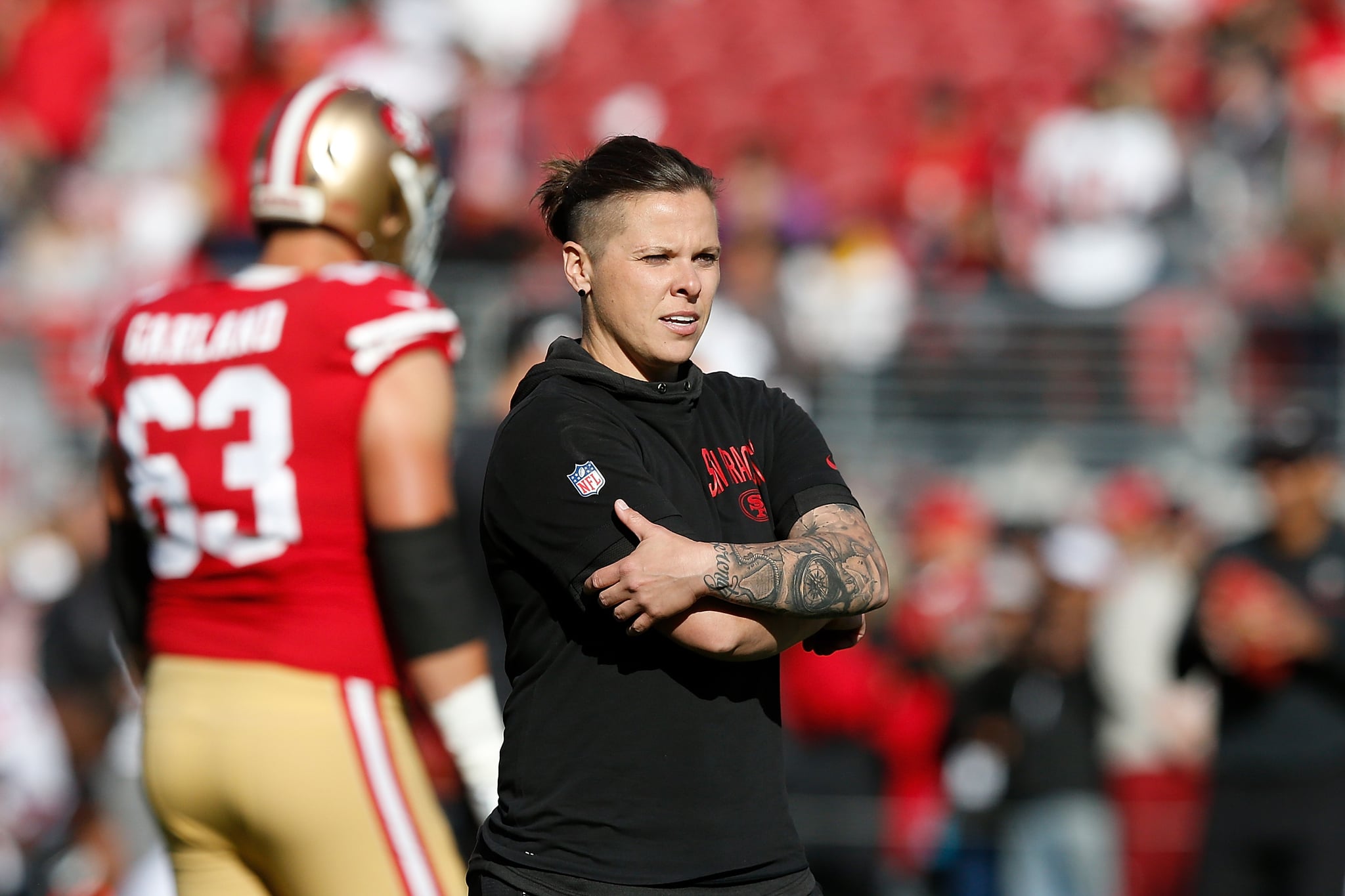 Katie Sowers is breaking barriers doing what she loves. On Feb. 2, she will become the first woman to coach at the Super Bowl, and will also be the first openly LGBTQ coach in history to head to the big game.
Katie, 33 and from Hesston, KS, is the offensive assistant coach for the San Francisco 49ers, but she started her NFL coaching career with the Atlanta Falcons through the Bill Walsh NFL Coaching Diversity Fellowship, according to a segment on Katie for NBC Sports Bay Area & California. This was a program that "would bring in minority coaches and literally pay them a coaching salary," explained Harry Edwards, PhD, sociologist and activist who's served as a staff consultant for the 49ers. Then, Katie joined the 49ers in 2017 through that fellowship.
Katie was the second woman in history to hold a full-time NFL coaching position. The first, ESPN reports, was Kathryn Smith with the Buffalo Bills in 2016. And, according to The Washington Post, Jen Welter was the first female positional coach in the NFL as a 2015 intern with the Cardinals.
Katie was promoted to offensive assistant coach before the 2019-2020 season. In that NBC Sports segment, Katie said that, at the start of her NFL coaching career in 2016, she felt as though she was finally getting to where she needed to be. She shared, "I got the phone call and as soon as I hung up the phone with him I remember just jumping up and down. It was like one of those movies where it's like silent, but I'm just jumping, I don't know what else to do, because I realize that everything was kind of falling into place the way that I had once dreamed of."
In fact, Katie was once denied a volunteer coaching position with the Goshen College women's basketball team after her time there as a collegiate athlete. Katie had attended Goshen and played on that very team, but her coach told her after the fact that some of the parents had been concerned about Katie's sexuality. In the NBC Sports segment, she explained, "My coach called me in and he said, 'They have a lot of parents that have been worried about their daughter being around someone who is gay.'" Katie grieved this missed opportunity, then said she moved on from it.
Katie actually found herself playing professional tackle football alongside her twin sister, Liz, in the Women's Football Alliance. She was a player for the West Michigan Mayhem as well as the Kansas City Titans. She also, according to ESPN, competed for the US in the 2013 IFAF Women's World Championship and has served as general manager of the Kansas City Titans. "I remember the first time I looked around and I saw all of the helmets that matched, and I never thought I'd get a chance to feel what that was like," Katie said in the NBC Sports segment. She retired due to a hip injury before her coaching career began in 2016.
"She's been tremendous," 49ers quarterback Jimmy Garoppolo told Outsports of Katie's coaching capabilities. "Katie was here before I was, but just what she does with the receivers, all the skill positions guys, how she interacts with them. It's special. She's feisty, man. Katie is awesome out there."
"No matter what you do in life, one of the most important things is to be true to who you are."
Katie has given a lot of interviews over the years, but one quote that particularly stuck with me was in a talk with The Mercury News back in 2017. She said that although her role is groundbreaking, she wants it to be normalized more than anything else. "As a female, the more someone can ask me what I do and I say, 'I coach football,' the less shock on their faces will mean the better direction we're moving."
Back in March 2019, the Tampa Bay Buccaneers became the first NFL team to hire two full-time female coaches to their staff. Maral Javadifar was named assistant strength and conditioning coach, and Lori Locust was named assistant defensive line coach, CNBC reported. And, according to ESPN, the NFL had 10 female coaches — three full-time and seven interns — in the 2018-2019 season. Plus, the Women's Careers in Football Forum was created in 2017 by the NFL to help educate and connect women specifically.
Katie said in an interview with Outsports, "No matter what you do in life, one of the most important things is to be true to who you are." She continued, "The more we can create an environment that welcomes all types of people, no matter their race, gender, sexual orientation, religion, the more we can help ease the pain and burden that many carry every day."