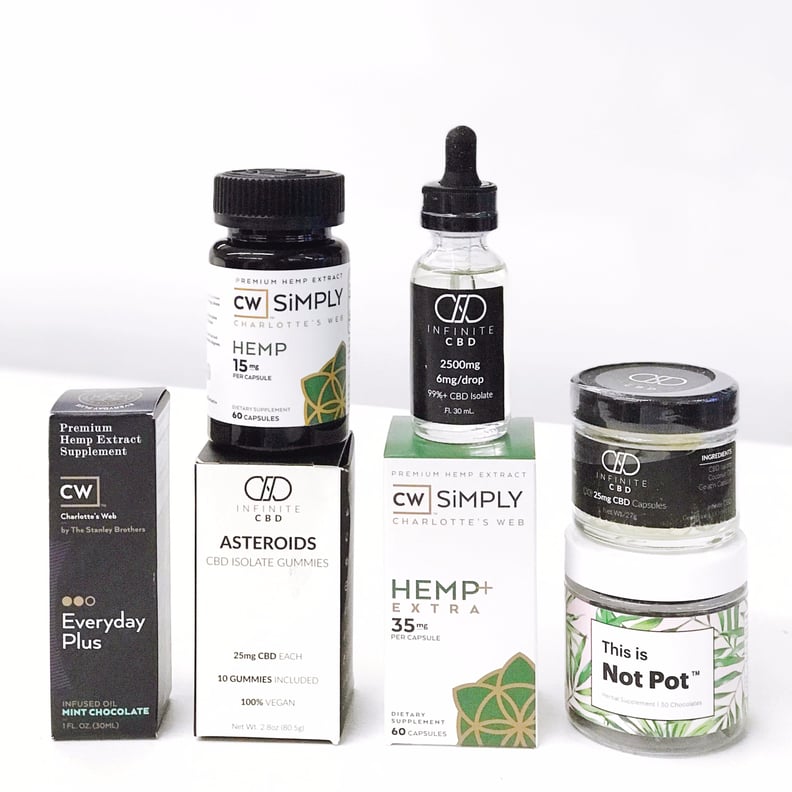 POPSUGAR Photography | Dominique Astorino
POPSUGAR Photography | Dominique Astorino
Today the World Health Organization (WHO) issued a report stating that the medical use of CBD (cannabidiol) is safe and poses no health risks. Here are a few highlights from the report:
It's not addictive: "CBD exhibits no effects indicative of any abuse or dependence potential."
It's an effective medicine: "CBD has been demonstrated as an effective treatment of epilepsy in several clinical trials, with one pure CBD product (Epidiolex®) currently in Phase III trials. There is also preliminary evidence that CBD may be a useful treatment for a number of other medical conditions."
It's safe to take, unless it interacts with another medication you're taking: "CBD is generally well tolerated with a good safety profile. Reported adverse effects may be as a result of drug-drug interactions between CBD and patients' existing medications." There was nothing else listed under the "Adverse Reactions in Humans" section.
It doesn't induce intoxication (aka: "doesn't get you high") "Across a range of measures in humans and animals, CBD had been shown to have very different effects from those of THC," the report stated. In fact, CBD can mitigate intoxication from THC if you choose to take CBD with THC. "Studies have shown that CBD may reduce or antagonize some of the effects of THC."
This is a major step forward in terms of educating the general public and raising awareness around the healing properties of CBD. However, that third point is an important one to keep in mind: if you're on another medication (consistently), you really need to talk with your doctor before using CBD as part of your symptom management.
POPSUGAR spoke with Dr. Jordan Tishler, MD, who said, "CBD is the most likely part of the cannabis medicine group to interact with conventional medication." Evidently, CBD is processed by a different liver enzyme than THC is; the enzyme that breaks down CBD is also used to process other forms of medication. Therefore, taking CBD could "overwhelm the liver" and change the level of medication your body absorbs.
Something else to keep in mind: because CBD is unregulated, the purity, percentage, dose, and other ingredients in one of the products you purchase online can be left somewhat up to chance. It's important to do your research on ingredients as much as possible until this becomes medically regulated.
All that in mind, it's important to speak with your doctor or another medical professional about adding CBD into your regimen before you get started. The World Health Organization listed over a dozen (major) diseases and conditions CBD can treat — check it out:
Alzheimer's disease
Parkinson's disease
Multiple sclerosis
Huntington's disease
Hypoxia-ischemia injury
Pain
Psychosis
Anxiety
Depression
Cancer
Nausea
Inflammatory diseases
Rheumatoid arthritis
Infection
Inflammatory bowel (IBD) and Crohn's diseases
Cardiovascular diseases
Diabetic complications
Any cannabis products referenced above are not intended to diagnose, treat, cure, or prevent any disease. The writer is not a medical doctor, and their experience is based on personal use, the results of which may not be typical or intended. The legality of cannabis products varies by state, and readers are encouraged to check their local laws before purchasing and using cannabis products. Nothing in this article should be construed as advice regarding the legal status of cannabis products. Any views expressed in this article by a third-party sponsor are those of such sponsor, and do not necessarily represent the views of POPSUGAR.