Chewy Vegan Protein Granola Bar Recipe
These Healthy Granola Bars Taste Like Rice Krispies Treats and Offer 8.7 Grams of Protein
There's something about the convenience and instant deliciousness of a packaged granola bar. But since I've been trying to cut back on packaging, I hate to buy individually wrapped bars. Plus, regular granola bars don't offer a ton of protein, so I just had to whip up my own recipe.
These vegan, protein-packed bars come together in just 10 minutes, and the recipe is so versatile — you can choose the nuts, seeds, and dried fruits you like best. These are made with peanut butter, pepitas, pecans, and raisins, but I've also made other batches that were equally delicious. One was made with with sun butter, shredded coconut, hemp, chia seeds, sunflower seeds, and sesame seeds.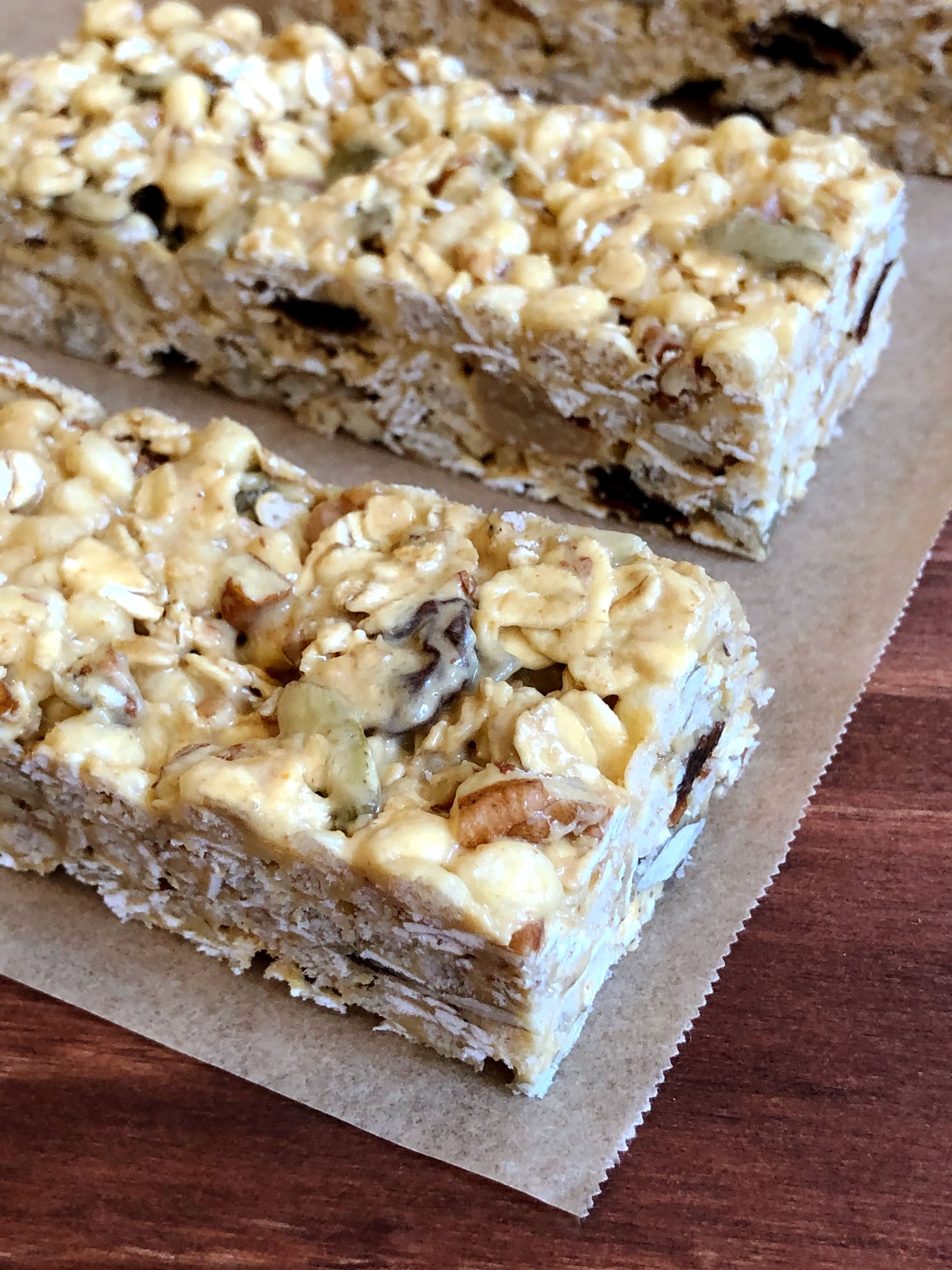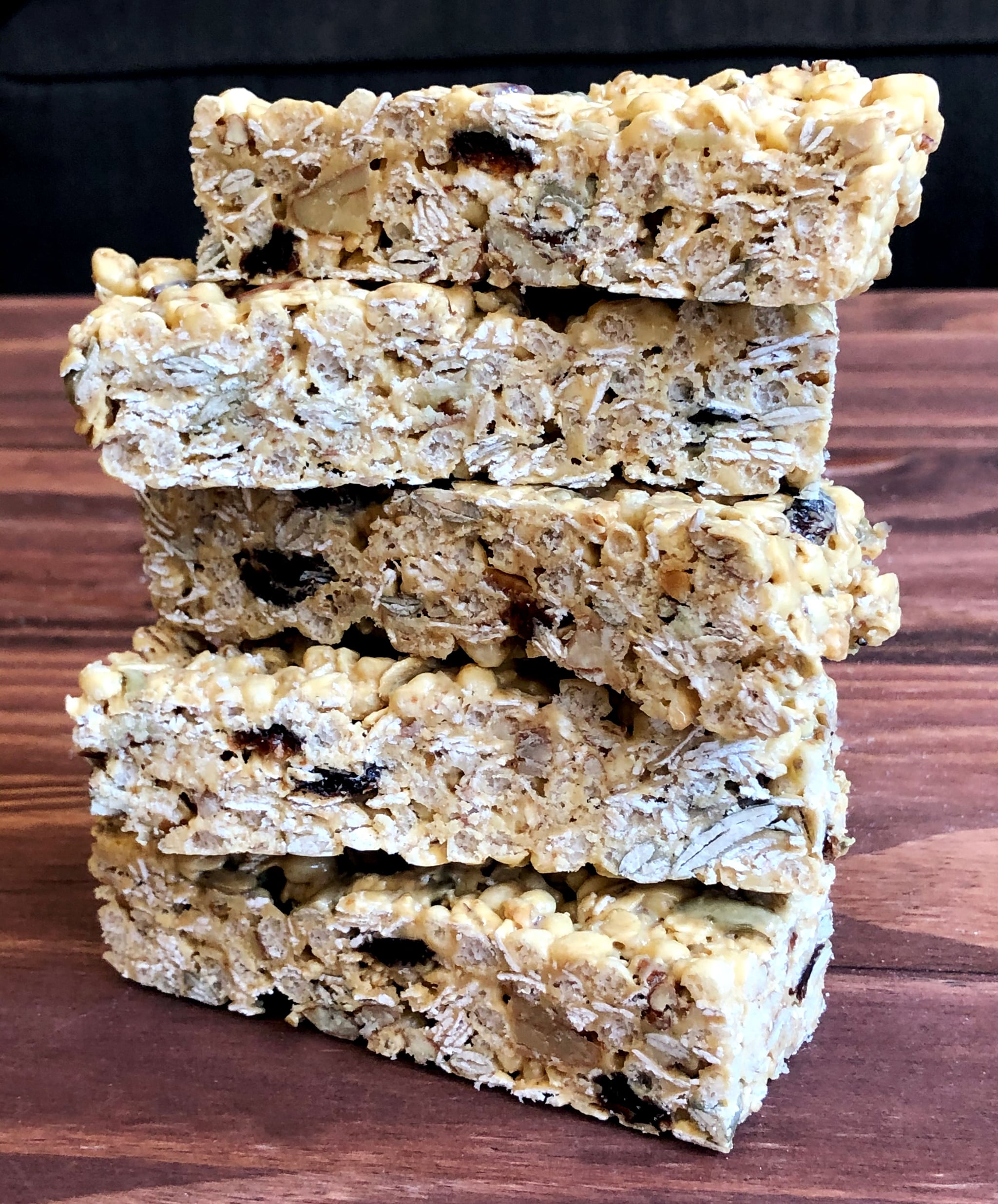 If you love Rice Krispies treats, these bars are very similar to that chewy crispy texture you love, but they're healthier and more satisfying with the addition of nuts, seeds, and protein powder.
Whip up a batch of these cinnamon-y, protein-packed, chewy granola bars, and keep them in the fridge in a sealed container to grab when you need a snack — they'll keep for up to two weeks. They also freeze well, so these are great to make for Sunday meal prep. Have fun getting creative with the ingredients you add!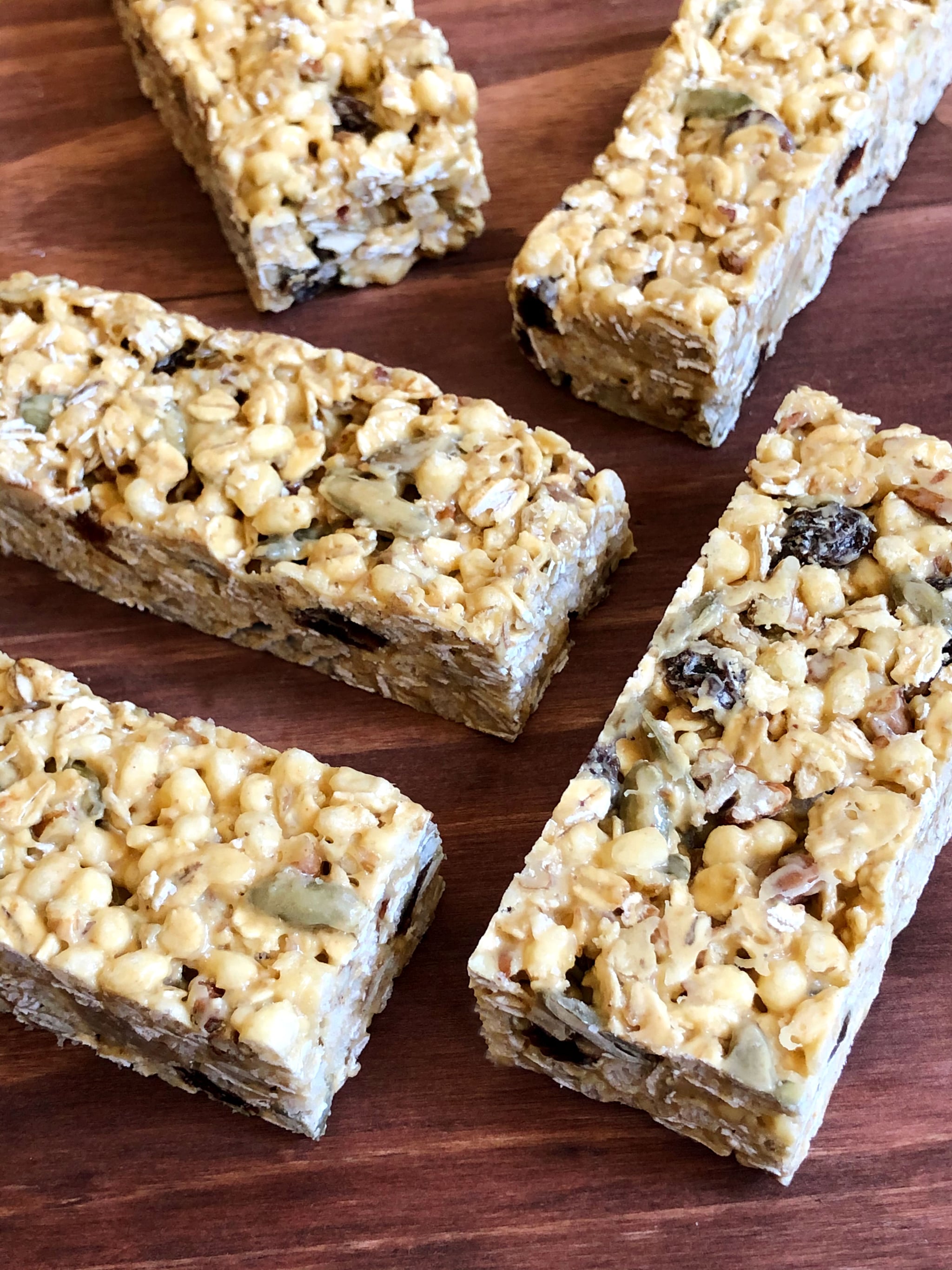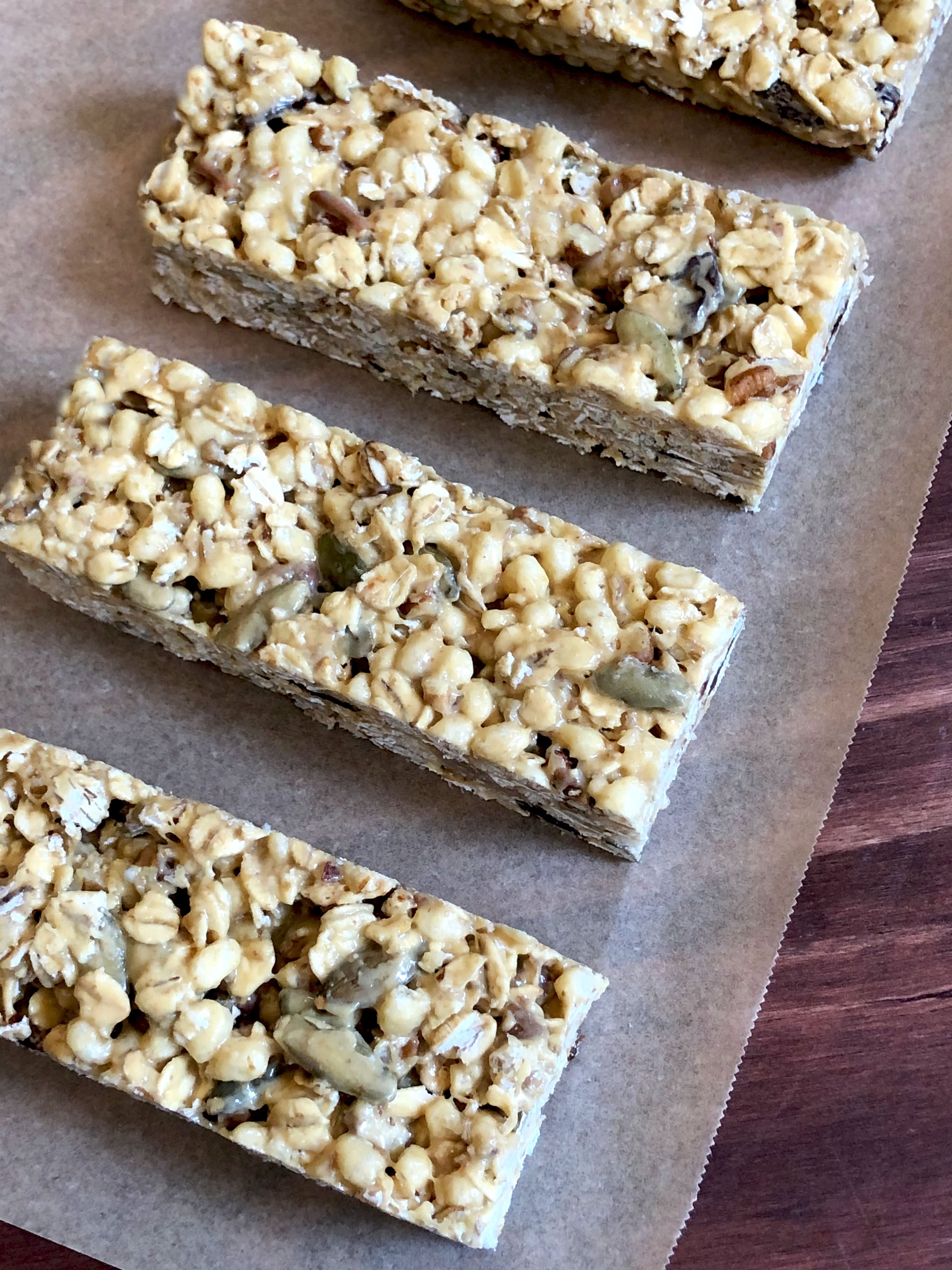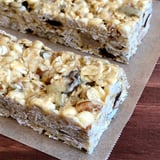 Ingredients
1 1/4 cups rolled oats (I used Trader Joe's, which are gluten-free)
1 1/4 cups crisp rice cereal
1/2 cup vanilla plant-based protein powder (I used two servings of Ripple Vanilla Protein Powder)
1/2 cup chopped pecans
1/4 cup pepitas
1/4 cup raisins
1 teaspoon cinnamon
1/4 teaspoon sea salt
3/4 cup brown rice syrup
1/2 cup peanut butter (I used crunchy)
1 teaspoon vanilla extract
Directions
Line an 8x8-inch pan with parchment paper.
Mix the oats, rice cereal, protein powder, pecans, pepitas, raisins, cinnamon, and salt in a large bowl. Set aside.
In a small pot, melt the brown rice syrup and peanut butter over medium heat until thoroughly mixed together. Once it starts to bubble, remove from the heat and stir in the vanilla.
Pour the melted peanut butter mixture over the dry ingredients and mix together with a spatula until well-coated — it'll be very thick and hard to stir, so this may take a few minutes.
Scoop the mixture into the prepared pan and press firmly with the spatula until it's spread evenly.
Transfer the pan to your freezer to chill for 10 minutes until firm.
Using the parchment paper as handles, lift the square bar out of the pan and onto a cutting board. With a large knife, cut the square in half. Then cut each half into five or six bars (to yield 10 or 12 rectangular-shaped bars).
Store bars in an airtight container in the fridge for up to two weeks, or in the freezer for up to two months.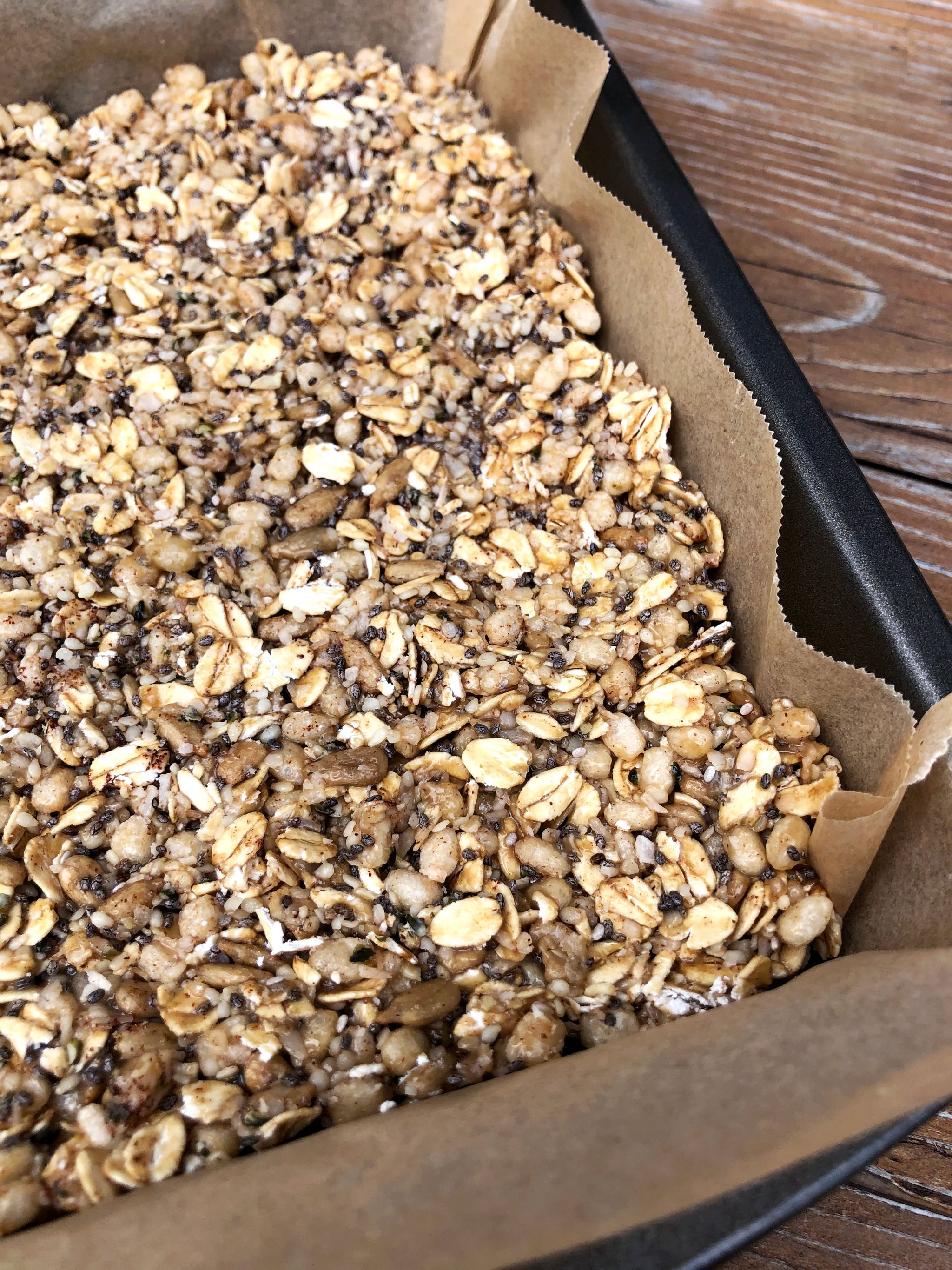 You can cut these into 10 or 12 rectangles, depending on how big you prefer your bars.
Here's the nutritional info if you cut them into 12: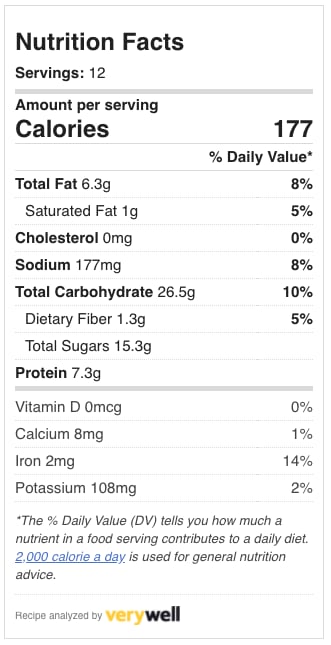 Here's the nutritional info if you cut them into 10: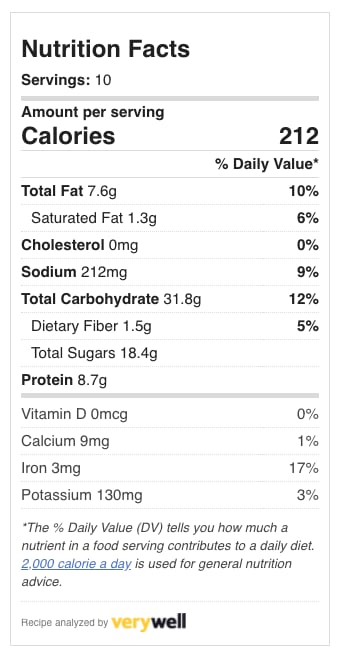 Information
Category

Snacks

Yield

10 to 12 bars

Total Time

19 minutes, 59 seconds
Nutrition
Calories per serving

212