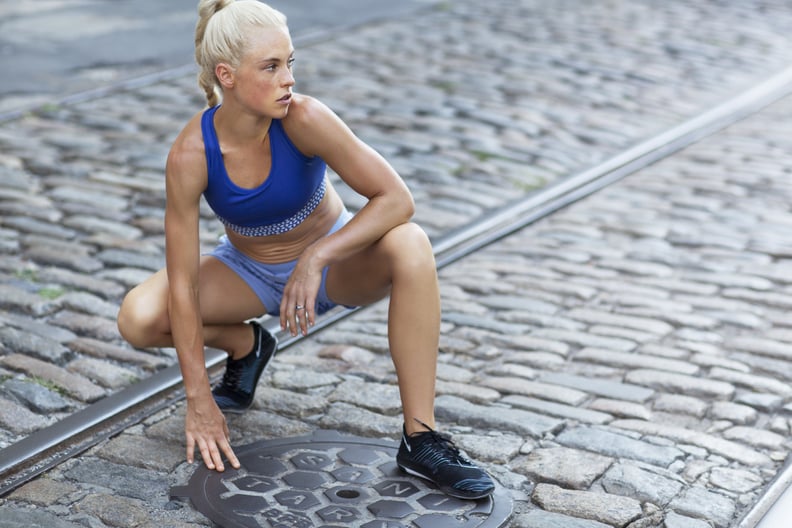 POPSUGAR Photography | Rima Brindamour
POPSUGAR Photography | Rima Brindamour
A few months ago at Kezar Stadium in SF, Adidas invited us to do some run training with all-star athletes: pro marathoner Neely Spence Gracey, Olympian Dominique Scott-Efrud, and Team USA middle distance runner Brianna Felnagle.
The one thing they said that really struck a chord with me? "We don't run to warm up; we warm up to run." It's a fact that so many runners, myself included, totally neglect — running warmups are so important. Think about it: every time you go to a group fitness class or do a workout video at home, there's some kind of warmup, right? So why do we bypass this when we go for a run? As the athletes emphasized during our training, "Running isn't a warmup."
So what is an appropriate running warmup? Their categories of emphasis were "agility, stability, and mobility." Here are some moves we did with pro runners before going for a jaunt around the track.
Walking Hamstring Dips
With a soft bend in your left leg, take a step forward with your right leg, flexing your right toes toward your face.
Flip your palms to face forward and, hinging at the hips, reach forward toward your toes in a sweeping motion. Sweep your hands down, forward, and up as you return to standing.
Step your left foot up to meet your right. Repeat on the left side.
Continue for 30 to 60 seconds
Walking Standing Kicks
Exhale to engage the abs as you kick your right leg up, bringing your left hand to your right toes, doing a small crunch. When you return your foot to the ground, take a small step forward.
Repeat on the other side.
Continue for 30 to 60 seconds.
Heel Raises
Position your feet hip-width apart.
Slowly raise your heels until you're on your tiptoes, then slowly lower back down to the ground. Take three slow counts to raise and lower your heels.
Continue for 30 to 60 seconds.