Experts' Top Tips For Hiking Without Joint Pain
These Expert Tips For Pain-Free Hiking Will Keep You on the Trails All Season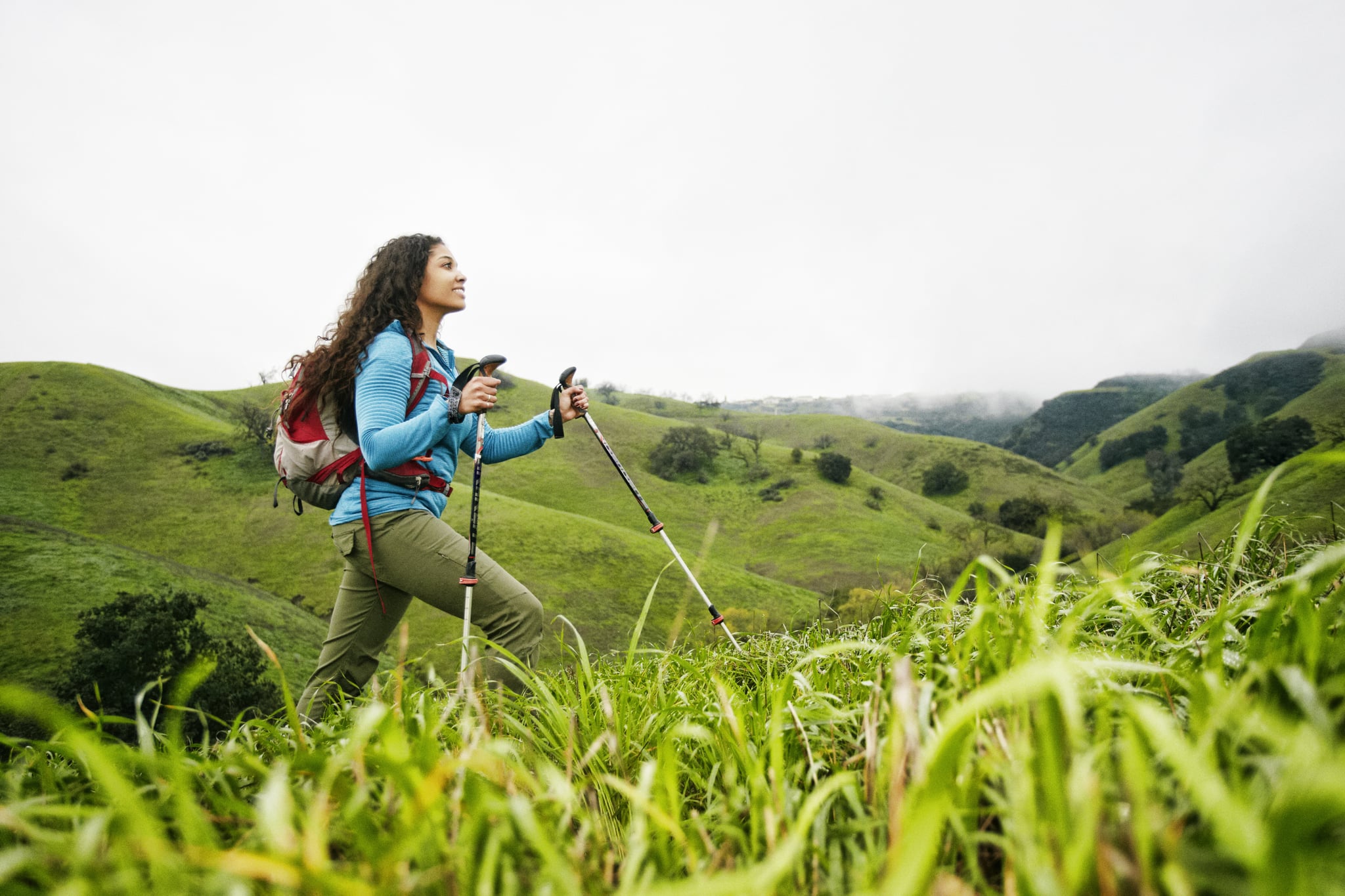 Foliage, fresh air, and calming soundscapes — with nature energizing you, it's easy to get ambitious during your first few hikes. But if you have plans to make these outdoor outings a regular thing, it's important to pace yourself, gear up properly, and pay attention to your body along the way.
Kevin Rosenberg, a wilderness EMT and the owner and lead guide at International Adventure Guides, agrees — especially for those new to the sport or who only go on occasional hikes.
"If you are new to hiking, keep your mileage low. I'd recommend starting at less than five miles and building up from there," he advised. "Look at how quickly you will be gaining elevation, as well. Climbing 1,000 feet in the first mile may lead to a great view but [could] cause stress on your joints."
According to Leada Malek, DPT, CSCS, uneven terrain and inclines tend to put more pressure on the joints, as your body is adapting to the ground.
It's common for intermediate hikers to do too much too fast, Malek said: "Anytime you wear out the muscle's ability to sustain the load, the joint is at risk. So it's important to hike to your ability level and carefully progress."
While you probably expect the downhill pitches to be the more comfortable portion of your trek, they can also present challenges.
Going down a mountain is actually harder on your knee joints than going uphill because of the demand placed on the muscles to decelerate, Malek said.
That's why Rosenberg suggests using trekking poles for support, as they can reduce wear and tear on both your knees and hips. But trekking poles shouldn't be the only thing on your shopping list.
When walking on a slope with your feet slightly angled up the hill, Malek said, the ankle and foot's compression and gapping can cause discomfort.
According to Rosenberg, a midheight boot is great for ankle stabilization, especially if you tend to roll your ankles or are new to backpacking and carrying a heavy load. "There's a saying that 'a pound on the feet is like five pounds on the back,' so the lighter the footwear, the better, as long as you get the support you need," Rosenberg added.
Pay attention to your backpack weight, too — carrying heavy loads up and down the mountain can cause knee pain. "Keep it light, and only carry the essentials. As you build up strength, you can add more luxury items," Rosenberg said.
When shopping for gear for the first time, it's usually best to get expert advice and fittings from your local outfitter — and be sure to bring the socks you'd wear during your trip while trying on footwear.
You may not be excited that I added a trip to the sporting-goods store to your next adventure, but trust me, your body will be thankful in the long run.
Click here for more health and wellness stories, tips, and news.