Meet Gigi Robinson, the First SI Swimsuit Model Who Openly Battles Chronic Illness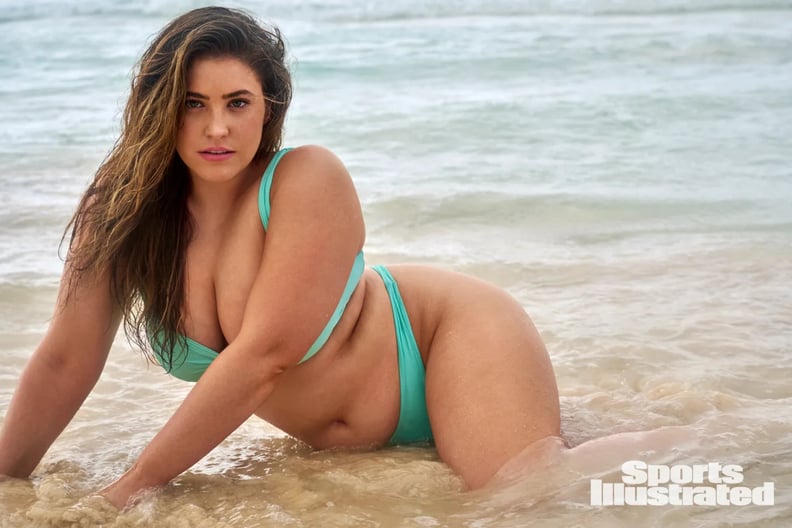 Sports Illustrated | Yu Tsai
Sports Illustrated | Yu Tsai
The word Gigi Robinson keeps coming back to is "surreal." It's surreal to be a model in the Sports Illustrated Swimsuit Issue, surreal to see the photos finally hit the internet on May 16 (with newsstands to follow on May 19), and surreal to become the first model with a publicly shared chronic illness to be featured in the magazine. "People are starting to DM me about living with chronic illness and how exciting it is to have this kind of representation in a magazine," she tells POPSUGAR. "It's saying, 'There's a place for you here.'"
At 24, Robinson had a crowded résumé even before she became one of 13 finalists for Sports Illustrated's Swim Search, an open casting call that landed her a photo shoot for the famous swimsuit issue. She's an entrepreneur, a photographer, a podcast host, a social media influencer, and the founder of Its Gigi LLC, a creative media company focused on ethical partnerships. Running through it all is her passionate advocacy for people living with chronic illness, just like she does.
Robinson was diagnosed with hypermobile Ehlers-Danlos syndrome at age 11, but she remembers experiencing its symptoms for years before that — including "extreme pain and extreme fatigue," she says. Ehlers-Danlos syndrome (EDS) is a group of hereditary disorders that affect the body's connective tissues, like skin, joints, and blood-vessel walls. EDS can cause chronic pain, injury susceptibility, and slow healing, among other symptoms.
"When I think back to those moments, I just wish I had somebody to be like . . . "You're not alone."
For Robinson, these symptoms are part of her daily life. The day before the 2022 SI Swimsuit Issue dropped online, for example, Robinson spent some time working on her computer, preparing new content about her photo shoot. "From just simply writing on my laptop, in a regular [sitting] position, my shoulder started having this excruciating pain," Robinson says. "I was on the verge of tears because no amount of medicine, no amount of ice or heat was helping it." She fell asleep with the pain still pounding through her shoulder. "That's the reality of what I deal with every day," she says.
She manages her EDS symptoms with a combination of treatments, including ice baths, hot and cold showers and compresses, pain medication, using a sauna, and swimming. (Robinson notes that EDS treatment can't be generalized, though, and that her "experience is going to be completely different than somebody else's.") Communicating her needs to her family, friends, and work team is also crucial. She acknowledges that asking for help can be scary, "because the second you start asking for help is really the moment that people start to recognize that something's 'wrong' with you." But Robinson tries to reframe it: "You just need a little bit of extra love from other people," she says. "You get to share a little bit more of yourself in a really vulnerable way."
She may be outspoken now, but Robinson hasn't always been this comfortable talking about her chronic illness. Well into her college years, she only talked about it with her family and school officials — the latter out of necessity. "I didn't really even talk about it with my friends," she explains. "I didn't want to be the one that wasn't able to go out at night or anything like that, because I was really struggling with my health." Robinson's needs weren't being accommodated at school, but she struggled to articulate that to the people around her. Instead, she channeled her struggle and experience with EDS into art, and specifically photography, taking photos that showed what it was like to deal with a chronic illness — shots of support groups, or the tile ceilings and fluorescent lights you stare at from a hospital bed, as she told the New York Post.
When Robinson started posting some of the photos online, she began to realize the impact she could have by speaking out. She found out another member of her sorority also had EDS and had struggled for years to get a diagnosis. EDS isn't rare, "but it's not common either," Robinson says. It's estimated that one in 3,500 to one in 5,000 people have EDS worldwide. "Had I not shared [my experience]," Robinson explains, "she wouldn't have felt like this sense of 'Wow, I'm not alone.'"
By sharing her story, Robinson hopes more people with chronic illness can experience that same sensation of community and mutual understanding. She remembers the extreme FOMO she felt as a teenager, forced to skip everything from after-school hangouts to "milestone moments" because she had a doctor's appointment or physical therapy. "When I think back to those moments, I just wish I had somebody to be like . . . 'You're not alone. This is a totally normal experience for some people who are sick, and that's OK,'" Robinson says.
She also wants to use her platform to advocate for greater access and accommodation for people with chronic illnesses or disabilities. In college, Robinson recalls experiencing burnout from "doing too much, running around, exhausting my physical body." Had remote schooling been available and normalized — as it has been during the pandemic — that burnout could have been prevented, she says. Remote work "should be available to anyone, at all times," she insists.
But even as she shares her own journey, Robinson says, it's important to remember that everyone's experience with chronic illness is unique and to avoid the temptation to compare. "Everybody is rare in their own way," she says. "In whatever journey you're at with your chronic illness . . . don't be scared of it, because there are resources and people like myself out there to help."