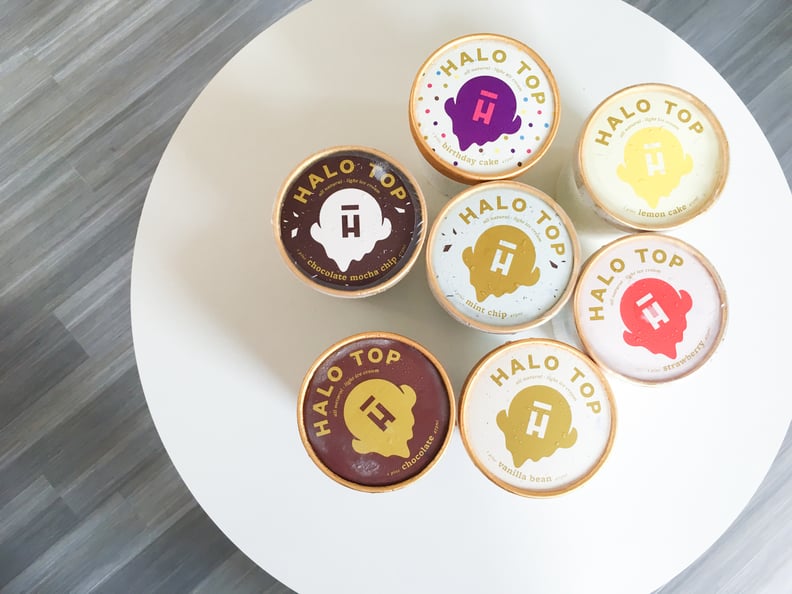 POPSUGAR Photography | Dominique Astorino
POPSUGAR Photography | Dominique Astorino
Holy sweetness, you guys. We finally got to try Halo Top ice cream — the protein-rich, low-sugar, low-carb, low-fat frozen goodness that we've had our eye on for months — and it didn't disappoint.
A quick nutritional breakdown of Halo Top flavors: an entire pint has between 240 and 280 calories, depending on the flavor, with each flavor offering 24 grams of protein per pint. By comparison, a pint of vanilla Haagen Dazs ice cream has 1,000 calories (not joking) — same with Ben & Jerry's.
In each serving of Halo Top, you'll get 6 grams of protein per serving, 20 percent of your daily fiber intake, and only 4 or 5 grams of sugar. In Haagen Dazs or Ben & Jerry's, you'll get 4 grams of protein, zero fiber, and about 20 grams of sugar.
We've tried healthy ice creams before, and to be perfectly honest, sometimes they just don't live up to the real thing; you're left unsatisfied and a little annoyed you didn't just let yourself have a scoop of regular ice cream. NOT the case with Halo Top, which for all intents and purposes, is just like regular ice cream. Here's how we know . . .
We may or may not have left out the fact that this ice cream was "healthy ice cream" when we invited POPSUGAR employees for a Friday treat in the kitchen. Unsuspecting colleagues came in to scoop up a little of each flavor and see which was their favorite, but they didn't pay much attention to the labels calling out the fact that they were relatively low-calorie and a good source of protein.
The result? When they found out, they were shocked. There was a whole lot of "Love!" and "Delicious!" and "Yummy!" in our taste test notes. Let's look at the definitive ranking of all seven flavors.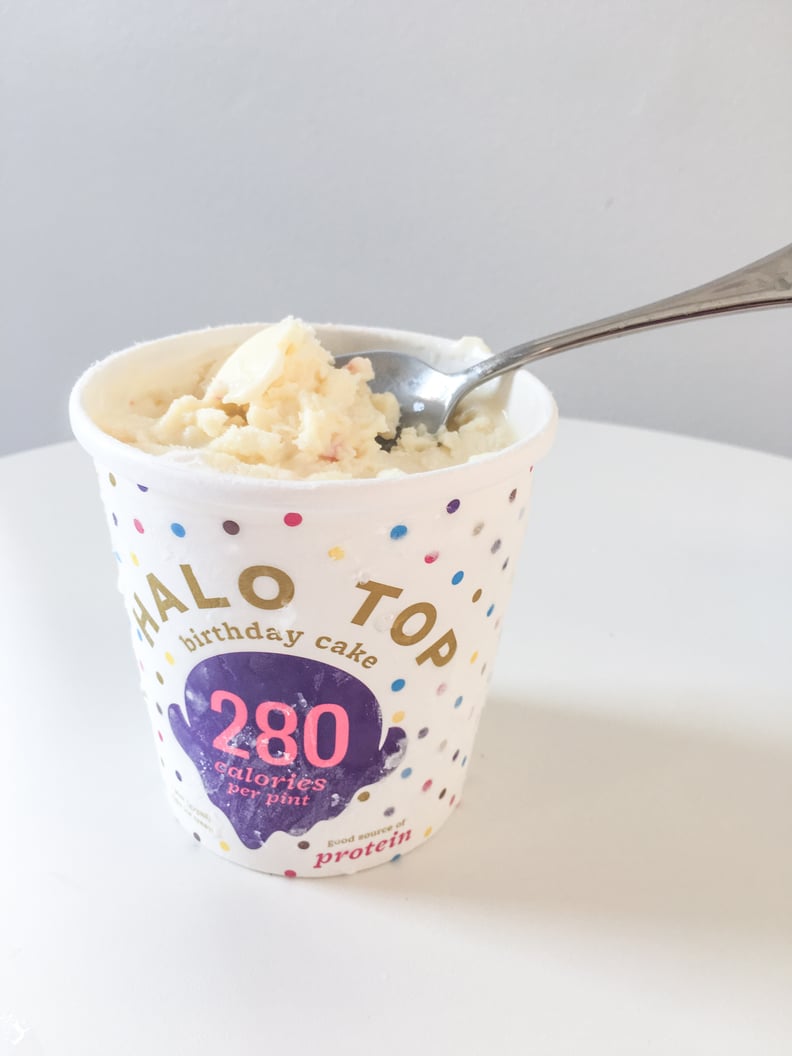 Vanilla Bean
Truly the cream of the crop. The VB flavor of Halo Top is the first perfect score we've seen on a Fitness taste test. With 5s all around, Vanilla Bean was said to be "smooth and not too sweet." Highlights included: "LOVE!! Healthy?! For real?!" "On. Point." "Perfection; I could marry this ice cream, it's that perfect and dependable." For a lifelong relationship with an ice cream you can count on, definitely grab the Vanilla Bean flavor of Halo Top.
★★★★★
Birthday Cake
We had been waiting to try this flavor for ages, as it was a bit tough to find in store. The funfetti style of rainbow chips gave it a touch of nostalgia, and the flavor definitely delivered. "Tastes like bday cake," "tastes like yellow cake batter," "really good texture for a low cal ice cream," and "sweet God," were among the best reviews. Those who didn't prefer this flavor said it was too sweet for their preference, which was great, because it allowed the rest of us to finish the pint.
★★★★
Mint Chip
Mint Chip received high scores, but perplexingly did not live up to the latter half of its name. "Love the mintiness! Wish there were more chips," said one reviewer. "Creamy & delicious – what no crunchy chips?" said another. "I mean, it's really delicious but where TF are the chips?!" chimed in a third. This pattern went on. Perhaps if Halo Top had simply named this flavor "Mint" and left it at that, it'd have scored higher. Seems to be a bit of false advertising in the chip department, but overall, the flavor was well received by every single taste tester, and never scored below 4 points.
★★★★
Strawberry
Even though the jury is a bit out for our dear Strawberry flavor, it still ranked nearly 4 stars, which is particularly high for any taste test. "Really tasty" and "Creamy! Yummy!" were countered by "Yummy but odd aftertaste," and "the taste is so unclear to me." Overall, it's probably the best healthy strawberry ice cream you'll find at the store, and would probably make an awesome milkshake.
★★★☆
Chocolate
As far as chocolate ice creams go, this one got pretty great reviews. Although some reviewers commented that it's "not as good as vanilla," people noted that it was "delicious" and "silky smooth." Most reviews did, however, note an "odd" or "peculiar" aftertaste.
★★★☆
Chocolate Mocha Chip
The downfall of Chocolate Mocha Chip, or CMC as we'll call it, was not the flavor — it was the texture. Whereas the other flavors seemed to have more of a silky smoothness, CMC had a bit of a "powdery," "dry," "strange, crumbly" texture. In fact, all reviews noted the great flavor, but odd texture. Definitely not the worst we've tried.
★★★☆
Lemon Cake
To be quite honest, I'm a little surprised that Lemon Cake came in last, but when every flavor is truly delicious, someone has to take last place, you know? The worst reviews said "Just OK" and "meep . . . eh" (whatever that means). The best reviews were several "yummy"s, "best one," and "tastes just like lemon and cake!!!"
★★★☆