Hotels Are Starting to Offer In-Suite Workout Equipment, and We're Here For It
In-room fitness amenities are making it easier than ever to keep up your workout routine while staying in a hotel — you technically don't even need to put on your shoes! Responding to the needs of the modern traveler, many hotel brands are placing a heavier emphasis on health and wellness — from filling their gyms with state-of-the-art fitness equipment to offering group classes — but some are upping the ante even more by bringing the gym right to your bedside. Imagine starting your day by working up a sweat on an exercise bike, with resistance bands, or by streaming a HIIT class, all from the privacy of your room. Book one of these stays, and you're officially out of excuses.
01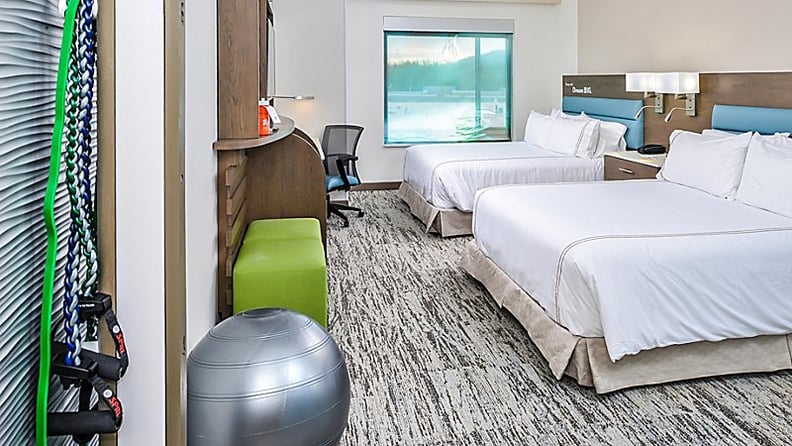 Even Hotels
02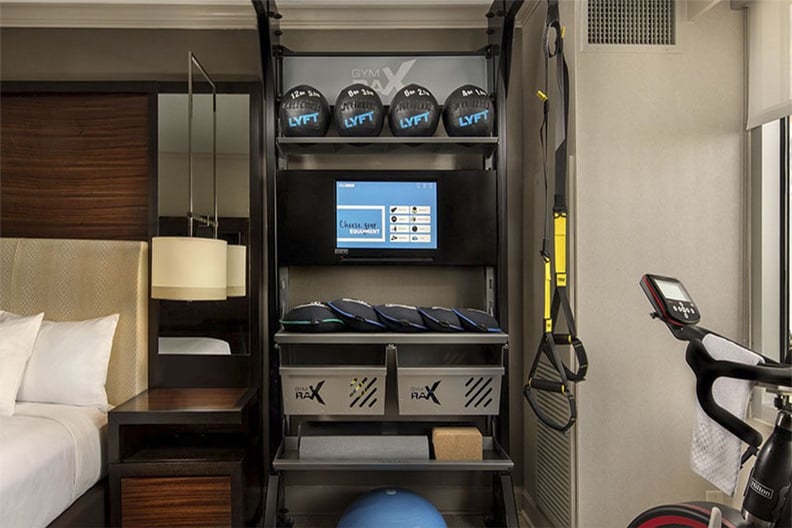 Hilton
A new concept from hospitality giant Hilton, the Five Feet to Fitness rooms house 11 different accessories and pieces of equipment for guests to squeeze in some exercise. The chain's Gym Rax storage bay is packed with accessories for a fistful of different workouts, including strength, suspension, yoga, HIIT, and TRX. The kiosk provides access to more than 200 guided exercise tutorials and 25 different classes. Up for a Spin class? Each room also has a state-of-the-art LifeFitness IC5 indoor cycling machine.
03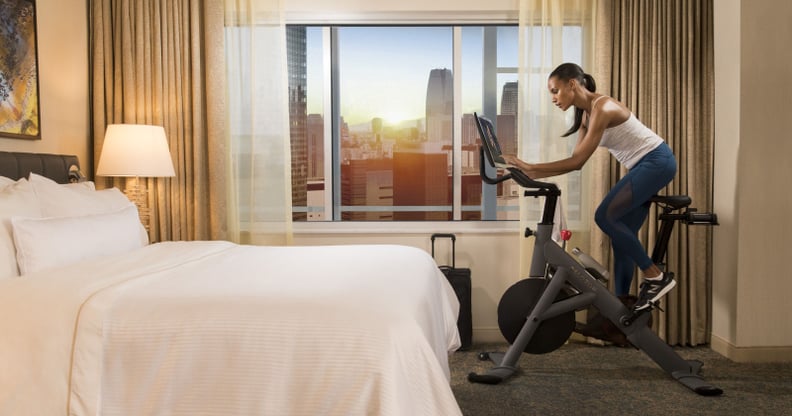 Westin
With WestinWORKOUT guest rooms, the hotel brand is making it easy to squeeze in a cycling class while you're away. You'll find the top-rated Peloton bike in fitness centers and guest rooms in more than 50 Westin locations across the US. Choose from 4,000-plus classes on demand, or stream a live studio class during one of the many available slots throughout the day. You'll also find hand weights and yoga accessories in the room, so you can take advantage of Peloton's other cardio, strength, and yoga workouts.
04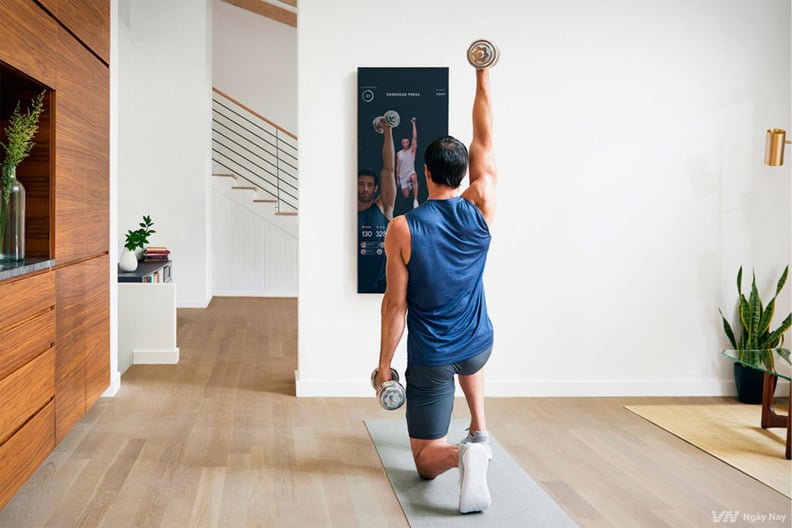 Mandarin Oriental
On its surface, Mirror looks like an ordinary piece of decor — but turn it on, and it transforms into an interactive fitness trainer that's now available in select Mandarin Oriental suites across the country, including in New York, Boston, Washington DC, and Miami. Guests can choose from a selection of in-room workouts that include cardio, strength, yoga, and even boxing. The camera and speakers are embedded and basically invisible, making this sleek fitness display as chic as the hotel's spa-like bathrooms. The brand also includes the Peloton bike in some of its higher-end suites, like the Mandarin Presidential Suite in Miami (#travelgoals).
05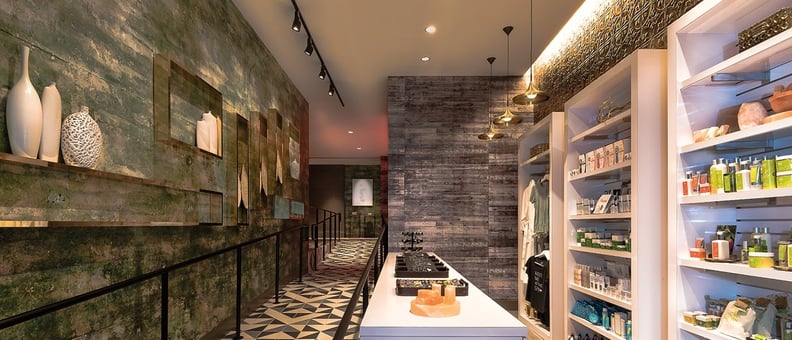 The Linq Hotel
The Linq Hotel in Las Vegas has a sprawling 1,620-square-foot fitness facility that's open 24 hours a day, but if guests prefer to work out in private, they can simply request an in-room fitness cart at no extra charge. These carts include yoga mats, stability balls, fitness discs, and foam rollers.
06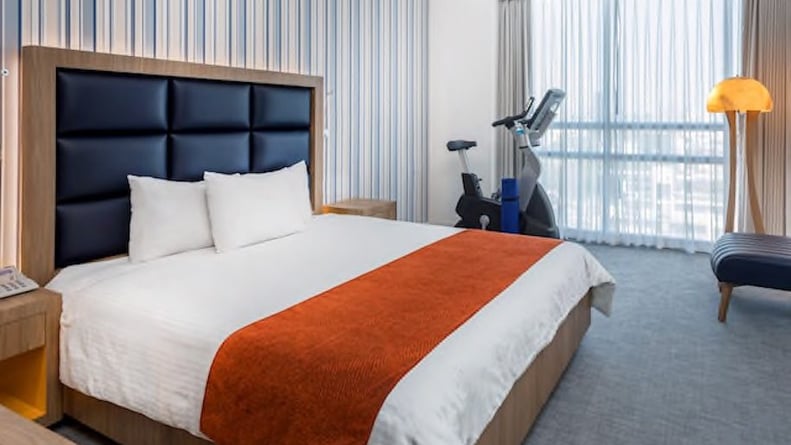 Tryp Hotels
Tryp by Wyndham is famous for its signature rooms, including the family, the premium, and — you guessed it — the fitness room. The latter includes an exercise mat with either an in-room elliptical, exercise bike, or treadmill.
07
Luma Hotel
This swanky New York City hotel offers a Glow Concierge program that includes a signature GYMbag filled with all the necessities for a full-body workout, like a yoga mat and block, bionic bar, ergonomic push-up bar, resistance bands, ab wheel, and muscle relaxation balls. Guests also have access to the brand's trademark in-room workout, curated by yoga influencer Riva G.