How Ally Love Stays Positive and Grounded, Even When She's Dealing With Anxiety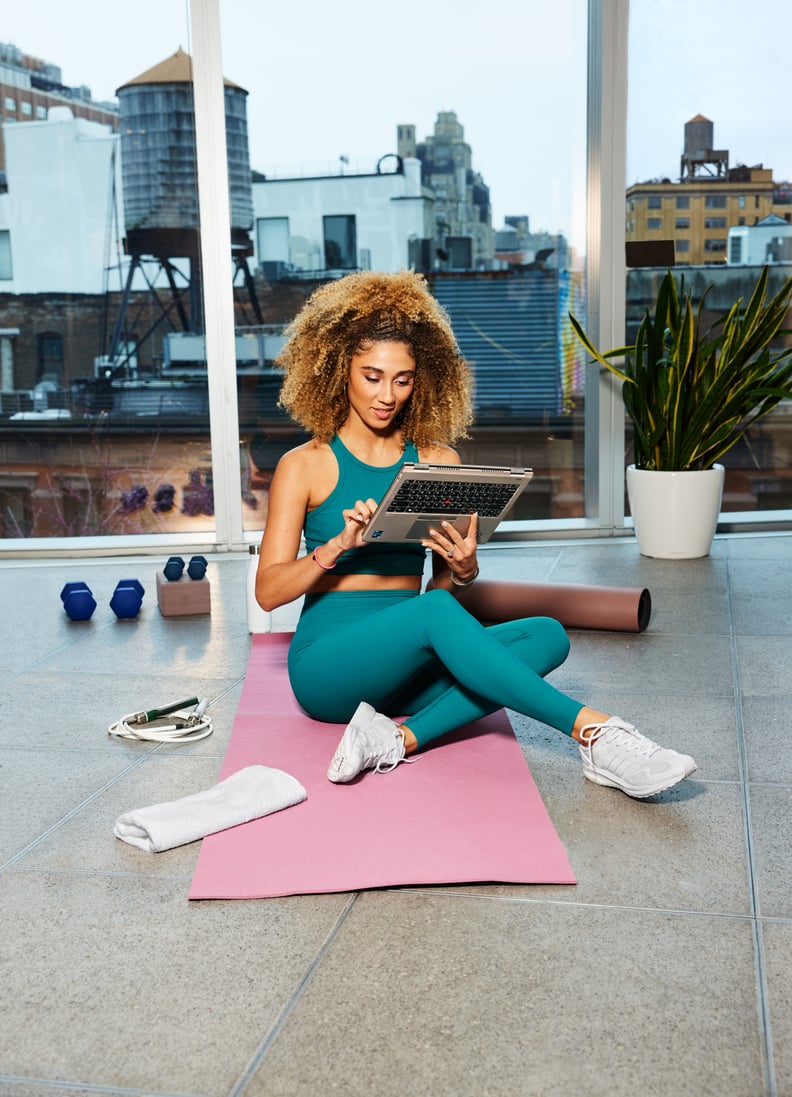 Lenovo
Lenovo
If you've ever taken one of Ally Love's Peloton workouts, then you know the fan-favorite instructor is beloved for her positivity. But it's not just for show: the founder and CEO of Love Squad and Brooklyn Nets host (yes, she wears a lot of hats) actually practices what she preaches. Love places sticky notes with positive affirmations on her bathroom mirror, in her locker in the dressing room at Peloton, and on her Instagram, so she's surrounded by positive messaging.
"Being able to identify words and sayings and quotes that I've said in class or that I say in a meeting or that I've written in my [Lenovo] ThinkPad X1 Nano, how can I make sure that in those moments when, just like everybody else, I have a down day, I'm dealing with anxiety, I'm dealing with. . . lack of confidence in a certain area or just that overall uncertainty of being where we are, what's next," Love told POPSUGAR. "I go back to those words that I write down."
One of those positive words? Boss. "In moments where I am uncertain or I don't know what I'm going to do, I remind myself, 'Girl, you're a boss. Ally Love is a boss.'" To her, that means she sets the standard, establishes the tone, and shows up prepared.
It's not lost on Love that her motivational rides, curated playlist, and positivity has an effect on people. "I know that I have the power to make people feel good, and vice versa," she said. "We all have this power."
But even Love, who has a packed schedule and keeps herself busy with her many commitments (Peloton is just one of them), has bouts of anxiety. To combat this, she has really leaned into being a plant mom. She said she's "obsessed" with plants, and has been propagating her collection; right now, that includes expanding how many succulents she takes care of.
She's also taken up baking and invested in a Dutch oven at the beginning of the pandemic. "With anxiety, I started to really dig deeper into baking and being able to create something," Love explained. "You fall in love with the process and not the result." She wouldn't consider herself a baking master, but she still enjoys whipping up recipes in her kitchen, like sugar cookies and homemade bread. "It has really helped with me handling my anxiety, and it sincerely does bring me joy."
"I know that I have the power to make people feel good. We all have this power."
Love brings a fierce passion as the leader of Love Squad, a global community she's fostered with positive messaging and honest conversations to, as she put it, help women step into their power and reclaim their agency to create the lives they want. For all of her commitments, she knows she has to be mentally sharp to show up at her best.
"I take my social responsibility to heart," she said. "I care how I make my community feel. I care how I show up. I care about the things I post. I care about my brand partnerships." One of those brand partnerships is with Lenovo, which Love says has actually helped her mental health. Although technology has been demonized as being detrimental to our mental health, Love said we can hack how we use our devices and apps and make them work for us.

"Mentally a lot of what I've done, and it's been very helpful, is outsourcing," she explained. "Most of us, we think outsourcing is hiring someone to hang the painting in our apartment when we can't do it ourselves, which is exactly that." She said when she needed help with Love Squad, she hired someone to help with her business. But you can also outsource tools to help with your mental health. She uses her tablet to outsource certain tasks to keep her organized, she plays brain games on her phone, and listens to a lot of podcasts and audio books on Audible.
"You're using something to come in, an expert in that field and on that platform, to come in and help you continue to perform higher, to vibe higher," she said. Just like with workouts: you don't need to create your own workouts from scratch, you can leave it to the experts, like Peloton trainers, to lead the workouts for you.
Love knows that life can be overwhelming; not only with more than a year dealing with the coronavirus pandemic, but also just everyday stressors that can make the simplest tasks seem impossible. But you spend the most time each day with yourself, so don't forget about the tools that you can outsource to help make your life a little bit easier, whether that's a meditation app, a personal development podcast, or an audiobook that brings you joy. "Most times, we think we need to do it all and we have to get it all done," she said. "Make sure that you are setting yourself up for success."