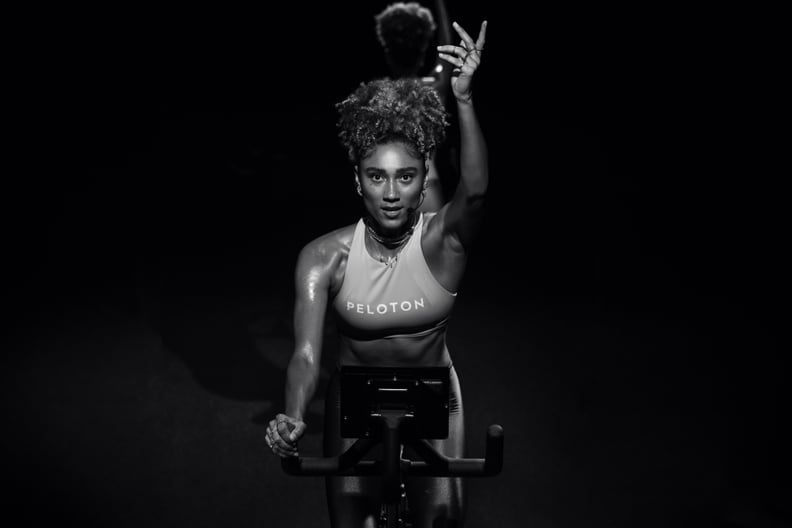 Courtesy of Peloton
Courtesy of Peloton
If you can imagine that Peloton instructor Ally Love is a pro at talking herself through workouts — especially difficult ones — then you're spot on. Love, who has been with the company teaching classes such as cycling, barre, and other strength sessions for four years, has a specific mentality she relies on when she needs a little extra motivation. It's the "boss" mentality, and speaking with Love about it made this journalist feel especially inspired.
Love, a NASM- and Schwinn-certified trainer, told POPSUGAR that it all started when she began teaching bike classes at Peloton. "In my first month I felt like I needed to step my game up, and so I was having an internal conversation of like, 'What do I want to feel like when I hop off the bike?' I said, 'You know what? I want to be the boss of the bike,'" she recalled. "And so this idea of being a boss, setting the standard, establishing the tone, became a mantra of mine early on because I wanted to redefine how we use this word."
To Love, she felt as though the word was always used to refer to men and those who were masculine. "You thought about someone in charge," she noted. This phrase of "being a boss" or "bossing up" became what she repeated to define who she was (and still is) and what she wished to accomplish. She uses this motto when she's running half marathons, trying to wrap up a tough training session, or even teaching a class. It all centers around power and setting the standard for yourself, she said, and it's something she often preaches in front of the camera during her Peloton workouts.
"It's that I have that power, and I use that power," Love added. "I step into that power to set the tone, to make people feel good about themselves, to share that light." So, not only does this boss mentality help her, but she hopes it inspires others, too.
The key to starting 2021 as a boss, Love explained, is reaching for smaller, sustainable goals whether that relates to working out or otherwise. For instance, she wants to make sure she is paying attention to what she's putting in her body as much as how she moves her body, which is why she partnered with Kite Hill; she aims to incorporate more dairy-free options into her life, and the brand's Original Almond Milk Yogurts are a great place to start, she said.
Another important part of "bossing up"? Music. "No Problems" by Chance the Rapper is her ultimate go-to. She is also a fan of "I Wanna Dance With Somebody" by Whitney Houston and Darius Rucker's "Homegrown Honey." Step into your boss potential this year — what's stopping you?