If you haven't had properly cooked tofu, I can understand why you wouldn't be a fan of the sometimes squishy, flavorless, white chunks. Even if you're not a vegetarian, it's time for you to fall in love with this meat alternative, since it's an inexpensive, low-fat, and low-calorie way to get protein into your diet without adding cholesterol.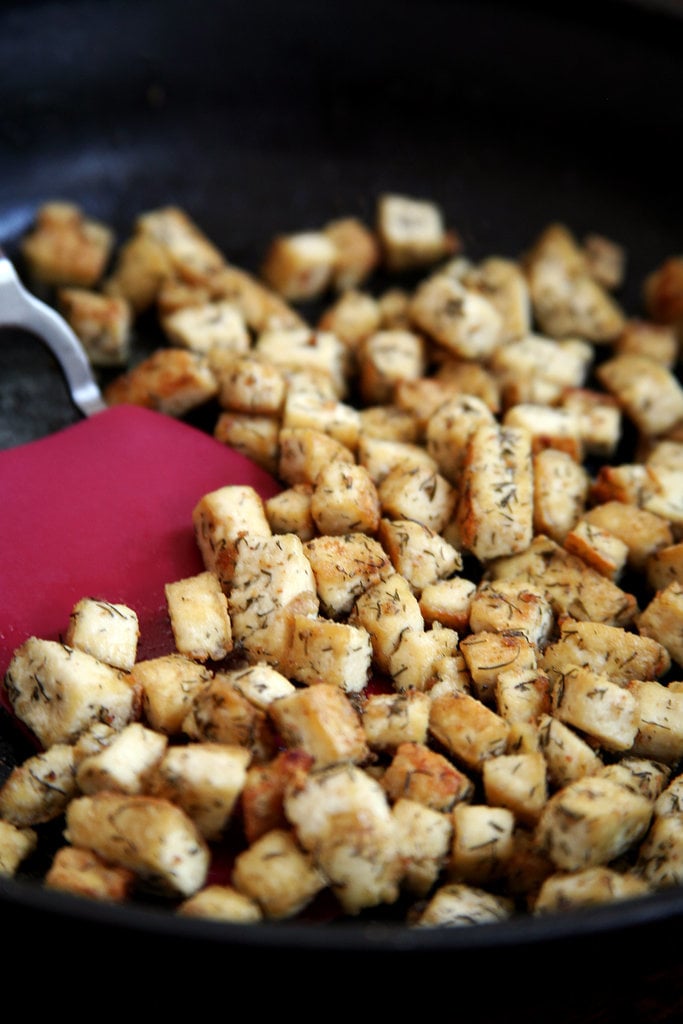 1. Tofu Doesn't Have to Be Soft, Squishy, and Flavorless
Tofu comes in many varieties: silken, soft, firm, extra firm, and super extra firm. If you're turned off by the gelatinous texture, choose super firm or super extra firm. Another plus to buying a denser consistency is that it's higher in protein per serving (11 grams compared to eight grams for firm tofu). Make sure to press out the excess water in tofu before using it to reduce the mushy texture. Pressing out excess water also makes it easier for tofu to absorb sauces or marinades, making for a tastier dish.
2. Tofu Isn't Like Other Meat Alternatives
If you've tried tempeh or seitan before and were not a fan of the grainy or chewy texture and the slightly earthy flavor, know that tofu is completely different. Made from soybeans, tofu has a smooth, spongy texture, and virtually no taste whatsoever. What you might like better about tofu is that it'll take on the flavor of whatever you add to it.
3. Tofu Doesn't Have to Be Cooked
What makes tofu such an easy source of protein is the fact that it can be eaten raw. Keep marinated tofu stored in the fridge to add to fresh salads or sandwiches, or add diced tofu to soups, quiches, tomato sauce, or pasta. Use a salad dressing as an easy marinade, or soak in soy sauce, ginger, and cumin. If you want a drier, chewier consistency, bake or panfry the marinated tofu and make these cucumber tofu rolls. It can also be blended into a smooth, creamy consistency, which makes it a great ingredient to add to smoothies or use to make chocolate mousse.
Related: Maple-Cumin Tofu With Farro Is Packed With 18 Grams of Protein