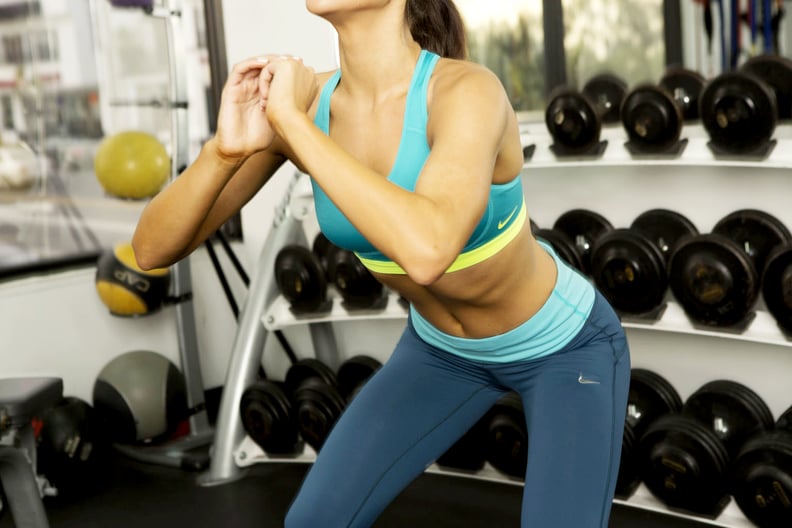 POPSUGAR Photography | Kat Borchart
POPSUGAR Photography | Kat Borchart
Squats are one of those exercise moves that almost everyone thinks they're doing correctly, but perfecting the form is slightly more complex than you might think. Think about your squat: do you get a good lower ab workout, or is it all in the booty and hamstrings?
If you're not feeling your abs, you're not doing it right. It means you're not activating your deeps abs — or your transverse abdominis. "It is important to activate your transverse abdominis (TVA) during most movements, especially the squat," said Liz Letchford, MS, ATC, and personal trainer at DIAKADI. Liz emphasized this to me during a training evaluation, in which my squats, which I had previously thought flawless, were scrutinized more carefully. I definitely was not tightening up the TVA.
How do you do it? By "bringing your navel toward your spine," she said, which is easier to feel on an exhale. Also, the TVA and the pelvic floor muscles work as a team, so you can get your deep abs to work more if you work your kegels in the squat. Think about the muscles you use when you're trying to stop yourself from peeing (graphic, but it works). Try "activating the muscles that stop the flow of urine."
Here's a method: "You can test whether yours is engaged by feeling the space just above your hip bones. When the TVA is engaged, this area should feel like a rigid, flexed sheet of muscle." Feel around. Is it active? Does it feel strong and firm? If not, you're not ready to take on more weights.
"Many people lose this engagement at the bottom of a squat, so before you grab that barbell, try to first go through the movement without weight, and test whether your TVA stays engaged throughout the entire range of motion," she said. Doing this will not only give you a better workout and help tone your abs, but keeps you safe when you start adding on weight to your routine.