Joining a new gym can be intimidating — it feels like everyone but you knows what they're doing and where to go, while you're just trying to figure out how to find the water fountain. But fear of feeling embarrassed in the gym is no reason to avoid it, especially if it means you're not exercising at all. Read on for solutions to your biggest gym fears.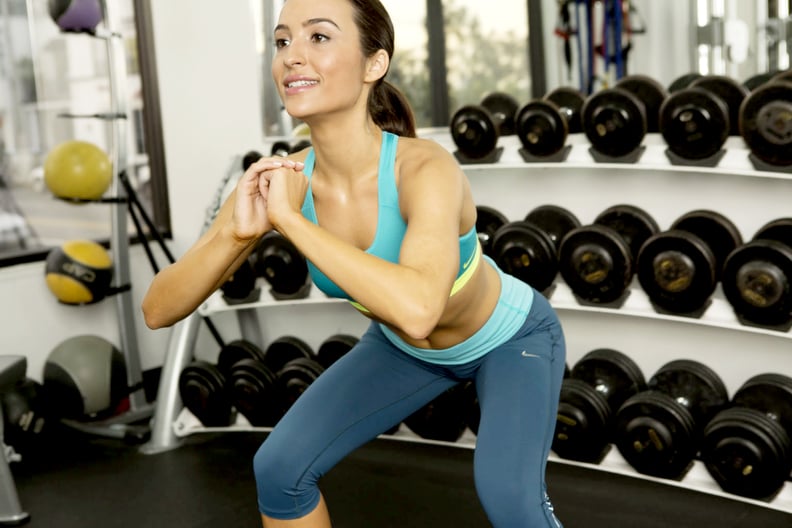 I don't know how to work the weights/machines:
It's a common fear for gym newbies — showing up to the gym and then not knowing what to do. Don't let it get the best of you. Just one trip to the gym is all you need to realize that not knowing what to do is a simple problem to solve. Feeling comfortable in the gym is about knowing the basics of your most-frequented machines, so decide which pique your interest and enlist the help of a friend — or just a friendly gym employee — to show you how to set it up. Once that part is over, here are more tips for looking like a gym-going pro:
On the elliptical: Focus on your strides per minute, keeping them between 140 and 160, and try variations like going hands-free or pressing down with your heels to work different muscle groups. Read more beginner elliptical tips here.
On the treadmill: If you're not careful, your running form can take a hit on the treadmill. Focus on keeping your neck and shoulders relaxed and your upper body upright, not leaning forward, and keep your hands off the hand bar so you don't use it as support while you run.
In the weight room: Don't be intimidated — the weight room is where you can build those metabolism-boosting muscles and go at your own pace. Go with a circuit workout plan and carefully choose your dumbbell weight, then find an empty spot and focus on maintaining proper form.
In class: One of the best ways to learn basic, effective moves is to take a group fitness class, but if you're new joining one can be intimidating. Take these tips for a beginner from a fitness class instructor: show up early, tell your instructor you're new, know your limits, and find a good spot somewhere in the middle where you can see the instructor but won't be blocking everyone else's view.
I'm not sure what to do:
Never go to the gym without a plan; you'll end up wandering aimlessly or clocking in a lackluster workout. You should know what you want to accomplish before you make it to the locker room — are you trying to burn major calories? Take a cardio interval workout with you. Need to stretch and de-stress? Opt for a beginner yoga class. Knowing what you're doing and how long takes a lot of the intimidation out of getting to the gym. Print out one of our workout guides to take with you so you can follow along with ease.
I feel self-conscious in the gym:
In a room full of people working out like it's their job, it can be easy to feel like everyone's judging your own presence in the gym. But the truth is that almost everyone is there to do exactly what you're there to do — work out and leave. Knowing that and feeling comfortable in the gym, however, are two different things, so do your best to tune everyone out with an inspiring workout playlist — after a few minutes, you'll be so into your workout that you'll tune everyone out.