Chipotle has had its fair share of bad press in the past year or so, that's for sure. But it still remains one of the most popular fast-casual restaurants in the United States. Clearly, people are still into it. If you're out with friends at Chipotle, or stopping roadside at the beacon of silver-wrapped burritos while traveling, we've got a handful of tips for you.
Related: These Are the Healthiest Things You Can Order at Taco Bell
Before we get into how to order the four items Chipotle offers — burritos, tacos, bowls and salads — let's go over some general pointers . . .
Beans: Black beans have less sodium, more fiber, and more protein than pinto beans, but they're similar in terms of calories.
Rice: We skipped rice, both brown and white, because of high sodium and carbohydrate content. If you're needing some rice, know that although brown rice has more fat and carbohydrates than white rice, it's higher in fiber, protein, and iron, while being significantly lower in sodium.
Meat: In many of these orders, we opted for sofritas, which is a tofu/vegetarian option, and the lightest on calories across all choices. If you opt for animal-based protein, chicken is the lightest in terms of calories. However, steak had slightly less fat and about half the cholesterol of chicken, while it was on par in the amount of calories, sodium, and protein. Steak also has twice as much iron as chicken.
Now, let's order!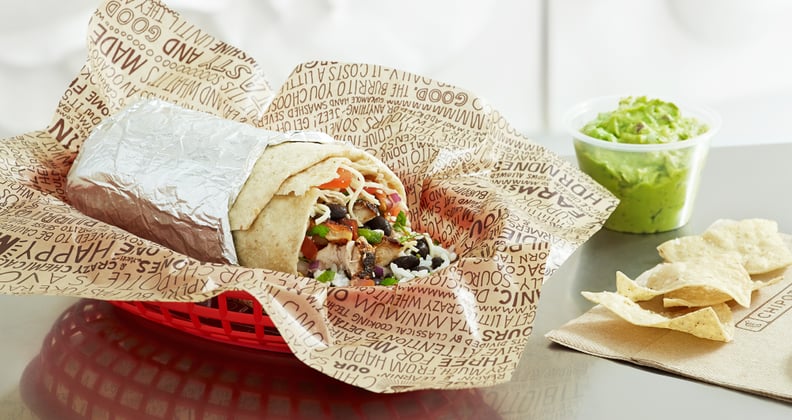 Burrito
If you're just going to go for the burrito, you might as well get what you want. BUT, we also put together the leanest burrito we could, without taking away any major components.
At 17 ounces, this guy has 605 calories, 21 grams of fat (still kind of high, but not bad), 1930 grams of sodium (pretty ridiculous), 86 carbs (that's a flour tortilla for ya!), 20.5 grams of fiber (yay!), 9 grams of sugar (pretty low), and 23 grams of protein (very nice). The burrito's detractors (read: carbs and sodium) are somewhat rectified with extremely high vitamins A and C content, as well as half your daily calcium and iron. So it's definitely not the worst thing you can put in your body.
How to order:
Sofritas
Black Beans, No Rice
Fajita Veggies
Tomatillo Green Chili Salsa
Lettuce
Bowl
A bowl is definitely a better bet than a burrito; you give up a significant amount of carbs when you lose the white-flour tortilla, without compromising on flavor. Sofritas and chicken tend to be the lighter options, with sofritas being lighter in calories, and chicken being lighter in sodium, but about four times higher in protein.
For the chicken bowl (ordered with the details below), at 17.5 ounces, you'll be at 570 calories, with 30 grams of fat (remember, they're mostly healthy fats from guacamole), 1370 grams of sodium (unfortunately high), 39 grams of carbohydrates, 20.5 grams of fiber (very high!), 5.5 grams of sugar (low), and 42 grams of protein (SUPER HIGH). It's also very high in vitamins C and A, as well as calcium and iron.
How to order:
Sofritas or Chicken
Black Beans, No Rice
Fajita Veggies
Tomatillo Green Chili Salsa
Guacamole
Lettuce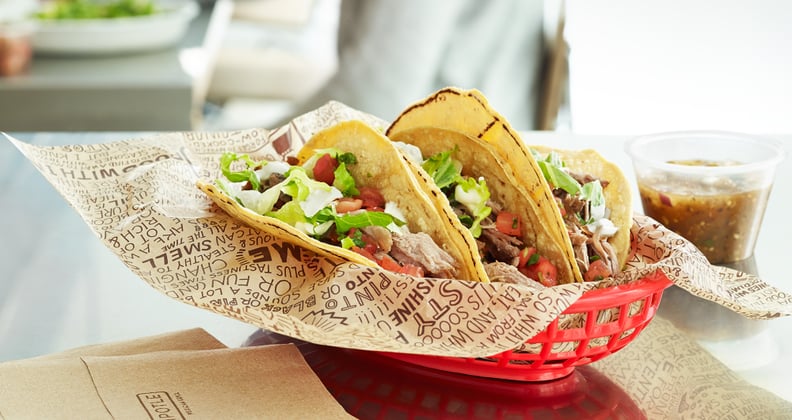 Tacos
Straight out of the gates, half your calories will be coming from the corn tortillas. These tacos in particular are the lightest and leanest of the three options (soft flour and crispy corn being the others), but they still do a bit of caloric damage.
If you're just craving tacos, order the below fixings, and you'll be at 430 calories, with under 10 grams of fat, 810 grams of sodium (lightest of all the options), 51 grams of carbohydrates (ouch, but that's the tortillas again), 8.5 grams of fiber, and 36 grams of protein (incredible), as well as high amounts of vitamins A and C, calcium, and iron (tortillas brought some iron and calcium to the table, whoo!).
How to order:
Soft Corn Tortillas
Chicken (or Meat of Your Choice)
Fajita Veggies
Tomatillo Green Chili Salsa
Lettuce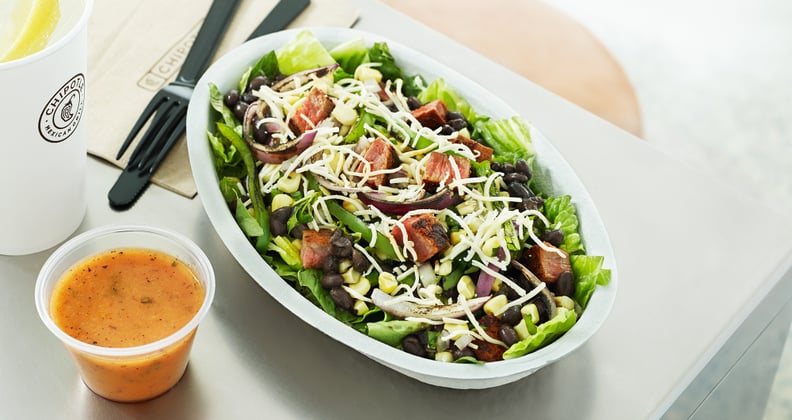 Salad
You're probably not at Chipotle to get a salad, but on the off chance you are, here are some ordering tips.
Between the vinaigrette and guacamole as your dressing, it's likely a better choice to opt for guac. Their serving of vinaigrette is 270 calories, with 25 grams of fat, 850 grams of sodium, 12 grams of sugar, and 18 grams of carbohydrates. Compare that to guacamole, at 230 calories, 22 grams of fat, 375 grams of sodium, 1 gram of sugar, and 8 grams of carbohydrates (with added fiber, protein, vitamins A and C, calcium, and iron). Nutritionally, it's a better, healthier fat and flavor addition.
Without dressing, the sofritas salad comes in at 280 calories, 12 grams of fat, 1605 milligrams of sodium (yikes), 32 grams of carbohydrates, 9.5 grams of fiber (applause), 12.5 grams of sugar, 13 grams of protein (not bad!), and over 100 percent of your daily vitamins C and A with high levels of calcium and iron.
How to order:
Soft Corn Tortillas
Sofritas
Fajita Veggies
Fresh Tomato Salsa
Roasted Chili-Corn Salsa
Dressing or Guacamole (not included in calorie count)