Figure skater Ilia Malinin, aka the "Quad God," just scored his first-ever US figure skating title over the weekend after attempting the hardest technical program ever skated in competition, containing not one or two but six planned quad jumps and two challenging combinations.
On Jan. 27, at the US Figure Skating Championships in San Jose, CA, Malinin crushed his short program, landing two flawless quadruple jumps, to go into Sunday's free skate with the top score and a massive lead. During his free skate, the 18-year-old had planned to execute six quad jumps. However, he fell on his first jump, a quadruple axel. He landed three other quads, changed his final two quads into doubles, and turned his final jump sequence into a triple-lutz-triple-axel-triple-toe-loop sequence, which he'd never done in competition, according to NBC Sports.
"This wasn't the skate that I wanted," Malinin told NBC after his free skate. But he remained positive about his performance and the rest of the season. "You always learn from your experiences, and there's always still the rest of the season to come," he said. "I just have to be prepared and prepare a little bit extra so that doesn't happen again."
In September 2022, Malinin became the first figure skater to land a quad axel in competition, which he did while competing at the US International Figure Skating Classic. A month later, Malinin landed the first quad axel in the history of the Grand Prix of Figure Skating, helping him snag first place and become the youngest men's champion in Skate America history.
The quad axel is the most difficult of the quad jumps, all of which require four revolutions in the air. The quad axel actually comprises four-and-a-half turns thanks to its distinctive forward-facing takeoff. Malinin said that Yuzuru Hanyu, the Japanese figure-skating superstar who retired in July, "definitely inspired" him to try the jump. Hanyu, a two-time Olympic gold medalist, fell attempting the quad axel at the Beijing 2022 Olympics. He'd previously said attempting the never-before-done jump "is like walking in the dark," according to NBC Sports. Artur Dmitriev Jr., a Russian-born skater who currently competes for the US, attempted a quad axel at the 2022 US nationals, but he stepped out of the landing and the jump was later judged to be underrotated.
In competition, the quad axel has an incredible base value of 12.50, and landing it cleanly along with a bonus grade-of-execution point helped Malinin rack up 287.74 points at the US Figure Skating Championships — 10 points above Jason Brown, who claimed silver.
Who will be the next to land, or even attempt, the difficult quad axel in competition? Well, there's always reigning Olympic champion Nathan Chen, who has reportedly attempted the jump in practice. Chen made history in 2018 by becoming the first skater to land six quads at the Olympics. The 23-year-old is currently taking a break from the sport, though, and wasn't present at this year's nationals. Chen's hiatus allowed Malinin to take center stage, where he's clearly thriving — not an easy thing to do when the pressure is on. "When I'm practicing [the quad axel], it's pretty easy for me to figure out how to get the right timing and everything to have it be a good attempt," Malinin explained after landing the jump in September, according to the Associated Press. "To do it in competition is a different story because you have nerves and pressure that can get in the way of that. So I have to treat it like I'm at home, and it feels pretty good."
As the quad axel moves out of the realm of myth and into real-life skating competitions, we're sure to see even more attempts in the future. So what's next? Quintuple jumps? Never say never.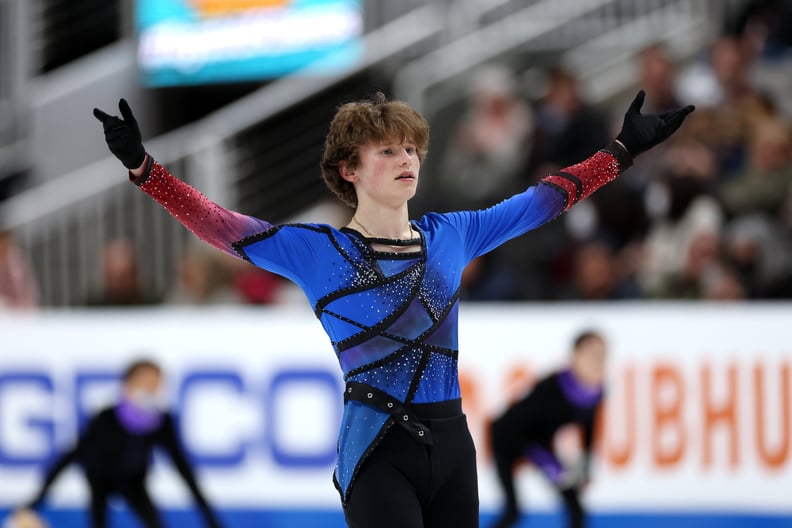 — Additional reporting by Lauren Mazzo