Naomi Osaka Brought 7 Face Coverings Total to the US Open — Each Honored a Black Life Lost
Naomi Osaka won the 2020 US Open women's singles final (sans the crowd) against Belarus's Victoria Azarenka 1-6, 6-3, 6-3 on Sept. 12. This marked her second US Open singles title. Ahead of each round, she wore a face mask with the name of a different Black life lost at the hands of police brutality or other acts of racial violence. She had seven masks total — seven lives to be honored and stories to be told.
"It's quite sad that seven masks isn't enough for the amount of names," Osaka said after her first-round victory, "so hopefully I'll get to the finals and you can see all of them." Well, she did exactly that.
Her stand for racial justice at this year's US Open came after Osaka and other athletes across sports postponed their competitions at the end of August following the police shooting of 29-year-old Jacob Blake in Kenosha, WI. She opted out of a semifinal match in the Western & Southern Open, writing on Twitter, "Before I am a athlete, I am a Black woman. And as a Black woman I feel as though there are much more important matters at hand that need immediate attention, rather than watching me play tennis." The tournament paused for a day before she won her semifinals match, but she withdrew before the final due to a hamstring injury.
Keep reading for a look at all seven of Osaka's US Open masks and their significance.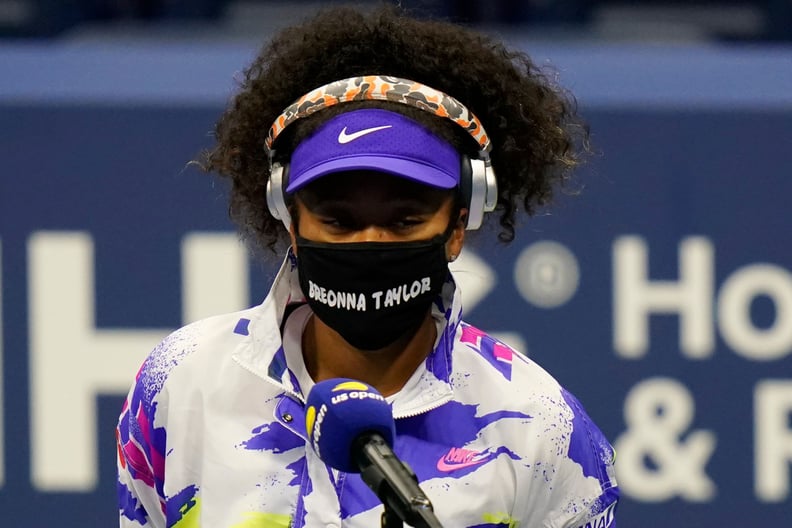 Naomi Osaka Wears a Breonna Taylor Mask For Round 1 of the US Open
Osaka won her first 2020 US Open match against fellow Japanese tennis player Misaki Doi 6-2, 5-7, 6-2 on the night of Aug. 31. While entering and exiting the court in Arthur Ashe Stadium, Osaka donned a face mask with Breonna Taylor's name printed on the front. Breonna Taylor, a 26-year-old emergency medical technician, was fatally shot by police on March 13 while she was sleeping next to her boyfriend, Kenneth Walker, in Louisville, KY. Police used a no-knock warrant for a drug raid linked to her ex-boyfriend and began shooting after Walker, who went on to claim self-defense, shot once.
One of the officers involved, Brett Hankison, was fired in June, and Breonna's Law was passed, banning no-knock warrants. Protesters are calling for the three officers involved, including Hankison, to be charged.
Naomi Osaka Walks Onto the Court For Round 1 of the 2020 US Open in Her Breonna Taylor Mask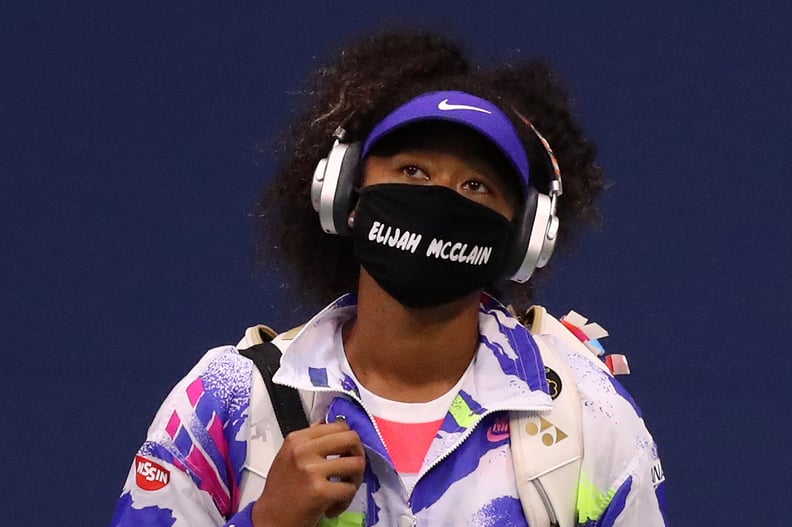 Naomi Osaka Wears an Elijah McClain Mask For Round 2 of the US Open
After Osaka's win against Italy's Camila Giorgi in the second round of the US Open (the final score was 6-1, 6-2), she said that she doesn't think Elijah McClain's name "is very put out there compared to George Floyd or Breonna Taylor. For me, today was very special in the way that I wanted to represent him very well."
McClain was 23 when police, on Aug. 24, 2019 and in Aurora, CO, restrained him with a chokehold called a "carotid" at least two times, which restricts blood to the brain and causes someone to go unconscious (all chokeholds have since been banned in Aurora, and Colorado as a whole has banned chokeholds as well). McClain was walking home from a convenience store when someone called 911 on the man, saying that he "looked sketchy," was wearing a ski mask, and was waving his arms.
The carotid chokehold was used after police struggled to handcuff McClain, who was revealed after the fact to have chronic asthma. Paramedics then injected him with ketamine, a sedative. McClain went into cardiac arrest on the way to the hospital and died a few days later. Three officers involved were put on administrative leave, then reinstated, according to The New York Times. Read more about McClain here.
Naomi Osaka Walks Onto the Court For Round 2 of the 2020 US Open in Her Elijah McClain Mask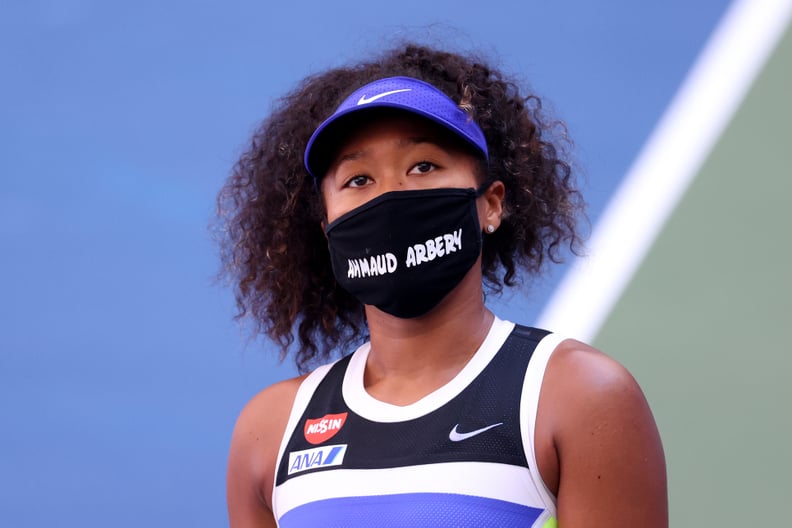 Naomi Osaka Wears an Ahmaud Arbery Mask For Round 3 of the US Open
In the third round of the US Open, Osaka won her match against Ukraine's Marta Kostyuk 6-3, 6-7, 6-2. The mask she wore in this match featured the name of Ahmaud Arbery, the 25-year-old Black man who was shot and killed by a former police officer and investigator, Gregory McMichael, and his son Travis McMichael in Glynn County, GA, on Feb. 23 while he was out jogging. Both men, who are white, face murder and aggravated assault charges, and William Bryan Jr., also white and who recorded the shooting, was arrested on felony murder charges. All three, as of now, have pleaded not guilty.
"I would like everyone to know that it was completely avoidable," Osaka said in an interview after her match about Arbery's death. "This did not have to happen. None of these deaths had to happen, and, for me, I feel like I just want everyone to know the names more."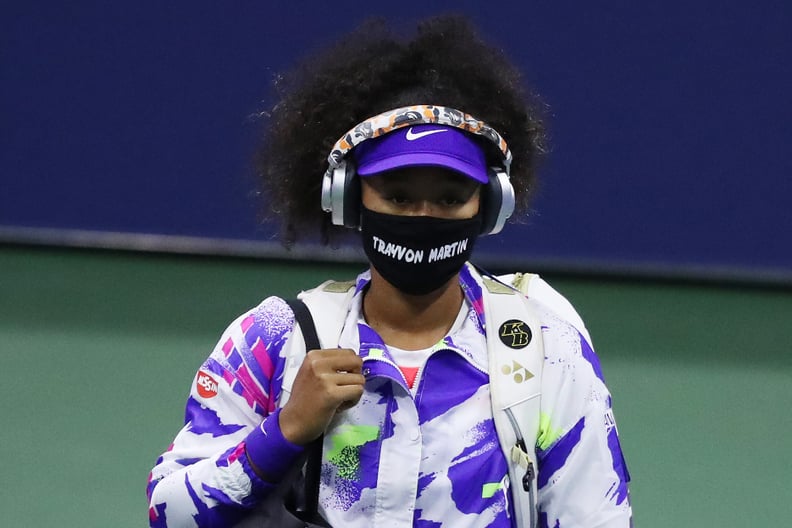 Naomi Osaka Wears a Trayvon Martin Mask For Round 4 of the US Open
Osaka is off to the quarterfinals after winning round four of the US Open against Estonia's Anett Kontaveit 6-3, 6-4. This time, Osaka wore a mask on and off the court bearing the name of Trayvon Martin, a 17-year-old who was visiting his father in 2012 in Sanford, FL, when, after going to a 7-Eleven, was followed, shot, and killed by neighborhood watch volunteer George Zimmerman.
Zimmerman called 911 to report Martin as a "suspicious person," and he argued self-defense. He was tried for second-degree murder and acquitted. This launched the Black Lives Matter movement.
Osaka tweeted after the match, "I remember Trayvon's death clearly. I remember being a kid and just feeling scared. I know his death wasn't the first but for me it was the one that opened my eyes to what was going on. To see the same things happening over and over still is sad. Things have to change."
Naomi Osaka Walks Onto the Court For Round 4 of the 2020 US Open in Her Trayvon Martin Mask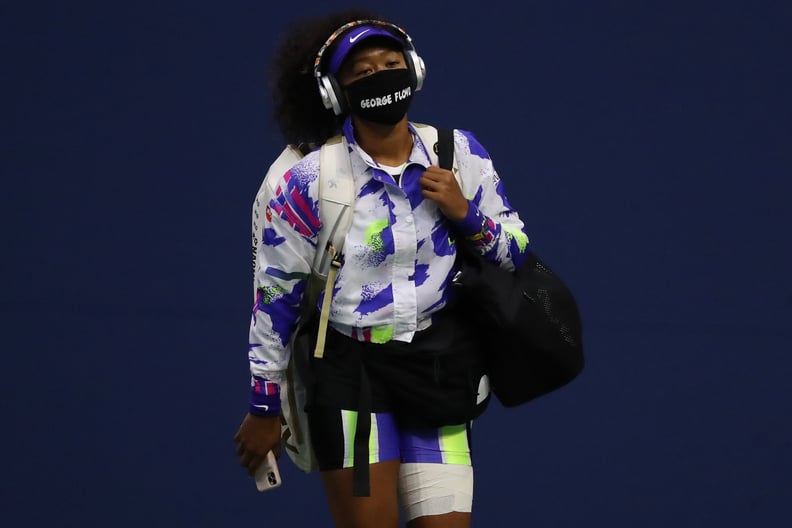 Naomi Osaka Wears a George Floyd Mask For the Quarterfinals of the US Open
In the quarterfinals of the US Open, Osaka won against American Shelby Rogers 6-3, 6-4. She wore a mask with the name of George Floyd, the 46-year-old whose death in Minneapolis, MN, was caught on video on May 25 of this year. He died after being handcuffed, then pinned to the ground by police officer Derek Chauvin — Chauvin kept his knee on Floyd's neck for at least eight minutes and 15 seconds (but eight minutes and 46 seconds was the timing originally reported and became a worldwide symbol in his death).
The four officers involved have been arrested. Chauvin faces second-degree manslaughter and second-degree murder charges, and the three others face charges of aiding and abetting.
Osaka said after her match that choosing the masks she wears for each round is based on "a feeling I have inside." Then, in an off-court interview, she was shown footage of Trayvon Martin's mom and Ahmaud Arbery's dad thanking her for the public stand she's taking for racial justice. "I feel like I'm a vessel at this point in order to spread awareness," Osaka stated in response. "It's not going to dull the pain, but hopefully I can help with anything that they need."
Naomi Osaka Walks Onto the Court For the 2020 US Open Quarterfinals in Her George Floyd Mask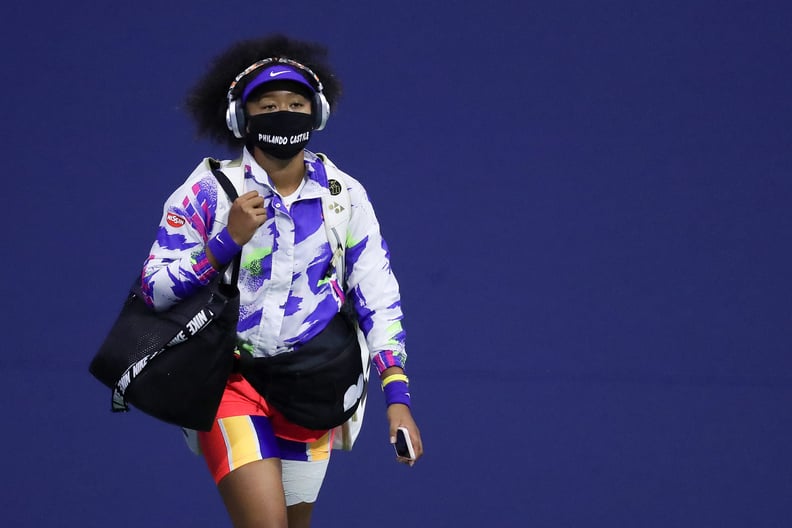 Naomi Osaka Wears a Philando Castile Mask For the Semifinals of the US Open
Osaka won her semifinal match against American Jennifer Brady 7-6, 3-6, 6-3, and she wore a mask in honor of Philando Castile, a 32-year-old Minnesota man who was fatally shot by police officer Jeronimo Yanez during a traffic stop in 2016. Castile's girlfriend live streamed the aftermath on Facebook and said in the video that the officer had asked Castile for his license and registration. Castile, according to his girlfriend, told Yanez he needed to get his wallet and also told the officer he had a pistol on him because he was licensed to carry.
Yanez shot and ultimately killed Castile after he had told Castile not to move and claimed Castile had reached for his gun. Castile's girlfriend said he had been reaching for his ID and registration. Yanez later revealed that he'd pulled Castile over because of a broken taillight, but that he also thought Castile matched the description of a robbery suspect. Yanez was charged with second-degree manslaughter, then acquitted and fired from the police force in 2017.
At the end of her semifinal match, Naomi said the most gratifying part about using her platform to raise awareness of social and racial injustice has been "knowing that I'm reaching people . . . just knowing that people are hearing my voice."
Naomi Osaka Walks Onto the Court For the 2020 US Open Semifinals in Her Philando Castile Mask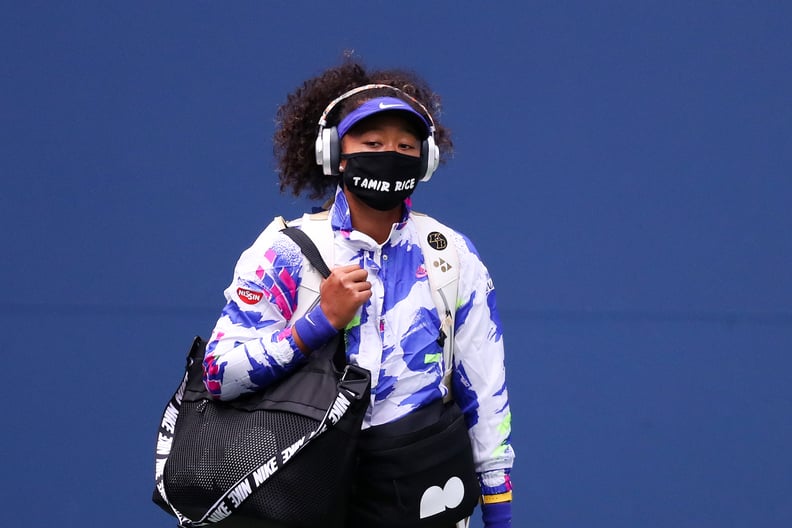 Naomi Osaka Wears a Tamir Rice Mask For the Final of the US Open
Osaka won the US Open women's singles title against Belarus's Victoria Azarenka 1-6, 6-3, 6-3. For her last singles match at the US Open, she wore a mask honoring Tamir Rice, who at 12 years old was shot and killed by police officer Timothy Loehmann on Nov. 22, 2014. Rice had been playing with a toy pellet gun in a Cleveland park when Loehmann, a rookie officer, and his partner responded to a call. Information that the gun was "probably" fake and that the person holding it was "probably a juvenile" was not relayed by the dispatcher, according to The New York Times.
No one tended to Rice as he lay dying — it wasn't until four minutes after the shooting that an FBI agent who happened to be nearby came to help, The New York Times reported. The following year, a grand jury declined to charge Loehmann. He ultimately was fired from the Cleveland Police Department in 2017 for lying on his job application.
Naomi Osaka Walks Onto the Court For the 2020 US Open Final in Her Tamir Rice Mask