How Peloton's Jess Sims Creates Her Bootcamp Workout Class
How to Re-Create Peloton's Saturday 60 Bootcamp Workout, Even If You're Not a Member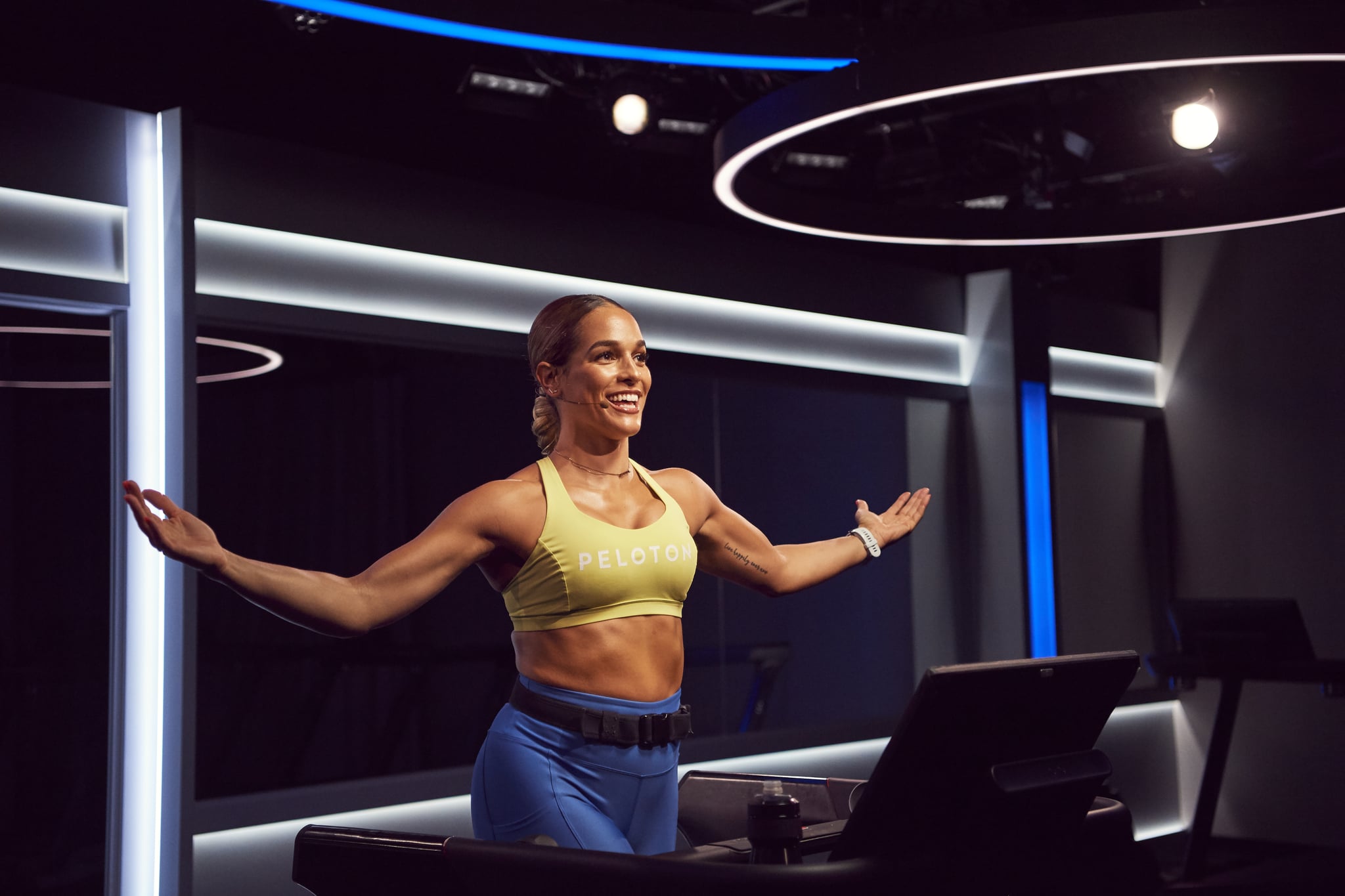 Image Source: Courtesy of Peloton
Jess Sims has become known for her signature Saturday 60 workout series at Peloton, an hour-long bootcamp-style workout class that involves both Tread and Strength segments. There are countless perks to tuning in, from the intense physical challenge to the bonus ab workout endured by laughing at Sims's hilarious, witty banter as she instructs. The Saturday 60 is by far my personal favorite class on Peloton's platform, and I'm not alone. Sims has a devoted fanbase that shows up for her weekly, banding together via leaderboard hashtags like #YouGetToCrew, #CurseOutCrew, and even #PelotonTeachers (Sims previously held a career in education before joining the Peloton family in 2018). In March, Peloton launched a Saturday 60-branded apparel collection designed by Sims that sold out online in 18 minutes, and is now being re-listed for a higher price on secondhand sites like Mercari.
"Yes, you're tired, but you have to hold yourself accountable."
Needless to say, the boot camp is popular for a reason, so we talked to Sims about her unique approach to designing the circuits and sought her advice for DIY-ing an effective Saturday 60 bootcamp workout at home.
Sims's tips and tricks run the gamut, but her key rule of thumb is to divide up the hour into 10-minute "mini" workouts, rotating between cardio and the floor. This specific plan was inspired by her experience at basketball practice in high school and college, and it's what makes this Peloton bootcamp workout one-of-a-kind, according to Sims. "If I ask someone to run for 30 minutes, that's a long time — and the same goes for lifting — but if I say, 'you just have to run for 10 minutes,' it's doable," she told POPSUGAR at a March 11 event celebrating her coveted clothing line. "If you think 60 minutes is overwhelming, it's just one minute. And then another minute. And then another minute. It's just brick by brick."
Sims offers up tidbits of advice like this during the team-oriented workout, along with popular mantras like, "This is tough but I'm tougher," which is subtly scrawled down the pant leg of the Saturday 60 sweats. "People ask me, 'Jess, how did you know that I needed that in that moment?'" Sims said, referring to her decision to throw in a longer rest, rolling hill, or listening game (when lyrics coincide with speed or resistance increases). "The answer is, because I'm doing the workout with you."
Ahead, learn how to construct an hour-long bootcamp workout just like Sims via this guide she shared exclusively with POPSUGAR.
Image Source: Courtesy of Peloton
Peloton Bootcamp Workout Tip: Cardio
After a dynamic warmup, Sims encourages starting your boot camp with cardio. (Think of it as your warm-up part two, so your body is fully ready for the coming strength work.) Her Saturday 60 classes typically have three cardio intervals. While they usually involve sprinting, hill work, and endurance pushes on the treadmill, Sims notes that you can just as easily swap in an alternative cardio exercise, whether it's cycling, jumping rope, or rowing. "If you're on the bike and I say to push into a sprint, just push your cadence. When I say go up a hill, add resistance," she said.
If you're looking for a little more guidance on how to structure your cardio intervals without Sims's smart instruction, you can try some simple intervals like 30 seconds of pushing and 30 seconds of recovery, or walk, run, or pedal to the beat of your playlist, like a treadmill strut workout.
Peloton Bootcamp Workout Tip: Strength Training
Taking influence from Sims's go-to outline, you'll do three 10-minute strength portions in your bootcamp workout. The first should be an easier circuit that involves picking up the dumbbells to make sure you've selected the right weight for each movement. Sims suggests doing upper body and core work in the first segment, so the heat fires from your center to the extremities. If your chosen cardio is running, be sure to save leg exercises for the last strength circuit, so as not to burn them out early.
The second strength workout should be an AMRAP (as many reps as possible). These should be quick and easy moves you familiarize yourself with beforehand, so you can immediately jump into the circuit.
The last portion is all about burning out, so coordinate an EMOM (every minute on the minute) where you have 60 seconds to complete a chosen movement any number of times. To make it harder, you can increase this "magic number" each minute, and rest if you finish early. "You should go at your own pace," Sims said. "Yes, you're tired, but you have to hold yourself accountable."
Peloton Bootcamp Workout Tip: Music
There are two different types of Saturday 60 classes Sims offers: Advanced, with less rest time, heavier weights, and tougher movements or Music-Themed, incorporating rolling hills on the Tread, longer recoveries, and more accessible moves on the floor. If choosing a music genre is an important part of your workout — and you feel like it motivates you — consider putting together a workout playlist that matches up with your strength and cardio intervals. For example, instead of marrying yourself to doing exactly 10 minutes on the tread, perhaps you structure your bootcamp workout where you run for three songs, then get off and do strength work for three songs.
"I need every workout to end at the end of a song. I just can't transition unless it does, it doesn't feel right in my soul," Sims laughed. "Sometimes, when the universe has my back, it's perfect. I just know which songs belong with the Tread, and which belong on the floor, and it's the perfect match-up."
Peloton Bootcamp Workout Tip: Clothing
When it comes to choosing your workout clothes for an hour-long bootcamp workout, Sims recommends a set that's supportive and comfortable, because there will be plenty of jumping around, with a wide variety of movements. Unsurprisingly, Sims likes to save apparel from a favorite new Peloton drop for the Saturday 60, since she'll be onscreen for the longest period of time.