Peloton Guide, Peloton's New Smart Strength Product, Is Here
The Peloton Guide Smart Camera Is Here to Level Up Your Strength Workouts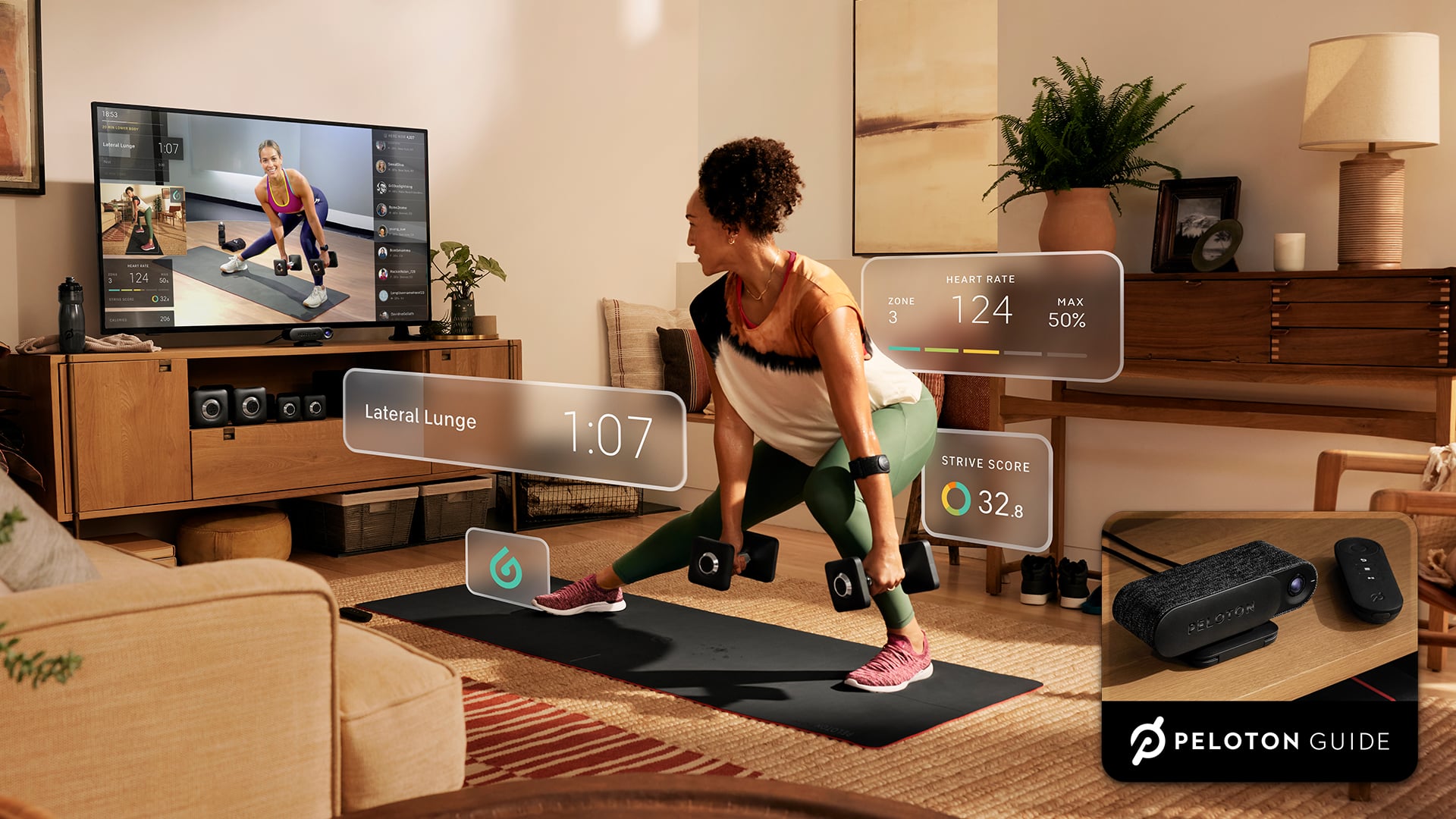 Image Source: Peloton
Peloton's new strength product the Peloton Guide — a smart camera that connects to your TV — is officially here. You can now order the Peloton Guide ($295) on the brand's website, as well as access brand-new strength content on the brand's streaming platform with an All-Access Membership.
The device has been trained to recognize and track hundreds of strength move variations using a type of AI called "machine learning." The goal? To help keep you accountable and help you correct your own form (more on that later). I've been a Peloton member for over two years now, though I've never owned a Peloton Bike or Tread, and this sounds like something my strength-loving self would benefit from given that I stream classes from the digital app on a weekly basis.
The Peloton Guide is the brand's most heavily tested device to date, with over 1,500 in-home beta testers completing over 15,000 hours (35,000 classes) of workouts, according to a release from the brand. Peloton cofounder and Chief Product Officer Tom Cortese said in a statement: "Peloton Guide demystifies strength training to create a more engaging experience that will help Members stay motivated. We combined our world-class Instructors and class content with the best machine learning technology to create a whole new way to train. This is just the beginning for Peloton strength. Guide will keep getting smarter so it can grow stronger alongside our Members."
Ahead, everything you need to know about the Peloton Guide, so you can decide whether you want one for yourself.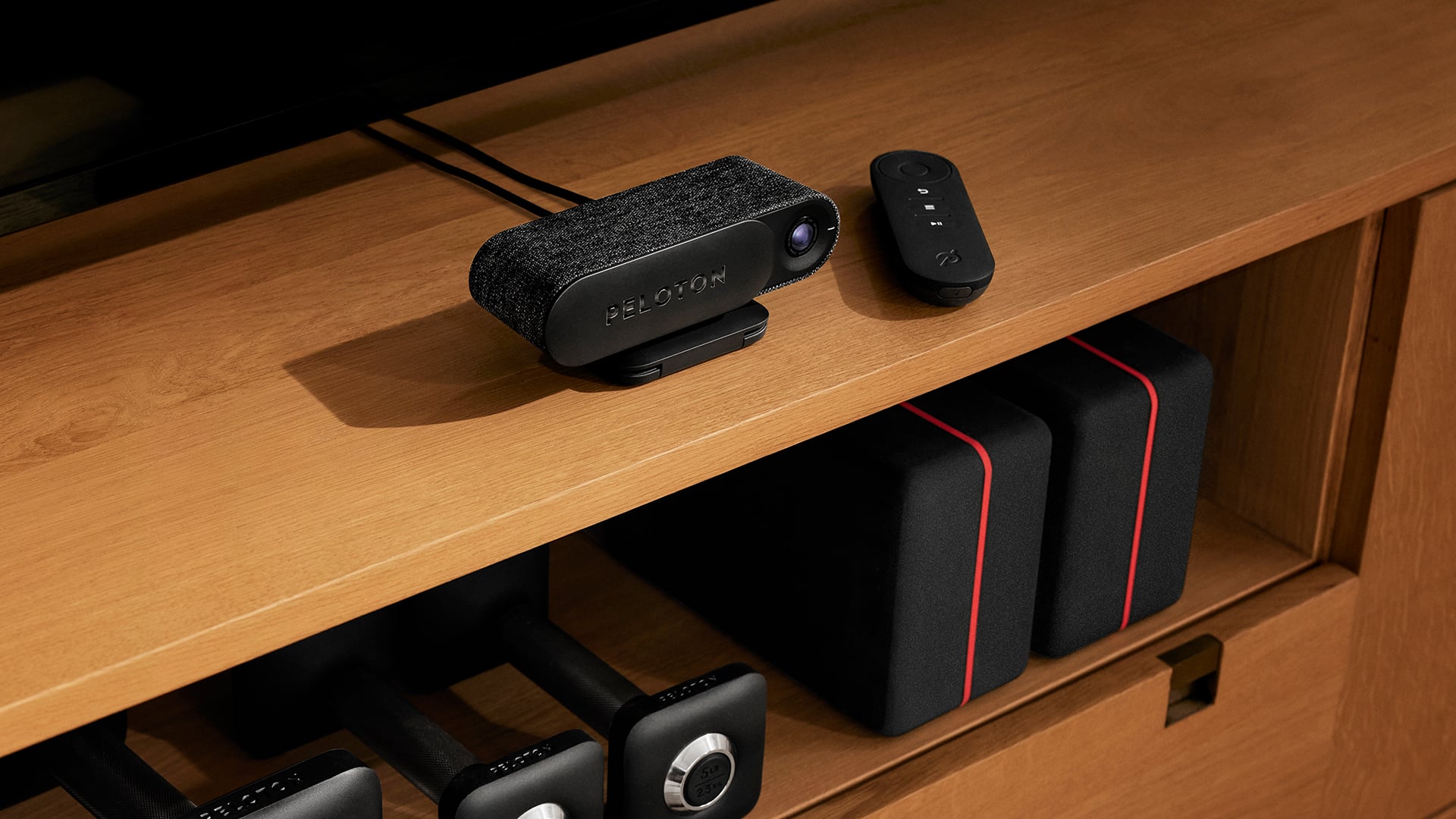 Image Source: Peloton
How the Peloton Guide Works
The Peloton Guide is the company's effort to bring the magic of their other smart fitness devices to strength training via a smart camera, a heart-rate armband, and new content features.
"If you've taken classes on the Bike or Tread, you know we have output, cadence, resistance, incline, speed — you're seeing those numbers, and numbers are believing," Peloton instructor Jess Sims tells POPSUGAR. "With lifting weights, we haven't had anything like that. This is the accountability and the credit we've all been waiting for."
How, exactly, does the Peloton Guide provide that? It does so with a few new tools:
Self Mode: "In class, we always talk about form. We say, 'Take a look at your form if you have a mirror,' but I don't have a mirror where I work out at home — most people don't," Sims says. That's where Self Mode comes into play. The camera projects your image onto the screen alongside the trainer, so you can check your form against theirs. In other words, the Guide doesn't make corrections for you; rather, you're watching yourself do the moves and keeping an eye on your technique in comparison to the onscreen instructor. The device is meant to enhance the quality of your strength session, but it doesn't provide personalized feedback.
Movement Tracker: The Guide's movement tracker encourages you to stick with the movement for the entire interval — no quitting as an instructor's counting down "three, two, one." The tracker appears as a little teardrop logo that slowly fills up (a la "close your rings") as you work through an interval. The screen will also display your heart rate, which it pulls in from the included heart-rate armband.
Body Activity: Using a little diagram of the human body, the Guide will show you which muscles are targeted in a given class. This will help you better understand which parts of your body have already been strengthened that week (and thus which could use some love) or help you make decisions about which class you want to do (or not do) depending on injuries or soreness.
Movement Details: This Guide resource allows you to look at which movements will be in a strength class before you start it, so you can gather the right weights or brainstorm modifications (if needed) ahead of time, or even so you can strategically skip certain workouts due to injury, etc.
Together, these features will help you log higher-quality strength workouts, keep you accountable, and teach you more about how strength training affects your body. "I'm so excited because now we have something that addresses this big barrier to entry — which I've seen throughout my whole time in fitness — this big concern of: 'I don't know what I'm doing,' Sims says. The goal of Guide is to help you feel more confident about the movements, "and it's also very empowering to see yourself on screen right next to someone who you look up to, who you admire," she says.
As for the logistics? The Peloton Guide smart camera plugs right into your TV with an HDMI cable and comes with its own mini remote, though it's also voice-activated in the US, Canada, and the UK. You can use your own weights, or buy them on the Peloton site. (You can also do bodyweight sessions using the Guide!) Just make sure you have enough room: Peloton recommends 4.5 by 6 feet of unobstructed space, or about the size of two yoga mats side by side.
In terms of privacy, Peloton says sliding the cover over the camera will put Guide to sleep. You can also turn off the microphone with a switch on the device, though Peloton notes your mic will not be on if you aren't taking a class.
How Much Does Peloton Guide Cost?
You can now buy Peloton Guide for $295 in the US, Canada, UK, and Australia, and it will include a Peloton heart-rate armband. Peloton Guide will be available in Germany later in 2022. The company is offering a 30-day home trial, similar to the one they have for their other devices; meaning, you can try it for 30 days, and if it's not for you, you can return it for a full refund. Need some equipment, too? Opt for the Guide Strength Starter ($545), which comes with three sets of Peloton Dumbbells (from 5 to 30 lbs) and a workout mat.
The Peloton Guide, available now. Try it in any of our retail showrooms, or order it at https://t.co/4wpIldEjIy pic.twitter.com/GhFtxuXtev

— Peloton (@onepeloton) April 5, 2022
Do You Need a Membership for Peloton Guide?
To use the Guide, you'll need an All-Access subscription ($39 per month) — the membership that's available to Bike, Bike+, Tread, and Tread+ owners. Guide-only members can score an introductory deal on the membership ($24 per month) through 2022.
Existing All-Access subscription holders don't have to pay extra for the Peloton Guide membership. As Peloton wrote on Twitter, "If you are an All-Access Member, you won't need a separate Membership for Peloton Guide. You'll also be able to view your workout history from other Peloton devices on your Peloton Guide."
Members with a digital app membership ($13 per month) will need to upgrade their membership to access Guide content.
Which Classes Can You Access With the Peloton Guide?
Guide members will have access to exclusive Guide content including made-for-Guide live and on-demand strength classes, Guide-specific programs (including a new floor bootcamp series led by Sims and Selena Samuela), split programs (traditional-style strength training that dedicates different days to different muscle groups), and "Strength Roll Call" (a regular, weekly series that runs Monday-Friday).
Members with Guide memberships can still access Peloton's full library of classes that do not require a Guide, a spokesperson told POPSUGAR. If you have an All-Access subscription but you don't have a Guide, you can still access the Guide content and take those classes, but movement tracking, Self Mode, and other Guide features won't be enabled.
Many of your favorite Peloton instructors will be leading and creating content specifically with the Peloton Guide's machine-learning features in mind, including Sims, Rebecca Kennedy, Robin Arzón, Rad Lopez, Selena Samuela, Ben Alldis, Callie Gullickson, Daniel McKenna, Matty Maggiacomo, Andy Speer, Chase Tucker, and Adrian Williams.
— Additional reporting by Lauren Mazzo
Image Source: Courtesy of Peloton