You'll Want to Add Robin Arzón's Advice For Tackling Big Goals to Your Planner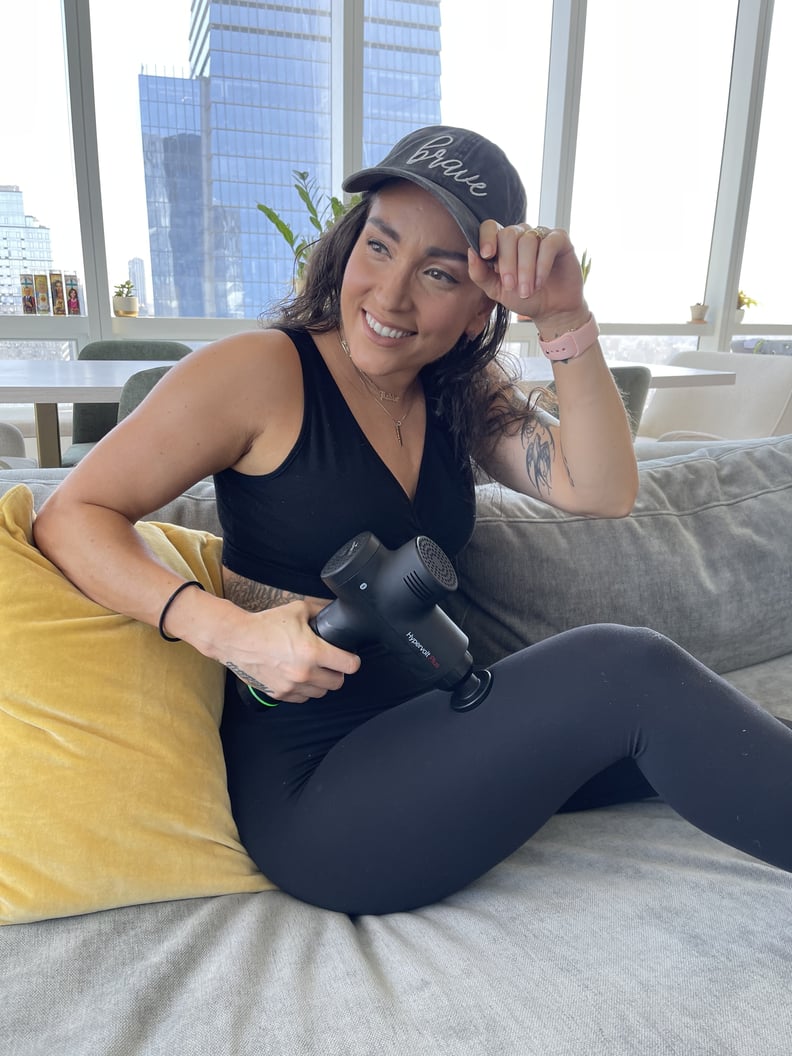 Robin Arzón
Robin Arzón
Robin Arzón is no stranger to hard work. The Peloton head instructor and VP of Fitness Programming has run more than 26 marathons, several ultramarathons, and even written a best-selling book called Shut Up and Run. But she didn't start out as an athlete. In fact, she said she was "allergic" to exercise growing up, cut gym class, and didn't play sports. She only picked up running in law school and ran as a hobby for a few years. It wasn't until she ran the New York Marathon to raise money for multiple sclerosis (her mom lives with MS) that she decided to pivot from her career in law pursue a full-time career in fitness.
So when it comes to setting big goals — maybe that's running a marathon or making a scary career change or writing a book — Arzón is speaking from experience when she offers advice. Especially with 2020 behind us and the future looking brighter in 2021, Arzón said now is the time to go after your goals.
"I say a dream without a deadline, that's a fairytale. You're just rocking like Cinderella at that point."
"The key to action isn't in dreaming. I say a dream without a deadline, that's a fairytale," she told POPSUGAR. "You're just rocking like Cinderella at that point." She said to make progress towards your dream, you can start small. If that's running a race, then find a list of races in your area and commit to signing up.
"We can make small, concrete steps. I call them nibbles of hustle," she added, "So, it's the dreamscape. If the big, grand plan is to do something that is completely intimidating, really scary, and maybe even totally unrealistic, then begin with the end in mind and backtrack." Arzón said to ask yourself where you want to be, how you want to feel, and how you want to live a year from now — she likes to only think about a year in advance max because otherwise it gets "unwieldy." Create deadlines and dates on your calendar and a to do list to keep yourself accountable.
When it comes to training, Arzón said she has always created a training plan and made appointments on her calendar for workouts as if they are meetings with herself. "You are the CEO of your body." After giving birth to her daughter Athena earlier this year, she's had to be patient with herself on getting back on a training schedule. She started with pelvic floor engagement and 360 diaphragmatic breathing working her way up to walks and low-impact rides on the Peloton bike where she ignored her metrics. She said she's back up to about 80 percent where she was at training-wise before her pregnancy, and she's been able to go for longer runs, incorporate strength training, and get in a HIIT workout, even if she only has 15-20 minutes.
As a new athlete with Hyperice, Arzón has credited the Hypervolt and Normatec compression boots with helping her recovery. She'll put the boots on while breastfeeding and foam roll or use the Hypervolt percussion massager on her rest days. While she's not training at her max level like she had been pre-pregnancy, she said these recovery tools are helping her body, which is under another kind of stress and fatigue after giving birth.
Right now, Arzón is enjoying her maternity leave and time with her daughter before returning to teaching at Peloton this summer. For all the other new mamas out there, she wants to remind them to give themselves grace and be patient.
"New moms have the ability to change their focus," she said. "Maybe you're not having the intense workouts that you crave yet, but can you find some enjoyment in slower paced things, like recovery moments, like stretching, like breathing. Those are foundational things that allow us to layer intensity on top," she added. "It's like creating the foundation of a house, and then creating the structure on top of it." Listen to your body (and your doctor!), and before you know it, you'll be back on the bike or on the running trail crushing your PR.