20-Minute Peloton Usher Dance Cardio Review
Peloton's New Usher Dance Cardio Class Has Got Us Screaming, "Yeah, Yeah!"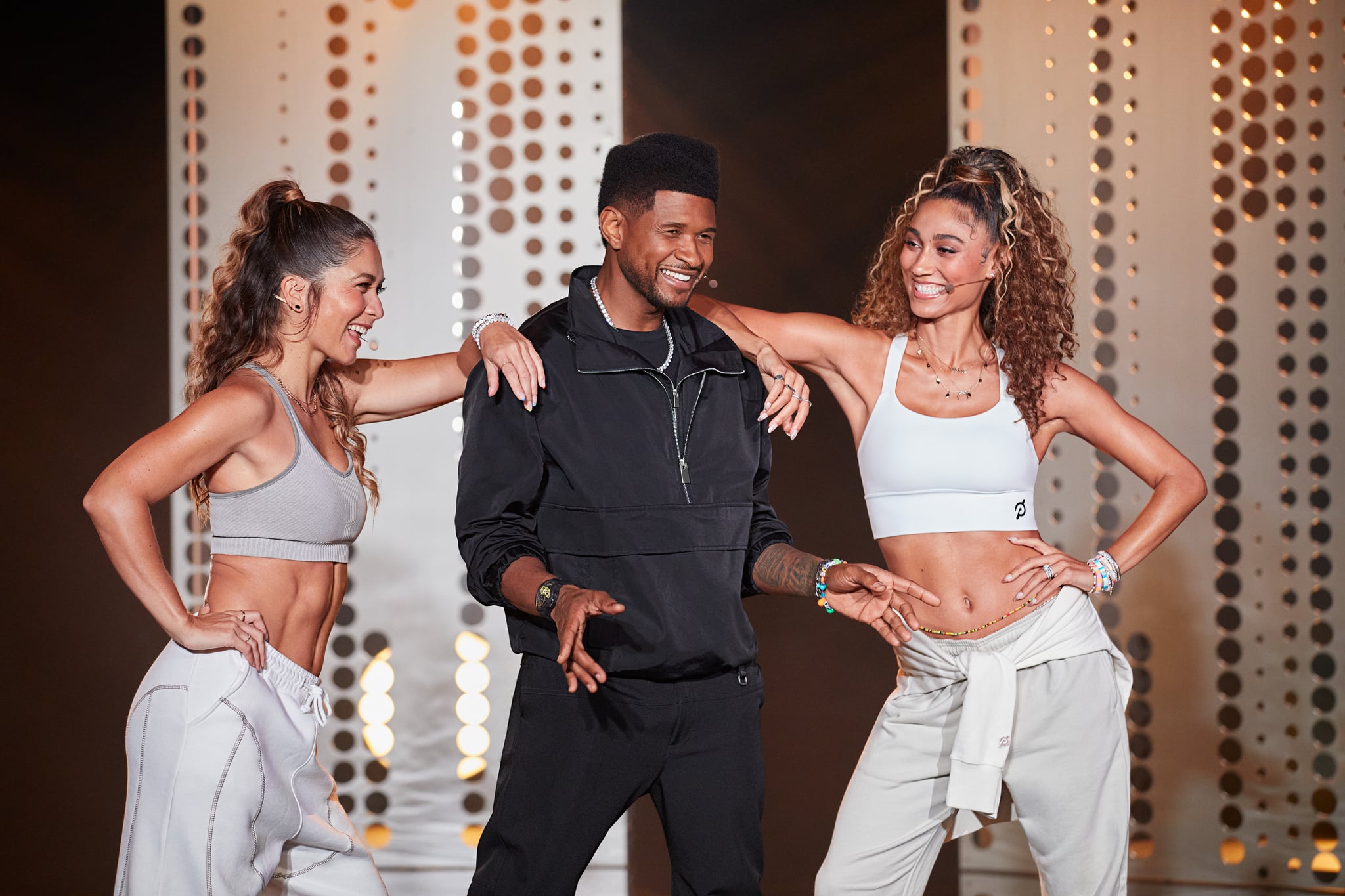 I am not the most rhythm-blessed person out there, so dance cardio isn't my first workout choice. BUT, when I found out that Peloton's second and newest iteration of dance cardio classes included a 20-minute session set to Usher's songs, and that Usher himself would make a cameo, I was intrigued. Not even my lackluster dancing skills would stop me from seeing what all the hype was about — plus, I was in the comfort of my own home as an avid Peloton member, so I could wallow in my embarrassment alone.
The class, taught by Emma Lovewell and Ally Love in collaboration with Usher's choreographer, Jamaica Craft, has a follow-along format featuring sequences from Usher's music videos and performances.
"One of the things I'm most excited about for this second season of Dance Cardio — aside from the fact that the Usher Dance Cardio class marks the first in-class Artist Series experience of its kind — is the reaction from our Members," Lovewell told POPSUGAR via email. "Having the opportunity to collaborate with legendary choreographer Jamaica Craft and Usher himself to create a fitness experience around some of his most iconic tracks in a way that's accessible for our community is so major." She added, "I cannot wait to see how Members react to Usher's surprise cameo in the class itself. Together we're dancing like Usher, to Usher, with Usher — it's beyond epic and something I'm so excited to share with the Peloton community."
The moves were fun yet complicated at times (for me, at least), and some of the them heavily targeted my quads, which was a welcome bonus. I would say the class is more intermediate than beginner-friendly, though the repetition did help. Halfway through, I felt the heat build and my heart pumping; I was sweating past the point of Jess Sims's famous "glazed donut look," but not as much as I would be during a HIIT session.
I was a fan, too, of the playlist used: "You Make Me Wanna...," "Good Kisser," "U Don't Have to Call," "Caught Up," "Yeah!," "OMG," "DJ Got Us Fallin' In Love," and "Nice & Slow." The eight-time Grammy winner has a great body of work, what can I say? And I'm glad dynamic duo Lovewell and Love brought their vibrant personalities out to play.
A sunglassed Usher strolling onto the Peloton stage at the tail end of the session to dance with Lovewell and Love (and me!) was by far the best part of the workout. He even stayed afterward to help lead a cooldown stretch.
Will this Peloton class change my view on dance cardio? Not exactly. Let's just say neither the DJ nor Usher has got this girl fallin' in love with dance cardio. I am still easily frustrated when my feet (and, well, everything else) can't quite seem to understand the choreography. But, I'm happy I gave the video a try, and I might give it another go when I'm craving cardio that isn't my usual HIIT session. It's a memorable one for sure!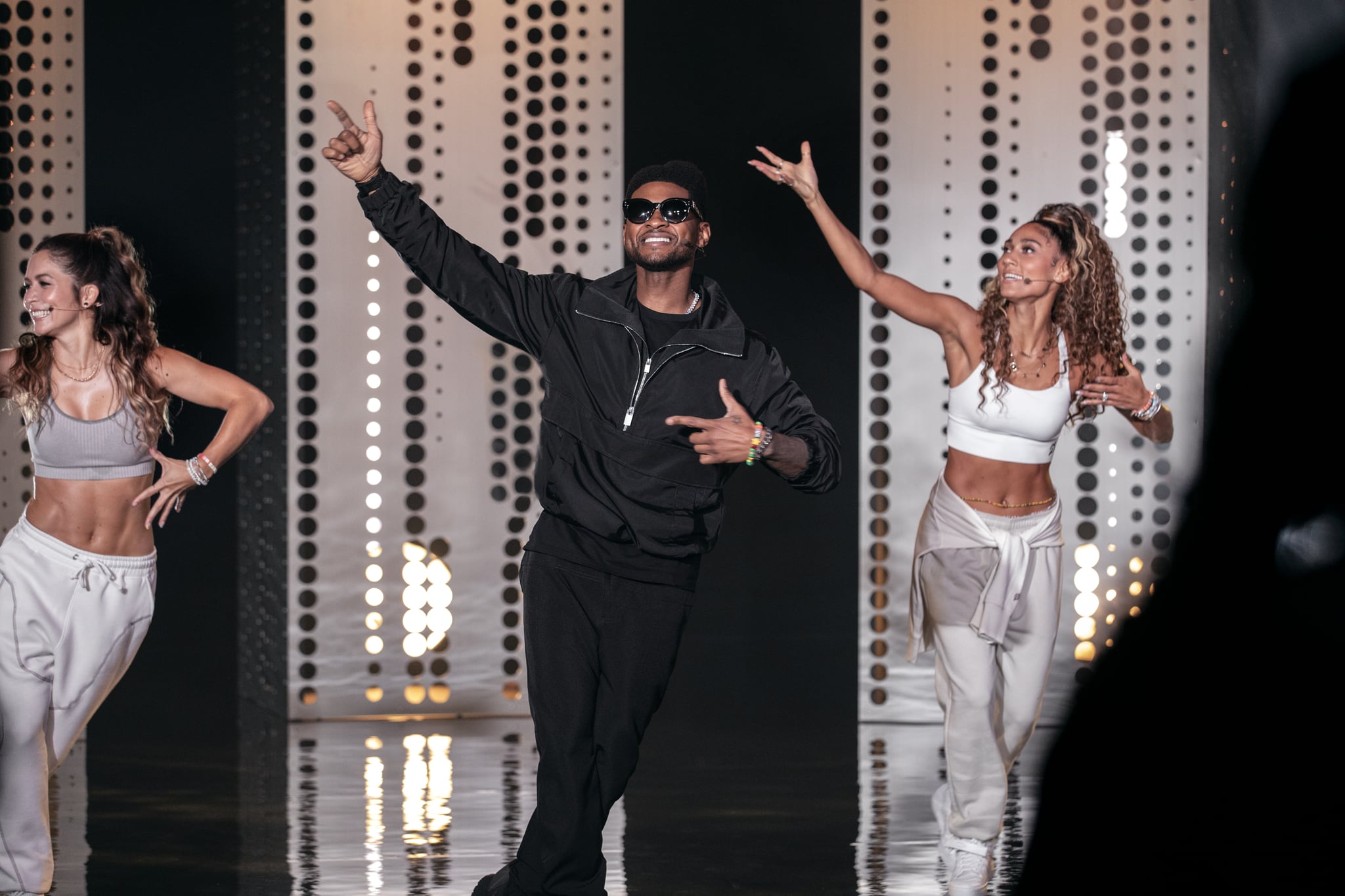 Image Source: Courtesy of Peloton / Josh Filauri