When PMS Has Me Feeling Sluggish, I Turn to These 5 Peloton Classes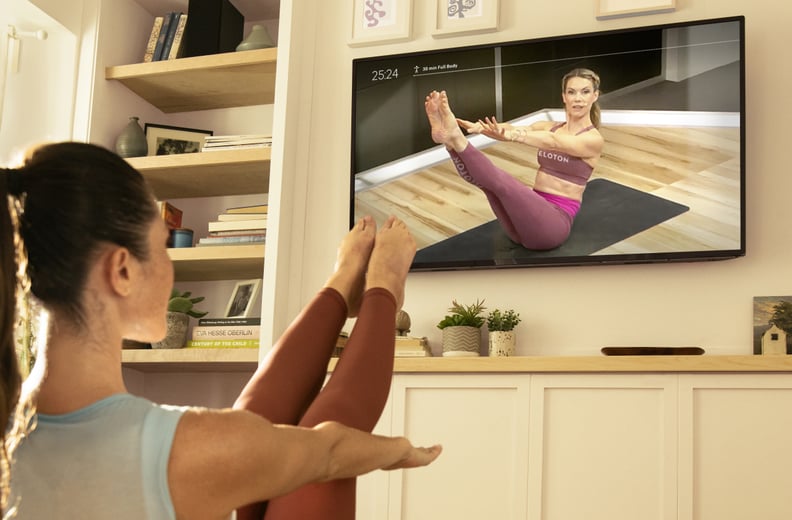 My exercise routine gets a hard edit when I'm PMSing. Whether it's because of painful cramps or the fact that my energy is totally zapped, I have no interest in the high-energy and intense Peloton classes (courtesy of Jess Sims) that I usually love.
But working out is particularly important for my overall mood and mental health — and actually ends up soothing my raging cramps — so I try to make it a point to incorporate some sort of movement. That's why I've curated a special set of period and PMS-friendly Peloton classes to turn to every month — read on to find out about my favorites.
Low-Impact Rides
Sometimes getting up out of the saddle for intervals is just too much when I'm feeling crampy or exhausted. I also tend to experience joint pain during my period. That's when I turn to low-impact rides. Most of Peloton's low-impact rides are completely in the saddle, meaning you're always seated, as opposed to standing, while pedaling. But don't confuse the term low-impact for easy because Peloton's low-impact rides leave me completely drenched in sweat — just like a Sweat Steady class with Jess King (if you know, you know).
At the beginning of class, instructors will inform you of the highest resistance you'll reach during the entire class, which, in my experience, hasn't been more than 50. They tend to focus on endurance, so you're maintaining the same resistance for a longer period of time. If you've never tried a low-impact class before, I highly suggest Hannah Corbin or Tunde Oyeneyin as your introduction to the genre.
Recovery Rides
On days where low-impact rides feel too intense, I turn to recovery rides with Emma Lovewell and Ally Love for some movement. As you might have assumed, these rides are programmed for recovery days, or the days following a difficult and demanding workout where your body can't handle as much stress. These classes tend to focus on low heart rates and lower resistance, and they almost have a meditative vibe because you're maintaining a fairy flat ride the entire time.
I never feel the pressure to push myself to the limit, which is exactly what I need when my energy levels have plummeted. The only downside: there aren't as many recovery cycling options within the Peloton system as other types of classes.
Beginner, Slow Flow, and Restorative Yoga
When my PMS anxiety has peaked, I turn to yoga to help calm my body and mind. My coordination tends to be off a little bit on my period, so I steer clear of segments that focus on challenging poses and cardio-inspired flows and roll out my mat for Peloton's beginner, slow flow, and restorative yoga classes instead. In these classes, the poses are held for a little longer, giving you the opportunity to concentrate on form and stretch out the body.
My favorite Peloton yoga instructor is Ross Rayburn; I find his personality to be soothing, and I love that he dives into the biomechanics associated with each pose. Fifteen or 20-minute classes usually do the trick here!
Pilates
I am beyond thrilled that Peloton finally dropped more Pilates classes; they are my go-tos when I'm in the mood to work my body but still want to give my joints a break from the repetition of pedaling. I had been taking the same 30-minute classes with Hannah Corbin for a few months now, but I guess that's a testament to just how much I like them.
Like most Pilates classes, Peloton's programming consists of moves that focus on core strength and flexibility. By no means am I a Pilates pro, but the instructors' encouragement and modification suggestions have motivated me to invest more time into my practice. The new Pilates instructors include Jess King, Ally Love, Anna Greenberg, Rebecca Kennedy, and Kendall Toole.
Full-Body Stretches
When even beginner slow flow yoga feels like to much to handle, I join a Peloton full-body stretch class. The gentle movement helps soothe my achy joints, and thanks to the instructors' well-curated playlists, I never feel like I'm rushing to roll up my mat. These classes have also taught me new stretches, which has helped bring life to my once very boring post-workout routine.
While I truly think that every instructor shines in these classes, my favorites right now are Adrian Williams and Selena Samuela.