As companies and businesses make donations to organizations associated with the Black Lives Matter movement, several fitness brands are also speaking up and committing funds to the cause. Rumble is joining these efforts by hosting a virtual marathon of at-home Rumble TV boxing classes via Zoom to benefit the NAACP Legal Defense and Educational Fund, which uses litigation, advocacy, and public education to work toward racial justice and equality in the US.
Rumblethon: Fight For Change is taking place on Friday, June 5, and will run from 7 a.m. ET until 5 p.m. ET. Classes will be a mix of boxing, cardio, and strength training, a spokesperson confirmed to POPSUGAR, so you don't need any equipment. You can book your spot on the Rumble app or online by going to doyourumble.com/reserve. You'll see Rumblethon #BlackLivesMatter Fundraiser under Friday's schedule, and you'll need to create a login if you haven't already.
Entry will cost $25 at minimum, and you'll be prompted with a Rumblethon #BlackLivesMatter Donation series landing page when you reserve a spot. The options include several different donation tiers — the spokesperson said there will be no cap on donations. Although the options on the site only go up to $300, people can donate multiple times if they'd like to, and donating once will reserve your spot. Ahead are screenshots of what the Rumble schedule and donation tiers look like on the app.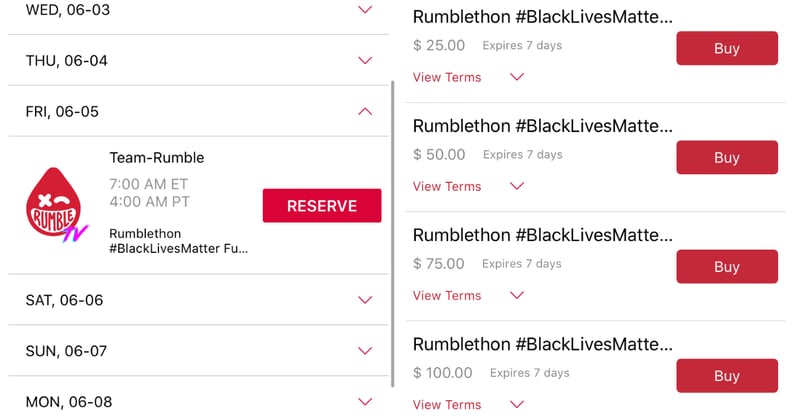 Over 70 of Rumble's trainers will be participating, and Rumble will be donating $400 per instructor. Check out the trainer lineup below. You'll get a Zoom link the morning of the Rumblethon, and you'll be able to join for as long as you'd like from the app or your desktop. Stay for one hour or come back for more whenever you have time that day. Get your donations and your jab-punch-jabs ready.