Organizations to Donate To in Support of Racial Justice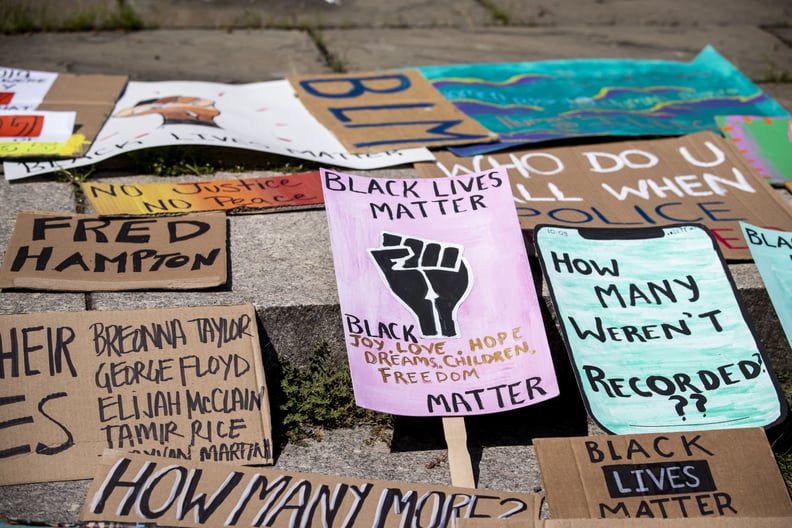 Ira L. Black | Corbis / Getty
Ira L. Black | Corbis / Getty
Since the killing of George Floyd, yet another unarmed Black man who died while in police custody in May, people all over the world have been speaking up about racial injustice, stepping out to protest, and seeking to contribute to the movement for racial equality. In the months since protests first began, the need for an ongoing commitment to racial justice and the Black Lives Matter movement has become more apparent than ever.
While Floyd's killing opened the eyes of many to the discrimination Black people across America face everyday, the fight must continue, and we can help by supporting and donating to the many nonprofits and organizations dedicated to racial justice. It can be challenging to decipher which organizations are the most reliable, or where our dollars can make the greatest impact, so if you're able to donate money to help support these causes, we've put together a noncomprehensive list of both nationwide and local organizations that can use your help.
Advancement Project
The Advancement Project is a nonprofit organization that provides direct support to local communities fighting for racial and social justice at the grassroots level.
Equal Justice Initiative
One of the nation's most effective legal advocacy organizations, Equal Justice Initiative is committed to criminal justice reform, ending mass incarceration, and racial equality.
Dream Defenders
Formed after the killing of Trayvon Martin, Dream Defenders is a group of young activists working to end the criminalization of Black and brown youth.
National Black Women's Justice Institute
The National Black Women's Justice Institute works to eradicate racial and gender disparities for Black women, girls, and their families, specifically in the criminal justice system.
The Marsha P. Johnson Institution
The Marsha P. Johnson Institute is a nonprofit organization devoted to protecting Black trans people and providing direct relief for members of the community.
National Urban League
The National Urban League is a nonpartisan civil rights organization that advocates for economic and social justice for Black Americans, particularly in historically underserved urban communities.
The Thurgood Marshall College Fund
The Thurgood Marshall College Fund supports students at publicly supported historically Black colleges and universities and predominantly Black institutions by providing scholarships, career advancement opportunities, and other academic resources.
The Loveland Foundation
Founded by activist Rachel Cargle, The Loveland Foundation and its Therapy Fund empowers Black women and young girls, specifically by way of healing and therapy.
The Conscious Kid
The Conscious Kid is a nonprofit organization that works to bring antiracist children's books to as many classrooms across the nation as possible to promote healthy racial identity development in children.
Color of Change
Color of Change leads a number of efforts to improve and support Black communities, including ending cash bail and stopping anti-Black violence.
NAACP Legal Defense and Educational Fund
The NAACP Legal Defense and Educational Fund fights racial injustice through legal action, via litigation, education, and working to improve inclusivity in judicial appointments and legislation.
Know Your Rights Camp
Founded by Colin Kaepernick, the Know Your Rights Camp empowers youths through free seminars and educational programs on legal rights, often-overlooked histories, self-confidence, and more.
National Lawyers Guild
The National Lawyers Guild is a longstanding progressive association consisting of various legal workers dedicated to protecting human rights. The guild's Mass Defense Program is currently working to provide legal aid to protesters.
Emergency Release Fund
The Emergency Release Fund is a grassroots organization offering aid to LGBTQ+ and medically vulnerable individuals in Rikers Island and ICE detention.
Louisville Community Bail Fund
The Louisville Community Bail Fund is a nonprofit organization that pays bail in the Louisville area for protesters. It also provides postrelease support to get protestors food and safety.
Liberty Fund
New York City's Liberty Fund is the city's charitable bail fund that supports low-income people charged with misdemeanors, such as those protesting in New York.
Community Justice Exchange
The Community Justice Exchange's National Bail Fund Network will help you find local bail funds in your area to support. Each of these local organizations will help pay bail costs for protestors.
Bail funds in your own community
Donating to small, grassroots organizations in your own neighborhood and community is an important way to make an impact. Local bail funds, like those included on this list, collect funds to help bail out protesters who have been arrested. (The Minnesota Freedom Fund received such an influx of donations as protests in the city began that they are now redirecting donors to support other organizations.)
Official George Floyd Memorial Fund on GoFundMe
Floyd's brother, Philonise Floyd, started a GoFundMe to raise money for Floyd's funeral expenses, grief counseling, court costs, and education costs for his children. Though the fund far surpassed its $1.5 million goal — exceeding $14 million — it is still accepting donations.
— Additional reporting by Yerin Kim