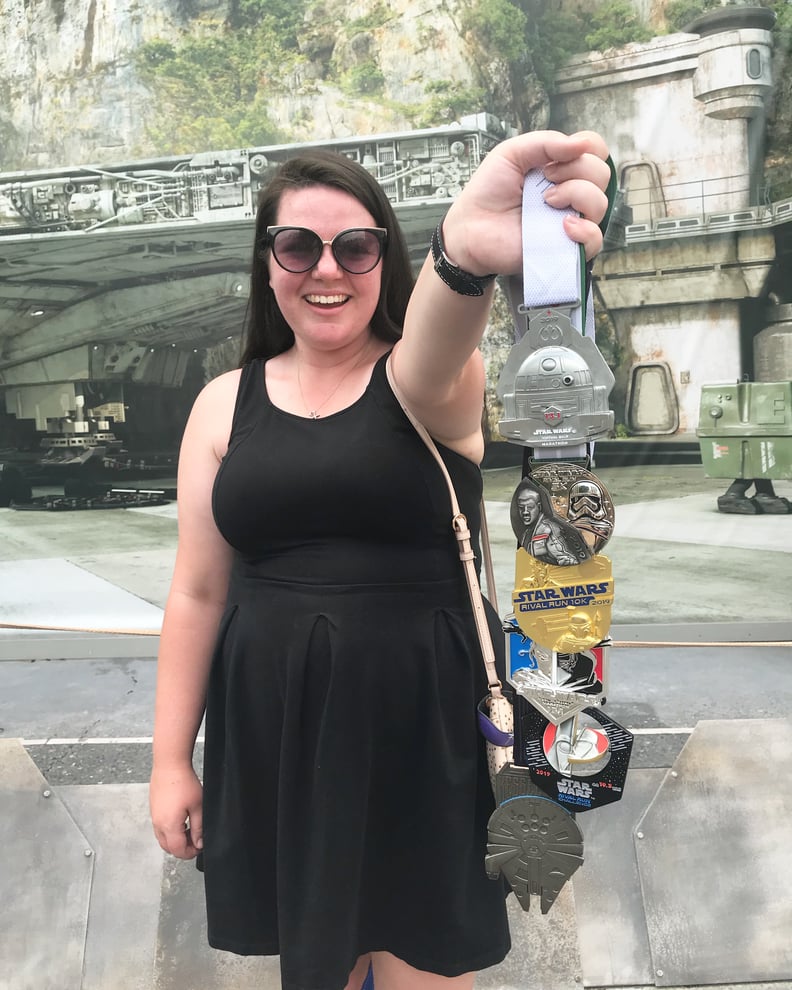 POPSUGAR Photography | Megan duBois
POPSUGAR Photography | Megan duBois
There's really nothing in the world like running a race through the Disney parks and collecting one of those spectacular medals. Whether you're an avid runner or simply a Disney fan looking for something new to experience in the parks, RunDisney race weekends are for everyone. (There's even a variety of distances for every fitness level.) I've been participating in RunDisney races for nearly six years, and I've crossed the finish line of 40 total. Naturally, I've picked up some tips and tricks along the way to make any RunDisney race weekend even more magical. I'm talking everything from navigating the race expo where runners collect their bibs to finding a hearty breakfast after the race and more. If you're even thinking about doing a RunDisney race, you'll want to keep reading!
01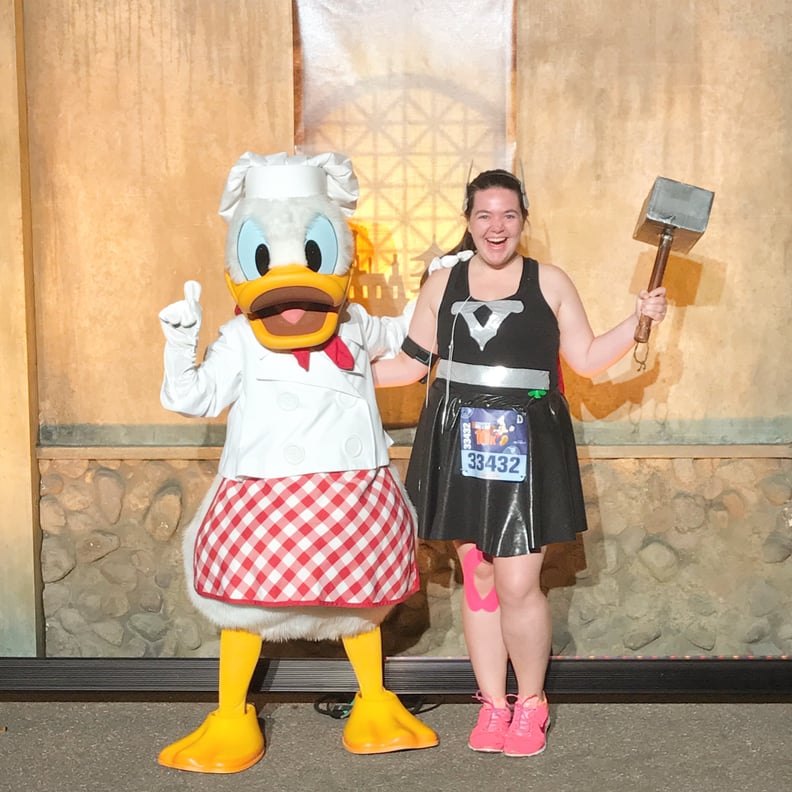 Plan Ahead to Secure Your Spot
No matter which race or distance you decide to run, you're going to want to register as early as possible. (These events book up fast!) Find the date and time for registration on the RunDisney site, then set a reminder in your calendar to ensure you don't miss out on the opportunity to register for your first choice.
02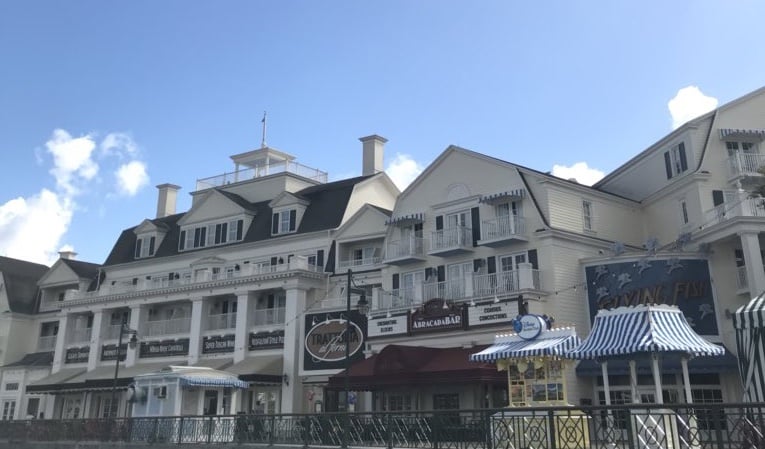 Stay at a Disney Hotel
Staying at a Disney resort hotel has quite a few benefits, but the one I love most is the complimentary transportation to and from the race. Disney provides shuttles for runners from any of its resorts, so there's no need to rent a car or try to drive your own car to the race.
03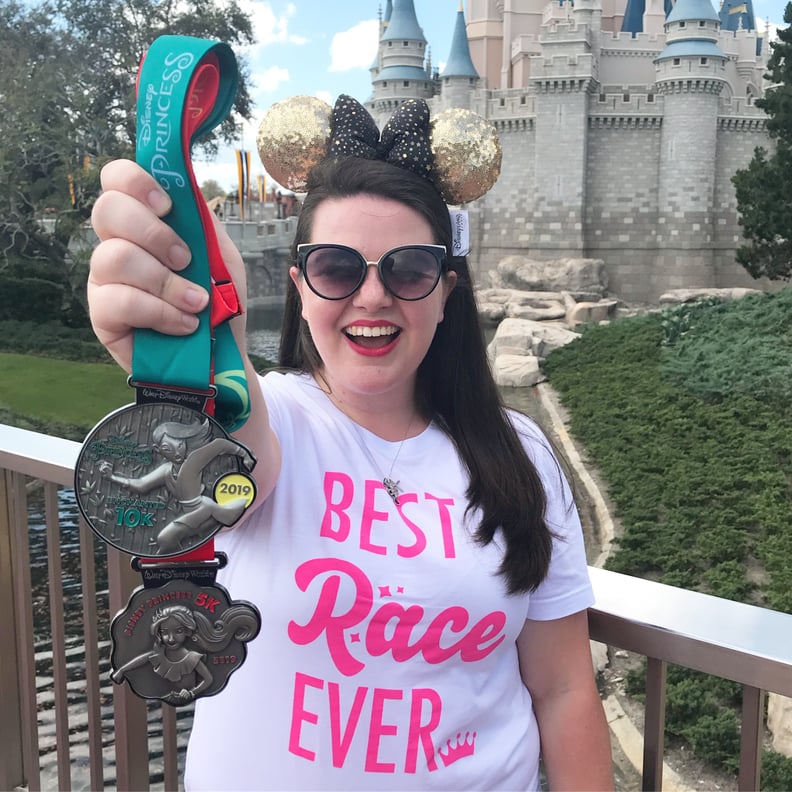 Pack For All Kinds of Weather
No matter which race weekend you decide to participate in, know that the weather in Florida is unpredictable. It can be beautiful and warm in the morning one day, then cold and rainy the next day. Be sure to pack layers for the race and the parks, and bring two sets of running shoes and a variety of warm- and cool-weather options.
04
Always Make a Breakfast Reservation
If you're planning to do a table-service breakfast after the race, make that reservation in advance. It's very hard to get into one of the park's restaurants right after a race since every other runner wants to eat as many Mickey waffles as possible, too. For a postrace breakfast or brunch, I like Grand Floridian Cafe at Disney's Grand Floridian Resort and Spa, Whispering Canyon at Disney's Wilderness Lodge, or California Grill at Disney's Contemporary Resort (Saturday and Sunday only).
05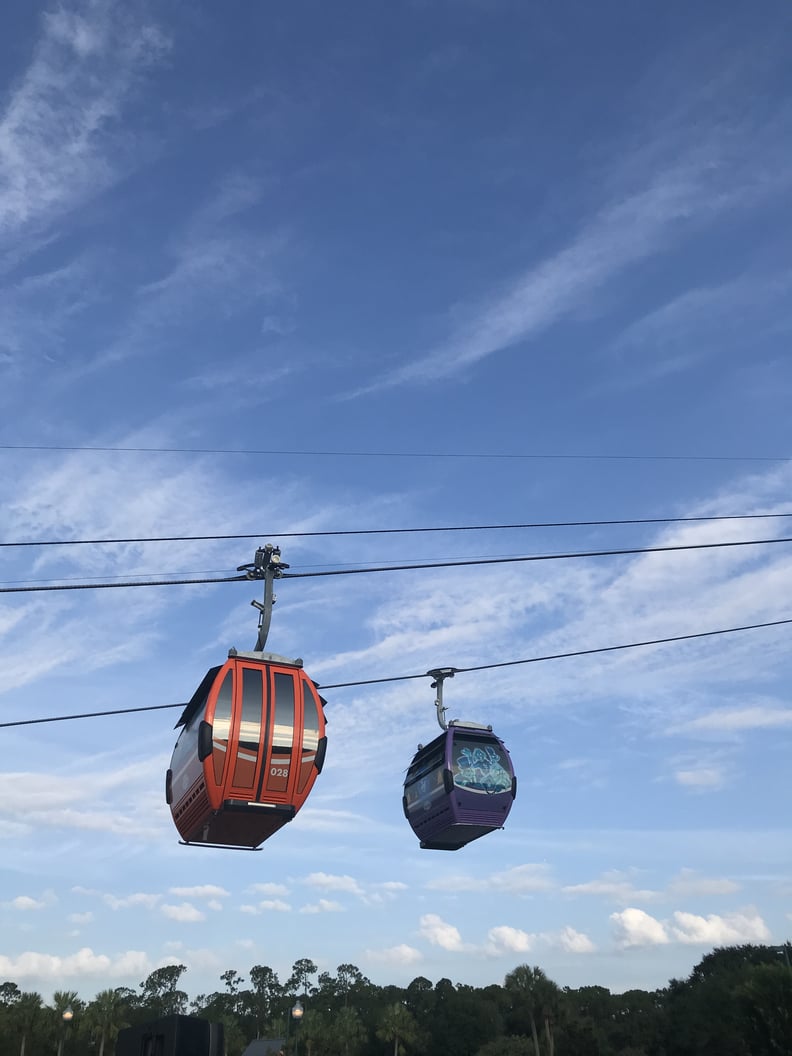 Take Advantage of the Transportation
Disney offers multiple forms of transportation to the race expo, the start and finish line, and the parks, including the newly opened Disney Skyliner. Guests can also use complimentary buses, boats, and Minnie Vans, which are operated through Lyft. Find whatever is convenient for you and use it as much as possible to rest up your legs for race day!
06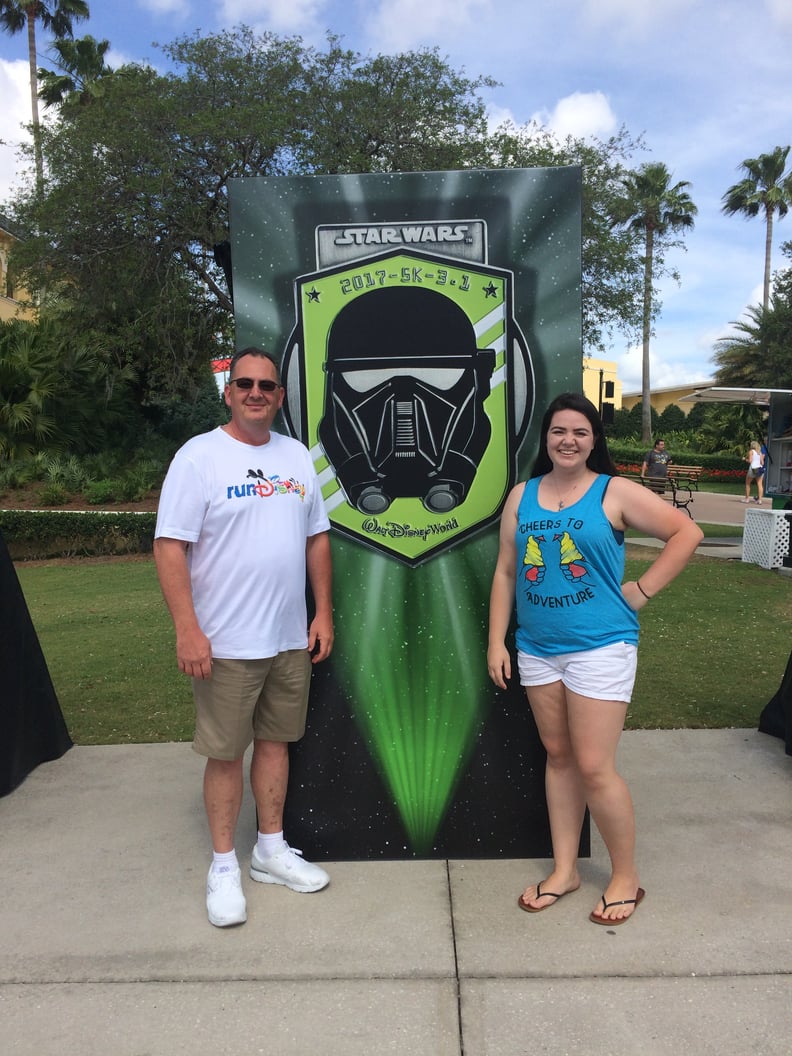 Go Into the Race Expo With a Game Plan
When you arrive at the ESPN Wide World of Sports, there are a million directions you can go, and honestly, it can be overwhelming. My suggestion? Head over to pick up your bib first, then to a second location for your race gear bag, which will allow you to take a peek at the official race t-shirt. Finally, walk to a third location to shop the themed RunDisney merchandise. This way, you'll know what your race tee looks like before you accidentally buy one that's similar.
07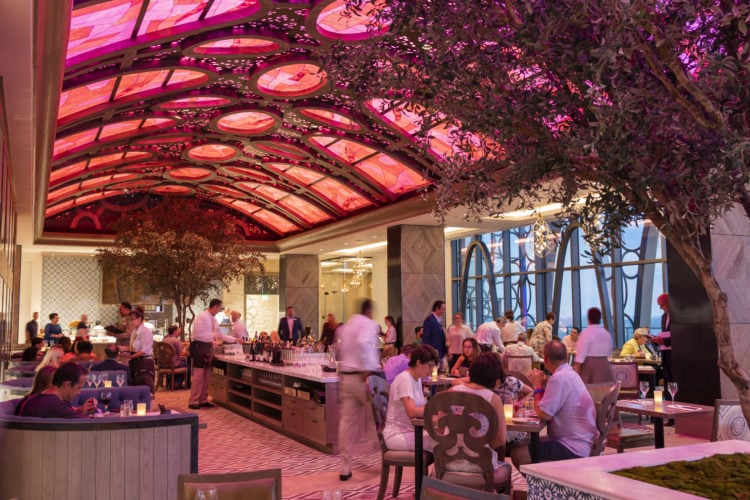 Make Dinner Reservations on Half-Marathon Night
You'll have just run 13.1 miles, and you deserve to treat yourself. After breakfast and a long nap, you're going to want to chow down on dinner. I love going somewhere a little nicer after a half-marathon. Some of my favorites include Toledo-Tapas, Steak and Seafood at Disney's Coronado Springs Resort, Sanna at Disney's Animal Kingdom Lodge, or Wolfgang Puck Bar and Grill at Disney Springs.
08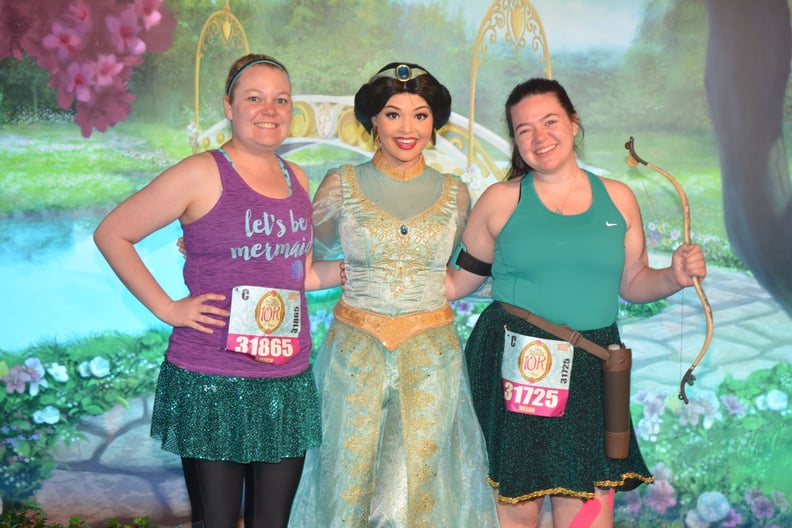 Get to the Prerace Area Early
There's a holding area where runners and their families can hang out before each race begins. You'll find Disney characters, a live DJ, and more in this space — but if you plan to get photos with any of the characters, arrive early since the lines get long fast. If you're not able to snag that photo before the race starts, you'll find the characters at the finish line as well!
09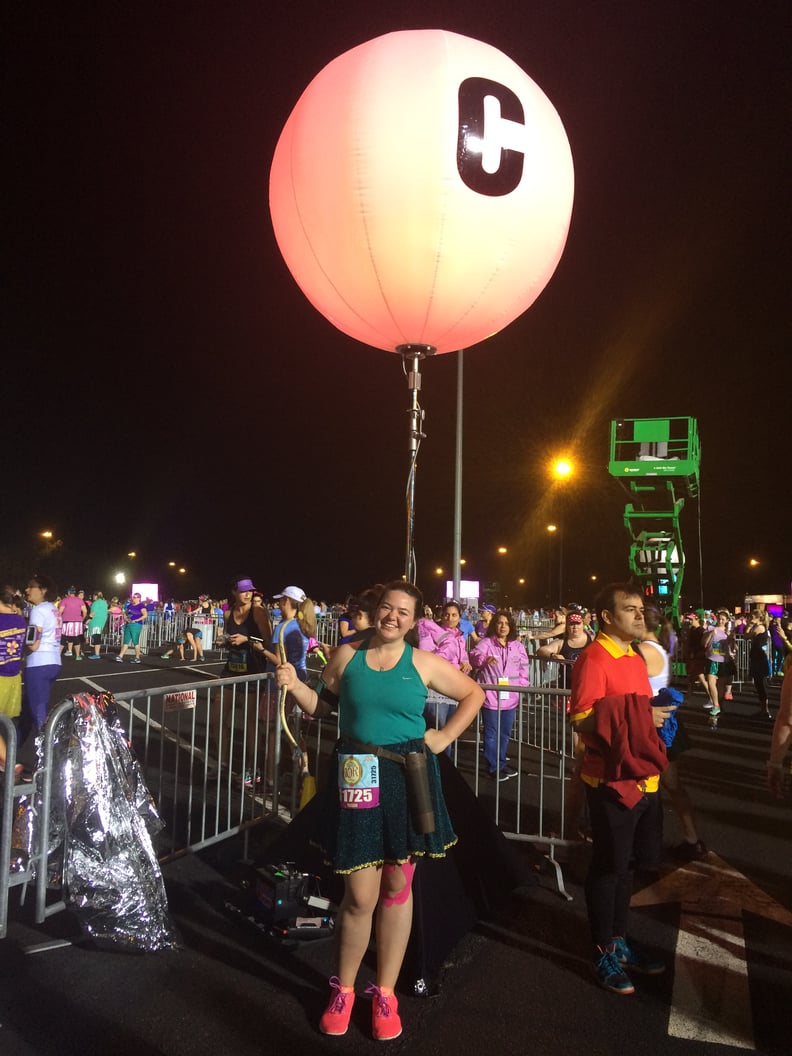 If You're Running a 10K or Longer, Line Up Early, Too
Corral placement is a much bigger deal in the longer races. The closer you are to the front of your corral, the more space there is between you and the sweepers who pick up runners who aren't keeping pace with the back of the pack.
10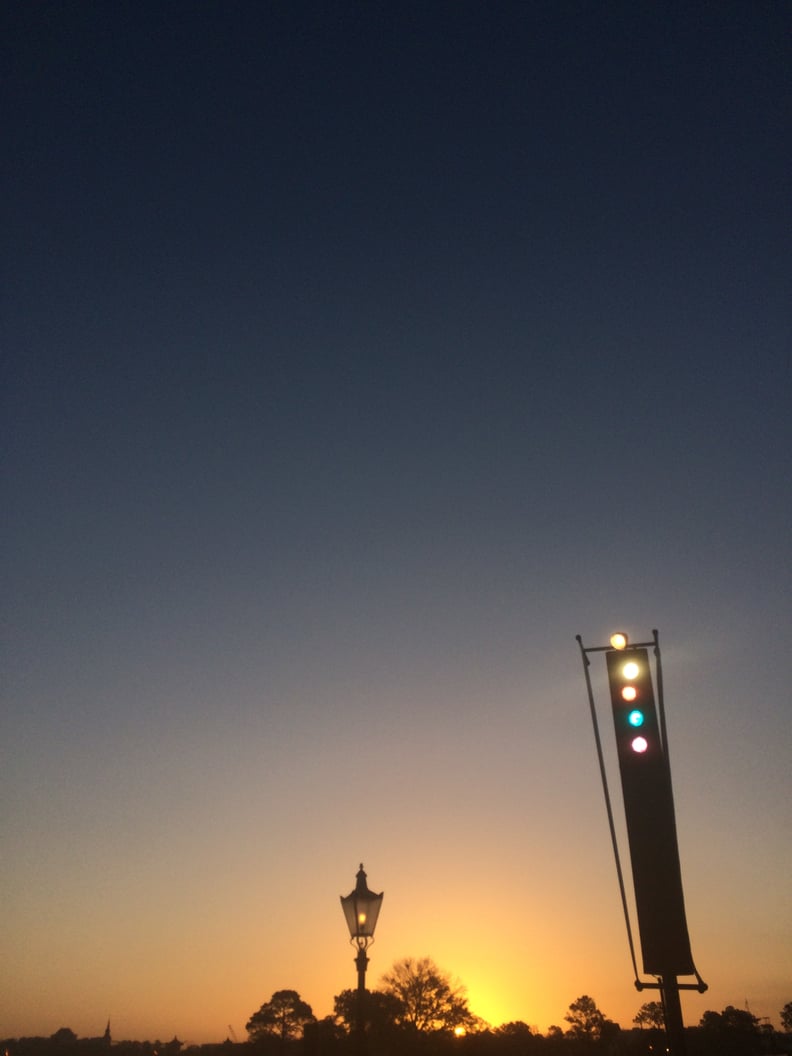 Take Photos of Everything
These races take place so early that the parks aren't yet open to guests. That means you'll get to experience Disney in a way that very few people do — so take photos of everything, including the sunrise over the parks and resorts.
11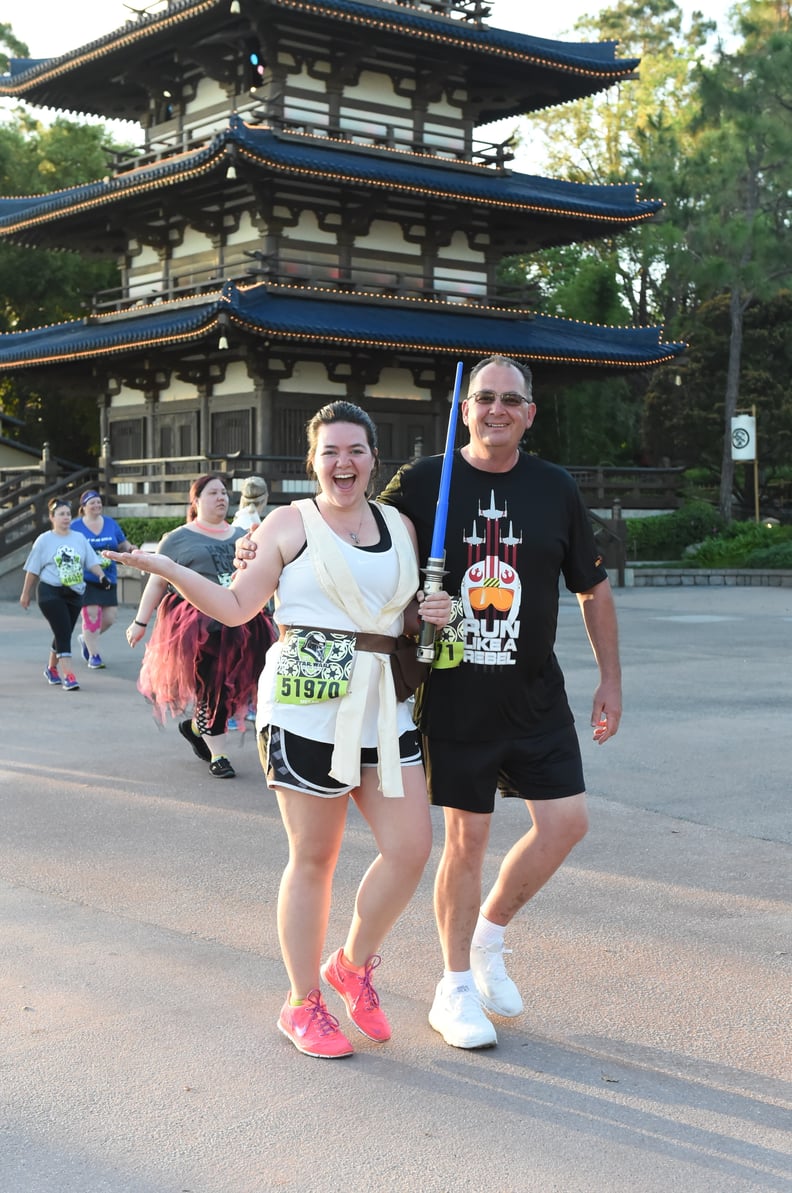 Go the Distance Together
Running with a friend or family member makes the miles go by a lot faster. My dad and I always do the 5K distance together, and we love walking through the park and enjoying a somewhat relaxing morning, even though we had to be up at 3:30 a.m. for the race.
12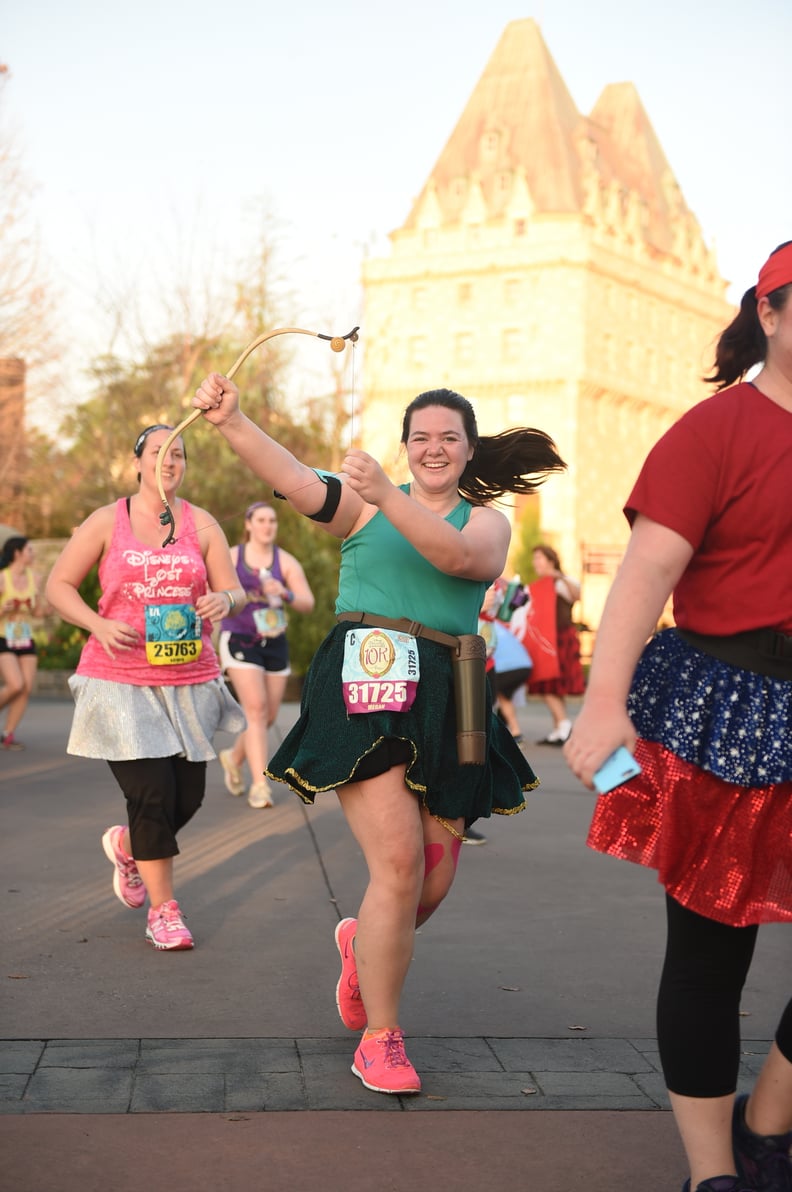 Pose For the Camera
There are PhotoPass photographers stationed in bright green tents throughout the course. When you see one, find an open gap in the crowd so you're in clear view of the camera. The photographers shoot from pretty far away, so strike a pose early, and hold it until you've passed them. Don't worry if you think you look silly — everyone else will be doing it, too.
13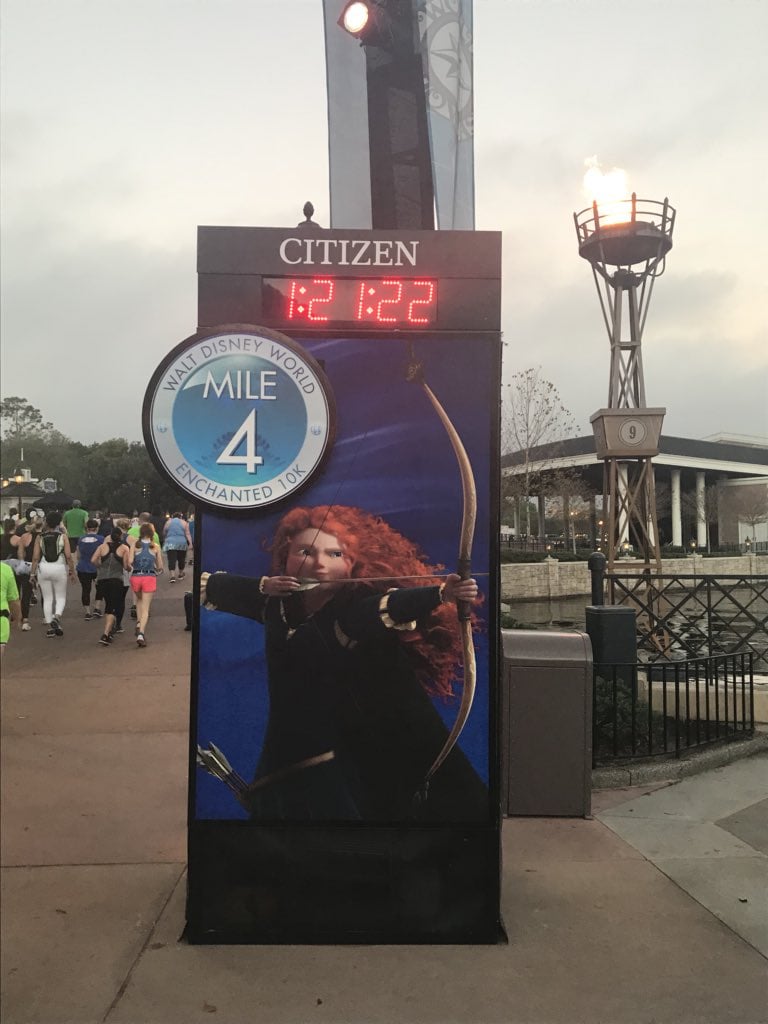 Pay Attention to the Mile Markers
On them you'll find the official Citizen pace clock, which allows you to track your pace per mile and get a sense of when you might finish the race. I also use these to call my family back at the hotel, so they know when to leave the room to watch me on the course.
14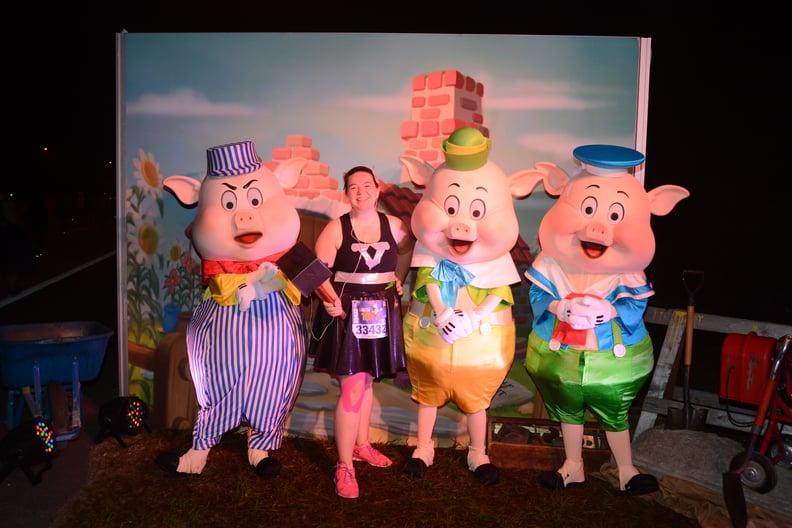 Be Choosy With the Characters Along the Course
If you want to cross the finish line, you need to keep up your pace. So as much as you'll want to stop for every photo op along the way, it's best to stick with characters you don't often see in the park, like the Three Little Pigs.
15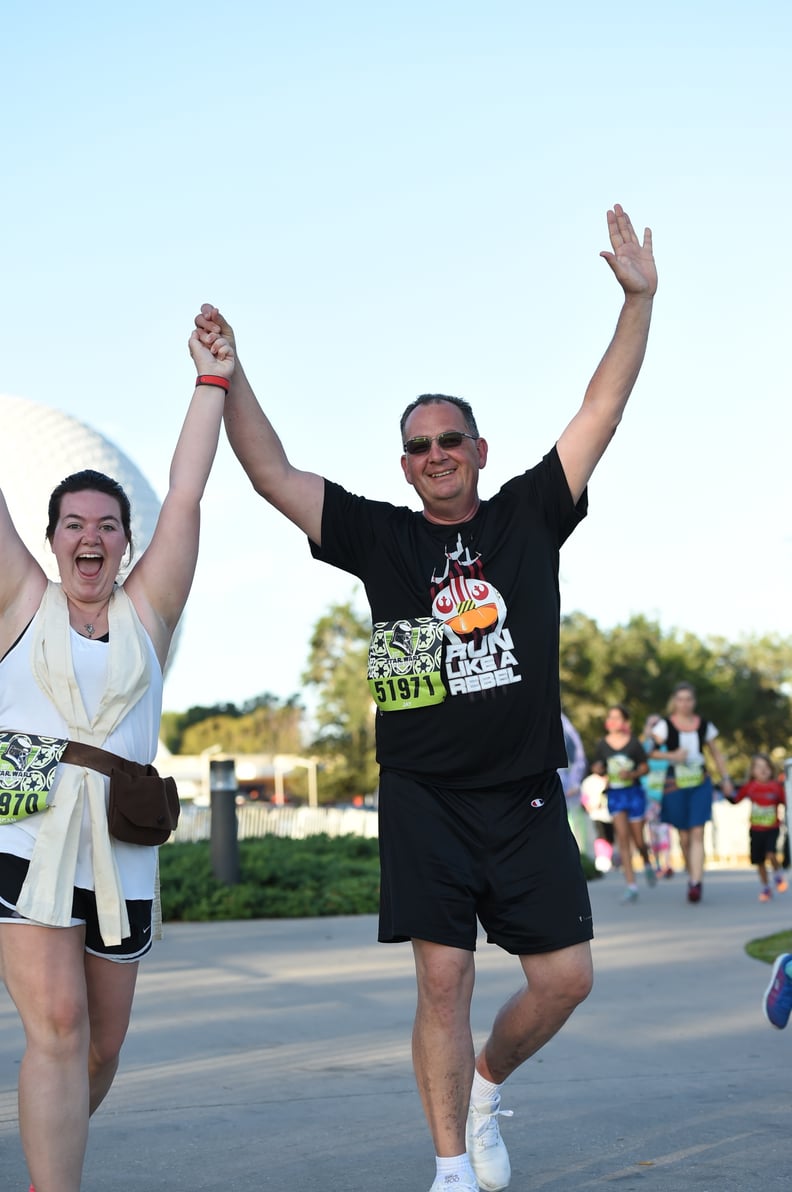 Celebrate Getting to the Finish Line
Finish-line photos are always my favorite. No matter which distance you run, throw your hands up and smile, because you did the thing! There are PhotoPass photographers on both sides of the finish line to capture these moments.
16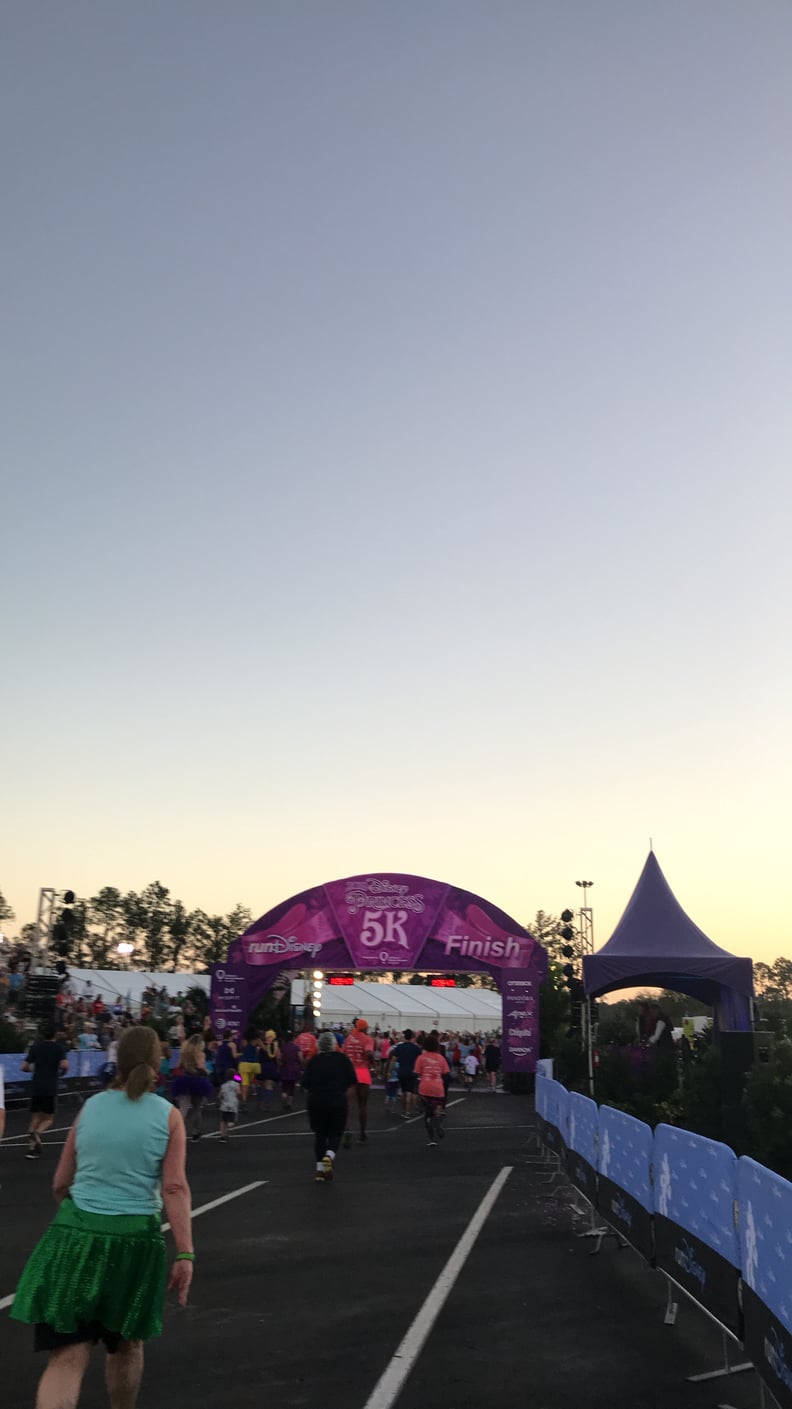 Grab Snacks Before You Head Out
Once you've picked up a medal from one of the volunteers at the finish line, move past the other runners collecting theirs and grab a water and a Powerade or two, then head off to get your snack box. You'll be grateful you did, since you'll be able to refuel and hydrate while you wait for your resort transport or even on the bus.
17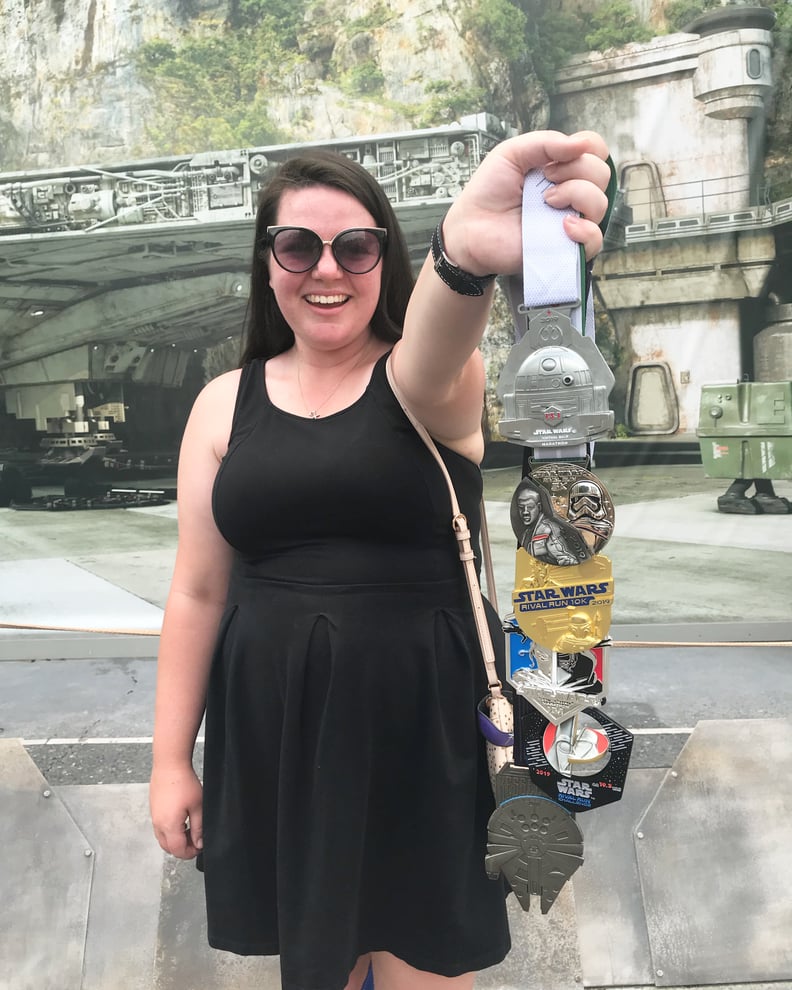 Plan Your Time in the Parks Wisely
Every race weekend at Disney includes a 5K, 10K, half-marathon, and challenge race (in which you complete the 10K and half-marathon back-to-back). In January, there's also a full marathon. If you plan to do all the races in one weekend, you should know that it's a challenge waking up at 3 a.m. for three or more days in a row, then pushing yourself to go to the parks. Personally, I head to the park for just a few hours, then go back to the resort for some rest and pool time so I feel strong enough to do it again the next day.
18
Wear Your Medals Proudly
Yes, even after the race. Most of the other runners will be wearing theirs in the parks, too, and it's fun to be congratulated by guests and cast members throughout race weekend. You may even be given a celebratory button to mark your achievement.
19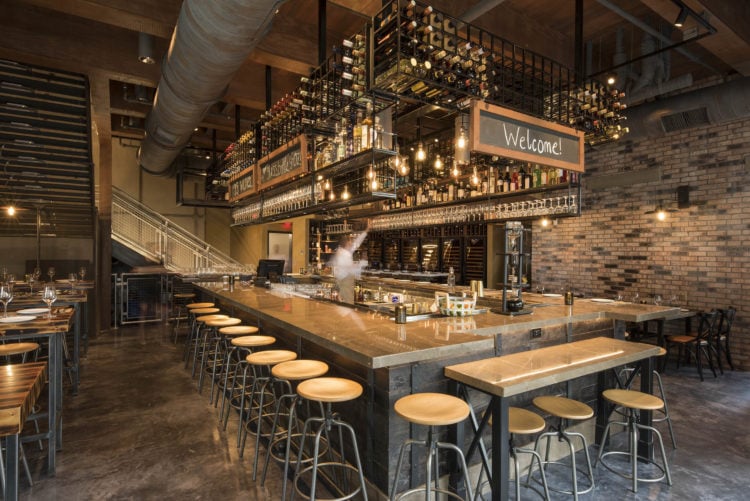 Know That Disney Springs Offers Discounts to Runners
Runners can find discounts on dining and merchandise throughout Disney Springs. (Think: a second glass of wine free with purchase of your first.) You'll get a full list of the participating vendors at the race expo. You just need to show your bib or medal to get the discount.
20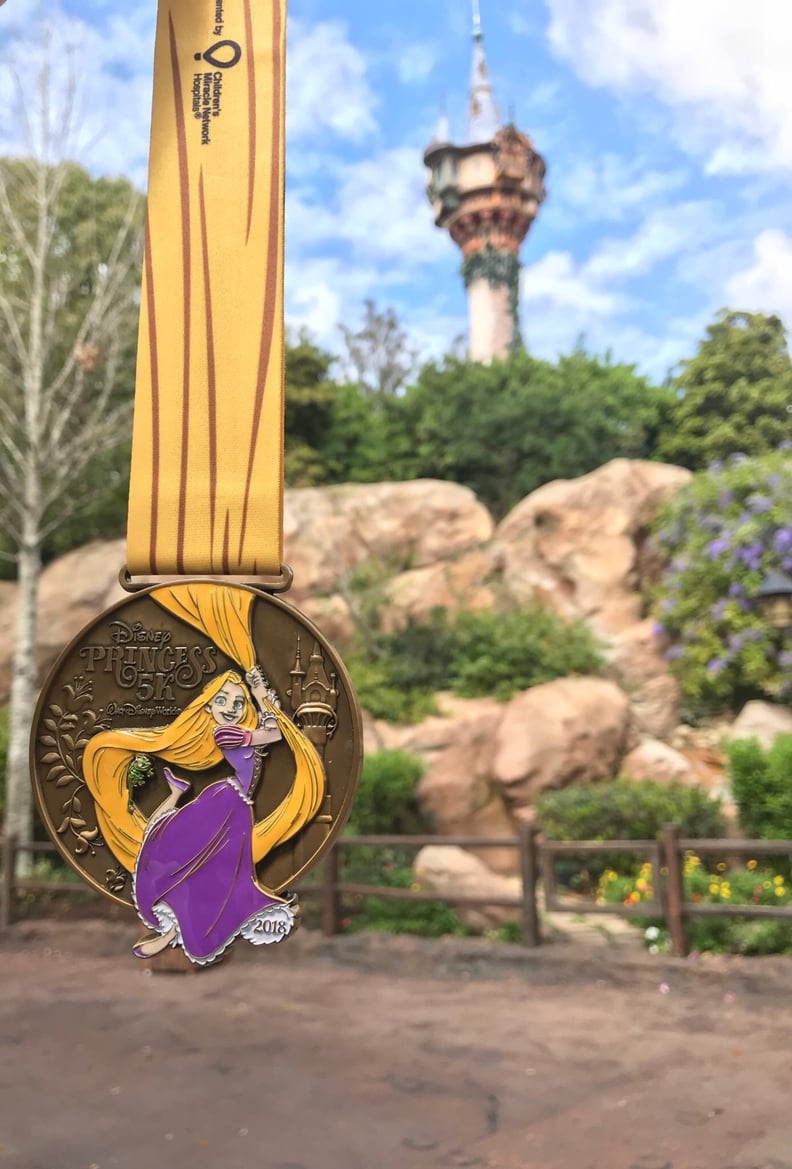 Photograph Your Medal
You worked hard for that medal, so make sure you get the money shot. I suggest finding a location in the park that matches it — Rapunzel's Tower in Magic Kingdom paired perfectly with my Tangled-themed medal. Hold the medal up for the camera, and snap.