Sabrina Ionescu Dedicates Her NCAA Record to Kobe Bryant
Hours After Honoring Her Mentor Kobe Bryant, Oregon's Sabrina Ionescu Made NCAA History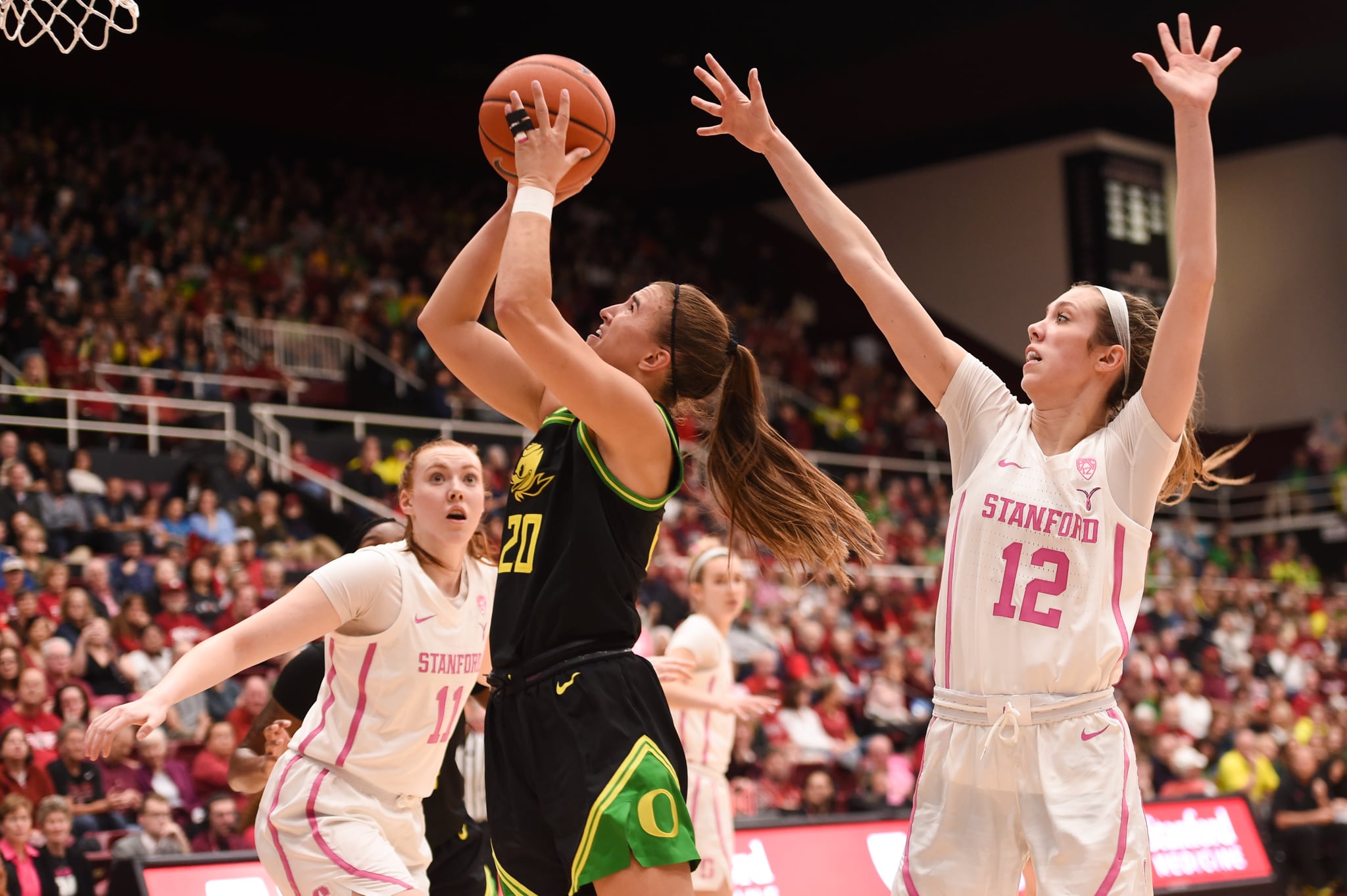 The numbers are staggering: 2,000 points, 1,000 assists, 1,000 rebounds. No Division 1 basketball player in NCAA history had put up those kinds of stats, until Oregon guard Sabrina Ionescu snagged her ninth board against No. 3-ranked Stanford on Feb. 24, hitting the career trifecta in a game the Lady Ducks went on to win 74-66. Sabrina finished the game with 21 points, 12 assists, and 12 rebounds — her eighth triple-double of the season and the 26th of her career. The California native dedicated the game to her friend and mentor, Lakers legend Kobe Bryant.
The milestone came just hours after Sabrina spoke at a memorial service for Kobe and his 13-year-old daughter Gianna. She first met Kobe in 2019, when he brought Gianna and two of her teammates to a matchup between Oregon and USC. "If I represented the present of the women's game, Gigi was the future, and Kobe knew it. So we decided to build a future together," Sabrina said during an emotional tribute. The two stayed in touch, often calling and texting each other between visits. Kobe helped Sabrina with her game, and she happily returned the favor, stepping in to help coach and mentor Gigi and her teammates over the Summer. "[Gigi] always wanted to learn, to go to every game she could: college, NBA, WNBA," Sabrina said. "Kobe was helping her with that, because he saw it in her, just like he saw it in me."
Sabrina shocked and delighted Oregon fans when, after a loss to the eventual national champions during the Final Four a year ago, she announced that she would forgo the WNBA draft and return for her senior season — a decision she says Kobe supported. Since then, it's been one career highlight after another: the No. 3-ranked Ducks handed Team USA a stunning upset in an exhibition game in November (Sabrina scored 30 points against the eight-time Olympic champs), and boast a 26-2 record with the NCAA tournament just around the corner.
"Kobe's vision for me was way bigger than my own," Sabrina said. Clearly, his confidence in her and her ability to help shape the women's game wasn't misplaced. Watch Sabrina's full speech below.