Tia Mowry Shared Her Self-Care Routine, and It's 100% Relatable and Easy to Implement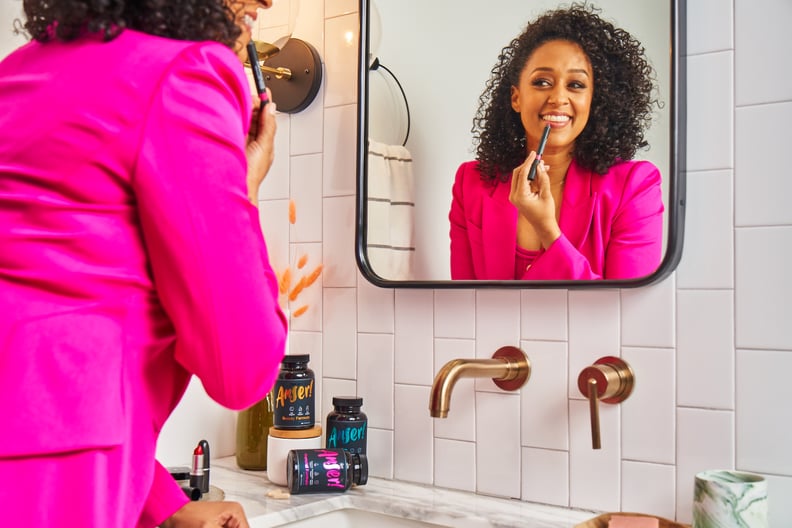 Tia Mowry
Tia Mowry
You've probably heard this before, but just in case you haven't or you've forgotten: mental health conditions do not discriminate and can affect anyone. As we go through life, we'll experience both the highs and lows and everything else in between. Presently, one challenge a lot of people are dealing with are the mental health implications of the coronavirus pandemic, and Tia Mowry has been candid about what she's been feeling and how she's taking care of her mental health as we adjust to new routines and lifestyles.
"I think for me, it's all about making everything practical — practicality, because I am a working mom and I'm always juggling lots of things," Mowry told POPSUGAR. When it comes to self-care and focusing on her mental health, she's always looking for ways to make things simple and practical, she explained. Mowry likes to meditate and has found it to be a great form of emotional release. "When you meditate, it allows you to focus on you. It allows you to focus on your body. It allows you to feel your body, your mind, what's going on, instead of suppressing it," she explained.
"I realized that I was just going through my everyday life and trying to stay busy and trying to keep the kids busy that I didn't even stop to think, 'How are you really feeling about this, Tia?'" she said. Mowry realized that holding in her emotions and not addressing them wasn't good for herself or for anyone else. "It's not good for your health, it's not good for your peace of mind," she said. In addition to meditating, exercising has been another way she's practicing self-care and taking care of her mental health. Whether she's stretching for five minutes or doing a quick 20-minute workout, "Those things are really, really important to me — just to keep your body moving." Simple things like drinking a cup of warm tea and taking time to breathe also make all the difference for Mowry.
"In regards to self-care, I think a lot of people focus on the outside and not necessarily on the inside," Mowry said. To focus on what's happening internally within her body, she likes to pay attention to what she's eating, making sure fruits and vegetables are in her diet. "That gives me the proper energy for the day, for my mind," she explained. She also makes sure she takes the supplements her provider recommends in addition to the supplements in her new Anser collection (be sure to consult a doctor before taking any new supplements). Consuming foods that provide her with energy and taking supplements that keep her healthy is one way Mowry takes care of herself in addition to them boosting her mood and being a form of self-care, she explained.
If you're trying to figure out how to best take care of your mental health, these tips are a great starting point, and we also advise working with a licensed therapist to create a plan that is specific to your needs. It may take some trial and error, but ultimately, you've got to find what works best for you and be OK with needing to reevaluate your mental health and self-care routine as necessary. Take the time to tune into your emotions, figure out what will help you improve your mood, and make time to care for yourself.