As I do with all new Trader Joe's products I discover while joyfully walking the aisles, I screamed a little when I saw this Trader Joe's Chocolate Hummus! I often make my own using dates and maple syrup, but sometimes, you just don't feel like whipping out your food processor. We're so grateful that Trader Joe's hopped on board the dessert hummus train! Keep reading to find out what it's made with, the nutritional info, and most importantly, how it tastes.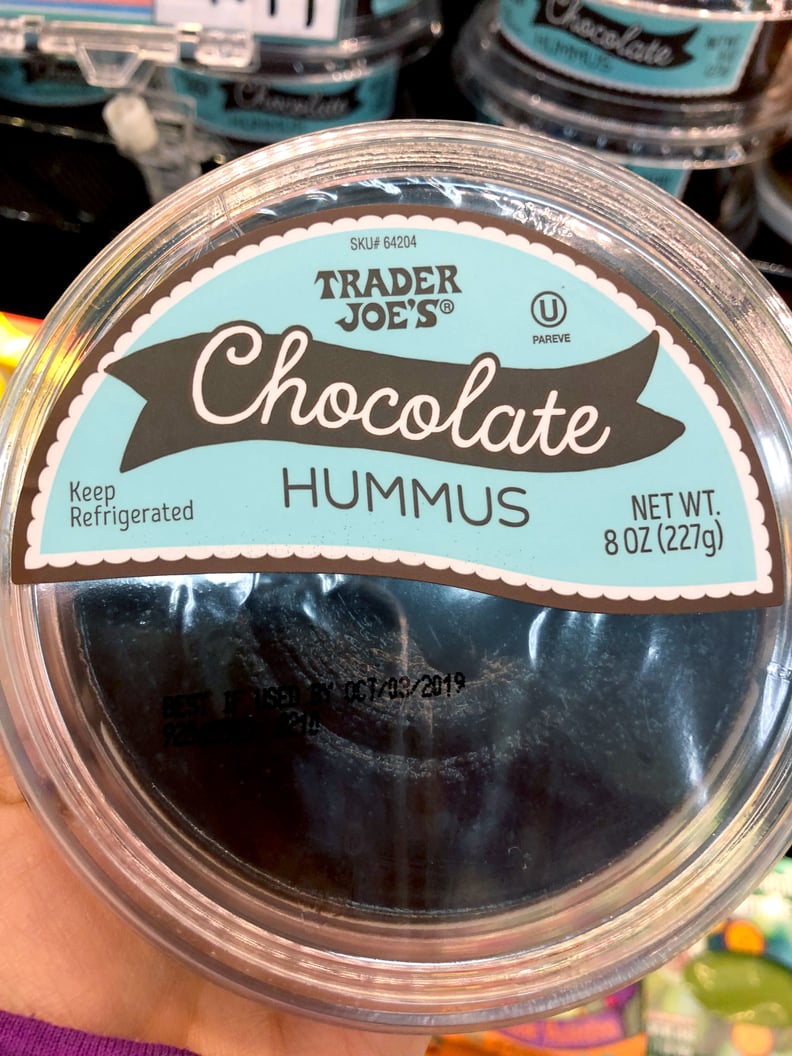 Trader Joe's Chocolate Hummus
Trader Joe's has tons of regular hummus flavors, which are savory, as you'd expect. But this Chocolate Hummus takes the usual chickpea-tahini combo and adds cocoa powder and sugar for a sweet, dessert-like dip. I had to buy it! Also, the turquoise packaging matched my nails perfectly, so I took that as a sign — I almost bought two!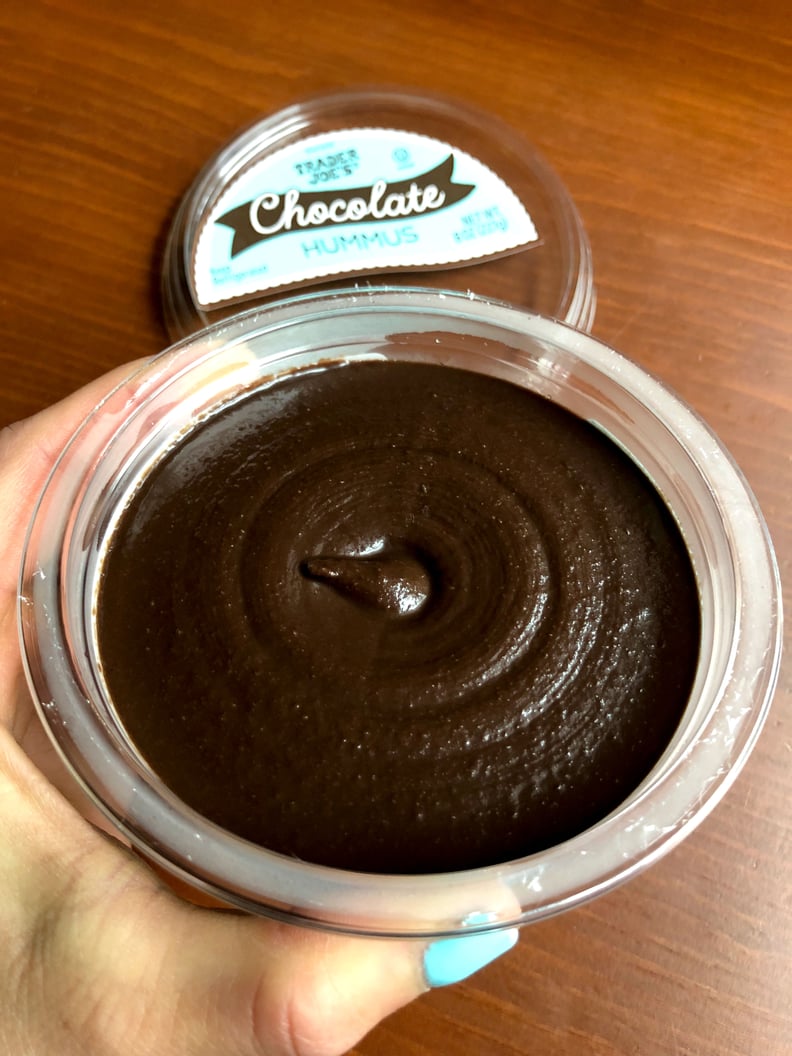 Trader Joe's Chocolate Hummus First Impressions
Upon peeling open the cellophane layer, I was immediately greeted with the most amazingly robust and sweet smell of chocolate. I've had other brands of chocolate hummus before, but they've never smelled as irresistible as this. The texture looked velvety smooth, and I couldn't wait to dip in!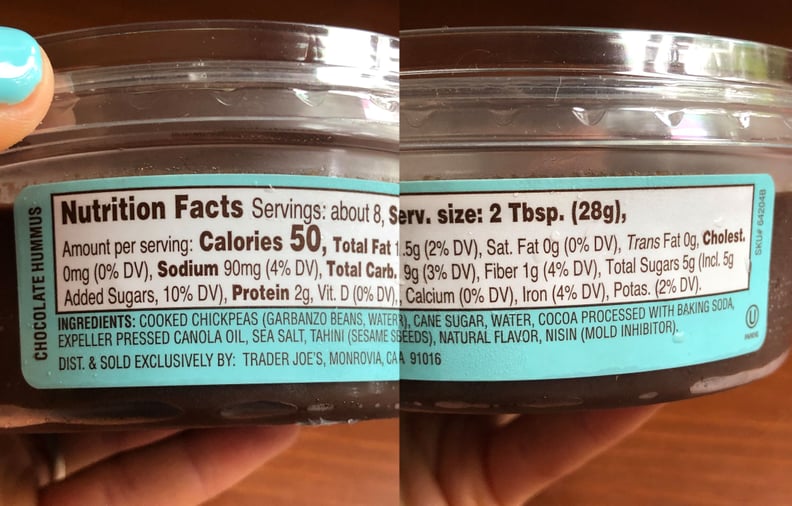 Trader Joe's Chocolate Hummus Ingredients and Nutritional Info
Before dipping into anything, it's important to know what you're eating. Like most Trader Joe's products, this Chocolate Hummus is made with basic ingredients I could pronounce: cooked chickpeas, cane sugar, water, cocoa, tahini, natural flavor, and nisin (a mold inhibitor).
Although there isn't a "vegan" label on the package, there is a "U Pareve" label, which means it's Kosher and contains neither meat nor dairy. So if you're vegan or avoiding dairy, this Chocolate Hummus gets the green light.
A two-tablespoon serving is just 50 calories, has nine grams of carbs, five grams of added sugar, and offers one gram of fiber and two grams of protein. Not bad for something that tastes like dessert!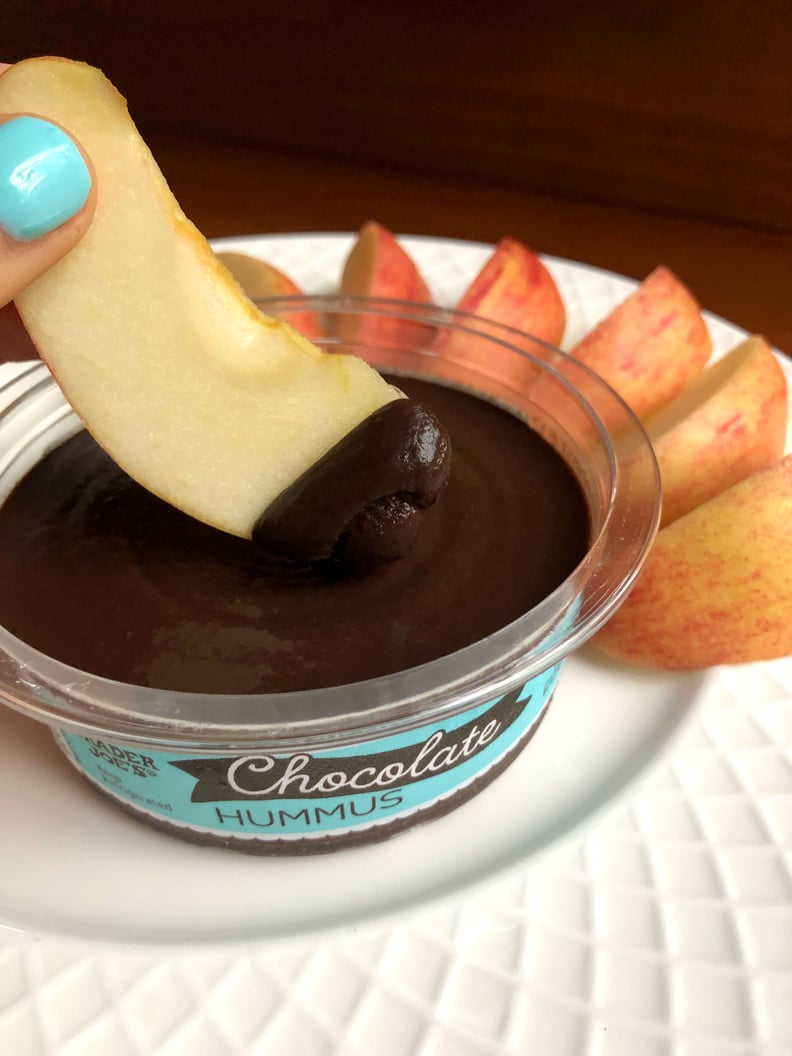 How Does Trader Joe's Chocolate Hummus Taste?
See how good this looks? It tastes even better! It's velvety smooth and creamy and subtly sweet with a delicious chocolate flavor. I've been enjoying it with sliced apples sprinkled with chopped nuts, spread on toast with sliced bananas, and with whole wheat pretzels.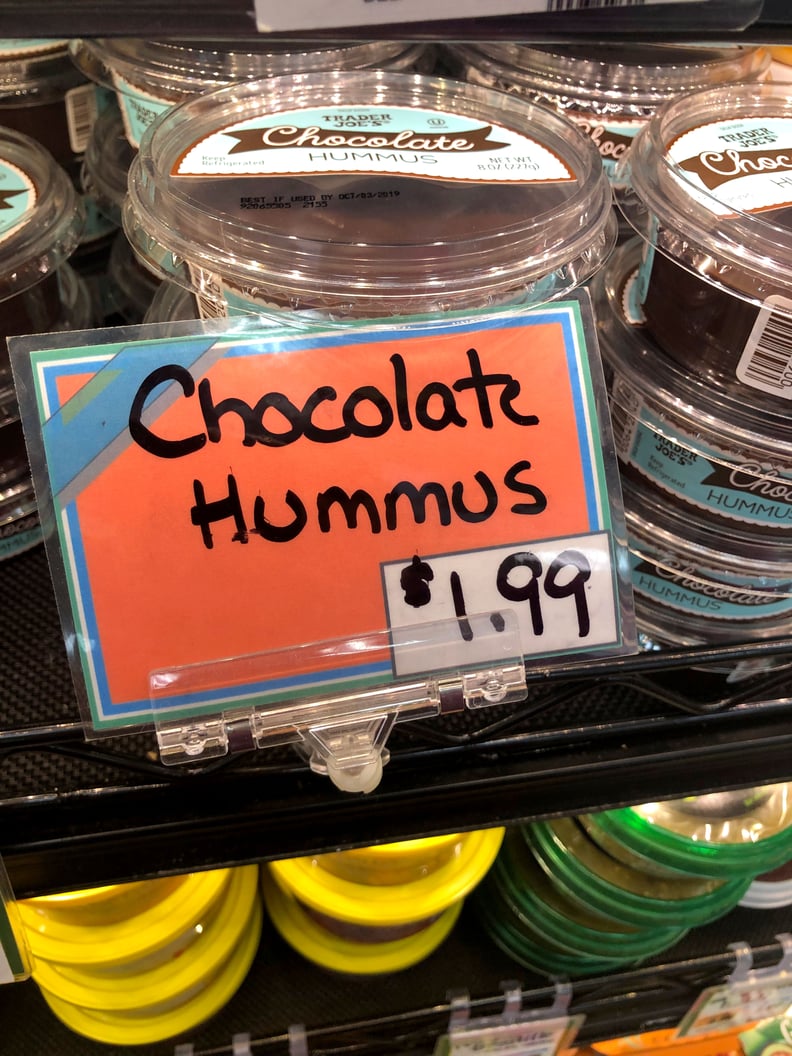 How Much Does Trader Joe's Chocolate Hummus Cost?
A tub of this Trader Joe's Chocolate Hummus is only $1.99! I mean that is so affordable, you can't not buy it! I'm heading back to Trader Joe's to stock up, and you should, too. Be sure to grab some of its organic apples, freeze-dried banana slices, and graham crackers to enjoy with it.