Completely Upgrade Your Beach Workouts at This Flintstone-Inspired Jungle Gym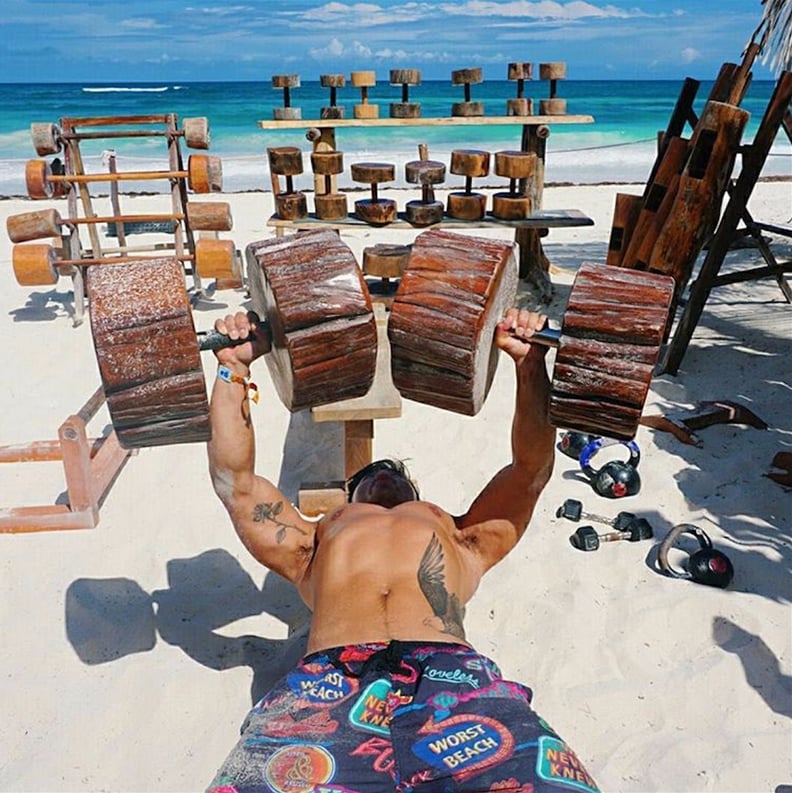 Let's face it, once you get to any tropical destination, the sun is shining and the music is blasting, so why would you want to retreat to your hotel for an indoor workout? Sure, a run alongside the ocean is always fun, but there's an obvious lack of weights and machines on the beach. That is, until the Tulum Jungle Gym came into the picture.
The Fred Flintstone-inspired gym allows you to unleash your inner beast using wood and stone equipment without ever having to leave the sunshine. Gone are the days where your workouts were confined by four walls and mirrors — this revolutionary fitness experience allows you to take in the beauty of your vacation while getting fit.
According to the tropical gym's website, 90 percent of the equipment is made of natural materials and it has just about everything needed for a full-body workout right next to the Caribbean Sea. "It appeals to CrossFit, calisthenics, gymnastics, bodybuilders, weight lifters and anyone that is into fitness; it's a workout for the body, mind and soul," and that is something we can get behind.
The gym has wooden tree stumps for your box jumps, wooden dumbbells and lifting logs with handles, a wooden squat cage, wooden monkey bars, TRX equipment, and so much more. Imagine running your toes through the sand while squatting with wooden barbells, because at this gym, it's no shoes, no shirt, no problem!
If you're headed to Tulum and don't want to step out of the sunshine for your workout, you must check out the Tulum Jungle Gym. (And if you're not headed to Tulum, find out why everyone else is! Keep reading to see some of the gorgeous photos from the beach gym.