This is Meet My Workout Routine, where we profile weekly workout routines — unvarnished and imperfect — from women across all walks of life. Check out our past profiles here.
Who: Latoya Shauntay Snell, a professional ultrarunner, journalist, and food and fitness blogger at Running Fat Chef
What: Her workout routine over one week in July 2020
The details: As a sponsored ultrarunner, Snell trains hard and has big goals. Before the pandemic, she'd set her sights on doing a half-Ironman by the end of this year or the beginning of 2021, a plan that had to be scrapped. "Instead of viewing it as a total loss, I asked myself what can I do in its place to maintain my fitness and happy place," she told POPSUGAR. Snell has been relying on a variety of different workouts to keep up her fitness, and for this week, that meant runs and cycling around New York City, bodyweight workouts, yoga, and rest days.
"As an unconventional sponsored athlete, I love being able to show people that you can move and honor the body that you're in and not fulfill the stereotypes that sometimes dictate how we move," Snell said. "My career in the fitness and wellness space presents opportunities for me to change the narrative with future generations on how they look at body image, conversations about a woman's place in this world, and how we can love our bodies at every stage and age."
Keep reading for an up-close-and-personal look at a week of Snell's workouts.
01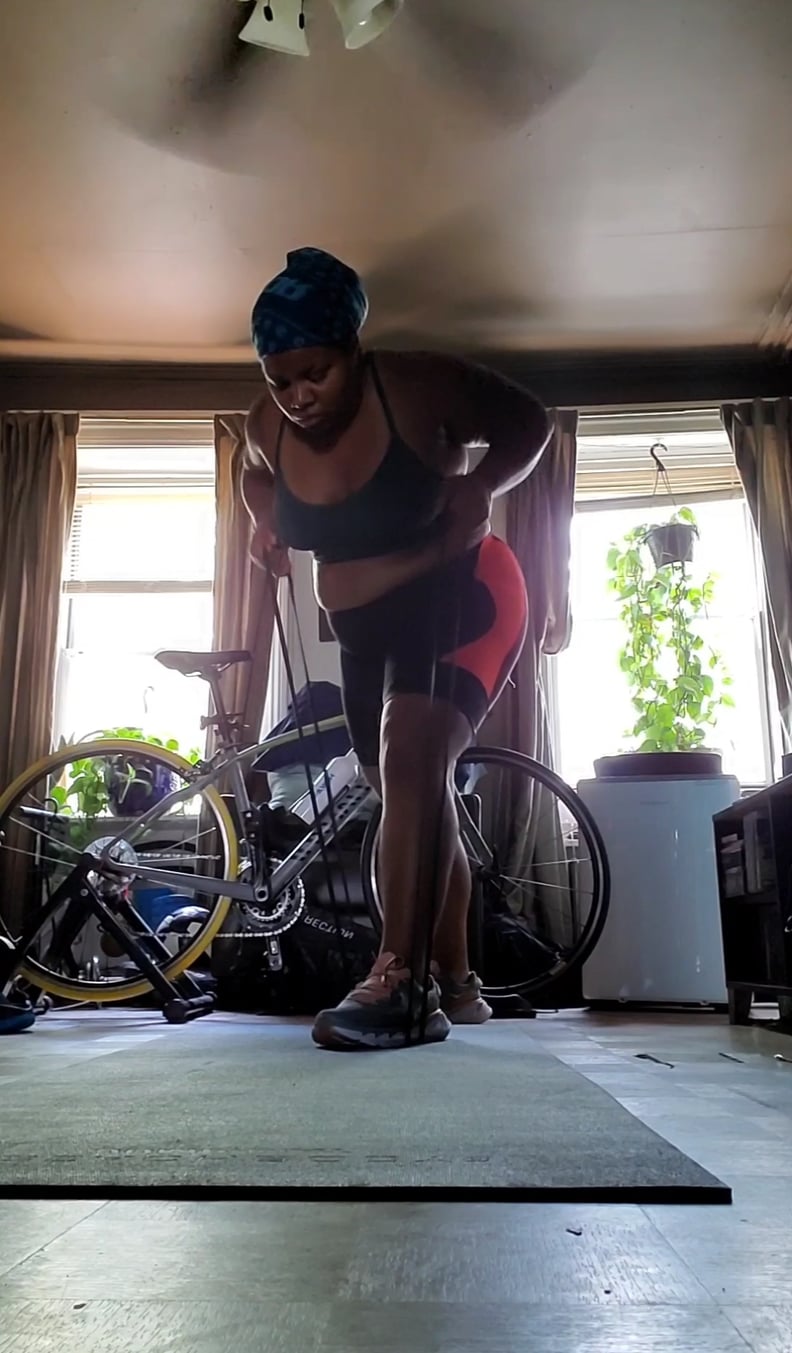 Monday, July 20
What: Full-body strength training, calisthenics, and cardio AMRAP (as many reps as possible) workout
Where: Home
When: 12:22 p.m.
Snell's notes: "Although I'm known for my running endeavors, my happy place stems from strength and bodyweight exercise work. On Monday, I opted to do some activity that makes me feel happy in conjunction with some time on my bike."
The moves:
Five-minute rowing warmup
Six-inch ab flutter kick
V-up with medicine-ball touch
Push-up with slide-out
Banded row
Resistance-band push-up
25-minute cycling
02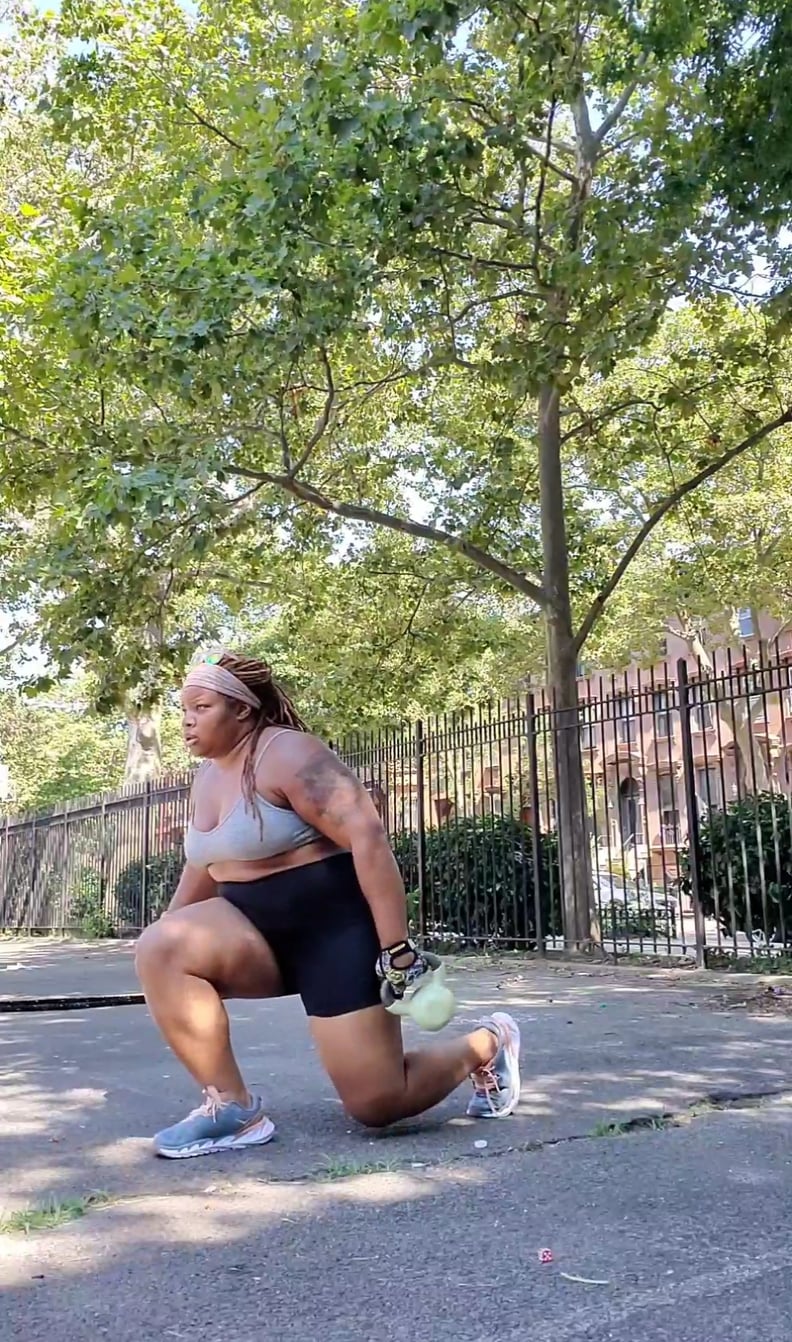 Tuesday, July 21
What: 79-minute outdoor battle-rope AMRAP workout, one-mile run, and cycling
When: 3:01 p.m.
Where: Outdoor park
Snell's notes: "As an ultrarunner that's gradually trying to pick up my mileage again, my first step is to motivate myself to get outside for as much as possible. Without a dedicated gym space, I use the outdoors — particularly playgrounds — to get in workouts. I opted to do a cluster of battle-rope workouts because they burn my upper body really well. As a cooldown, I set myself up to do a brick workout with my bike on the indoor trainer — knocking out close to five easy miles."
The moves:
Five-minute jump-rope warmup
Kettlebell swing to goblet squat
Battle-rope plank wave
Battle-rope burpee
Reverse lunge with overhead kettlebell press
One-mile run
20-minute indoor cycling cooldown
03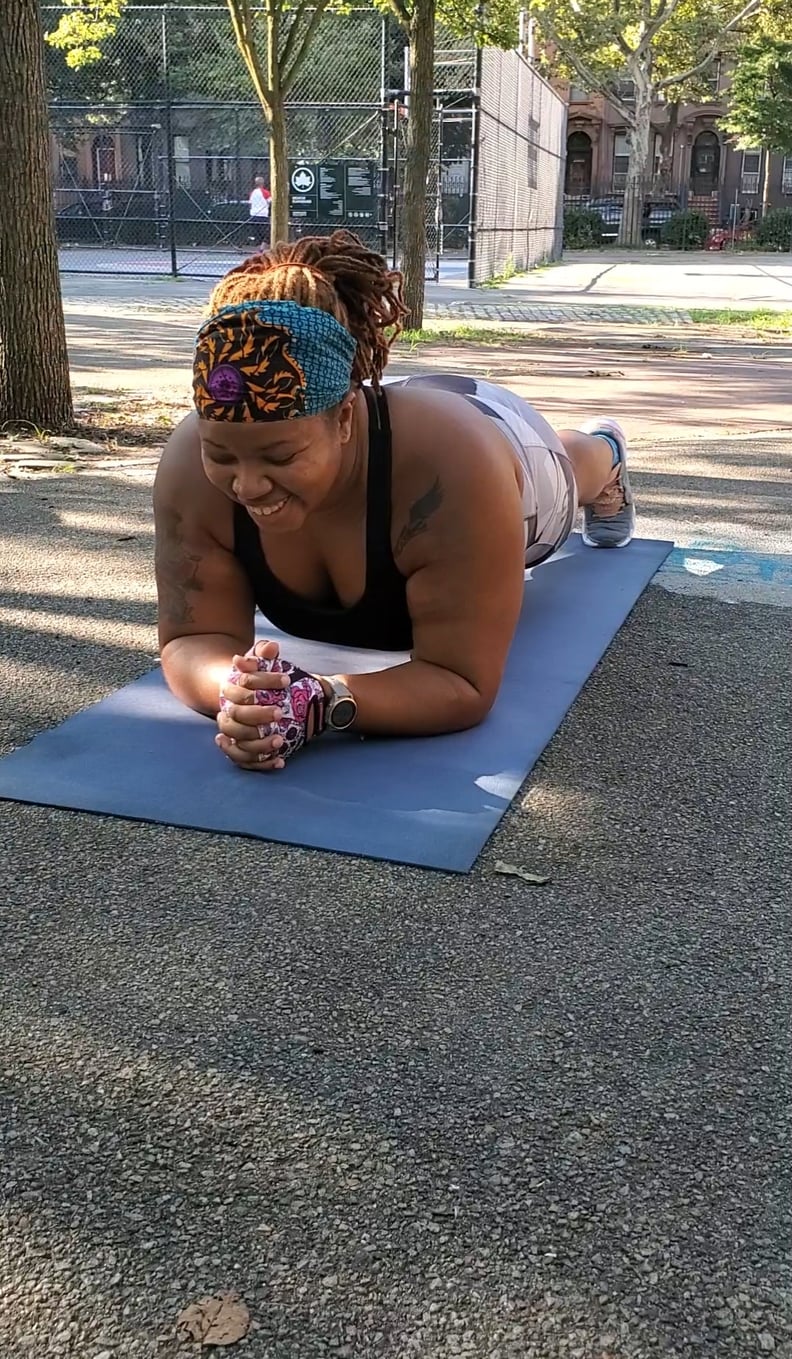 Wednesday, July 22
What: 30-minute Vinyasa yoga for active recovery
When: 6:05 a.m.
Where: Outdoor park
Snell's notes: "It is very easy to get sucked into hard training, and I have to give myself personal reminders to slow it down. Sometimes intentional and deliberate slow movements require a touch more grit than the constant pounding that occurs in running and cycling. Additionally, Vinyasa yoga helps me feel grounded. As an athlete, motivational speaker, and content creator, it is very easy to get overwhelmed by the various 'hats' that I have to wear for certain tasks. Yoga reminds me to carve out a bit of time for myself."
04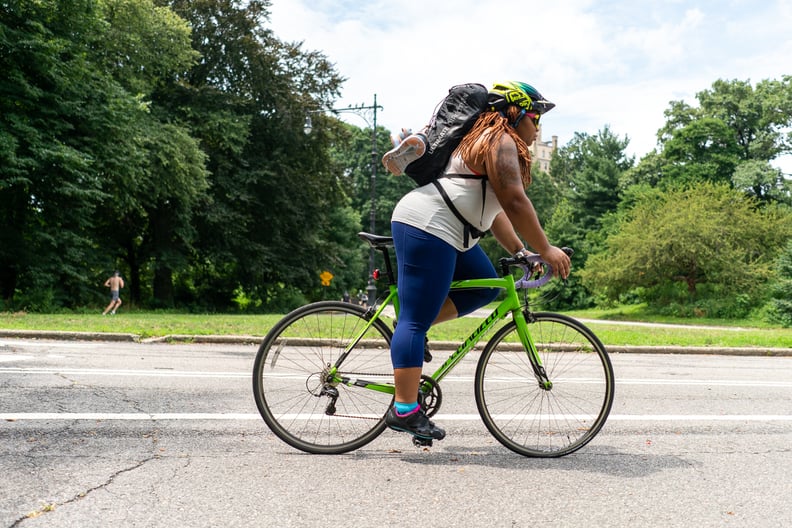 Thursday, July 23
What: 12-mile easy road cycling, two-mile trail run
When: 11:11 a.m.
Where: Prospect Park, Brooklyn
Snell's notes: "Some people opt to make their weekends as their hard effort days, but I prefer to squeeze it in wherever I can without fretting about my chaotic schedule. I chose to hit Prospect Park to do some doughnuts and get in a bit of uninterrupted training. As a stage-four endometriosis warrior, I am in constant pain. Instead of scrapping my entire plans for the day, I opted to trade in my scheduled speedwork for an easier pace. My cramps started to lighten up, and I felt invigorated to go for a two-mile run. Despite knowing that training is training, I remind myself to respect what my body is telling me; if it means modifying my workout for my personal well-being, that's what I'll do."
05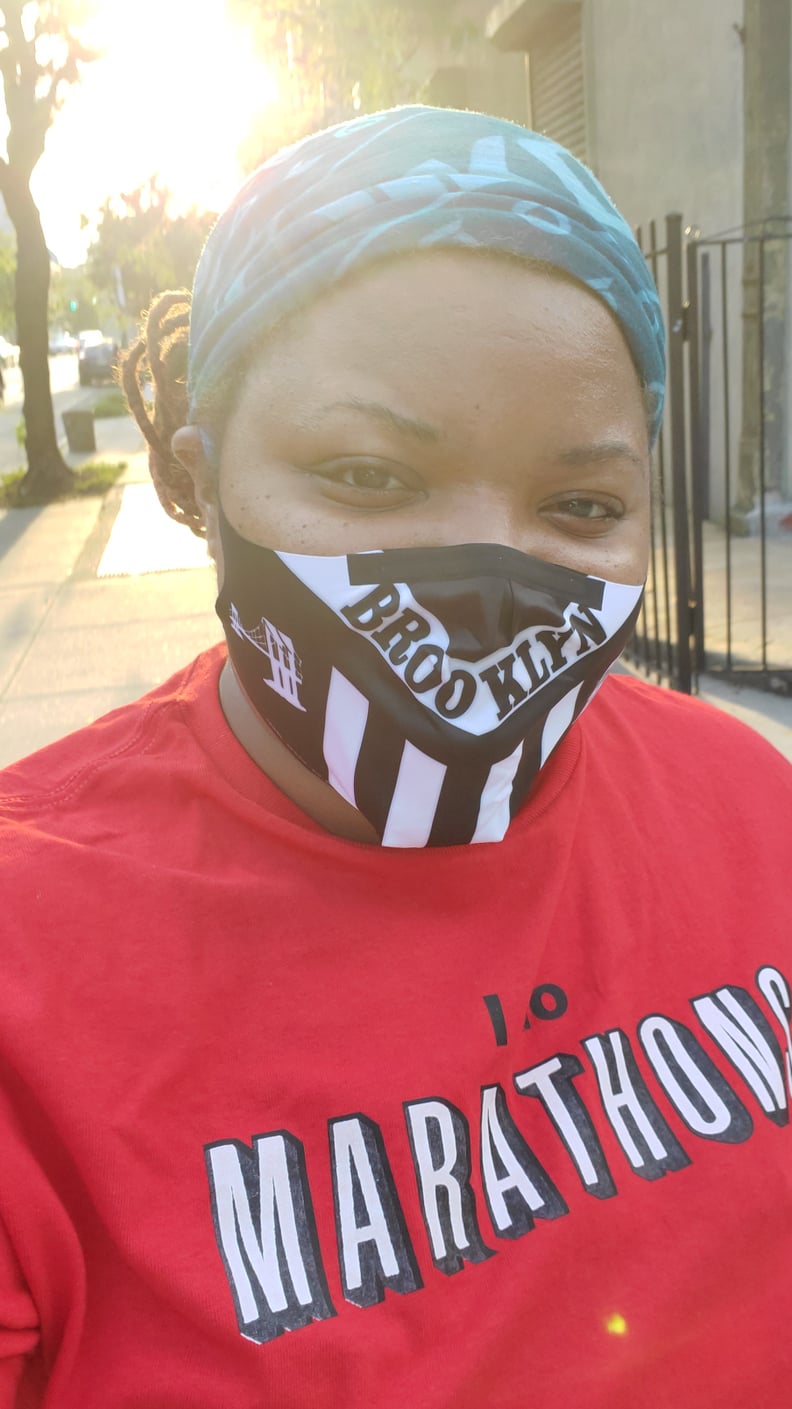 Friday, July 24
What: Rest day from endometriosis and sciatica flare-up
When: All day
Where: Home
Snell's notes: "My body wasn't feeling too great, so I swapped out my Saturday day off for Friday. I rested for a great portion of the day and worked from my home office to finish up work assignments."
(Editor's note: photo is from Snell's Saturday workout)
06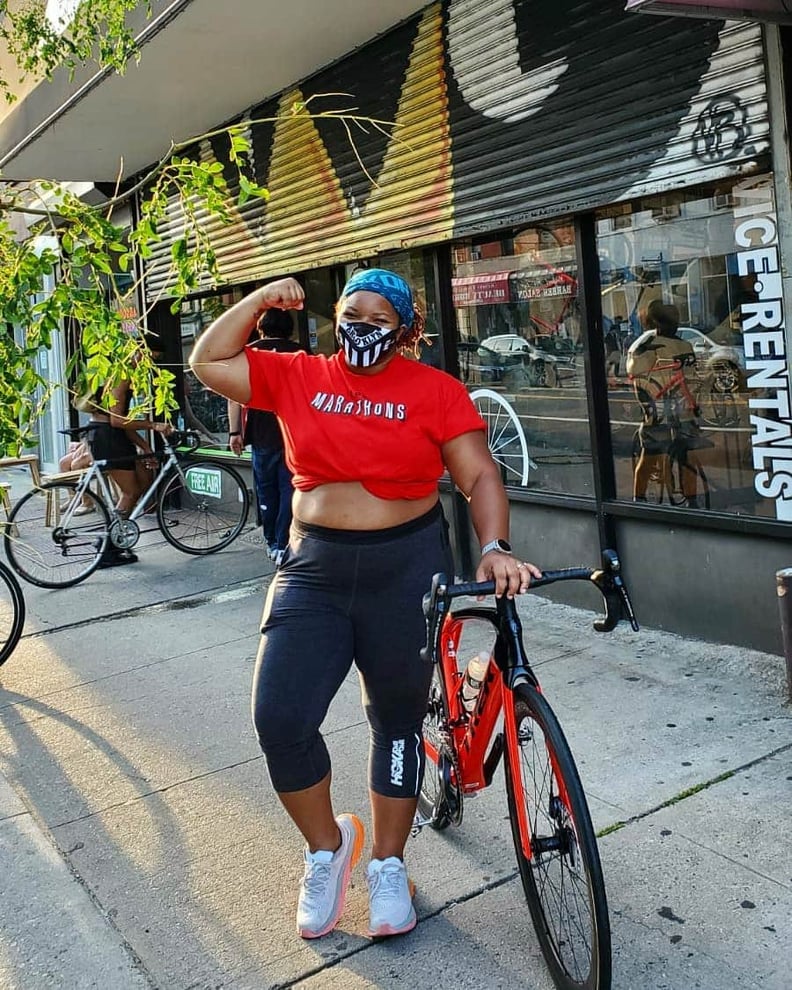 Saturday, July 25
What: Five-mile road cycling
When: 7:08 p.m.
Where: Around NYC
Snell's notes: "I received notification that my new Trek Madone bike was ready for pickup and was excited about giving it a test drive. Although I'm not a stranger to road cycling, I am relatively new to clipping in. My social media community heavily encouraged it after watching me virtually knock out 161 miles to raise funds back in June 2020 for three Black organizations. After riding while clipped in and getting over my initial fears of falling, the difference in power was very noticeable. I am still gaining my road confidence while locked into my bike, but with practice, I'll be able to increase my speed and chances of completing a half-Ironman next year."
07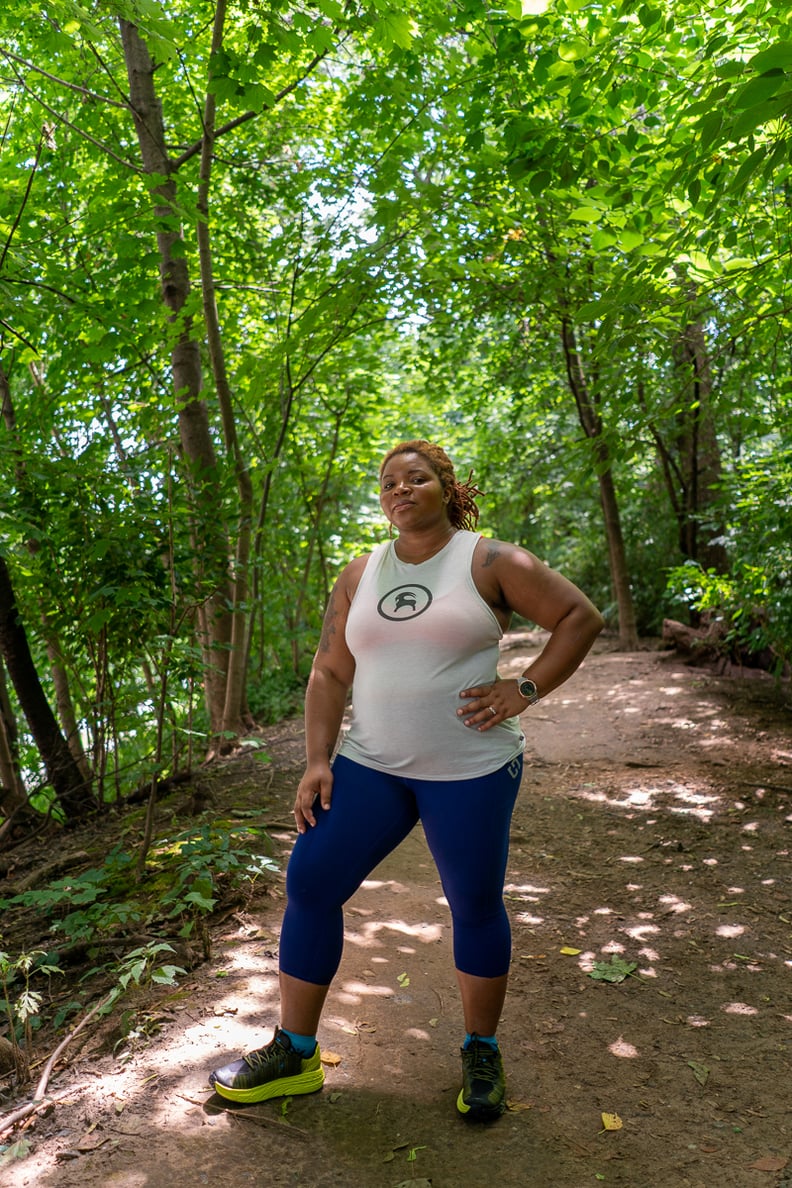 Sunday, July 26
What: 5K run and 30 minutes of meditation and yoga
When: 10:05 p.m.
Where: Around NYC
Snell's notes: "COVID-19 stimulated a lot of fear throughout New York City. I lost a great deal of close friends due to the pandemic, and it makes me nervous to run during the midday hours. I'm not a stranger to nighttime runs, but I am able to clear my brain just a bit with less people outdoors. The traffic is drastically reduced, and at times, it gives me an opportunity to grieve. I followed up with a 30-minute yoga and meditation practice before having a late-night dinner and shower before bed."
(Editor's note: photo is from Snell's Thursday run)
08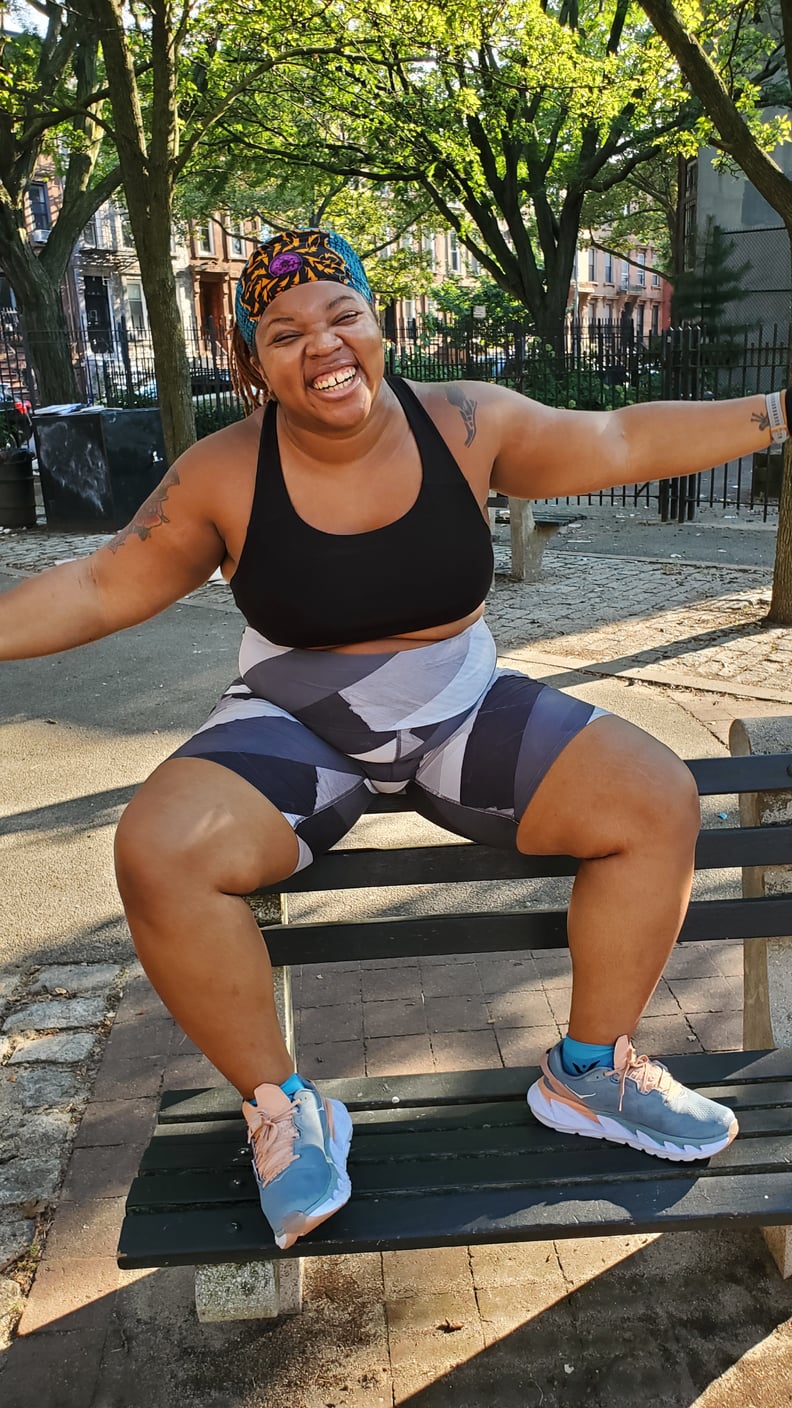 Snell's Workout Tips
"As an ultrarunner, I learned how to find my balance between pushing myself beyond my wildest thoughts and the ability to fail forward," Snell said. "It is easy to fall into the trap of wanting to accomplish everything the way that we envision it in our heads, but some of the most rewarding lessons that I learned along the way stemmed from a series of events not going the way that I planned."
"For those who are trying to honor their fitness practice, always remember to be kind to your mind, body, and spirit along the way," she continued. "Our goals can sometimes make us feel defeated. Always show your body and mind gratitude for the work and rest that you gift yourself each day. The curveballs that life throws us on a daily basis is already hard; don't add on unnecessary pressure of trying to achieve perfection when you're doing your absolute best."