Exactly What to Eat 2 Weeks Before Your Wedding to Lose Weight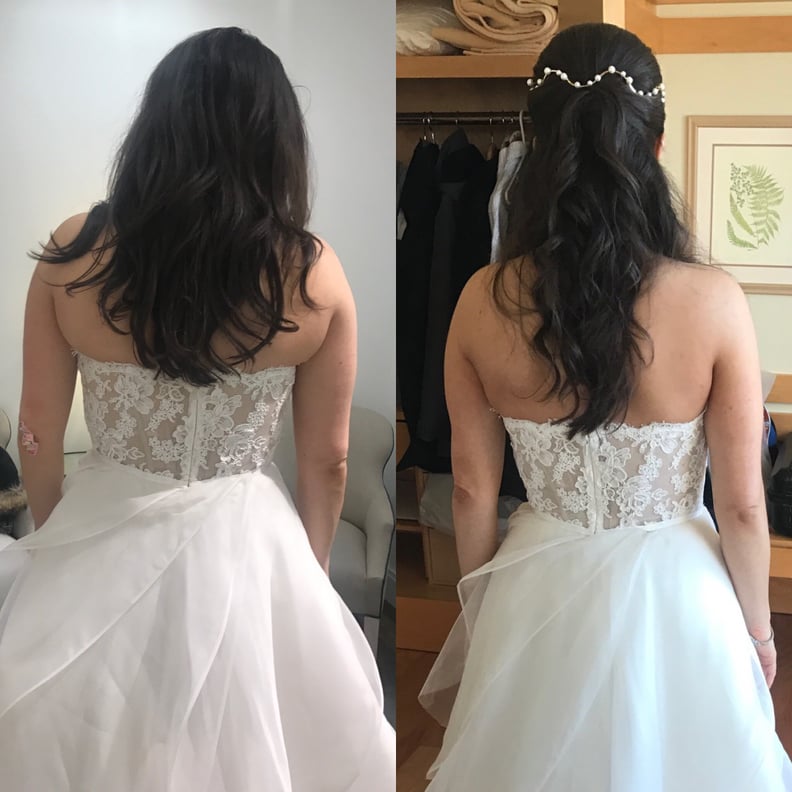 When it came to starting a wedding diet, I procastinated. Hard. In fact, a month before the big day I went on a work trip to Morocco and Paris where I ate all of the bread, butter, and chocolate my appetite desired (as one does). Which is all part of the how I found myself muffin-topping over the sides of my strapless Reem Acra gown (pictured, top left) at my last fitting, just two weeks before I was supposed to walk down the aisle.
I'll admit, I was bloated at the time from my period, so when it ended a few days before my wedding, my body tightened. But, I was also up a few pounds. Instead of accepting it, I took about four private workout sessions per week with celebrity trainer David Kirsch. The pro is responsible for sculpting the bodies of celebrities (like Jennifer Lopez and Heidi Klum) and has a wealth of fitness and health knowledge (to recap, he's written five books, has his own line of shakes and supplements, and owns a top-notch NYC gym). He put me on a routine that was a mix of cardio, strength training, HIIT, and TRX. Every time we met up, the moves and sequences were different, which kept my body guessing and metabolism revved.
But anyone who has successfully lost weight knows diet is more than half of the battle. And pre-getting "Kirsched," I had been working out almost every day anyways. So I do credit his eating plan for partly pushing those five extra pounds off of my body.
Here, I am going to share exactly what I ate — and most importantly, did not eat! — to shed the lbs, so my dress fit perfectly (top right). Note, the dress was not taken in or out between the two images, but my body actually transformed in two weeks!
"In my experience working with a bride-to-be, the last couple of weeks leading up to the wedding is uber stressful," Kirsch told me. "As you can attest to personally (Lauren), slight tweaking of your diet will go a long way to keeping you optimally energized, fueled, and looking your very best on the big day!"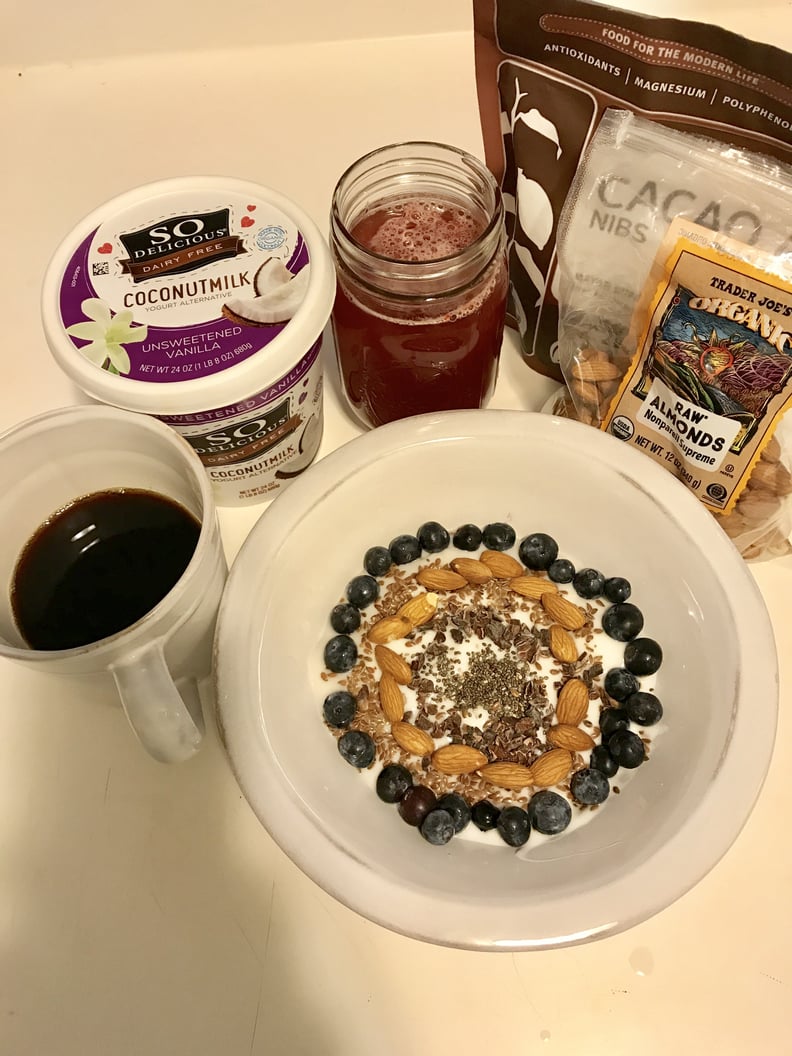 Let's start with the hard part, things to avoid according to Kirsch:
Say goodbye to pizza, because you will not be eating processed carbs (bread, pasta, crackers, etc.) or dairy. "I have found that dairy can cause bloating, and who wants to be bloated on their day?" Kirsch said. And no whole grains or potatoes either.
I have personally eliminated both gluten and dairy for weeks and added them back to reveal that I am not intolerant to either. I can have a slice of pizza and feel like a peach, but kicking them out of my diet definitely made my belly flatter. After three days of no carbs, I was craving them! So I texted Kirsch asking if I could have a sweet potato. He told me to crunch on celery instead. It took willpower to follow his advice, but it was worth it. I surely enjoyed sliding into my bathing suit when I arrived at my tropical honeymoon a few days after my wedding.
You'll also need to revamp your drinking game. That means, no alcohol (NONE!). While this meant sitting through events, family dinners, and bar nights totally sober, I enjoyed the mental clarity and increased energy in the mornings. "Save the glass of champagne for after you walk down the aisle!" he said. And yes, I got to enjoy a few flutes of well-earned bubbly at my affair . . . and a margarita!
I also had to limit the amount of coffee I drank. Kirsch recommends having one espresso in the morning. While I stuck to brewed coffee beans, I drank it black. I didn't even add almond milk, and I swear it makes a difference in better digestion.
Kirsch believes that "too much coffee can lead to belly bloat!" Think about it, coffee dehydrates you, so you retain water to hold on to it. Instead, switch over to green tea, which has both caffeine and antioxidants. Every morning, I also had one of his A.M. Detox Drinks (it's yummy and fantastic for your skin!). You can see it in the mason jar above.
Finally, the hardest (for me, since I have a sweet tooth): no sugar. Even dark chocolate. OK, I may have had a handful of dark chocolate-covered almonds one rough night, but for the most part (like 95 percent) I kissed my beloved cookies, ice cream, and cupcakes goodbye. In fact, my husband hid the chocolate on a very high shelf so I could not reach or find it in our apartment. Do what you need to do to survive, brides!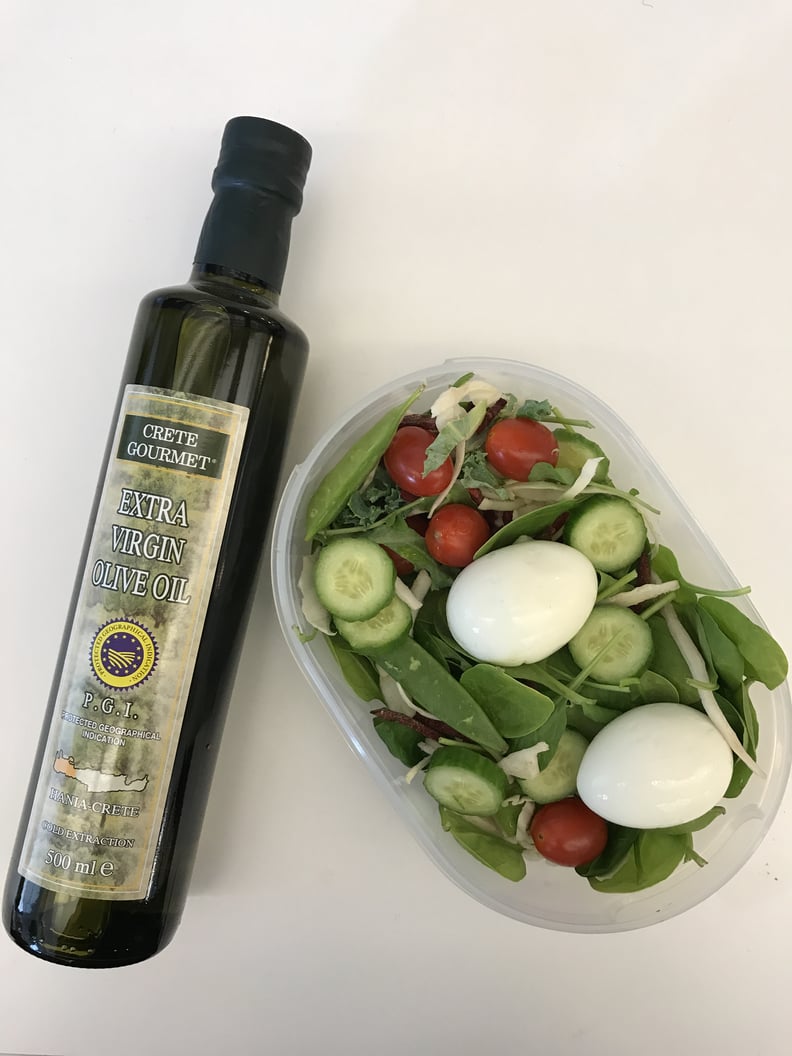 Now onto what you can eat. Disclaimer, this was not Kirsch's exact plan but one loosely based off his advice and what I know works best for my body.
For breakfast I stuck to two options. The first, two eggs and sauteed spinach, all cooked in EVOO. Earlier in my wedding prep, I enjoyed that dish with a side of avocado, but the last two weeks I cut it based on Kirsch's recommendation to limit my fat intake (even healthy ones!). Otherwise, I had an antioxidant-rich bowl of unsweetened coconut yogurt with a handful of raw almonds, chia seeds, flax seeds, cacao nibs, and blueberries. While Kirsch recommended no fruit (remember, no sugar!), I know blueberries are good for eliminating belly fat and making skin glow, so I had some anyways. If you're going to have sugar, eat it in the morning so you can burn it off throughout the day.
When it came to snacks, I sipped on dark green pressed juice (the kind without fruit) and crunchy veggies (Kirsch likes celery, red peppers, and jicama sticks). I also ate GoMacro bars, which were referred to me by another trainer I'd been working out with, Steve Pasterino. I bent the rules a little since these are made with brown rice syrup, but it ensured that I had an option when I was on-the-go.
Dinner and lunch were pretty similar. I'd either have what I dubbed a "Sad Salad" of spinach, crunchy water veggies (cucumber and snow peas), and lean protein (homemade chicken or salmon with no sauces) — all drizzled with EVOO and a lemon squeeze. Snooze. Otherwise, I would cook veggies (such as steamed green beans or asparagus) and have it with the aforementioned lean meat or fish. Sometimes, I would even have the eggs (see: breakfast!) for dinner, which I found very easy to digest. Occasionally, I'd enjoy a green smoothie (kale, spinach, blueberries, almond milk) with pea protein powder.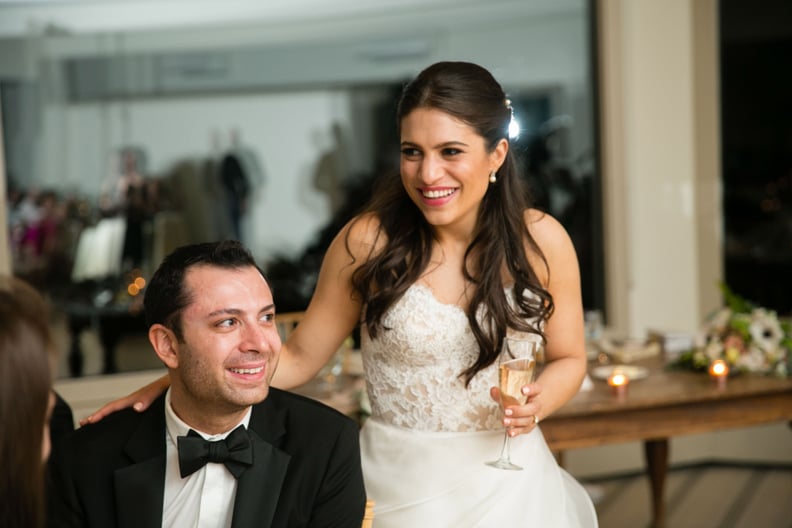 And for our grand finale, what to eat during your actual wedding weekend:
By then being a bride had taken over my identity (it happens to the best and most chill of us ladies in white). So I brought my own food to the weekend destination, including unsweetened coconut yogurt, hard-boiled eggs, green juice, nuts, seeds, bars, etc. I made sure my hotel room had a fridge to store it in.
"The day before is a day that you want to make sure to put the finishing touches," said Kirsch. "You have planned hard, sweated hard, and stayed away from the obvious no-nos. What else can you do? I suggest a relaxing massage, sauna, and steam. Eating foods like asparagus and celery will help keep you full and debloat you."
So I couldn't resist a taste of homemade pasta during our rehearsal dinner at a delicious Italian restaurant, but by 7 a.m. the next day, I was back on it.
"The day of, I would have a couple of eggs in the morning and oatmeal as you will need the energy and fuel for the rest of the day," Kirsch recommended. "A protein shake for lunch and water for the rest of the day. Save the drinking and eating for after the ceremony, or better yet, for the honeymoon!"
Here's what I consumed for breakfast on my wedding day: I had the antioxidant yogurt and seed bowl as well as black coffee; for lunch I ate a simple salad with grilled chicken provided by my venue; and for snack, I went with a GoMacro bar. After the ceremony, my husband and I sat in a separate room and ate every single appetizer (including pork buns, pulled BBQ chicken, mini grilled cheese sandwiches, and more!) and drank champagne. Diet. Over. As the evening went on, I enjoyed the goat cheese salad (CHEESE!), the short rib and sweet potato entree, wedding cake, homemade cookies, and apple cider donuts. There was pizza at our afterparty. I ate that, too.
Was dieting fun? No. Was it satisfying? Absolutely not. Was it worth it? Hell yes! For two weeks, you can do this! And you likely will lose inches, but you have to stick to it almost perfectly. We all have our handful of dark chocolate almonds here and there, but make sure you get right back on track. The best part in addition to your tight bod? You can pig out on your honeymoon! (On mine, I sure did my job consuming all of the noodles and dumplings Southeast Asia had to offer . . . and that is another story. Next up: How to get back your hot wedding bod of yesteryear.)
Workout sessions for the author were provided by David Kirsch for the purpose of writing this story.