For most brides, the most important decision you can make is saying "yes" to the person of your dreams — and then the perfect dress. But you also have to choose bridesmaid dresses, flower arrangements, your something blue, wedding shoes . . . and the list goes on.
While plenty of people turn to Pinterest or Instagram for wedding inspiration, POPSUGAR's senior Beauty editor, Lauren Levinson, used her wise knowledge about the fashion and beauty industry to guide her. From customized Fame and Partners bridesmaid dresses to an amazing pair of monogrammed Nike kicks, here are six unique ways Lauren made her wedding look truly unique.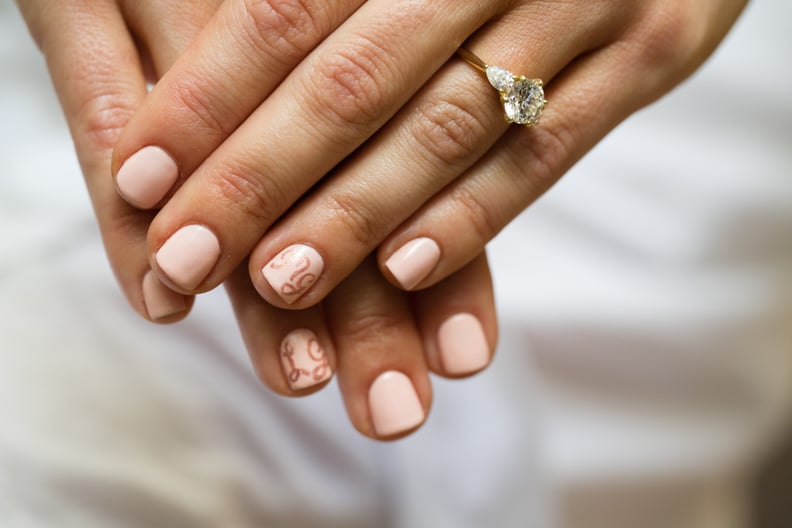 Design Your Own Ring
Who says you can't have any say when it comes to designing your wedding ring? While Lauren didn't actually see her engagement ring until the day of the proposal, she did take part in designing it with NYC jeweler Samantha Doppel. Her husband also had a part in the design process, as he chose the gorgeous center stone. For her inspiration, Lauren wanted her ring to feel vintage yet modern, and she designed it to resemble a flower.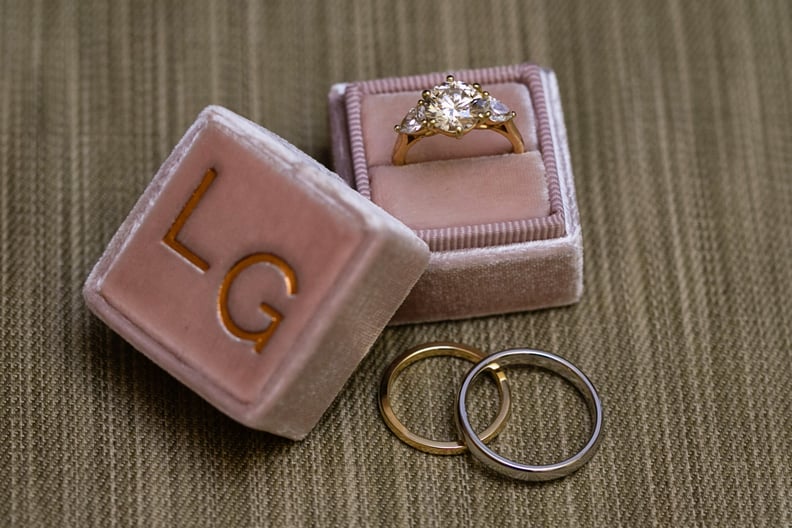 Monogram Your Ring Box
One of Lauren's close friends gifted her this monogrammed ring box from The Mrs. Box. Not only did it make for an amazing photo op, but (as Lauren discovered on her honeymoon) it also comes in handy when you want to store your ring at night.
Choose a Bridal Scent and Have a Perfume Bottle Engraved
When choosing a bridal scent, Lauren remembered a piece of advice she received from another POPSUGAR editor who wrote this story about picking a signature bridal fragrance. While Lauren's monogrammed Chloé Love Story was gifted to her by the brand, you can turn to Etsy to create a unique scent for your big day. Lauren wore her scent for every major bridal event, from the bachelorette party up to the wedding day. Now, every time she wears it, the scent takes her back to the happiest moments of her life.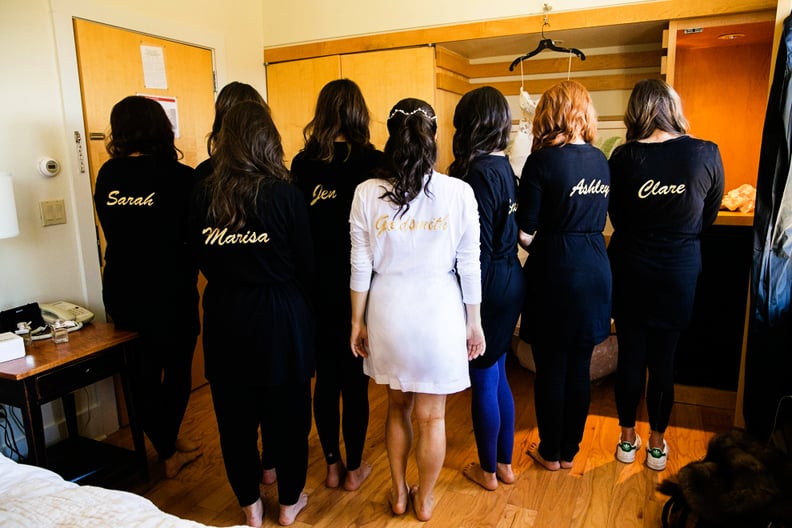 Get Customizable Robes
Another fun way to get the festivities started? Wearing matching customized robes with your gals while you're getting your hair and makeup done. Lauren chose lightweight jersey robes from Yummie by Heather Thomson and had them monogrammed for herself and her bridesmaids. Don't let what they look like on the hanger fool you — once you put them on, you'll see that these define your figure and are super comfortable to wear.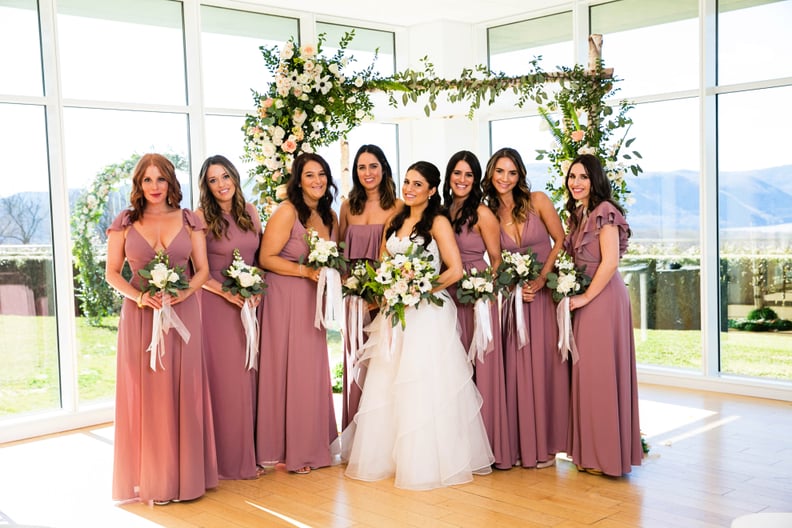 Bridesmaid Dresses
Choosing a bridesmaid dress is never an easy task. How, exactly, is a bride expected to choose one that fits every girl's personal style? For this reason, Lauren turned to Fame and Partners, a site where her bridesmaids could customize their dresses by adding arm ties or a hem ruffle for a small fee of $9.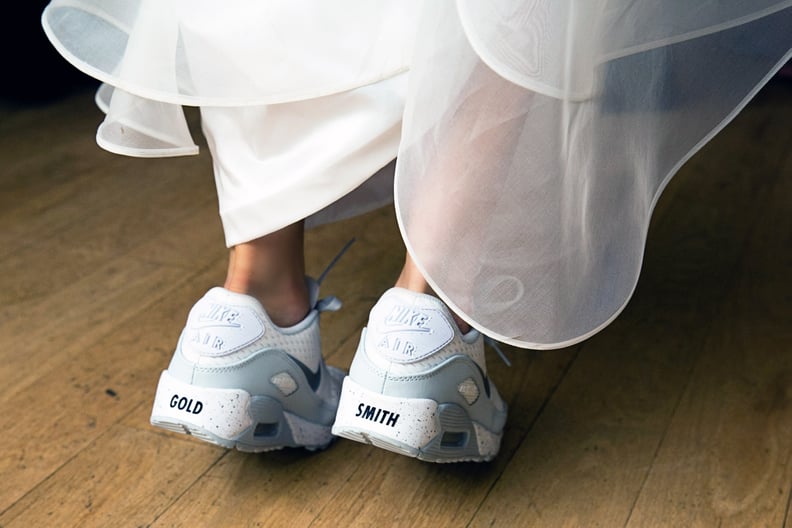 Slip Into a Pair of One-of-a-Kind Wedding Sneakers
Nobody wants to dance around in a pair of heels on their wedding day. After looking for a pair of wedding sneakers for what seemed like an eternity, Lauren had the idea of getting a pair of white and silver Nike sneakers monogrammed with her new last name on the back. She chose a style that had a cushioned sole so she could comfortably dance the night away and later wear her new shoes for workouts. Plus, it didn't hurt that these added an extra inch of height.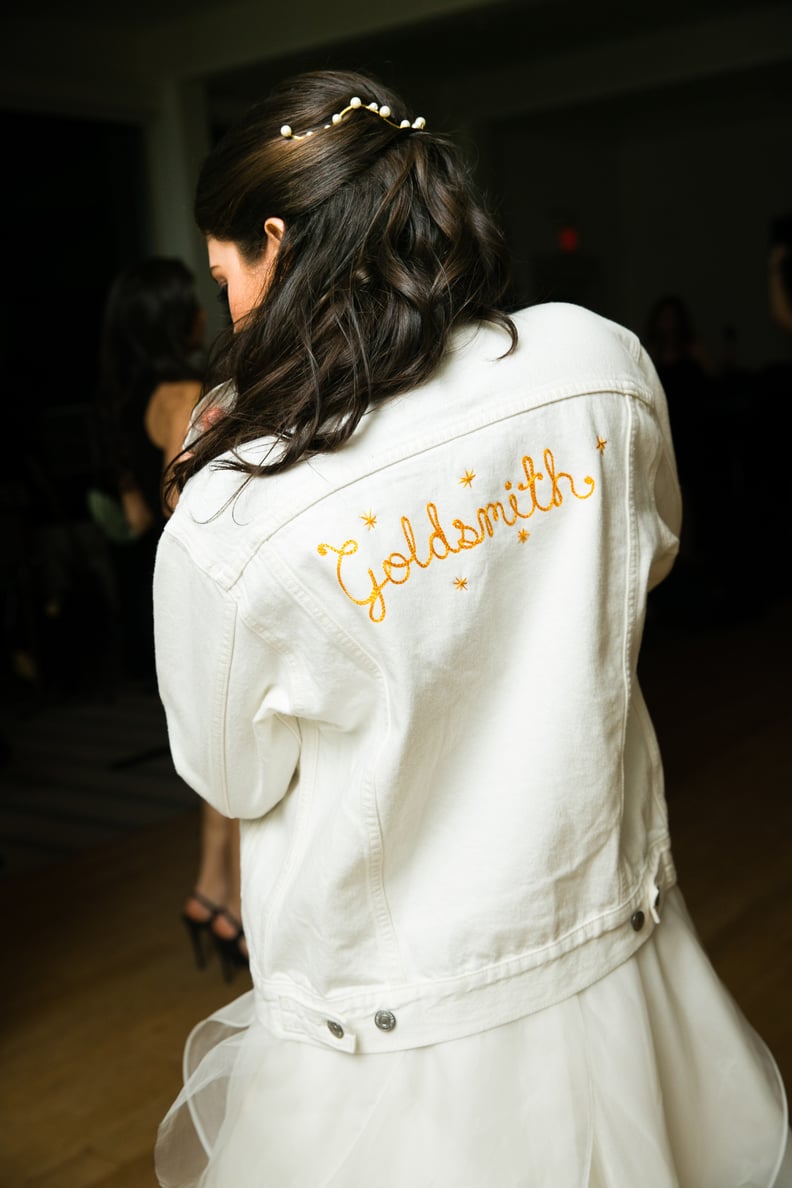 Throw On a Monogrammed Denim Jacket
Lauren's husband always teases her about having a denim jacket glued to her body during the Summer. So instead of investing in a furry stole or wrap, Lauren decided to transform their inside joke into a cool, personalized fashion moment. She bought a white Levi's jacket and had the brand monogram it with gold stars and her new last name, Goldsmith. The best part about investing in a monogrammed jacket is that you can wear it long after your wedding is over.