Want to know how the last meal of the day can help you drop pounds? We've enlisted the expertise of two nutritionists — Stephanie Clarke, RD, and Willow Jarosh, RD, of C&J Nutrition — to share the perfect equation for what to eat for supper to help you lose weight. Follow their advice below to start seeing results.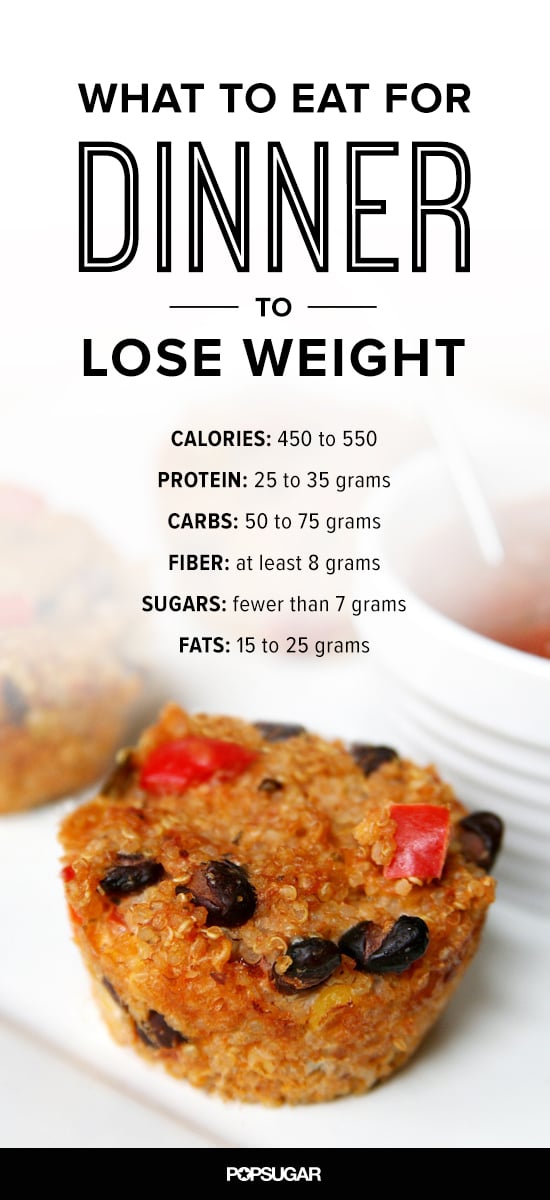 Calories
Aim for a range between 450 and 550 calories. If you're trying to lose weight, stay closer to 450, and if you're trying to maintain weight, especially if you're working out, shoot closer to 550 calories.
Carbs
About 45 to 55 percent of your dinner calories should be devoted to carbs, which is about 50 to 75 grams of carbs. Don't be afraid to eat carbs at night because you're worried you won't have time to burn them off. As long as you're sticking to your total calorie amount for the day, eating carbs at this meal isn't more likely to cause weight gain. Actually, eating enough carbs at dinner can dissolve those postdinner carb cravings for sweets and chips.
Protein
About 20 to 25 percent of your dinner calorie amount should be protein, which works out to 25 to 35 grams. Protein is vital to help rebuild and maintain muscle, and since your body does a lot of rebuilding at night, ensuring your dinner includes enough protein is important. Protein also makes you feel satisfied, which is another tool for preventing postdinner noshing sessions.
Fats
Shoot for about 15 to 25 grams, which is about 30 to 35 percent of your total supper calories. Instead of saturated fats like beef and cheese, go for monounsaturated fats (MUFAs) like olive oil, sesame oil, coconut oil, avocado, olives, and nuts and seeds.
Fiber
To help you reach the recommended daily total of 25 grams per day, aim for at least eight grams at dinnertime. This should be coming primarily from fiber-rich carb choices like whole grains, starchy veggies, beans, small amounts of fruit, and fiber-containing fats such as avocado, nuts, and seeds.
Sugars
Stick to no more than seven grams or fewer of total sugars. And when it comes to added sugar, try not to exceed four grams — that's about one teaspoon of any sweetener used in sauces or dressing.
Timing
Ideally you should eat dinner about two to three hours after your 3:30 p.m. afternoon snack. If you plan to exercise after work, fuel up with a later-afternoon snack around 4:30 p.m. Then you can exercise at 5:30 p.m. for an hour and eat dinner by 7/7:30 p.m. As mentioned above, don't worry about eating dinner too late. As long as you don't exceed your daily calories, what time you eat won't impact your weight.
A Few Examples of Perfect Dinners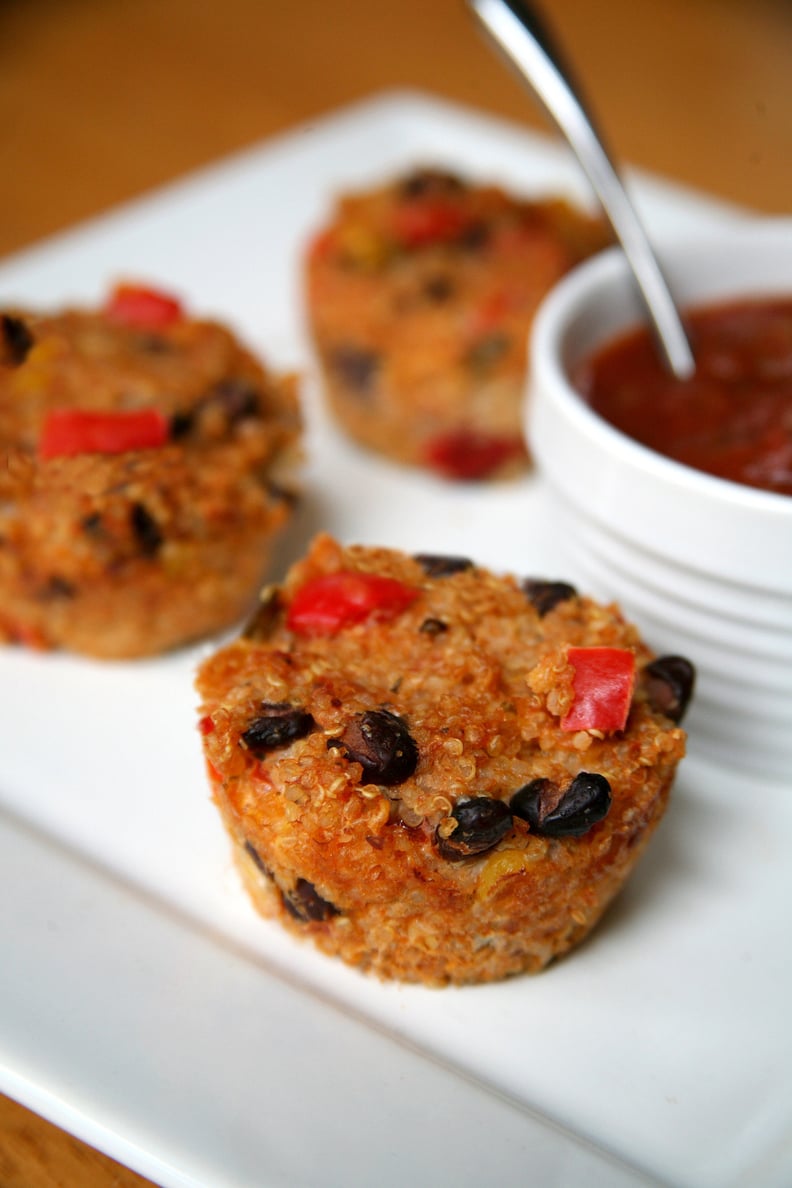 Mexican Quinoa Bites With Salsa: Enjoy four of these quinoa and black bean bites with one-quarter of an avocado and two tablespoons of mild salsa.
Calories: 506
Total fat: 22.2 g
Saturated fat: 7.9 g
Carbs: 55.1 g
Fiber: 13.9 g
Sugars: 6.5 g
Protein: 24.2 g
Image Source: POPSUGAR Photography / Lizzie Fuhr
Panko-Crusted Fish Over Kale With a Side of Wild Rice: Follow this simple recipe to make one serving of panko-crusted halibut, and enjoy it with a curly kale salad and half a cup of cooked wild rice mixed with one-eighth cup of kidney beans.
Calories: 550
Total fat: 20.4 g
Saturated fat: 4.3 g
Carbs: 52.8 g
Fiber: 7.4 g
Sugars: 3.3 g
Protein: 41.9 g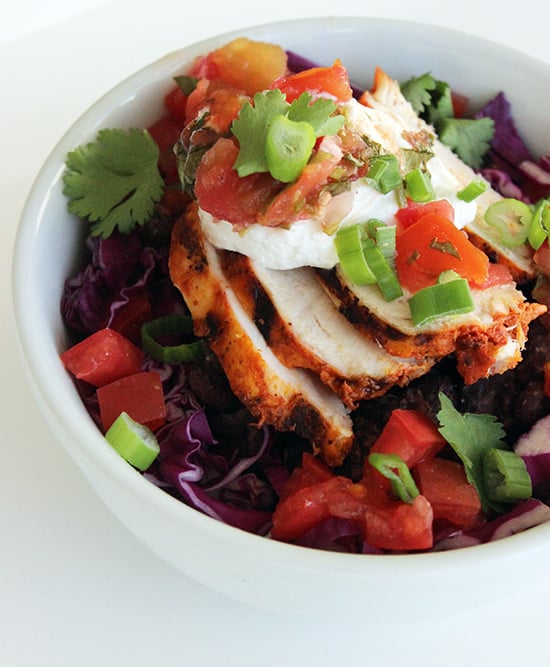 Grilled Chicken Burrito Bowl With Brown Rice: Whip up this easy dish made with chicken, black beans, and salsa, and stir in half a cup of cooked brown rice and half a tablespoon of olive oil to make it even more filling.
Calories: 518
Total fat: 11.7 g
Saturated fat: 1.4 g
Carbs: 58.7 g
Fiber: 10.1 g
Sugars: 4.7 g
Protein: 45.1 g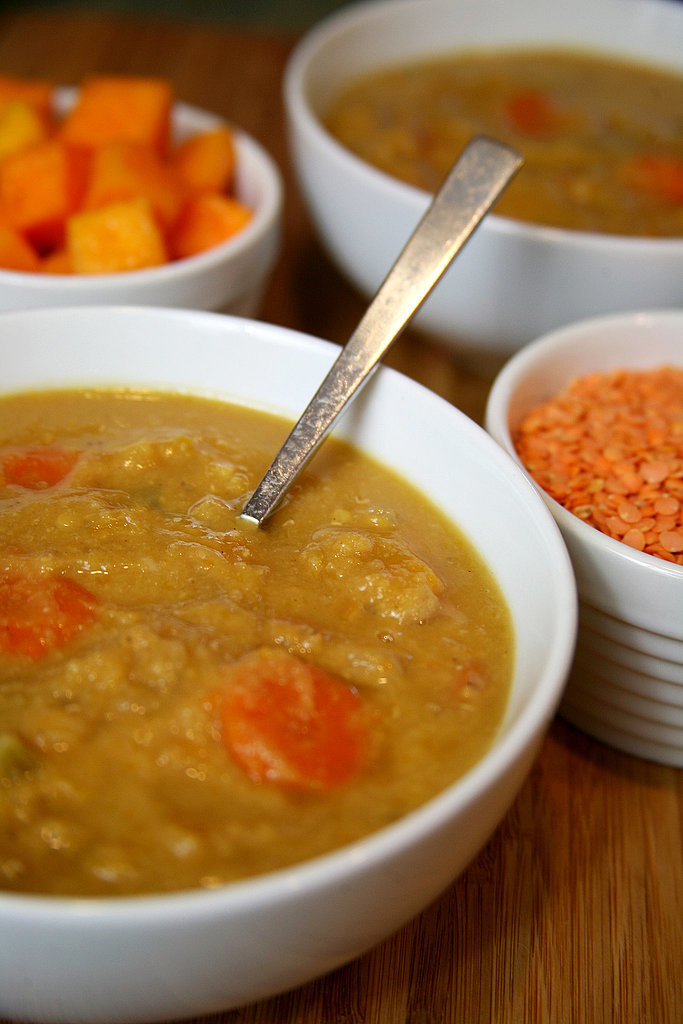 Image Source: POPSUGAR Photography / Jenny Sugar
Butternut Squash and Lentil Soup With Bread: For the vegans out there, throw all the ingredients in your slow cooker in the morning, and you'll come home to a hot bowl of creamy butternut squash lentil soup. Enjoy your bowl with two small slices of warm sourdough bread smeared with half a tablespoon each of Earth Balance.
Calories: 538
Total fat: 14.3 g
Saturated fat: 4.3 g
Carbs: 76.8 g
Fiber: 18.5 g
Sugars: 6.5 g
Protein: 25.5 g
Dinner Mistakes to Avoid
Skipping carbs: People often go carb-free as a way to lose weight quickly, but forbidding yourself this important nutrient will make carb cravings even stronger, leading to carb bingeing. Including healthy fiber-rich carbs such as whole grains, starchy veggies, and beans will actually satiate your hunger longer and make eating a balanced diet easier to sustain in the long term.
Enormous plates: Dinner-size plates are pretty standard, but the amount of food you can pile on one can add up to two or three times the amount of calories you should have at dinner. Downsize your plates and use either smaller-sized salad plates or cereal bowls. Don't be afraid to measure out portions, and once you do, pack leftovers away in the fridge for tomorrow's lunch so you're not tempted to grab a few extra bites.
Setting a strict dinner time: While there's something to be said for giving yourself guidelines for not snacking after a certain time (e.g., after you've already eaten dinner), if you find yourself skipping dinner because it's too late, then you may be setting yourself up to overeat the following day. Eating after 8 p.m. (or any time) won't make you gain weight, so there's no need to skip it. Just be sure your dinner is balanced and doesn't make you exceed your daily calorie limit for the day.
Looking to lose weight during other times of the day? Here's what to eat for breakfast and what to eat for lunch, as well as what to eat at snack time to lose weight.