As POPSUGAR editors, we independently select and write about stuff we love and think you'll like too. If you buy a product we have recommended, we may receive affiliate commission, which in turn supports our work.
Home workouts are better than ever thanks to innovative streaming devices like Mirror. But if you went over to a friend's house and saw it, you'd think it was just a full-length mirror (I mean, that is what it is). When turned on, it doubles as a nearly invisible home gym you can do thousands of workouts in front of. I personally tried it out back in March of 2019, less than a year after it had launched, and I still get excited thinking back to that demo. Keep reading to find out more on how initially giving Mirror a test-run went in 2019.
Ever since, the company has launched a one-on-one personal training feature and added new types of classes. You'll want to visit mirror.co for all of the most up-to-date information about Mirror.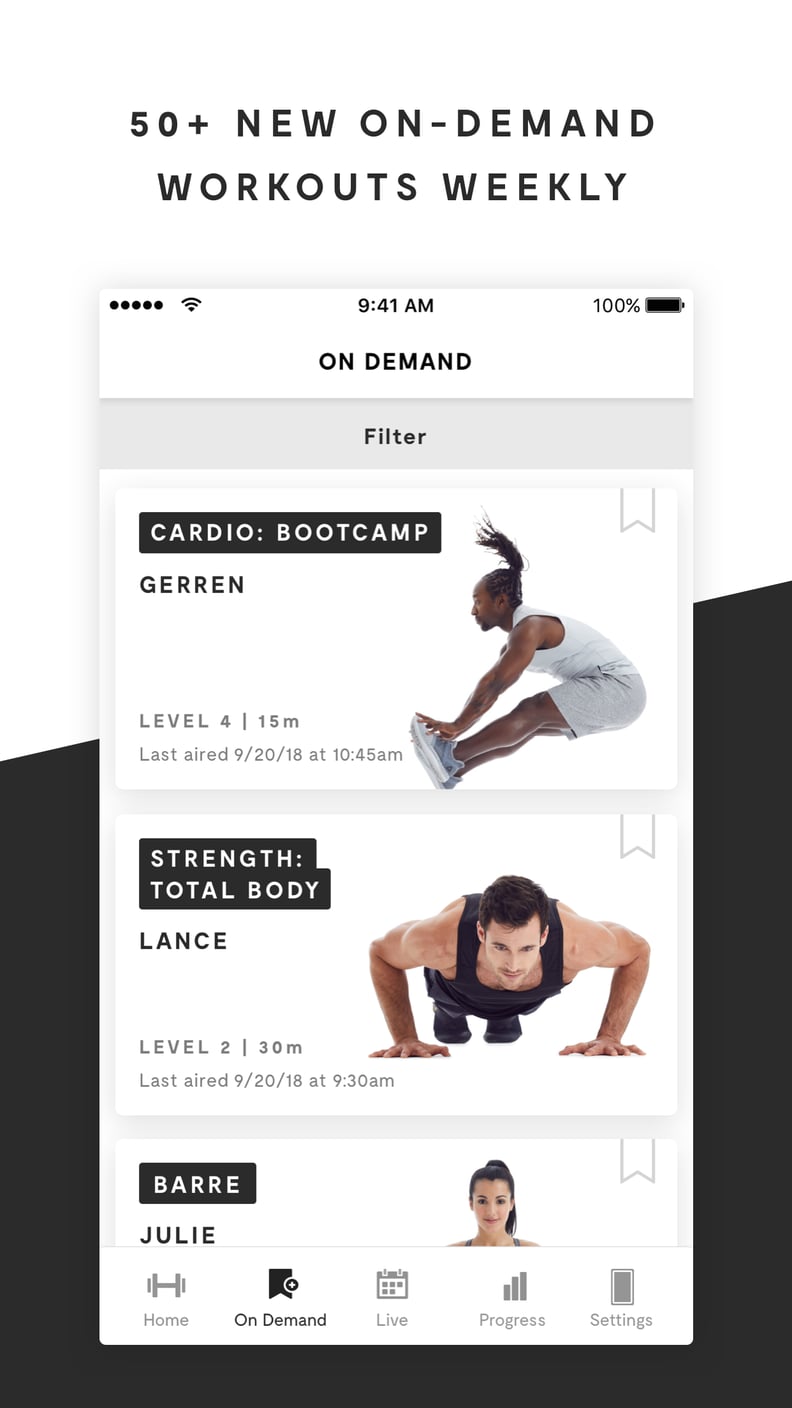 What Is Mirror?
Mirror is controlled through an app, Mirror Fitness, that allows you to search for classes, track your progress, review workouts, browse through curated radio stations, and sync any Bluetooth devices. Eight certified personal trainers, like former New York City Ballet dancer Katie Bergstrom and former Division I athlete Chris Ryan, bring you up to 65 new live classes per week, filmed in a special black box room at the Mirror's production studio (with no clients, of course). There are boxing, barre, strength, cardio, pre- and postnatal, yoga, stretch, and Pilates workouts, ranging from levels one through four and 15 minutes to an hour long.
During these live classes, a trainer will see a panel of clients up on a screen, Kailee Combs, Mirror's VP of fitness content, told POPSUGAR. "Throughout your class, you can send notes and emoji onto the screen, and those basically go straight to the trainer, so a lot of times you'll hear the trainers say, 'OK, that was a hard one guys; give me an emoji, tell me how you're feeling,'" she explained. Once these classes finish up, they're added to an on-demand library so you can access them any time.
Mirror comes with a heart rate monitor, and data from this monitor (or your own device) personalizes your workouts. "Mirror tells you if you're working out in the appropriate heart rate zone," Kailee said. You also fill out an intake survey when you first set up the app, "where you tell Mirror how often you want to work out, what you like to do, and if you have any injuries, so it personalizes Mirror classes for you based on that data, too." For instance, if you have a knee injury during a HIIT class, Mirror will automatically give you alternative low-impact moves. You'll get class recommendations each week on the app homepage as well, which change over time as your data changes.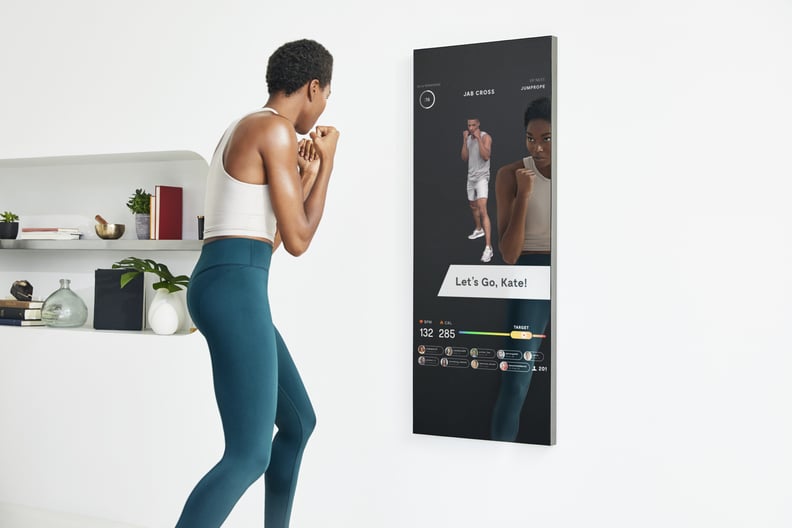 Let's Talk About Cost
Mirror cost $1,495 plus tax, delivery ($250), and a monthly subscription fee ($39) for app usage and classes. The monthly fee is for you and up to five household members (think Netflix). With your order, you'll get fitness bands, a Bluetooth heart rate monitor, and a care kit including cleaner and cloth. Speakers and a camera are built in, but it comes with a lens cap for privacy. You can also choose how you want to install your Mirror — either with a wall mount or steel stand.
In addition, you can choose to pay off the Mirror over three, six, or 12 months, which would amount to, for one year, $164 per month. This, Kailee said, would include the Mirror itself as well as delivery, subscription, and tax fees. "This isn't just one workout DVD; this is thousands of classes," she said. "You have a huge variety to choose from, and we're adding fresh content every week."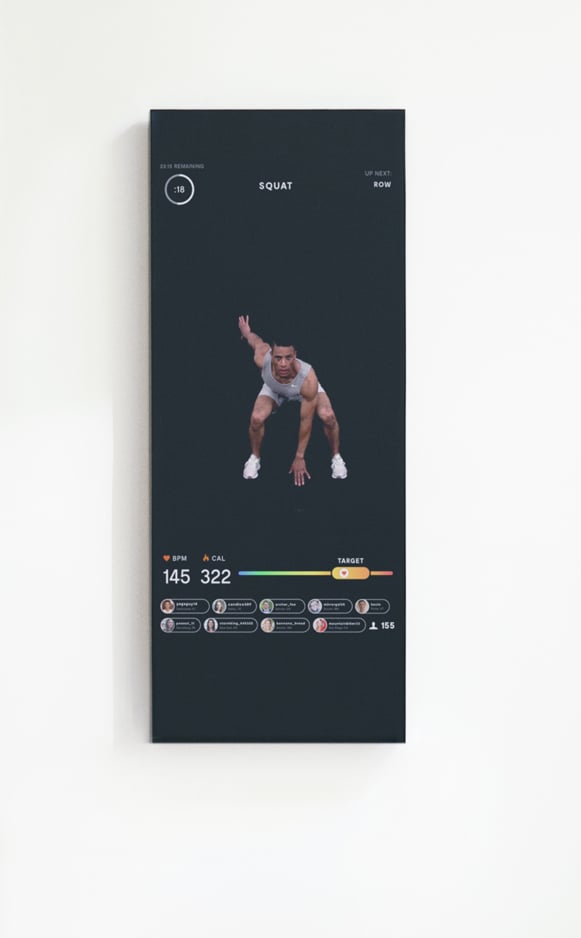 Why Mirror?
Mirror CEO Brynn Putnam is a former New York City Ballet dancer and recently founded Refine Method, a chain of boutique fitness studios based in New York. "As a busy entrepreneur and new mom, I was increasingly unable to fit in time at the gym," she told POPSUGAR. "I quickly realized that working out at home meant sacrificing quality for convenience: using clunky equipment or awkwardly trying to exercise while looking at content on your phone that was often stale and noninteractive. I set out to bring the essentials of a good studio workout — variety, personalization, and community — to the most convenient place: your home. From there, Mirror was born."
"There's an inherent visual feedback that you get from watching yourself work out, and the trainers do a really good job at cuing you and making sure you're paying attention to what your body's doing," Kailee said. "Our users are definitely loving the convenience factor of the online classes because they can roll out of bed and do a superquick 15-minute boxing class before they go to work."
Within a month and a half of launching in September 2018, you could find Mirror in all 48 states that it currently ships to, Kailee told us. Celebs like Reese Witherspoon and Alicia Keys have also posted videos to social media of themselves taking a Mirror class. Next, the team is launching kettlebell and chair workouts (coming soon). By the end of 2019, Mirror will offer one-on-one personal training sessions starting at $40 per class, and you and the trainer will be able to see and hear each other in real time.
What It's Like to Work Out With Mirror
At the Mirror showroom, Kailee set me up with a 15-minute level-three HIIT workout taught by Katie Bergstrom. There was a warmup and three rounds of five different exercises, like burpees and bent-leg v-ups (similar to seated knee tucks), with little rest in between. We ended with a cooldown, and the glow I expected to have was, admittedly, more of a full-on sweat. If I really wanted to, I could have listened to music through my own Spotify account, but the playlist that came on with the workout was enough to keep me motivated. Katie gave more advanced options in case I wanted to up the intensity a bit, and she consistently shouted out words of encouragement and tips on form. The metrics displayed afterwards — how long I was in my target heart rate zone — weren't accurate, Kailee said, because I was wearing an Apple Watch provided by the Mirror showroom staff that was a little too big. But it was exciting to see the feedback potential.
When you're working out, you see yourself, so you're able to properly check your form and make adjustments as needed during each exercise. The trainer is on the screen — and he or she, along with the other workout graphics, takes up about two-thirds of it — but that doesn't interfere with focusing on yourself. To get an idea of how translucent it is, imagine being by the pool and trying to read an ebook on an iPad. You can see both your reflection and the pages, but it's not as distracting as it sounds. In fact, it wasn't distracting at all.
Was Mirror ($1,495, plus additional fees) fun to use? Absolutely. Was it better than following along on your TV? Yes, because I was able to take Katie's corrections and accurately apply them. Also, seeing my reflection challenged me to hold myself more accountable. If you enjoy home workouts, have multiple people in your household that would use it, and can comfortably afford to spend the money, you'll want to check it out. A mirror you can do your mascara and tone your badass muscles in front of? Yeah, that's cool.