This Is the Diet That Helped Me Get a 6-Pack
Have you heard about those crazy detoxes where people eat only produce? Since I've been into doing experiments with exercise and my diet, I thought I'd give this a try. My plan was to eat fresh, frozen, and cooked fruits and veggies for two weeks straight — I know, kind of extreme, but I was up for the challenge! I wasn't aiming to lose weight, I just wanted to see how I felt.
My diet is already pretty clean. I'm mostly vegan, with the occasional backyard chicken egg, and although I started drinking a little coffee about two months ago, I rarely, if ever, drink alcohol. I eat bread, pasta, and whole grains, but I try to limit my sugar intake since it makes me feel crazy-bloated. I also do intermittent fasting, where I don't eat until noon.
On Wednesday I went shopping and filled my cart with vibrantly colored fruits and veggies — I was already feeling much brighter and clearer! I planned to start my produce-only that following Thursday. Three days later, after teaching my Sunday morning hot yoga class, I chatted with certified dietitian Leslie Langevin, MS, RD, CD, of Whole Health Nutrition (who happened to be taking my class) about my plan, and she shook her head. "You're not getting enough protein," she said. "Three days should be the maximum time anyone should eat only fruits and veggies." Although I was eating steamed edamame, she said I wasn't getting all the amino acids I needed. "In order to get a complete protein [on a vegan diet], you need to eat beans, nuts, and seeds."
Hallelujah, what a relief. Because honestly, three days on this diet was starting to suck. Although I started out intending to do this for two weeks, Leslie scared me a little. This was a good reminder that you should talk to an expert before you decide to change your diet drastically (whoops!). I modified it after three days, just so I could sustain it for the remainder of the two weeks, function in life, and not lose all the muscle I was working so hard to build lifting weights in CrossFit.
What I Ate
Days 1-3: Mostly raw fruits and veggies, with the addition of roasted sweet potato, steamed green beans, and edamame. No meat, no dairy, no caffeine (including green tea), no processed foods, no sugar, no fun no beans, no oil, no nuts or seeds, and no whole grains.
Days 4-14: I added raw almond butter, nuts, sunflower seeds, and a little flaxmeal. Throughout the 14 days, I made fruit and veggie smoothies (without protein powder or soymilk), huge salads dressed in fresh lemon juice and topped with fresh fruit, avocado, and sunflower seeds, and my fave, a modified version of this recipe for cauliflower rice and beans. I ate dried fruit and nut bars to satiate my need for cookies, and made cherry nice cream for my frozen treat cravings. Full disclosure — I probably ate three bananas and one avocado a day! And so much water! I wasn't downing a gallon of water a day, but I was pretty close to it.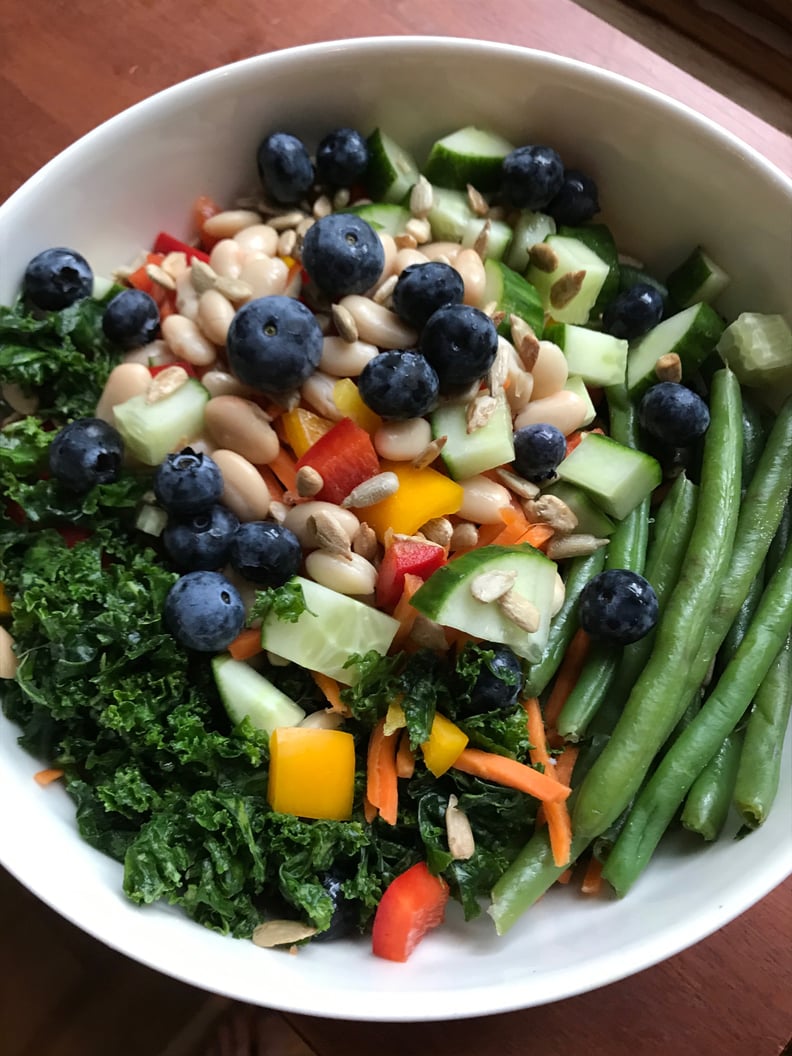 How I Felt
In Days 1-3, there was a lot more fiber going on than I was used to, so I felt very full and pretty bloated. And for more details (because I know you want to know!), I had absolutely no issues with constipation. I wasn't needing to run to the bathroom eight times a day, but my poop was very soft. I was also a little tired, I assume from the lack of protein and my daily workouts. I also felt a little sad missing bread and whole grains and not being able to make baked goods, and I wasn't expecting to miss almond butter on my bananas and tofu as much as I did. But I was never hungry! I ate huge bowls of fruits and veggies, with tons of variety in flavors and textures. By the end of day three, I thought to myself, "You idiot! You have 11 more days of this self-torture!"
After talking to Leslie, and getting the go-ahead to include beans and nuts in my "detox," my body got used to the fiber and I had zero bloating. I also felt this newfound energy and was psyched to keep going because I was feeling so good. It actually surprised me! By the end of week one, I wasn't missing pasta, toast, maple oatmeal, popcorn, chocolate, or french fries — all foods I used to live for before starting this experiment.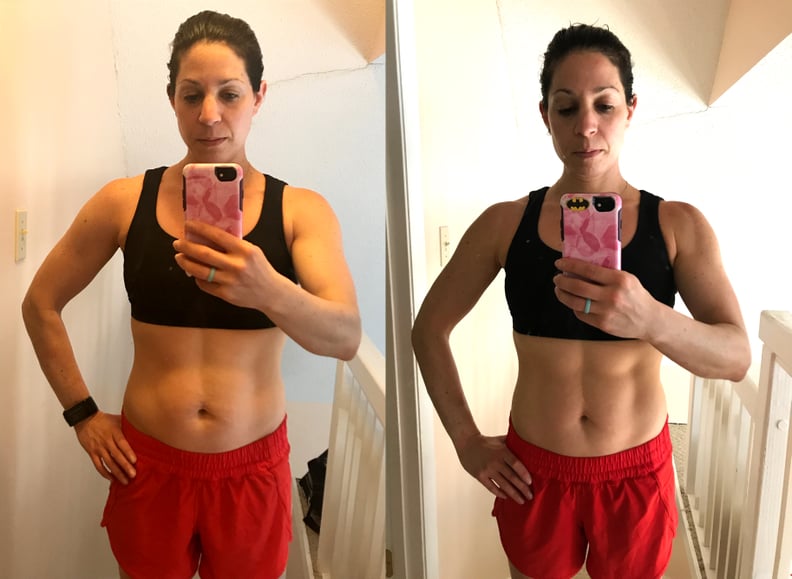 Left: June 1; Right: June 15
The Benefits
The crazy amount of energy I experienced inspired me to really kick it up a notch in my 5:45 a.m. weekday CrossFit classes. I slept better and woke up feeling more rested, and my bloating issues disappeared. It made me realize that even though I've tested negative to a gluten intolerance, my body definitely prefers when I don't eat bread and pasta. I could also see more definition in my abs, and I even lost two pounds. I have been at the same weight for about a year, so the numbers on the scale shocked me. I wasn't intending to lose weight, but I'm glad I took photos to document the beginnings of the six-pack I've been working so hard at CrossFit to get.
How I Feel Now
The day after this two-week experiment ended, I had to celebrate. So I stopped into this new vegan bakery that opened up down the street and inhaled ate a maple-glazed doughnut and a few bites of a cinnamon bun. Then proceeded to enjoy veggie fried rice and tofu for lunch, and no-cheese pizza for dinner. Shocker — I felt kind of crappy, tired, bloated, and foggy-headed. While I definitely won't be going back to eating just carrots and bananas, I'm inspired to make a shift in my diet to eating less flour, less sugar, and more of the good stuff.