Bacon-Covered Grilled Cheese Cronut
Bacon-Covered Grilled Cheese Cronut
Inspired by Oh Bite It!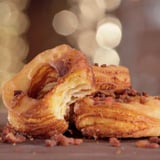 Ingredients
3 slices bacon
1 teaspoon brown sugar
1/4 teaspoon black pepper
1/4 teaspoon cayenne pepper
2 8-ounce canisters refrigerated Pillsbury crescent dinner rolls
8 slices American cheese
Canola oil, for frying
Directions
Make the candied bacon: Heat a skillet over a medium-high heat. Fry bacon until crisp. Drain off excess oil, crumble bacon, and return to skillet. Toss in brown sugar, black pepper, and cayenne pepper, and continue to cook until the sugar has melted and the bacon is caramelized.
Make the Cronuts: Open the dough canisters, and divide the dough into sets of 2 triangles. Press the perforations together on each pair to seal and form a rectangle. Place 2 slices of cheese on the dough and then top with another rectangle of dough. Press them together, fold them widthwise, and press down. Fold one more time, and then gently roll out into a square. Repeat with the remaining dough and cheese. Use a 3-inch-round biscuit cutter to cut a round from each rectangle stack, and then use a 1-inch-round biscuit cutter to cut the hole in the center.
Add at least 2 inches of oil to a heavy-duty 2-quart saucepan or electric deep fryer; heat oil to 350ºF. Fry the dough in hot oil for 45-90 seconds on each side or until the dough is golden brown and cooked through. Drain the excess oil on paper towels, and allow them to cool slightly.
Garnish each grilled cheese Cronut with candied bacon crumbles and serve immediately.
Information
Category

Desserts, Doughnuts

Cuisine

North American

Yield

8-10 servings