Byron Talbott's Cinnamon-Apple Beignets Recipe
Byron Talbott Captures the Spirit of the Season With These Cinnamon-Apple Beignets
POPSUGAR is bringing you an exclusive look at Thanksgiving recipes from famous lifestyle influencers. We're excited to present the first online look at this cinnamon-apple beignets recipe by YouTube cooking star Byron Talbott.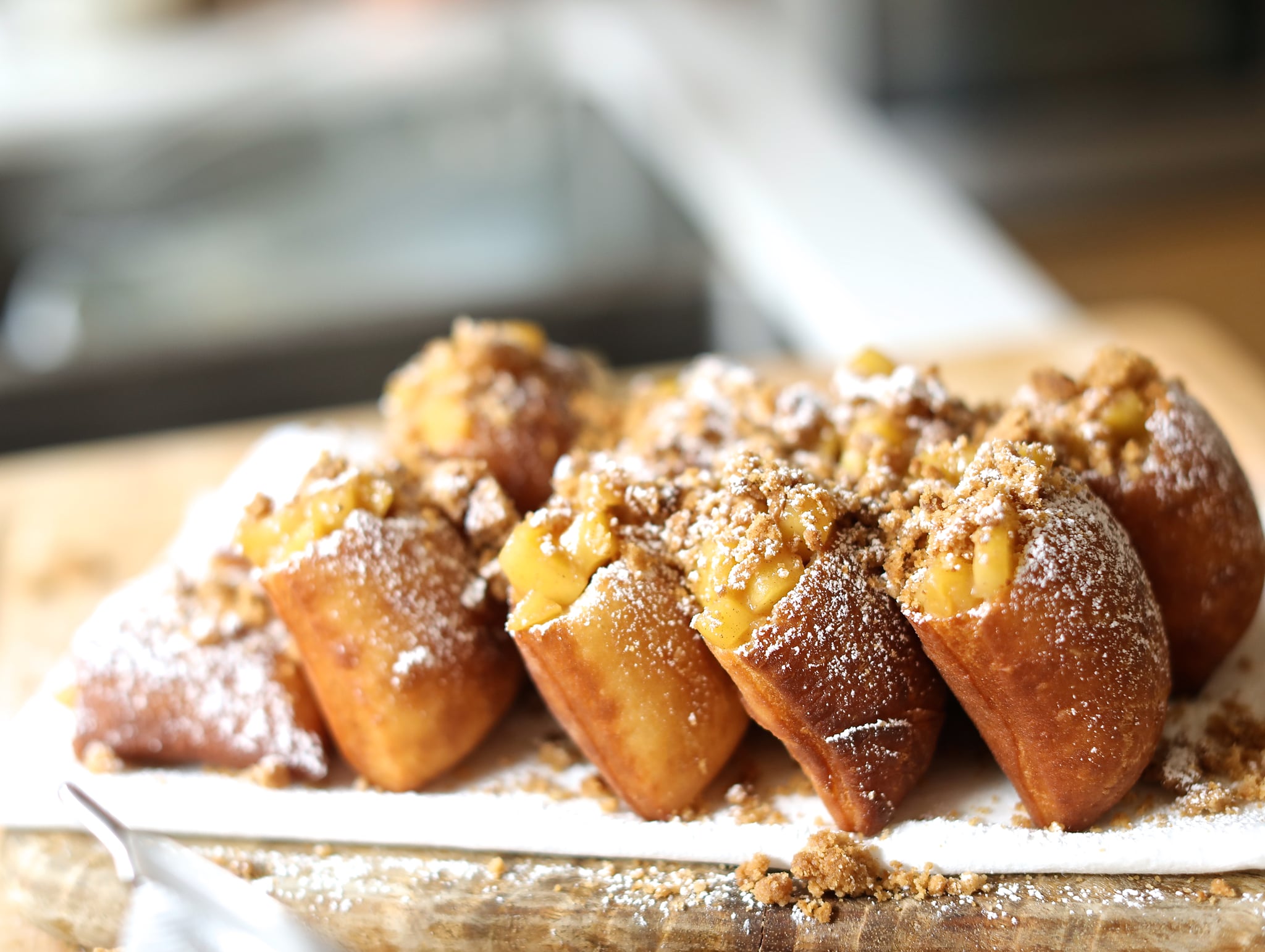 The holiday season for me is all about a feeling. That crispy, warm, baked-spiced-apple type of feeling. . . . I really wanted to tap into that nostalgia with this one, and it all started a few weeks ago with a wonderful beignet recipe. I was filming a very basic beignet recipe for my channel and had the brilliant idea to combine the idea of an apple pie into a crispy fried beignet. I'm not the biggest cooked-fruit-lover in the world, so this one took me a minute to piece together in a way that I know I could really enjoy. I came up with the grand idea to make a spiced crumble topping to help with the tender consistency that tends to dominate fruit fillings. The crumbly twist was the perfect finishing touch to the beignet recipe and it's most likely going to end up in holiday get-togethers in the years to come. The inspiration for this was simple. Play off of nostalgia, know your likes and dislikes, and see what happens!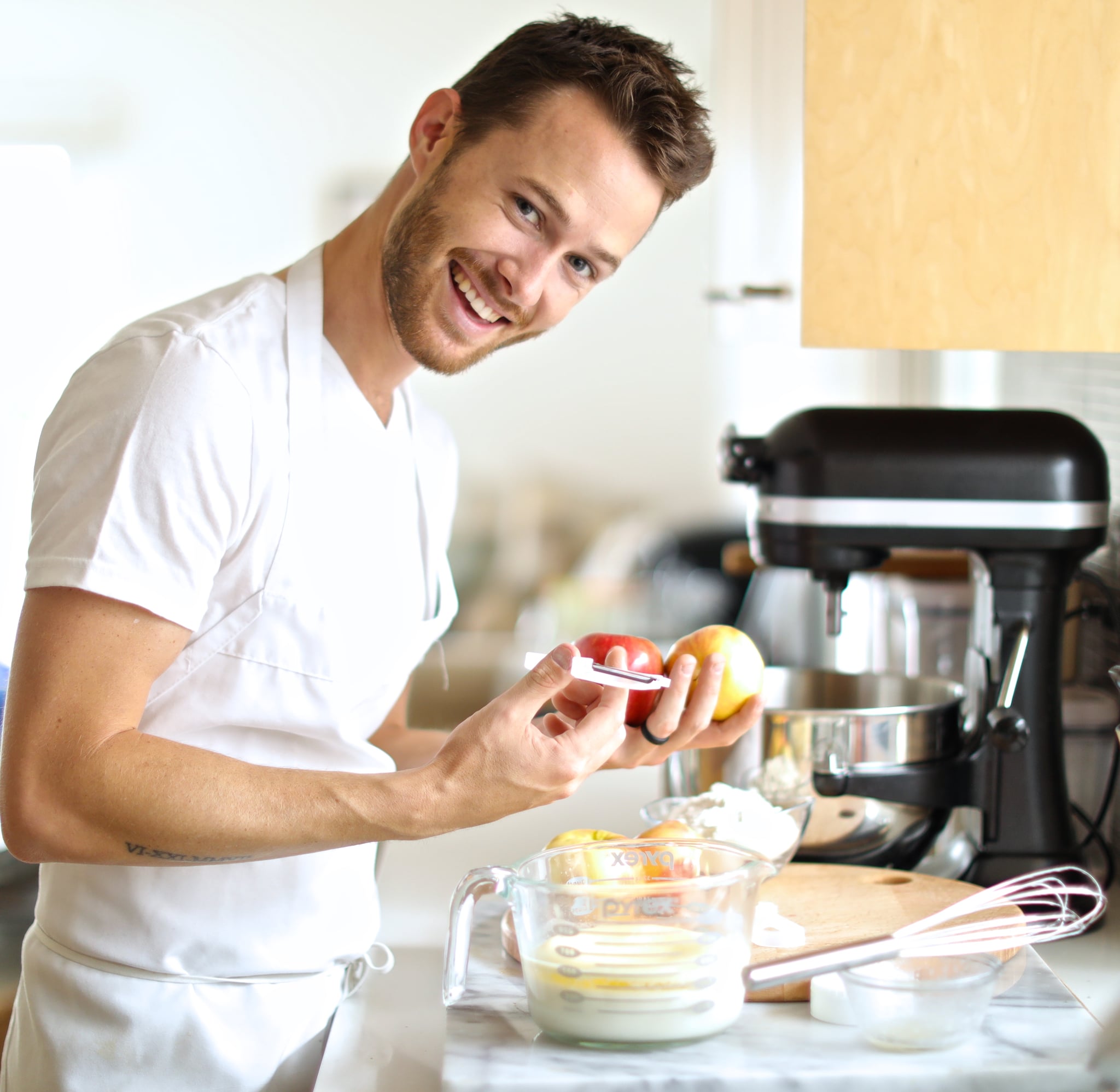 Bread flour doesn't get enough credit for the things that it does for our baked goods. Without the amount of gluten protein that bread flour has, we would never be able to see those beautiful flakes of stretchy baked crumb that fill our crusty breads, doughnuts, brioches, and puff pastries of the world. My tip for this recipe (and everyone who loves to cook) is to try to understand the ingredients that we all use a little bit better this holiday season. I know for myself that I use dozens of ingredients on the daily that I should have a better understanding of, but when I take the time to figure things like that out, not only do my recipes look and have deeper flavor, but more importantly, the consistency factor is always there. Just a little food for thought!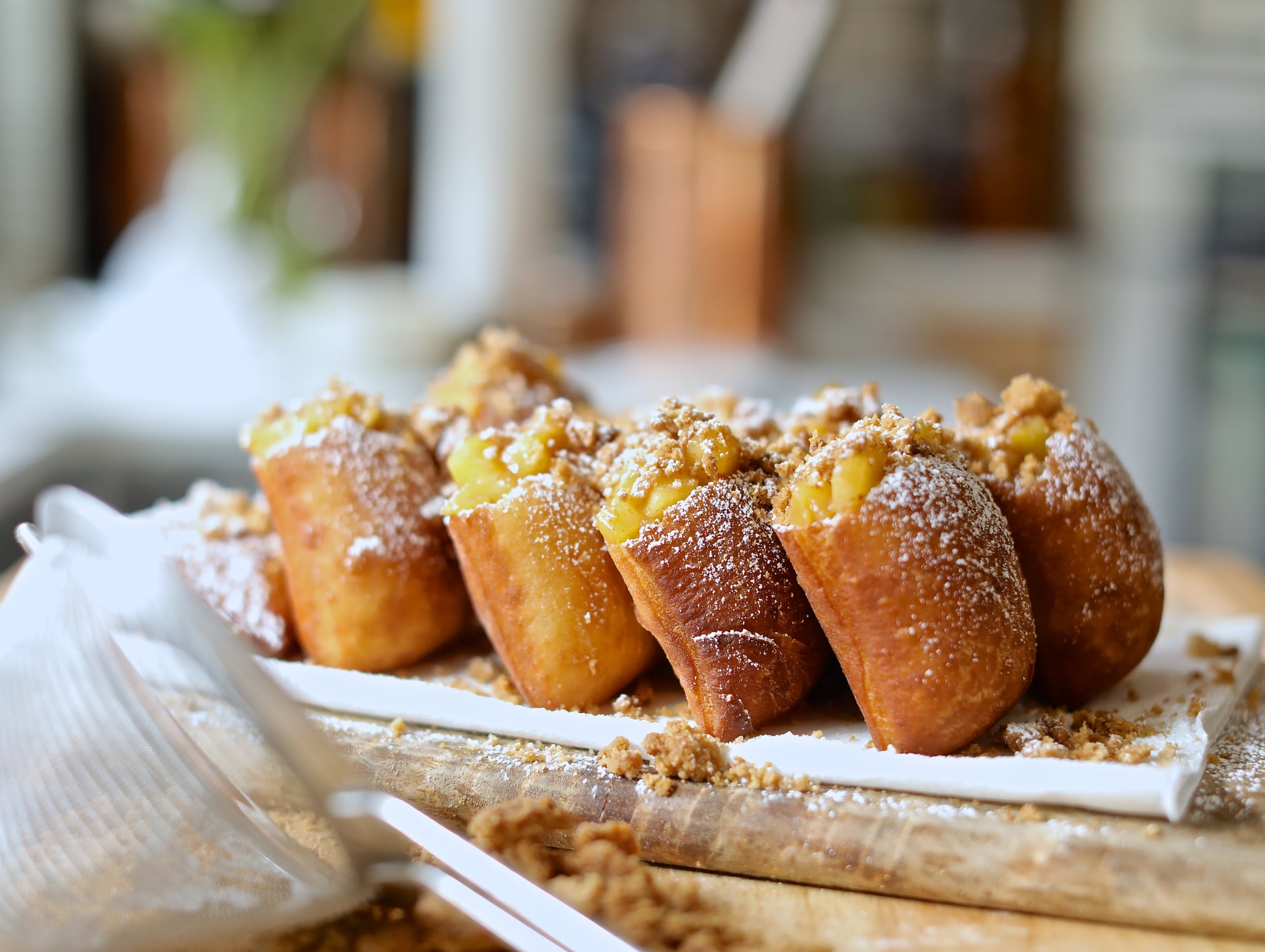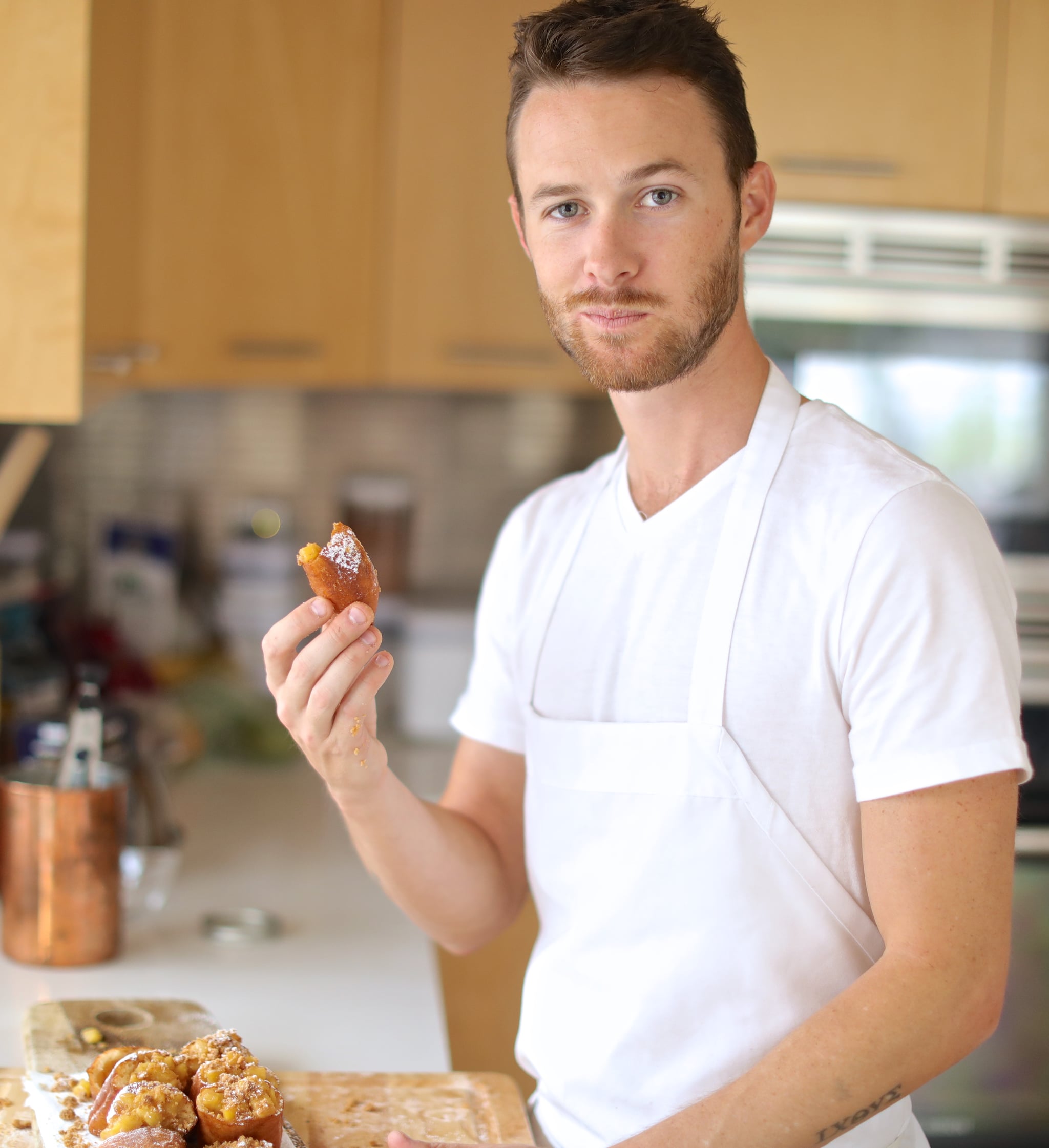 Cinnamon-Apple Beignets
From Byron Talbott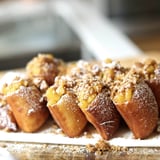 Ingredients
For the dough:
3/4 cup water
3/4 cup milk
1/4 cup sugar
Pinch of salt
1 tablespoon vanilla extract
3 tablespoons melted butter
2 teaspoons dry-active yeast
3 cups bread flour
For the crumble topping:
1/4 cup all-purpose flour
2 tablespoons cold diced butter
2 tablespoons brown sugar
1 tablespoon white sugar
1/2 teaspoon ground cinnamon
1/2 teaspoon ground nutmeg
1/2 teaspoon ground clove
1 teaspoon salt
For the apple filling:
2 Honeycrisp apples
1 tablespoon butter
3 tablespoons brown sugar
1/2 teaspoon ground cinnamon
1/2 teaspoon ground nutmeg
1/2 teaspoon ground clove
1/4 cup water
2 teaspoons corn starch
Canola oil, for frying
Powdered sugar, for topping
Directions
To make the dough: In the bowl of a stand electric mixer, add in the water, milk, sugar, salt, vanilla extract, melted butter, and yeast. Give the mixture a quick whisk, then let it sit for 15 minutes to bubble up.
Using the hook attachment, turn on the mixer to low speed and begin adding in the bread flour 1 cup at a time to prevent it from flying around the kitchen. Once the flour is completely incorporated into the wet ingredients, turn the mixer up a notch and mix for an additional 5 to 7 minutes. The mixture will start to form a smooth ball around the hook and should become very elastic.
Turn the mixer off and transfer the dough to an oiled bowl and cover with plastic. Set the dough in a warm spot in your kitchen and allow the dough to double in volume.
To make the crumble topping: While you're waiting for the dough to rise, add the all-purpose flour, butter, brown sugar, white sugar, spices, and salt together in a mixing bowl. Roughly mix everything together with a fork until it's mealy, then put it onto a baking tray and bake for 15 minutes at 375°F or until dark golden brown. Pull it out of the oven and let it cool down before crumbling.
To make the apple filling: After the crumble topping is finished, dice up the Honeycrisp apples, add them to a hot pan with butter, and cook for 5 minutes until there's a small amount of caramelization on the apples. Next add in the brown sugar, spices, water, and corn starch. Cook for another 10 minutes on medium heat until the apples are tender and the liquid in the pan has slightly thickened. Remove the apples from the heat and set them aside until you're ready to fill the beignets.
To make beignets: Once the dough has finished proofing, transfer is to a floured countertop and roll it out to about an 1/8 of an inch thick. Let the dough briefly rise for about 10 minutes or so, then cut out 2-by-2-inch squares of dough and fry them in canola oil that's at 375°F for 2 minutes on each side. I use a small sauce pot that's a quarter of the way filled up with canola oil. Be sure to flip them every 20 seconds or so, otherwise you'll end up with uneven "poofing" on all sides. The beignets won't look as puffed up if you don't flip them regularly.
When the beignet is dark golden brown and super crispy, transfer it to a tray lined with paper towels to blot off the extra grease. Let them cool down for a minute, then cut the very tippy top off with a pair of kitchen shears and fill the beignet with the tender spiced apple mixture and top with a bit of the crumble. Finally, douse it all with a proper helping of powdered sugar. Aren't they glorious?!
Information
Category

Desserts, Pastries

Cuisine

North American

Yield

2 dozen