Carla Hall's Pumpkin Spoon Bread Recipe
Allow Carla Hall to Introduce You to the Southern Side You've Never Heard Of
POPSUGAR is bringing you an exclusive look at this Thanksgiving recipe page from famous lifestyle influencers. We're excited to present the first online look at this roasted pumpkin spoon bread recipe from Carla Hall, a cohost of ABC's The Chew.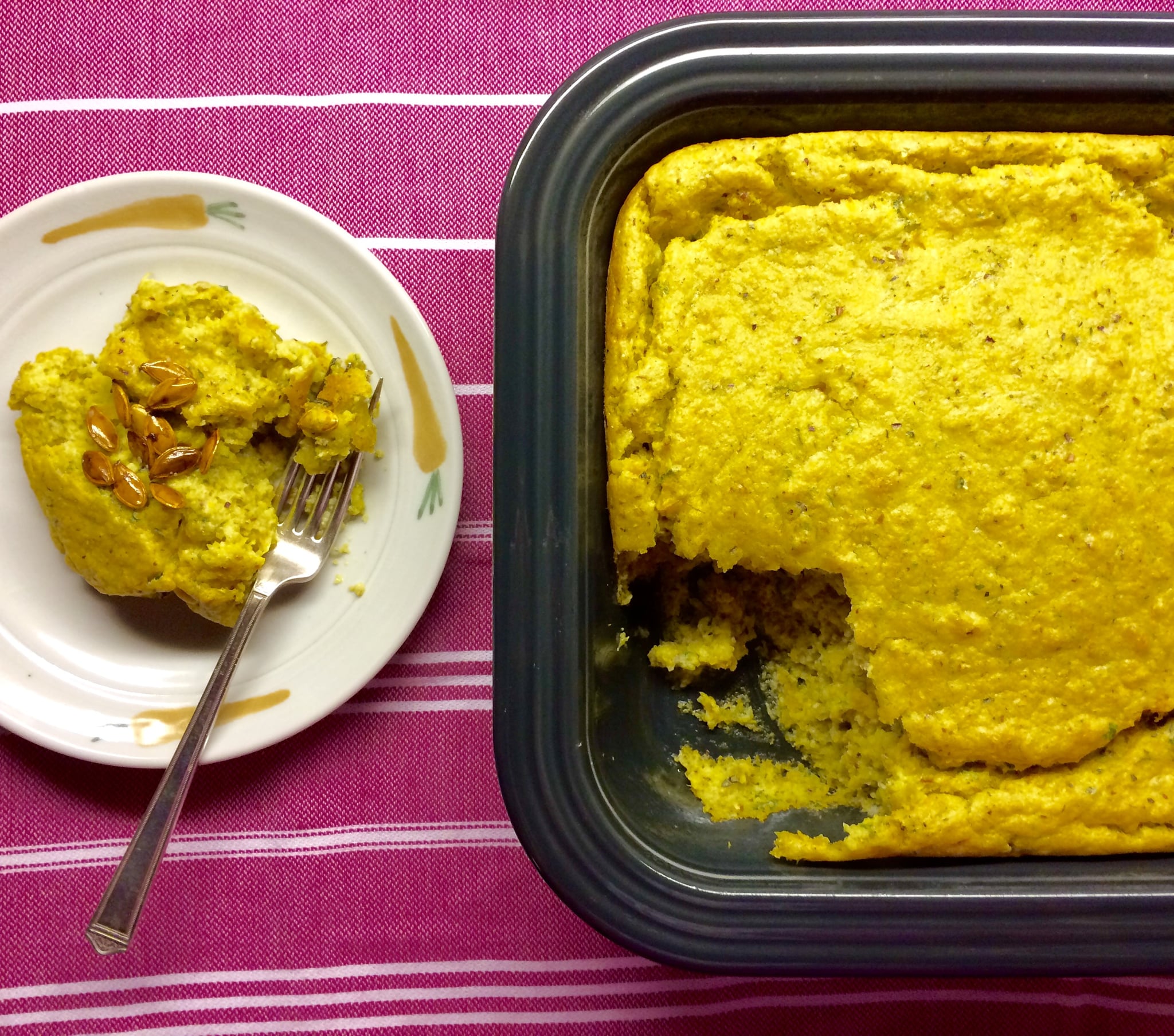 Spoon bread is generally described as a cross between grits and cornbread — so you might be surprised to find out that it's actually a soufflé. You can make this with just regular milk, but adding some buttermilk to the blend gives it a slight tang, which really complements the pumpkin. And, yes, you can use a canned pumpkin purée, but roasting the pumpkin is easy and adds really nice texture and flavor that takes this Southern side dish to the next level. If you like, top the spoon bread with lightly toasted pumpkin seeds just before serving to give it a little extra crunch.
Roasted Pumpkin Spoon Bread
From Carla Hall
Ingredients
For the roasted pumpkin:
1-2-pound pie pumpkin
Vegetable oil
For the spoon bread:
1 cup buttermilk
1 cup milk
1/2 cup (1 stick) unsalted butter
1 1/2 teaspoons kosher salt
1/2 teaspoon sugar
1 cup yellow cornmeal
1 cup roasted pumpkin, roughly mashed
3 large eggs, separated
1/4 cup fresh parsley, finely chopped
1 teaspoon dried sage
1/4 teaspoon chipotle powder
Directions
To make the roasted pumpkin: Preheat oven to 450°F. Take a 1- or 2-pound pie pumpkin, cut in half (from top to bottom), and scoop out the seeds. Lightly rub the flesh with vegetable oil and place, flesh side down, on a baking sheet lined with parchment paper. Roast until tender, about 30 minutes. Allow to cool, then scoop out the flesh. You'll have more than enough pumpkin; the rest can be refrigerated for up to one week and frozen for up to six months.
To make spoon bread: Reduce oven temperature to 350°F.
Put both kinds of milk, butter, salt, and sugar into a medium saucepan and bring to a simmer, then reduce heat and slowly whisk in the cornmeal. Stir continuously over low heat until thickened, about 1 or 2 minutes, then remove from heat and mix in the pumpkin. Set aside.
In a large bowl, whisk together the egg yolks with the parsley, sage, and chipotle. Beat the egg whites with an electric mixer in another bowl until soft peaks form. Whisk the cornmeal mixture into the the egg yolk mixture, then gently fold in the egg whites, incorporating through the center and then around the sides. If it's well blended, you shouldn't see any bits of egg white.
Carefully pour the batter into a lightly oiled loaf pan (you can also use a casserole dish or even make individual portions in a muffin pan). Bake on the middle shelf until the sides are just pulling away from the sides of the pan and the center is set but still just barely wobbly in the center, about 40 minutes or so. Let cool for a few minutes before serving.
Information
Category

Side Dishes

Cuisine

North American

Yield

6-8 servings