Cheddar, Bacon, and Leek Frittata
Easy, Breezy, Cheesy: Cheddar, Bacon, and Leek Frittata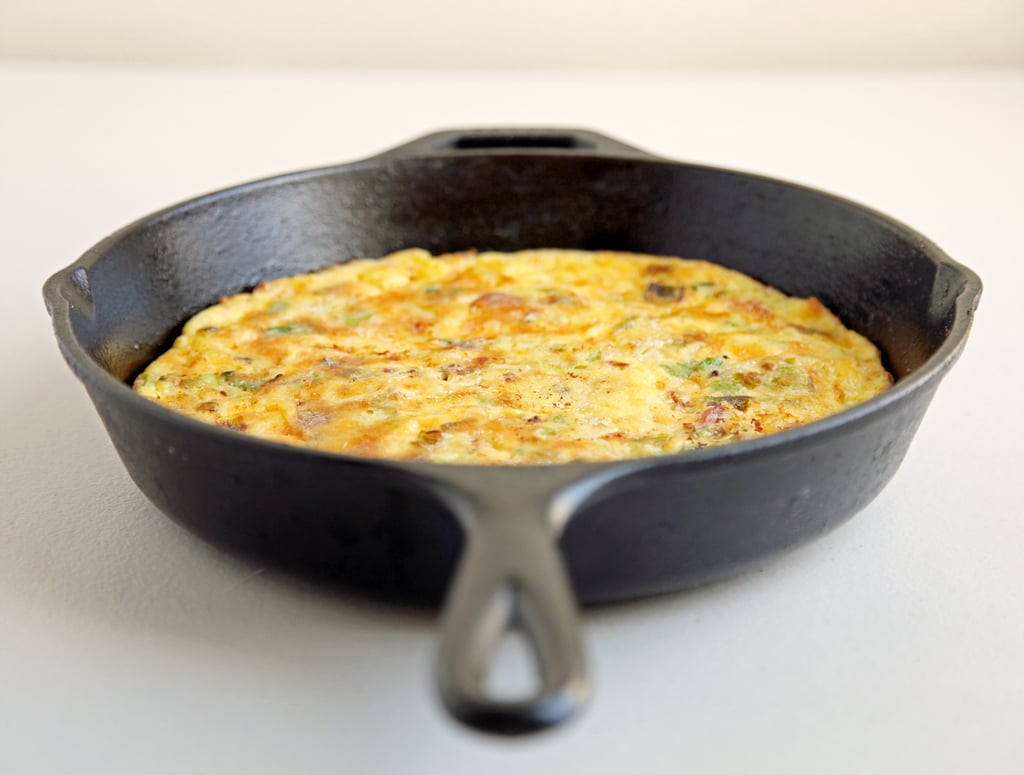 With Spring and Summer weather comes picnic season. Generally, these blissful afternoons spent relaxing in the park are fueled by a stop at my favorite specialty foods shop to pick up some cheese, bread, wine, and fruit, but occasionally I prepare a slightly more involved, less spontaneous spread. Often this centers around a portable, low-fuss, room-temperature-friendly, and — most importantly — delicious dish: the frittata.
This bulked-up, bacon-studded iteration will be no exception. I can already picture it: me, a few friends, a bottle or two of rosé, hearty slices of this frittata, a basket of berries, and, ultimately, sun-drenched bliss.
Cheddar, Bacon, and Leek Frittata
From Nicole Perry, POPSUGAR Food
Ingredients
4 ounces (3-4 slices) thick-cut bacon, cut into 1/2-inch-wide strips
Neutral oil, such as canola or grapeseed, as necessary
1 medium leek, thinly sliced, cleaned
6 scallions, thinly sliced
6 large eggs
Kosher salt and freshly ground black pepper
4 ounces (about 1 1/4 cups) grated extra-sharp cheddar cheese
1 1/2 tablespoons olive oil
Directions
Add the bacon to a large (8-10-inch) ovenproof skillet set over medium heat; cook until the bacon is just cooked through and has begun to crisp up, about 5 minutes. Use a slotted spoon to remove the bacon to a paper-towel-lined plate, and set aside.
Add neutral oil to the rendered bacon fat (if necessary) to thinly coat the bottom of the pan. Add the leek, and cook (stirring occasionally) until it wilts and begins to become translucent, about 2 minutes. Season with a hefty pinch of salt, and add the scallions. Cook for another 2-3 minutes, or until softened and both have begun to brown. Transfer the green onions to a bowl, and wipe the skillet clean.
Set an oven rack 4-6 inches from the broiler, and preheat the broiler.
Beat the eggs, a pinch of salt, and a few cracks of freshly ground pepper together in a large mixing bowl until no streaks of yolk remain. Mix in the cheddar, bacon, leek, and scallions.
Warm the olive oil in the skillet set over medium-high heat. When it's hot, add the egg mixture and lower the heat to medium-low. Let cook for a minute or so, and then shake the pan a few times to make certain the eggs aren't fused to the bottom of the pan. If the egg mixture is sticking, then carefully loosen it from the pan with a thin rubber spatula. Cook until the eggs are set and the top is just shy of dry, about 10 minutes.
Transfer the pan to the oven and broil until golden brown and fully set. This will go fast (1-3 minutes, depending on the strength of your broiler), so check often.
Serve warm or at room temperature.
Information
Category

Eggs, Breakfast/Brunch

Cuisine

North American

Yield

Serves 4-6
Image Source: POPSUGAR Photography / Nicole Perry